It's official, the holiday season is upon us! Yay! And while you're busy thinking about what new dishes you'll be adding to your annual Thanksgiving feast — and how you'll recreate the classics — Hanukkah comes shortly thereafter. With the first night of Hanukkah starting December 2nd this year — preparations for both holidays will likely be simultaneous. If you're like us, chances are your schedule has also officially been filling up more and more since the start of November. With Thanksgiving and the rest of the holidays coming up shortly the list of to-dos has grown exponentially.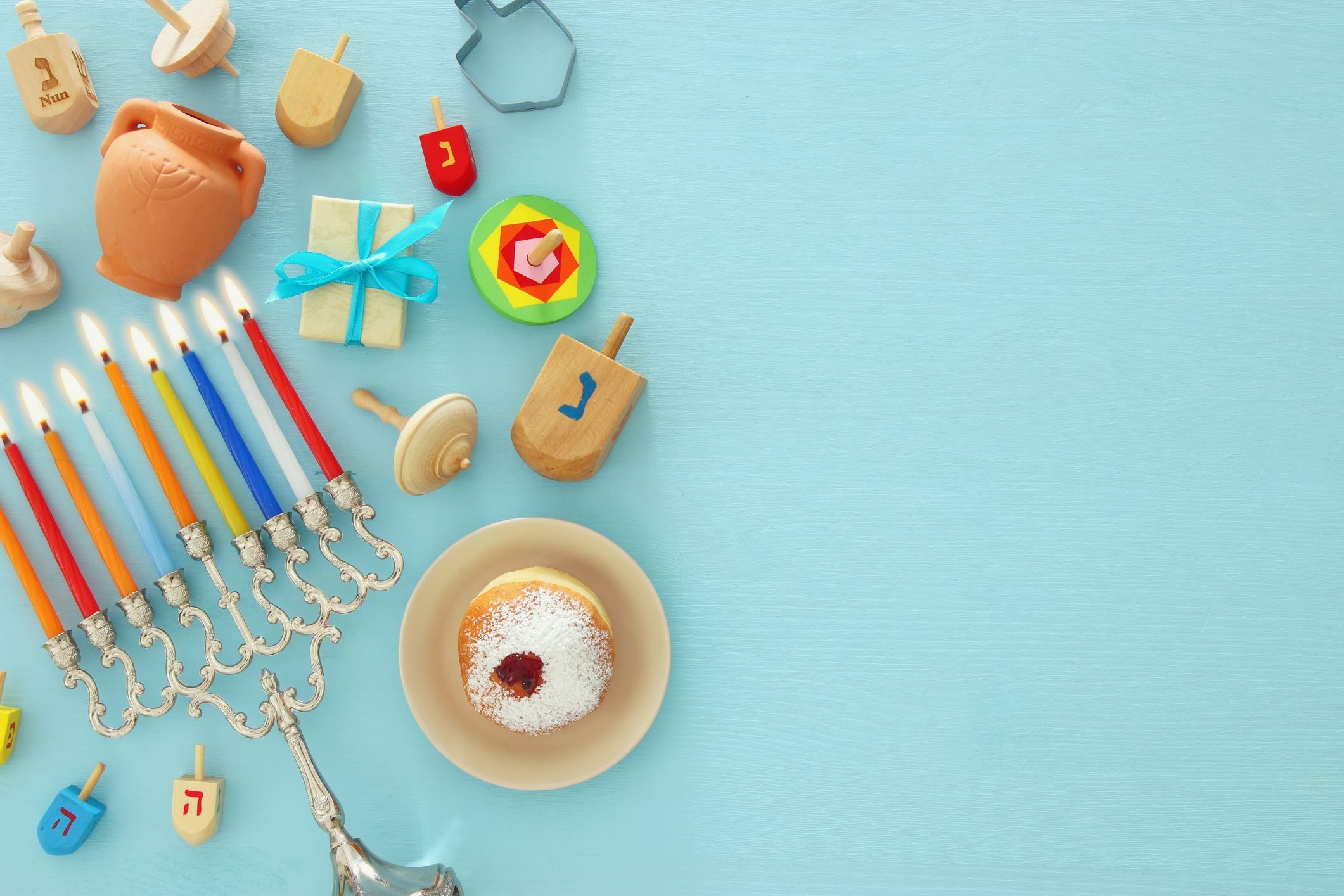 Thankfully you can scratch off one of those items off your list in no time. Send your Hanukkah cards in minutes without sacrificing quality. Let your friends and family know you're thinking of them this Hanukkah without spending hours on cards, stamps or the post office. Potable will print, address and mail your cards for you so you can get back to the rest of your to do list. And don't worry — all of the designs are extra special that are created by incredibly talented artists from around the country. The entire selection is downright bewitching, but we thought we'd give you a little taste with this lovely little list of 13 beautiful Hanuakkah cards you can send in 5 minutes (as with any cards from Postable).
1. Shine Bright
This simple photo Hanukkah card has just enough embellishments while still keeping with the simplicity. We love the gold star accent and the flourishing font. Send this card here.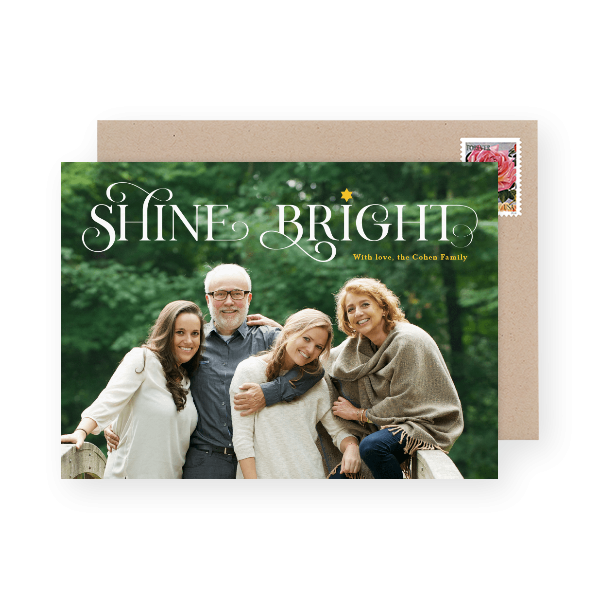 2. Polar Bear Happy Hanukkah
A little unorthodox — a Clap Clap specialty — yet beautifully executed. This Happy Hanukkah card has lovely combinations of colors that pop right off the card with a little whimsy. Send this card here.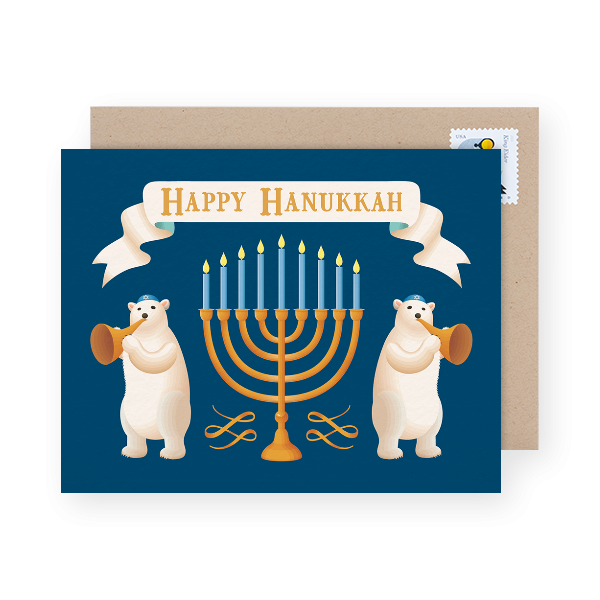 3. Blue Border Hanukkah
If you'd like a little more pizzaz with your photo template card, this design by Elizabeth Grubaugh is the perfect fit. We love the deep blue colors with the lovely illustrations that would border your custom photo. Send this card here.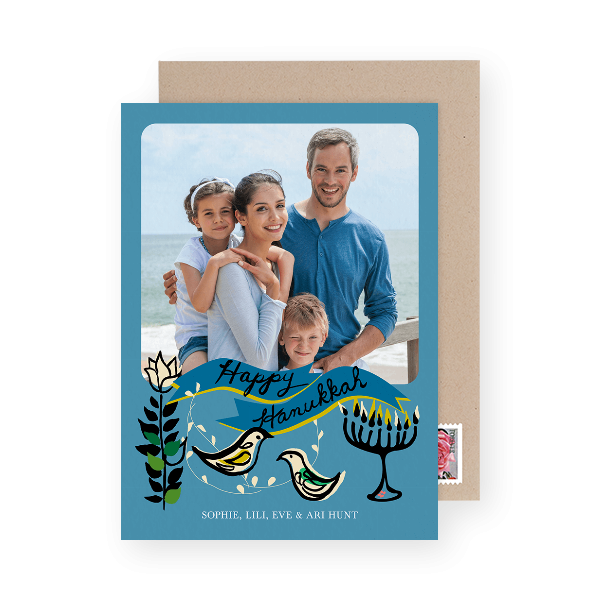 4. Latke love
Oh for the love of puns! You can't go wrong with a good old fashioned pun card. We love this One Canoe Two classic. The pun speaks for itself and will no doubt bring a delightful smile to anyone receiving it. The beautiful hand painted design will be the icing on the cake (or the latke). Send this card here.
5. Simply blue
This classic design by E. Frances Paper is the epitome of beauty in simplicity. The deep blue watercolor with a pop of gold is a stunning combination of color. Definitely one of those designs that your recipients will want to put up on display. Use the inside of this folded card to relay your message of warmth and kindness. Send this card here.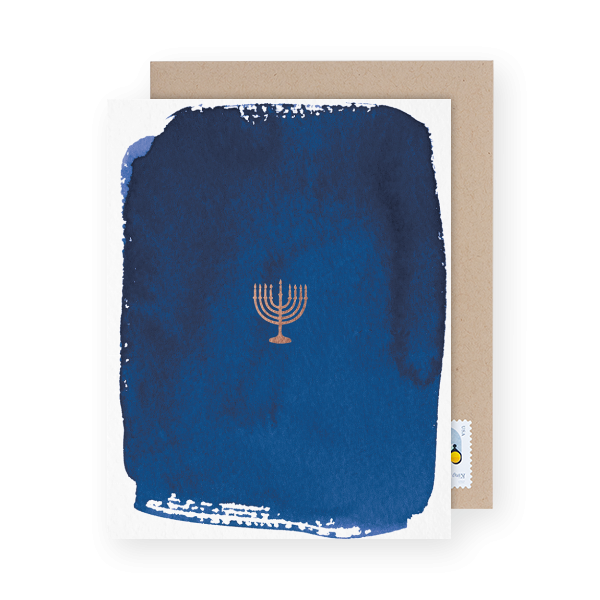 6. Hanukkah Brush Stroke
Another great photo template card perfect for those looking to share their family's smiling faces (or the dog's) with their friends and family this Hanukkah. The split design lets you use whatever vertical photo you'd like without worrying about any obstructions. The right side of the design is simple, but still has a little punch with the color combo — customize the text here to whatever you'd like. Send this card here.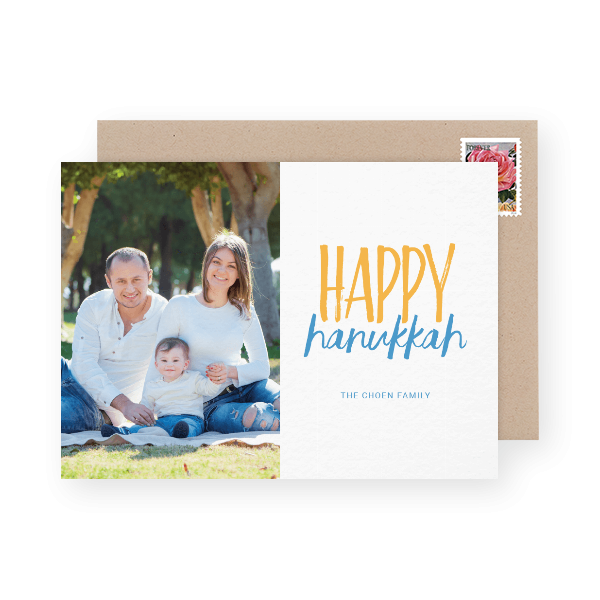 7. Peace & light
This delightful illustration makes for a lovely Hanukkah card. We love the delicate branches and leaf accents around the menorah. As with all other folded cards, add your very own unique message on the inside. Send this card here.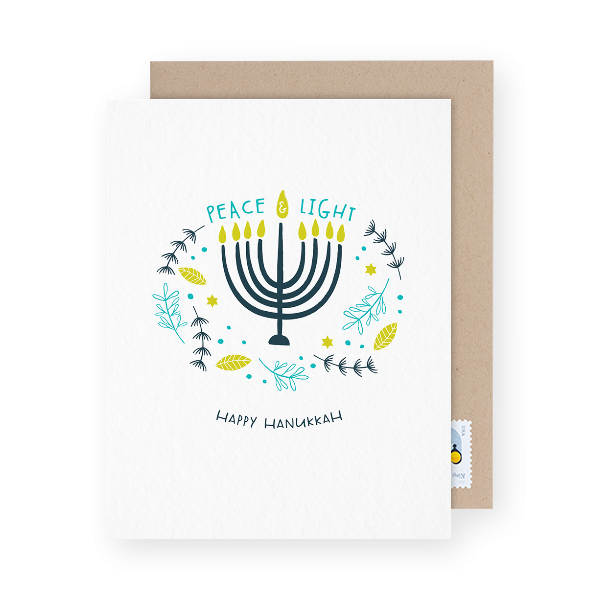 8. Blue star photo card
Gotta love the fun bold font on this simple photo template card. We love the combination of fonts on this design and the simple blue star as the single element. Use whatever photo you'd like! Send this card here.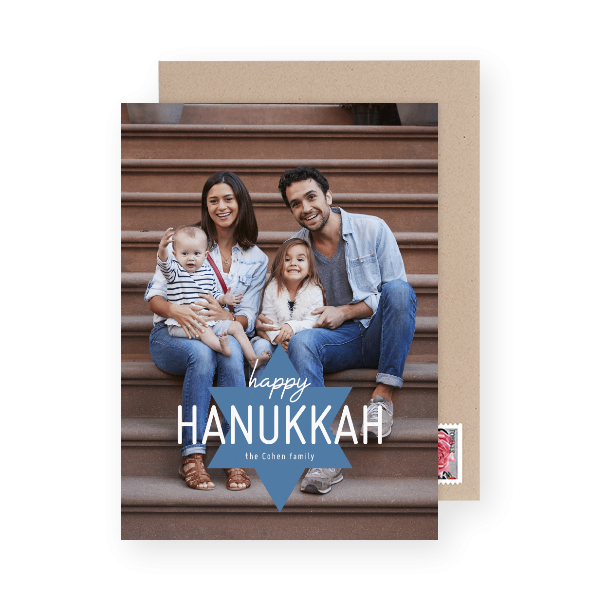 9. Floral menorah
A Rifle Paper Co. Classic. This beautiful illustration will surely brighten your friends' and family's day! They may even choose to frame this bad boy. Send this card here.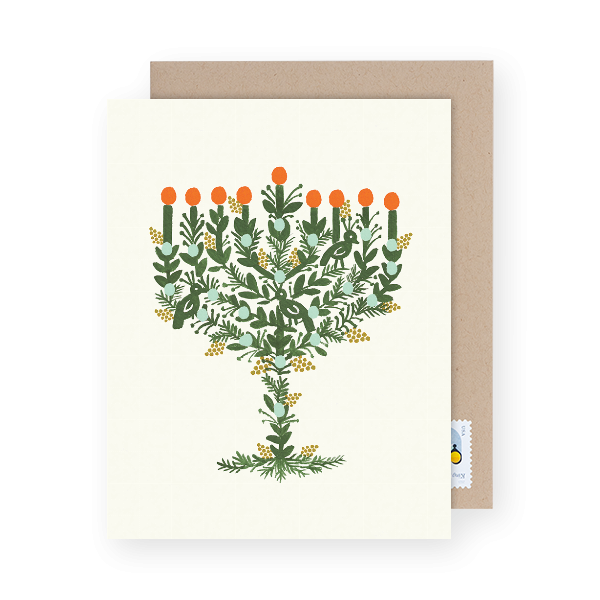 10. Watercolor menorah
This beautiful watercolor illustration by E. Frances Paper is simple and elaborate all at once. We love the use of colors on the strikingly white background and the simple font of 'Happy Hanukkah'. Send this card here.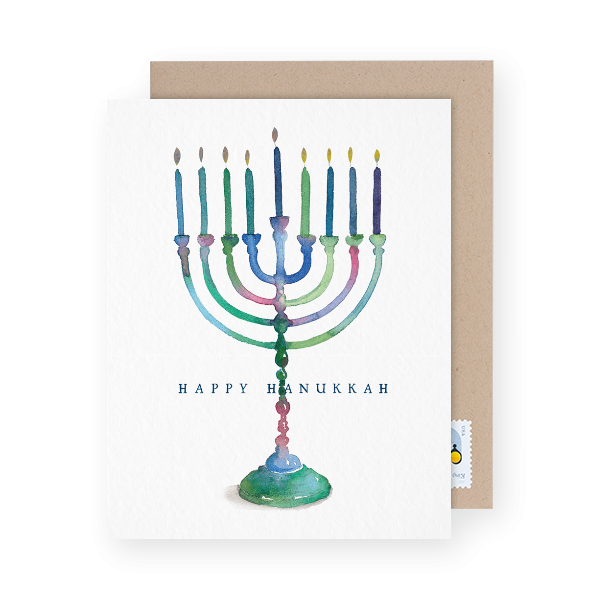 11. Classic script and photo
Sometimes simplicity is what you're after. In that case, this classic script photo template card is perfect. You can upload your very own photo and customize the text on the front. Make it your own without too many frills. Send this card here.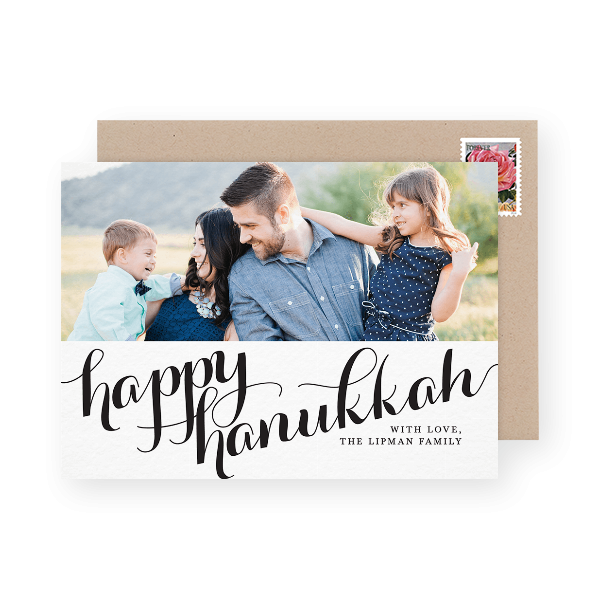 12. Happy Challah days
Another pun for the win! One of our newest Hanukkah cards, this punny design will surely bring a smile to your friends and family. We love the fun patterned design by There Will Be Cake! Send this card here.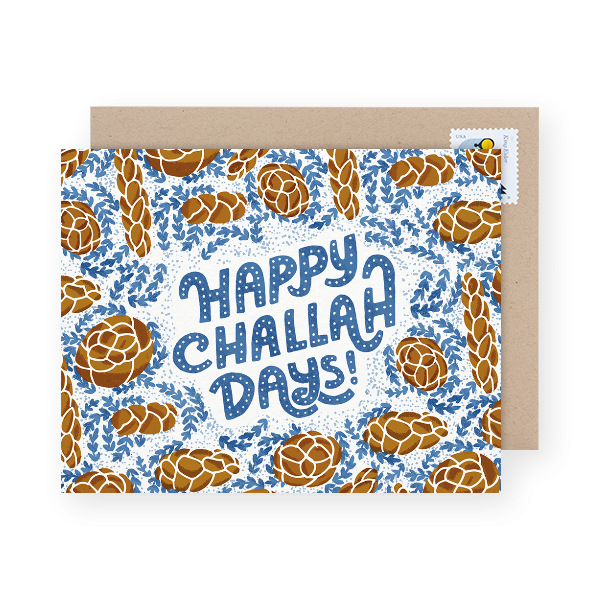 13. Blue photo Hanukkah card
Last, but most certainly not least — this lovely photo Hanukkah card is the perfect mix of details and simplicity. We love the delicate menorah and the lovely font that you can customize to say whatever you'd like. Send this card here.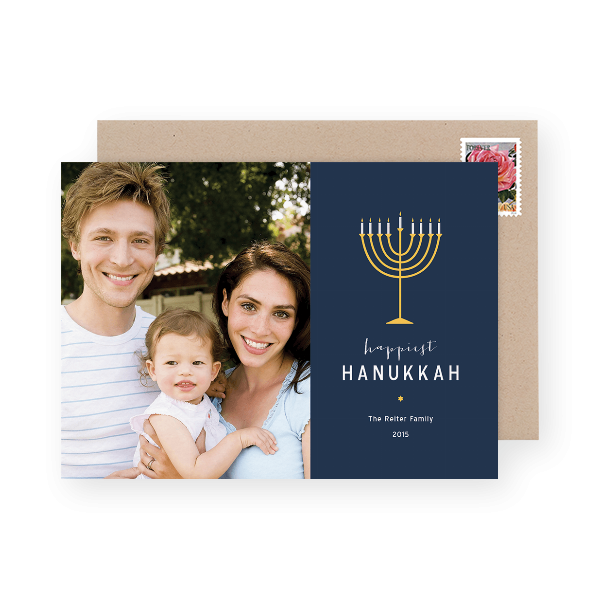 Who's ready for Hanukkah!? Not seeing quite the Hanukkah cards you were hoping for? Not to worry — checkout the entire selection of cards here.
The best part? Mail really nice Hanukkah cards in 5 minutes without ever leaving your computer.
Yes, really. Postable will print, address and mail them all out for you so you can sit back and enjoy time with the family. Or by yourself… However you choose to spend your time really, but you'll definitely have a whole bunch of extra time. Send your cards in 5 minutes.
Not sure when to place your cards in the mail to get them there on time? We got you covered with everything you need to know. If you want to make sure your cards make it by the 2nd — you'll need to plan for them to arrive on the 1st (the 2nd is a Sunday). Place your cards in the mail right before or right after Thanksgiving. This will give the post office about a week to get them delivered. If the cards are ok to arrive anywhere during the eight days of Hanukkah — place your cards in the mail any day of the week prior to Hanukkah. Always err on the side of the post office being a little late — especially with the holidays creeping up. The earlier you place your cards in the mail, the better.