What better way to show the moms in our lives just how much they mean to us than by showering them with love and laughter? Sending mom one of these funny Mother's Day cards in 2022 is a good start. Whatever type of humor mom enjoys, this list of cards has it covered. Everything from silly jokes and puns to pop culture references, this list of funny Mother's Day cards is sure to have something to make mom smile. We all know mom deserves a laugh — especially after the last couple of years (is it us or have they felt more like a decade?). Go ahead, make mom smile and have fun picking out the perfect card while you're at it.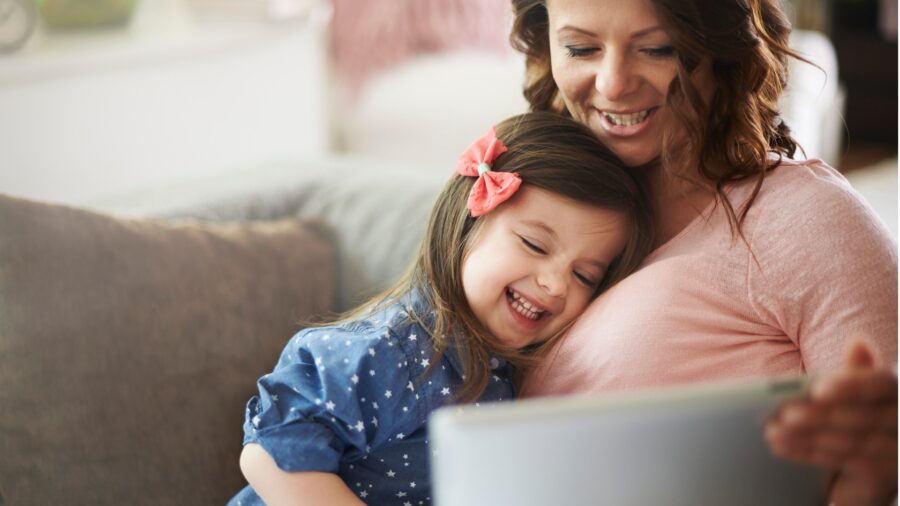 The best part? You can send mom any one of these designer-made Mother's Day cards in minutes; right now. Just write your message to mom, enter her mailing information and click send. Postable will then print, address and mail (via USPS) your funny Mother's Day cards for you. It's really a win-win-win on all fronts.
Send mom a Mother's Day card in minutes. Postable will print, address and mail your card to mom for you!
Funny Mother's Day card designers.
Before we dive in, you should know one important thing. Every single one of these cards were designed by an individual who sleeps, dreams, and lives beautiful greeting cards. Each of these funny Mother's Day cards were created by either an independent artist or one of Postable's in-house designers. This guarantees that your mom will be getting the most unique design.
You can also rest assured that your purchase supports small businesses. Yup, Postable is brought to you by a small handful of folks who adore snail mail and good design (the independent artists Postable works with are also small businesses just doing what they love to bring the world a little extra happiness).
Postable's pick for the giggliest funny Mother's Day cards.
And with all of that in mind, let's get to the cards! We're choosing to kick off this list of funny Mother's Day cards with a handful of our favorites. While we are absolutely head over heels in love with every single card in the Postable collection, these handful of funny Mother's Day cards gave us an extra chuckle. Go ahead, send mom a giggle.
But first, let's look at the newest additions in 2022.
Newest funny Mother's Day cards added in 2022.
Mom's Little Dragons
Are mom's kids the tiniest little dragons of them all? Even if not, this funny and very adorable card by Hello Paper co. lets you add the kiddo's faces to the card. There's no way this card doesn't make mom giggle.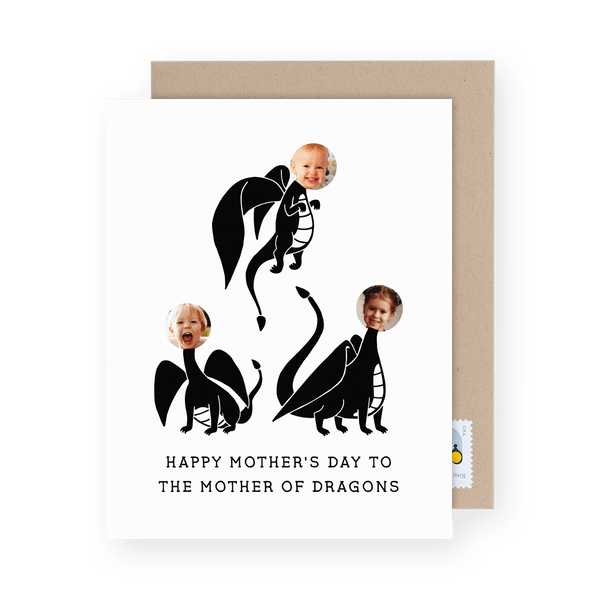 Kickass Mom
The donkey really brings it on home in this funny design. Brought to you by one of Postable's newest artists, Grey Street Paper, this card is bound to make mom smile. If mom isn't one for naughty langugage humor, maybe go on to the next option?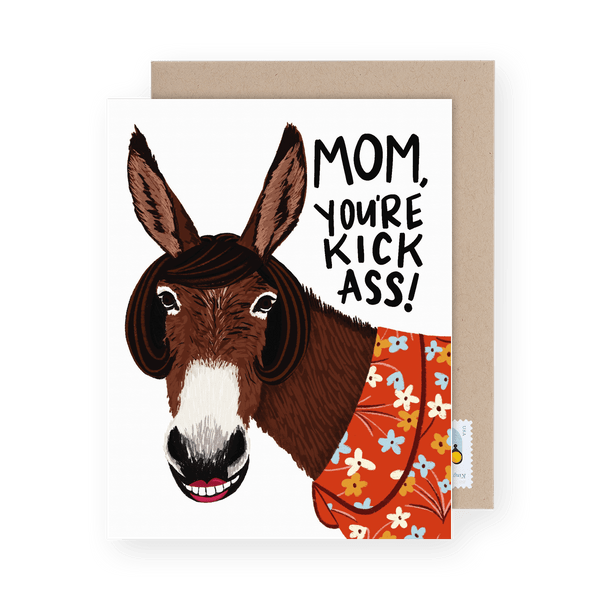 Thanks For All the Sacrifices
Ain't that the truth!? Mom has given up a whole lot to help her kids be somewhat normal, functioning humans. The least we can do is thank her with a bit of humor.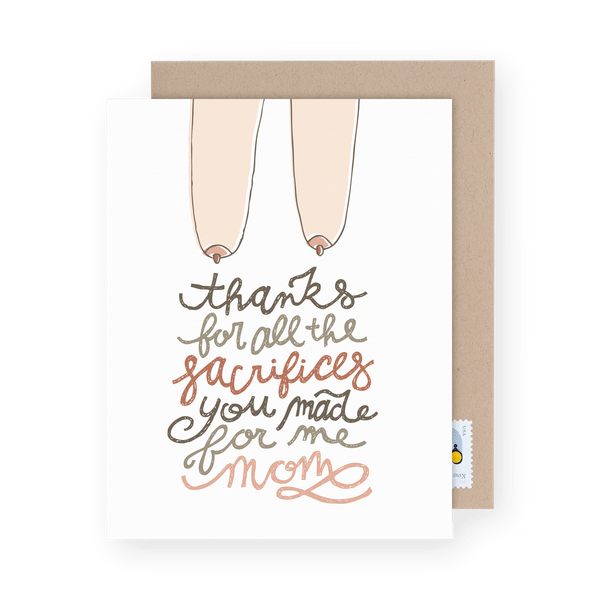 The G.O.A.T.
All moms are G.O.A.T.s but your mom is THE G.O.A.T. The actual goat illustration is bound to give mom a giggle or two.
Thanks for Putting Up With Me
If mom had a dime for every one of the kids indiscretions, she'd be a bajillionaire. Too bad our nonsense doesn't pay. The least we can do is offer up a funny Mother's Day card.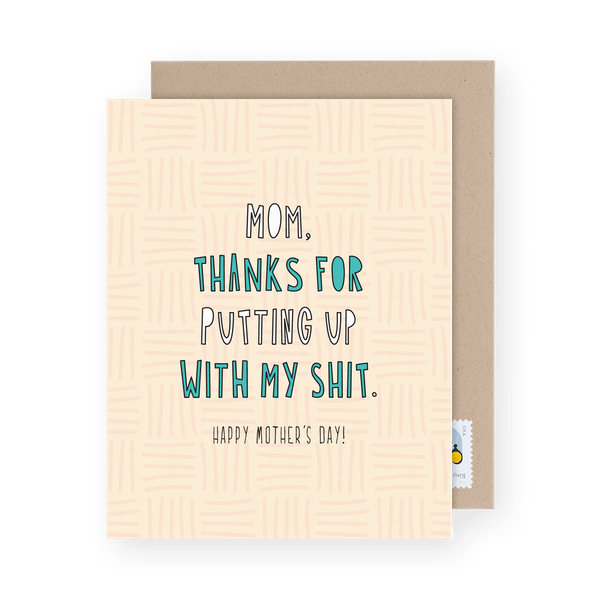 Love You Mamatee
Does mom live in Florida? This punny (we sure do love our puns around here) Mother's Day card will surely make her day.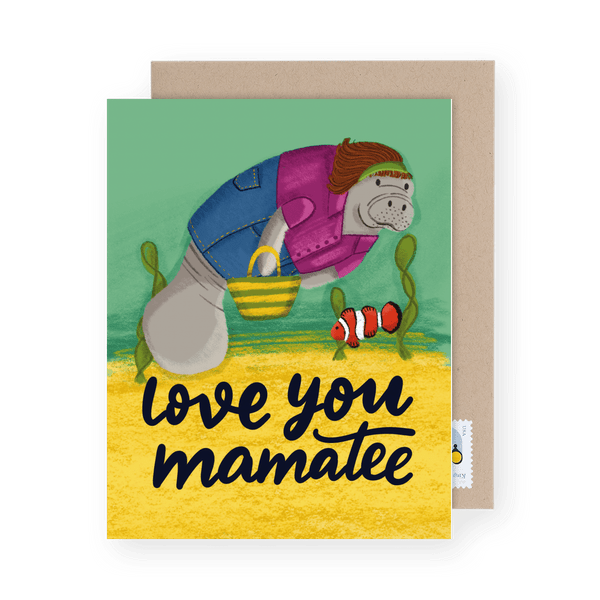 More funny Mother's Day cards from the Postable Mother's Day collection.
Even though we add new cards to each collection every year, the cards from years' past still make us giggle and we think they'll make mom giggle too. If the new cards didn't quite tickle your fancy, go ahead and browse the rest of our picks for funny Mother's Day cards below.
Humble Mom
We're not buying it either. Did your mom make this proclamation this year? This Old Tom Foolery creation will have mom giggling. Don't forget to also plan mom a special Mothers' Day! We've got ideas for days so you can't say you didn't know what to plan.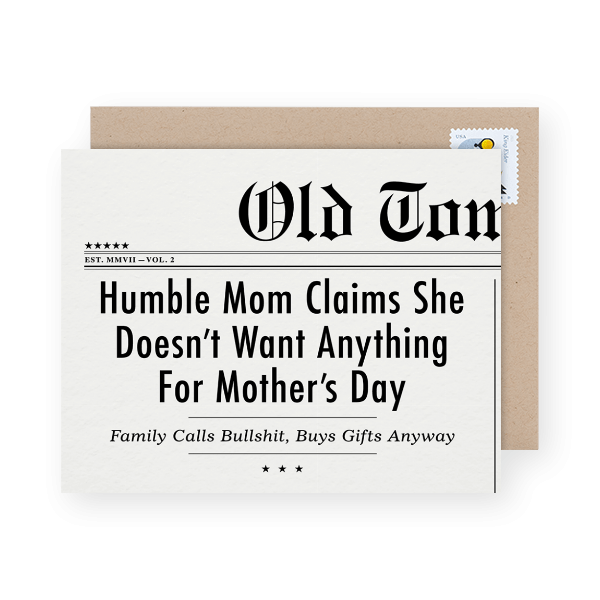 The Baddest Mom
Is the mom in your life the baddest bitch there ever was? Would she actually appreciate being called out as such? In true Bench Pressed fashion, this funny Mother's Day card is simple yet perfectly quirky.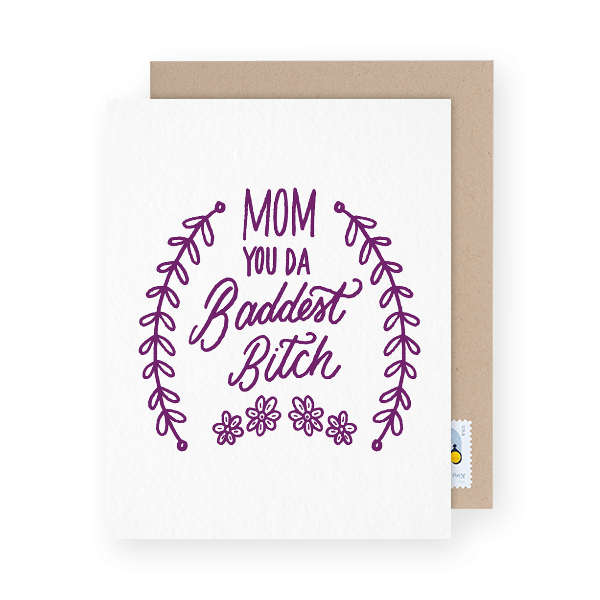 Great Genes
As you'll see, this pun is a favorite among funny Mother's Day cards. Hard not to take advantage of the word play here, but we just can't get over the funny little drawing by E. France Paper.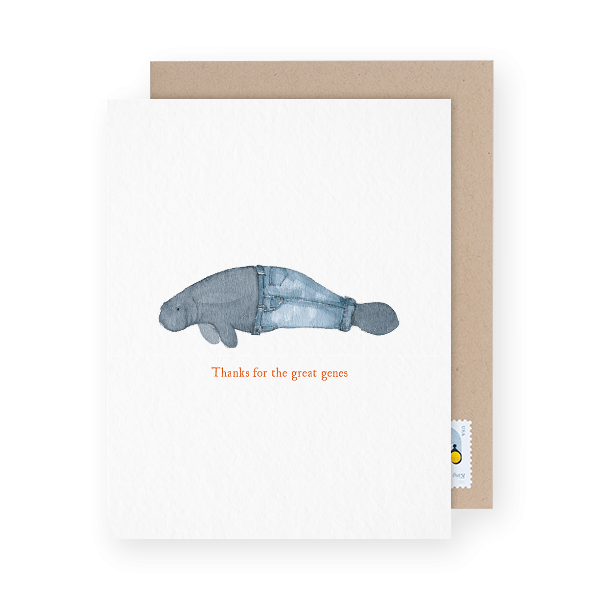 I owe you a private island.
Ah, Near Modern Disaster aka the word master. The brilliant designer behind this design is truly a magician when it comes to word art. And if you have offspring of your own… Well, then you understand the sentiment on this card more than anyone. Go ahead, send mom a giggle.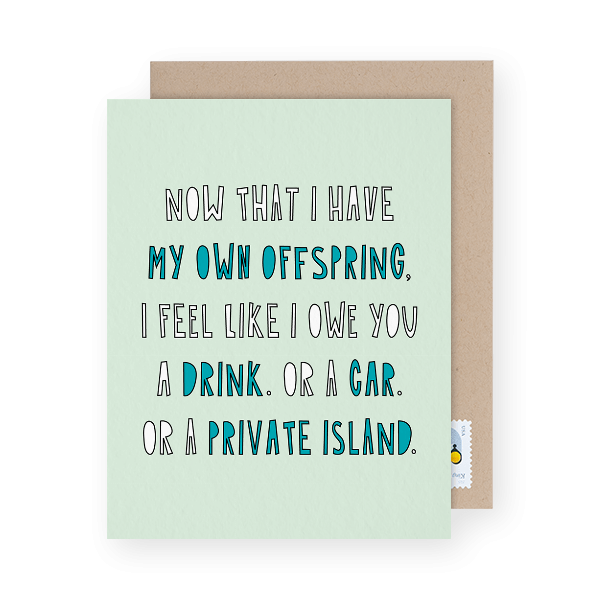 Send mom a Mother's Day card in minutes. Postable will print, address and mail your card to mom for you!
Puns make for funny Mother's Day cards.
In the hierarchy of funny greeting cards, we'd venture to say that puns are at the very top. Everyone loves a pun, right? The following funny Mother's Day cards will have the pun-loving moms out there chuckling in no time. Go ahead, wish mom a happy Mother's Day with one of these puns.
Maternally Grateful
Show mom just how grateful you really are this year (especially after the year she's had) with this colorful Mother's Day card. Complete with a pun every mom will love, this inhouse designed card is bright, fun and even a little retro.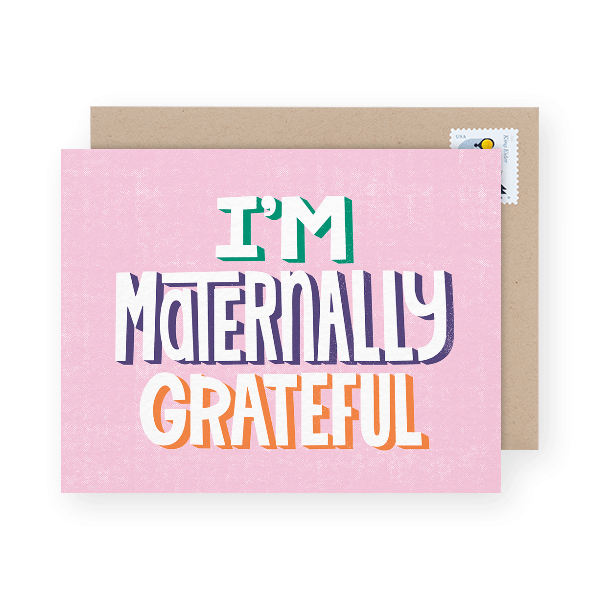 Foxy Mama
Lift mom's confidence while giving her a little giggle. This adorable punny Mother's Day card by the pun-master A Jar of Pickles, will boost mom's spirits and let her know how much you care.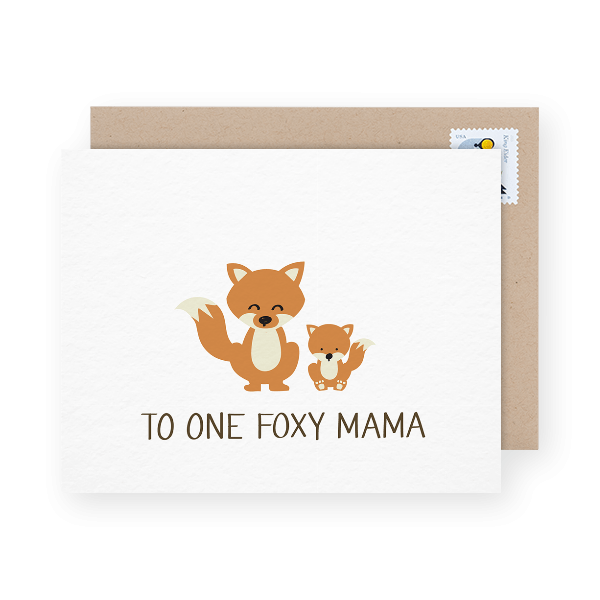 Good Genes
This Shauna Lynn creation has some epic Fairly Oddparents vibes and we're here for it. If you think mom will enjoy the fun and colorful design then you've got yourself a winner.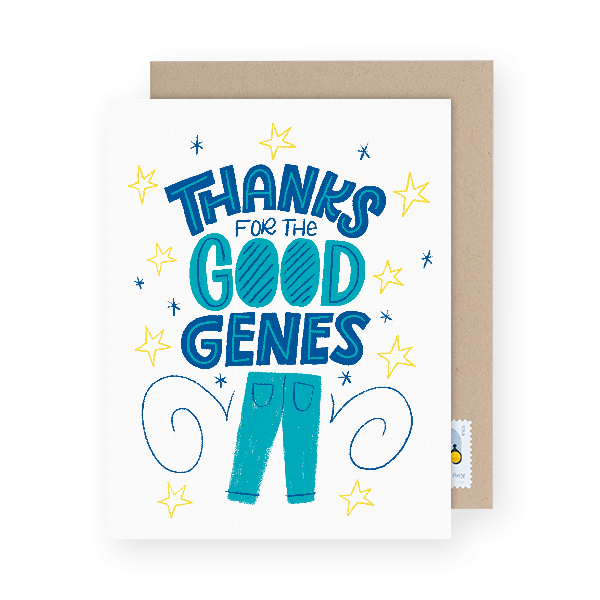 Raising me
More subtle in design, but certainly no less giggle-worthy — this E. Frances Paper Mother's Day card is delightful. On the one hand, you're showing gratitude to the person who spent a chunk of their lives raising you and on the other — you're sharing a funny little pun. The dainty drawing only adds to the delightfulness of this card.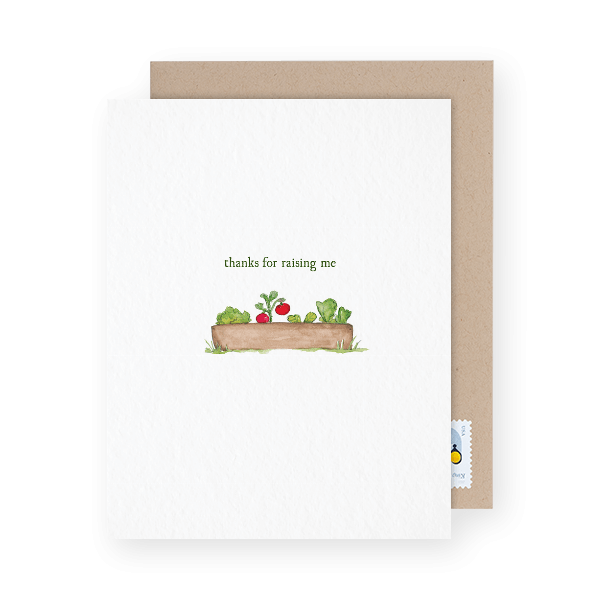 Mom Rocks
Oh the puns — they never stop coming. And we're thankful for each and every one. This funny design by R. Nichols will no doubt make mom chuckle. Go ahead, tell her she rocks.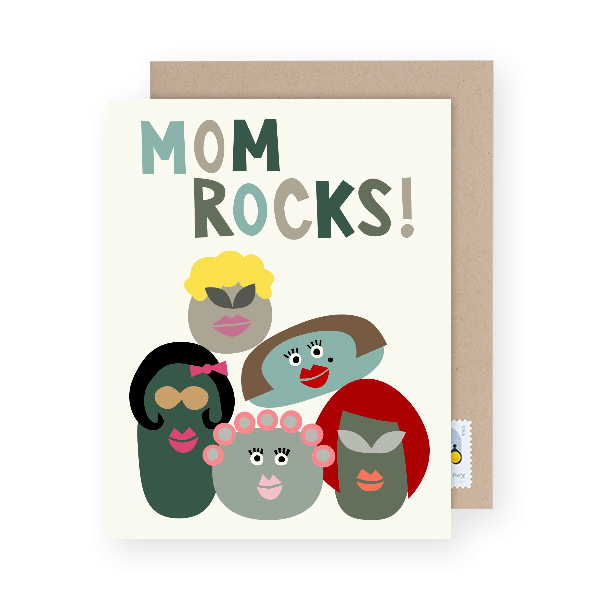 Greatest Mothership
Feeling retro? Better yet, you think mom would like a retro-esque Mother's Day card with a funny pun? Perfect — this Ali Mac design will have the greatest mother smiling.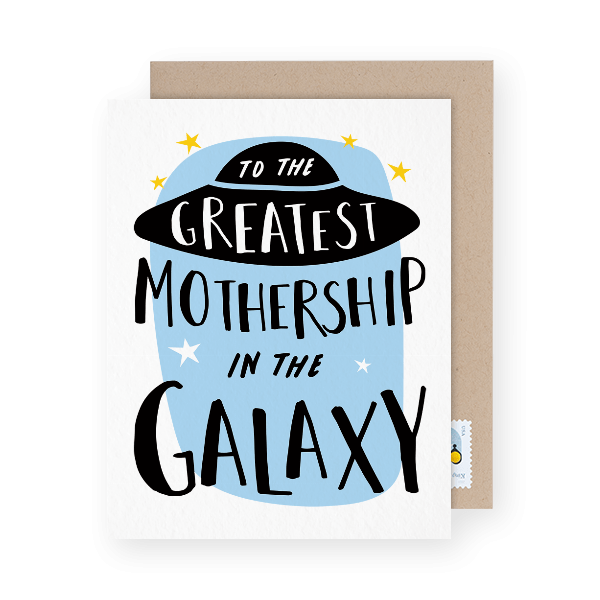 Great Genes
The pun that keeps on giving. Another E. Frances Paper design for mom to fall in love with, this funny great genes pun card is adorable.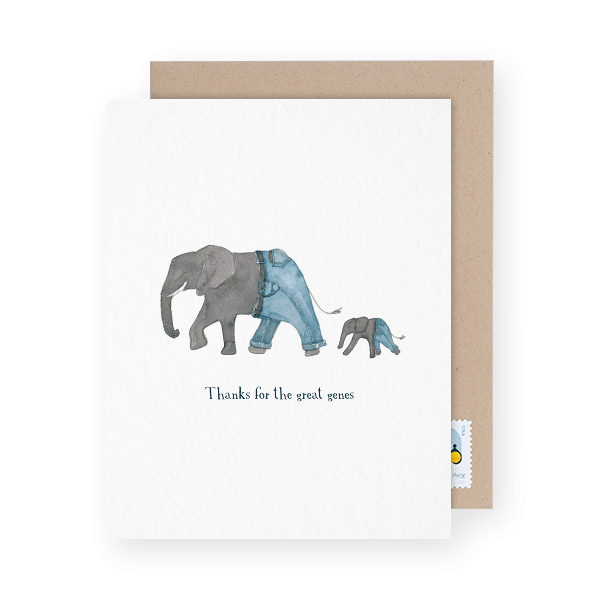 Mom Brunch
Does mom love a good mimosa? Who doesn't? She'll probably appreciate a good brunch Mother's Day pun like this one by Wild Ink.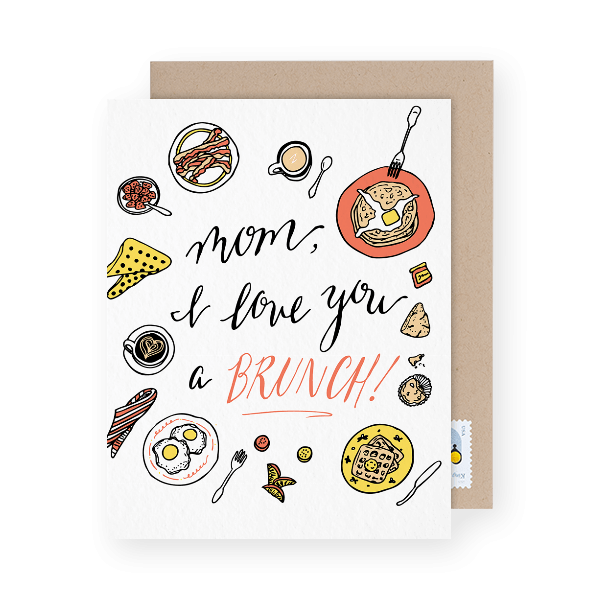 Tree Mother
A Jar of Pickles created this ditty for the mom that loves trees… Or just loves puns about trees.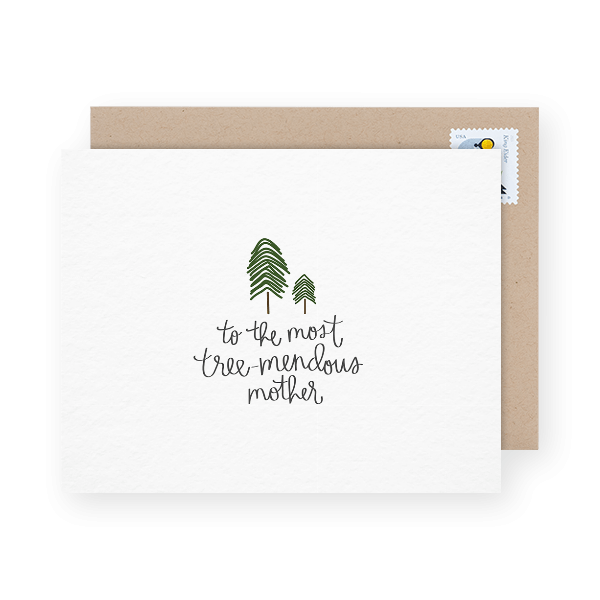 Olive Mom
A classic pun for a classic mom.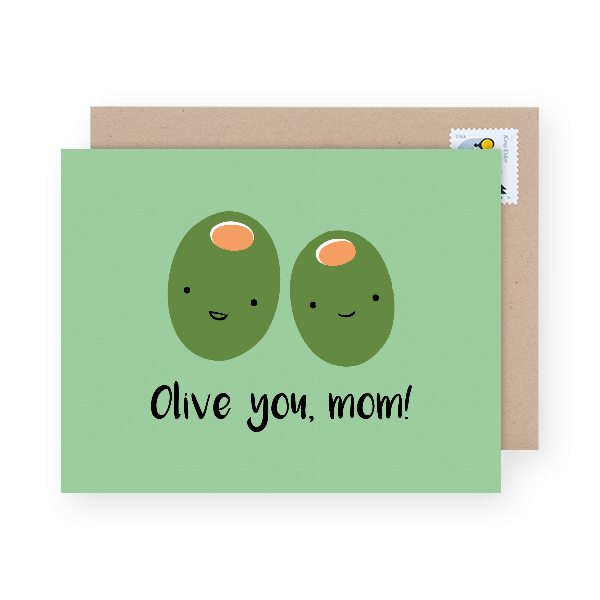 Queen Mum
Make mom feel like the queen she is with this funny and very on brand Rumble Cards creation.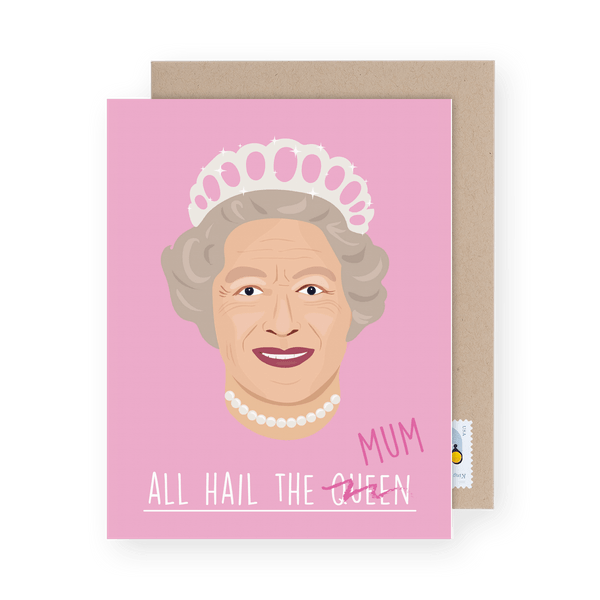 Momager
Another Rumble Cards design, this funny Mother's Day card will be perfect for the Kardashian fan mother in your life.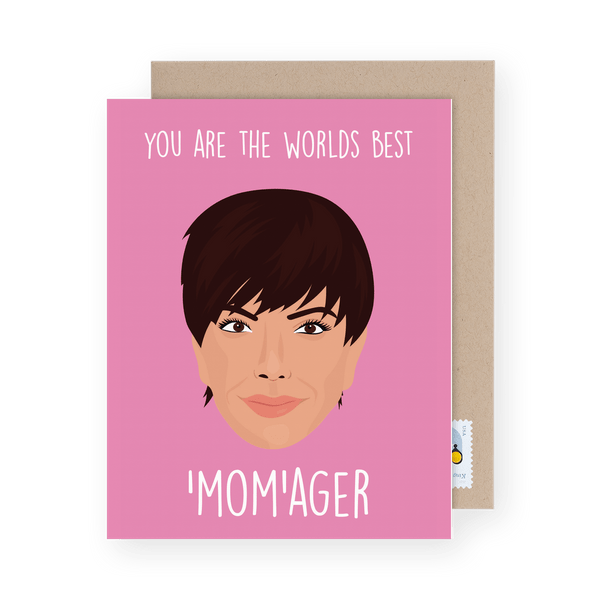 You were right
Eat your veggies! And other wise things mom asked you to do when you were younger… You know she was right and this Noteworthy Paper & Press design creation is the perfect way to share your gratitude.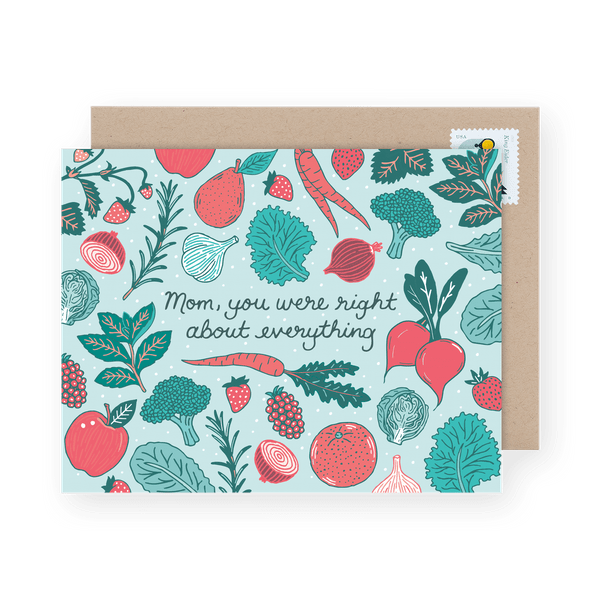 Treat mom right
Taking us home with the signature pink look, this Rumble Cards Mother's Day card will certainly help mom feel like the special person she is.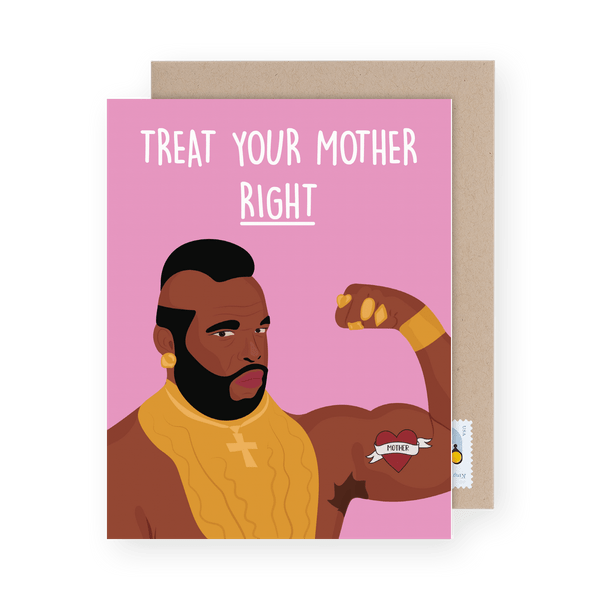 More funny Mother's day cards.
Did you think we were through? Well, surprise — we've got so much more where that came from. We take our job at making moms laugh rather seriously. So strap in for a giggle roller coaster and enjoy these designs by the world's most talented card artists!
Don't tell dad
A silly and light hearted 'joke' to win a smile from mom this Mother's Day.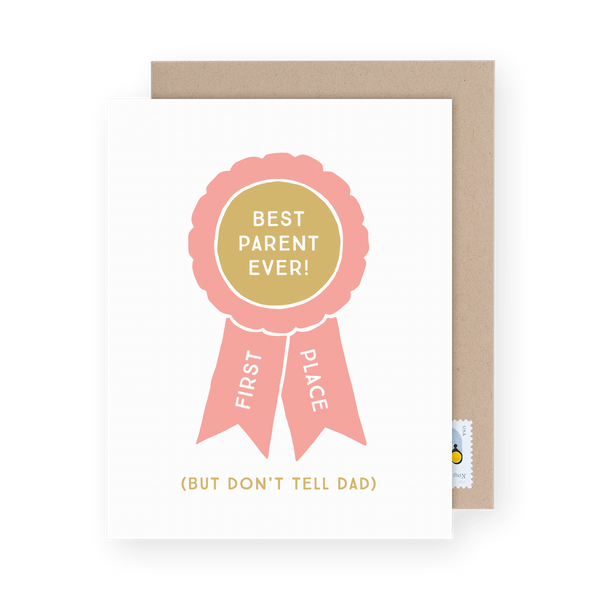 Winning parent
Another funny award styled design without throwing any shade (however jokingly) towards dad. In Near Modern Disaster's fun typography, the words will practically jump off the page and onto mom.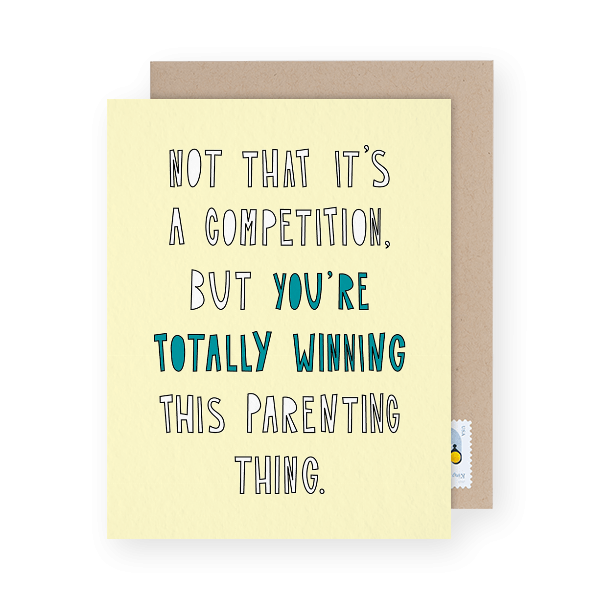 Saint mom
Is mom a saint? Trick question, of course she is! This playful yet simplistic design lets you add mom's lovely smiling face right on the front of her very own Mother's Day card.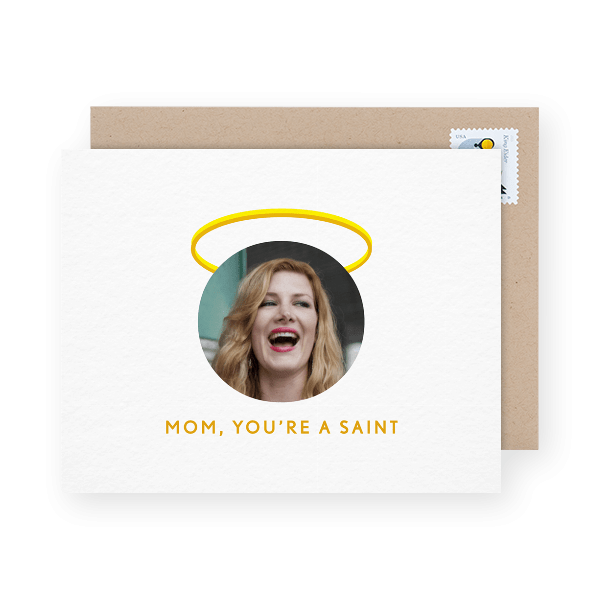 Best mama
There's something special about E. Frances Paper's designs that leave you with a delightful feeling in your heart and a gentle smile on your face.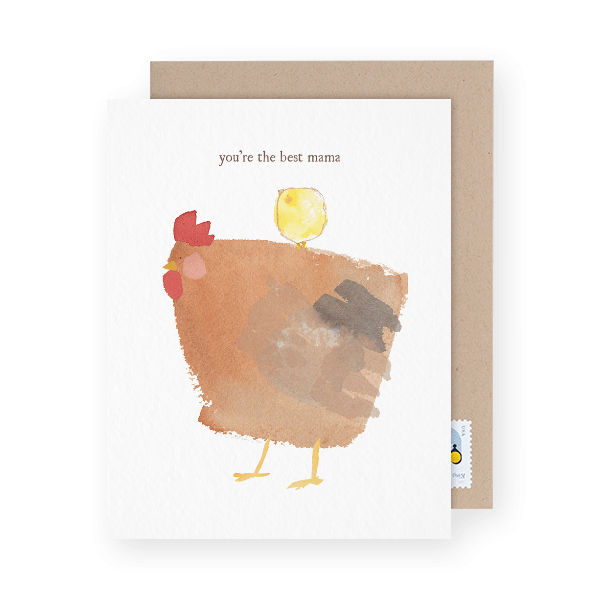 Peaceful Mother's Day
This is one of those funny Mother's Day cards where if you know — you know. How E. Frances Paper manages to make an illustration of the view from a toilet seat lovely is a magic we'll never quite understand though always adore.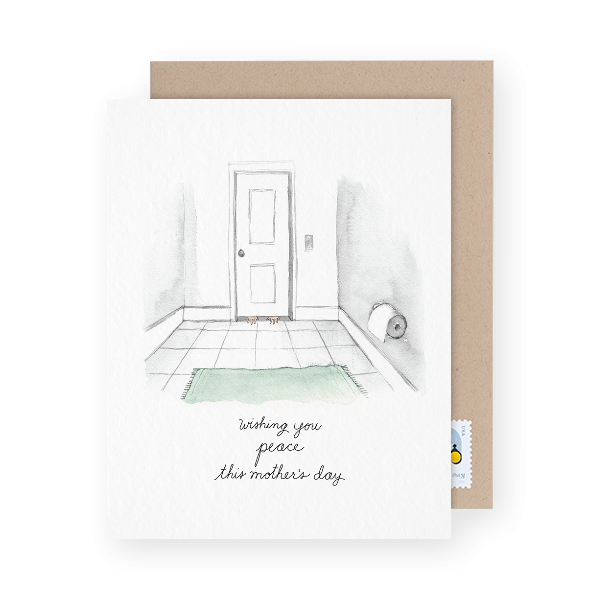 Mama cat
Does mom love cats? There's no question then, this cat Mother's Day card will be perfect.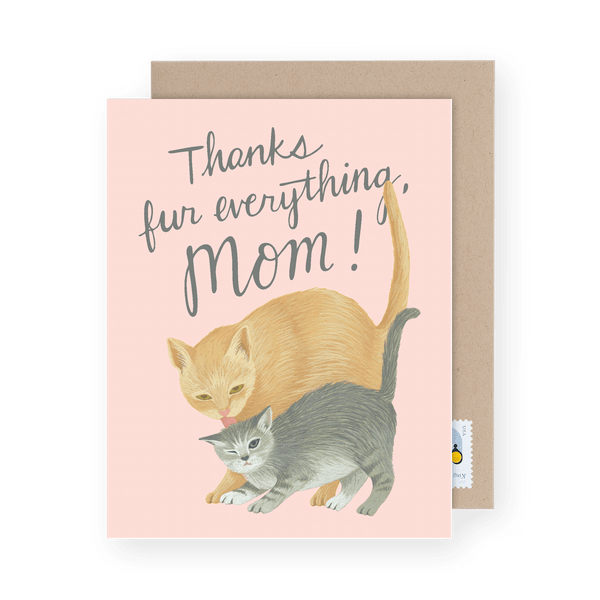 Dog mom
Perhaps your mom is more of a dog person. This funny take on dog moms by Knotty Cards will certainly bring a smile to mom's face.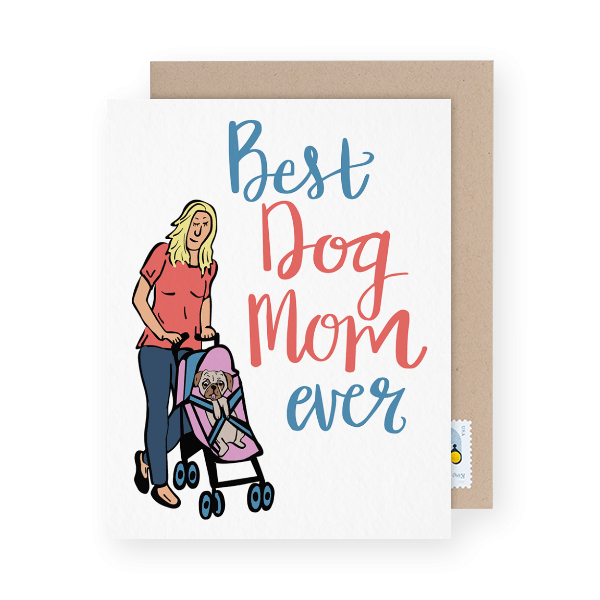 Keeps me healthy
Seriously though. If you can barely keep a hamster alive and well… You know mom deserves a serious thanks for keeping you — a human person — alive and healthy.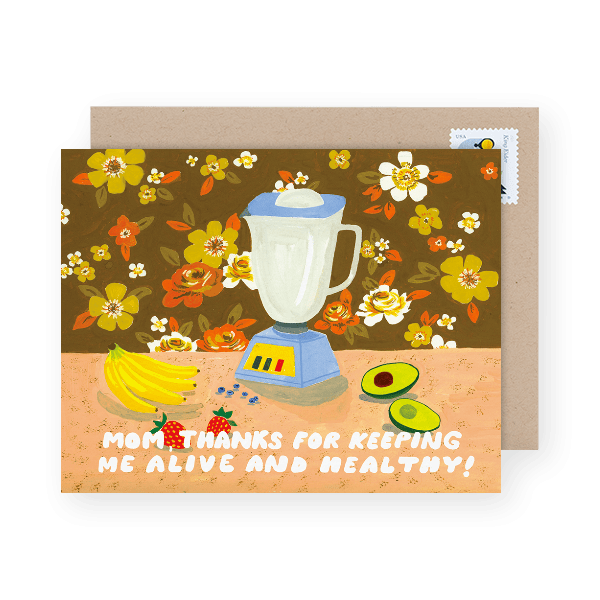 It's your day
Yes, let's! Need some ideas on how to celebrate the shit out of mom in 2021 — we've got some stellar ideas.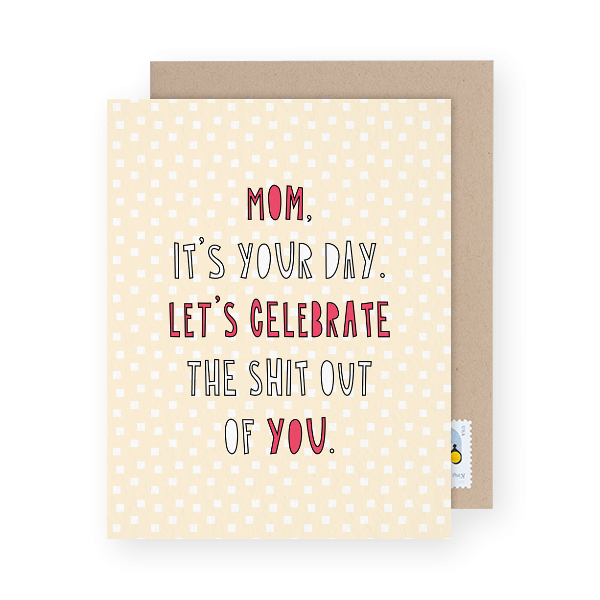 Teenage
It's never too late to apologize for past teenage years. Doing it with a funny Mother's Day card is certainly an option that might leave mom giggling as she relives the horrors of those early years.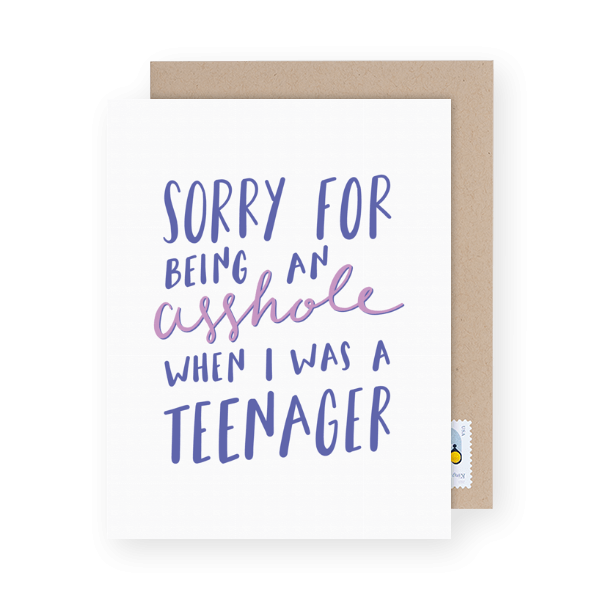 Keeping me alive
Another thanks for keeping me alive sentiment as a Mother's Day card — this one a little more minimalistic in design.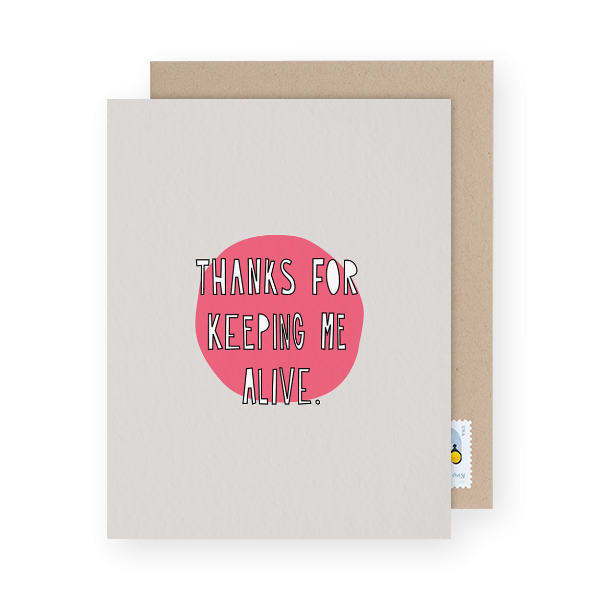 Cat mom
Cat moms are moms too and they too deserve to be celebrated on Mother's Day. If you agree, don't forget to send the cat mom in your life a card.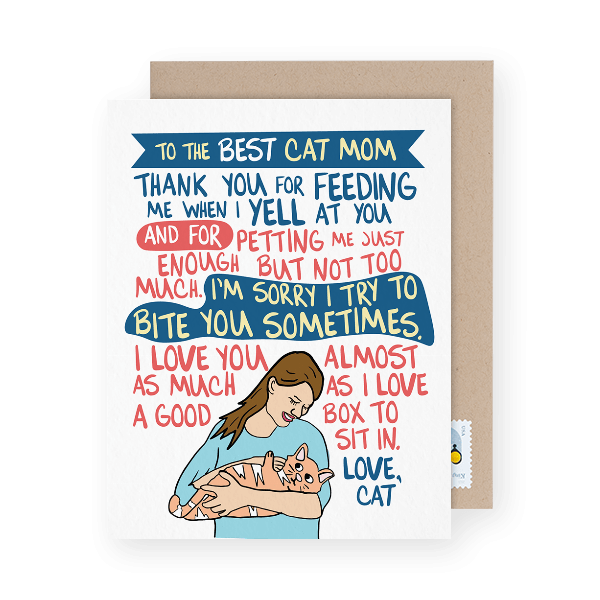 Wifi
That should be a given.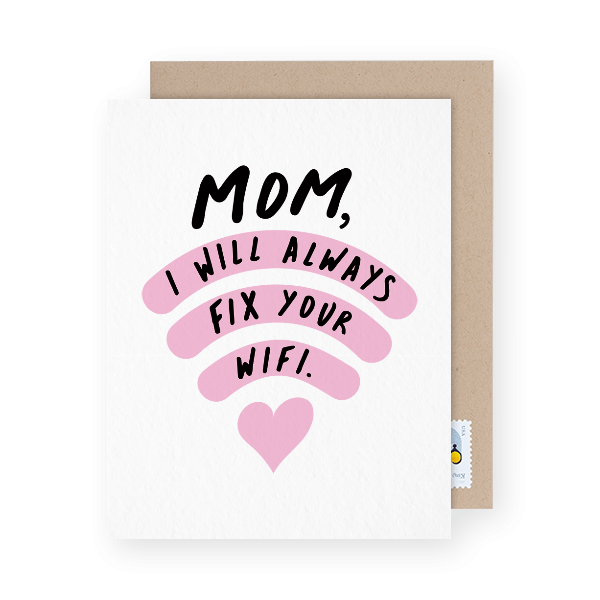 Real Mother's Day
2021 has given this funny Mother's Day card new meaning. Cheers to getting kids back to school and mom's back to some version of sanity!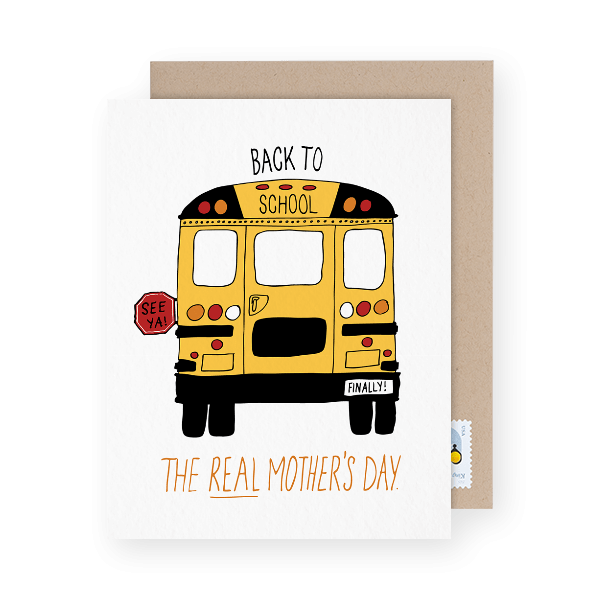 Awful brother
Throw some shade on your sibling and make mom giggle while you're at it with this funny Knotty Cards Mother's Day card.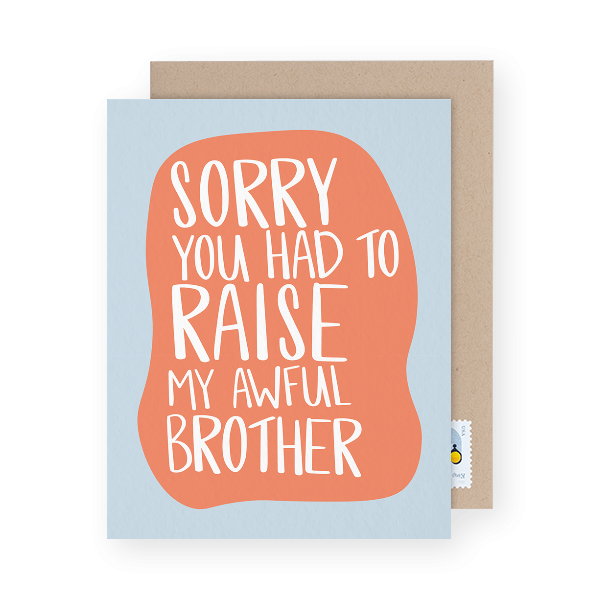 MF Mother's Day
Simple and straight to the point. There's something about a little profanity that makes a card a little funnier… Though be sure mom would agree.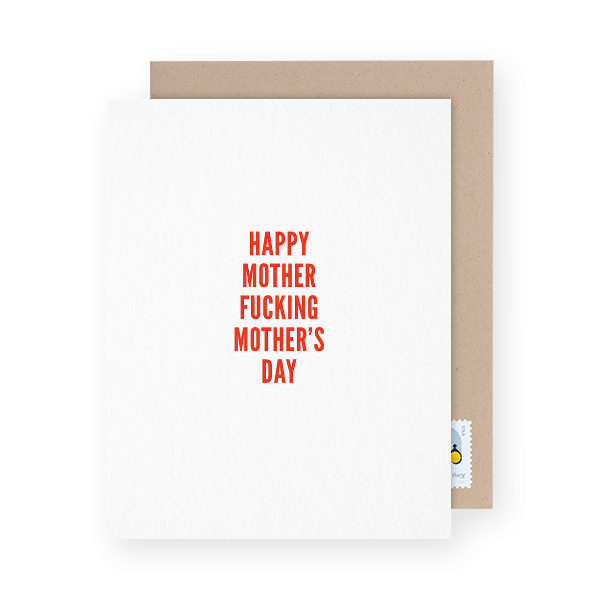 Sex with dad
Yes, thanks for that.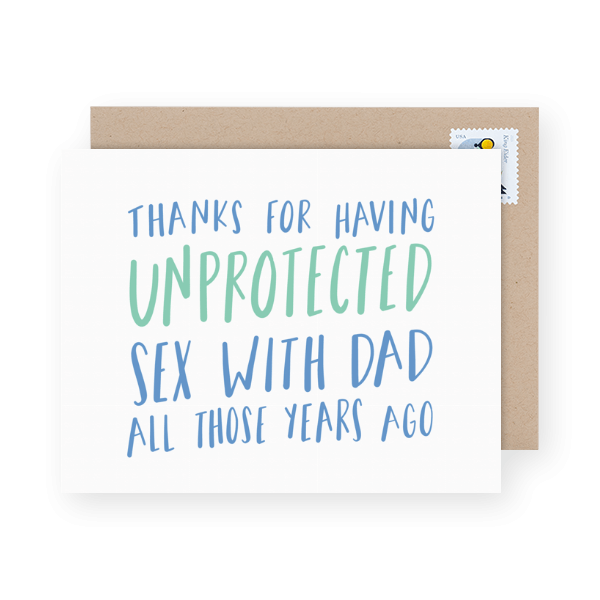 Teenage years
Ah, another throwback to those loving teenage years for which moms deserve all the gold medals this world has to offer.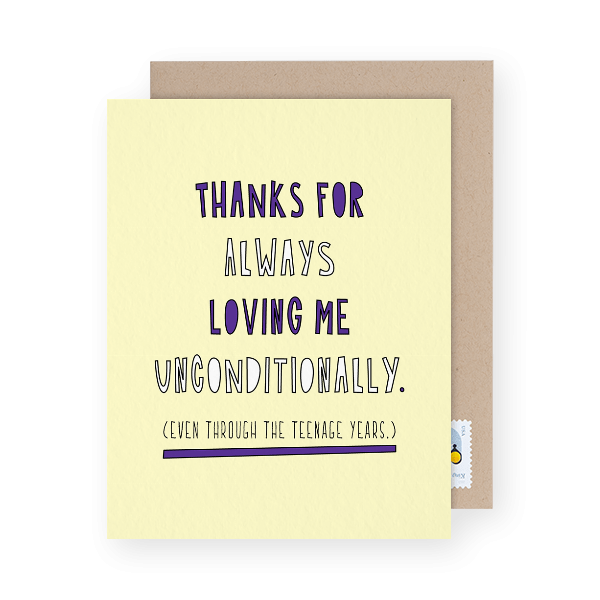 Ok, you've browsed and giggled silently to yourself. Now it's time to make a choice and send mom a funny Mother's Day card that will make her giggle and warm her heart all at once. Don't forget to write some heartfelt words on the inside — the message is kind of an important part.
Send mom a Mother's Day card in minutes. Postable will print, address and mail your card to mom for you!