Mother's Day 2022 is just around the corner and we're as excited as ever to brainstorm some unique Mother's day activities! You won't find a more comprehensive and unique list of things to do for Mother's Day. With the world in constant state of change, you'll want to plan a couple options. This way if case last minute changes in public health guidelines make your initial plans unlikely to happen, you'll have a solid plan B to fall back on and mom will still have a stellar Mother's Day. The moms in our lives deserve the world. No. More than the world… They deserve the universe. And at the very least, they deserve to spend Mothers Day doing something special, fun, and unique to their personality. Some moms want nothing more than to sit back, sip a cocktail, and enjoy some serenity. While other moms would love something a bit more exciting like a hike or bungee jumping. Every mom is different so when you're making plans for this year's Mother's Day keep her unique preferences and personality in mind.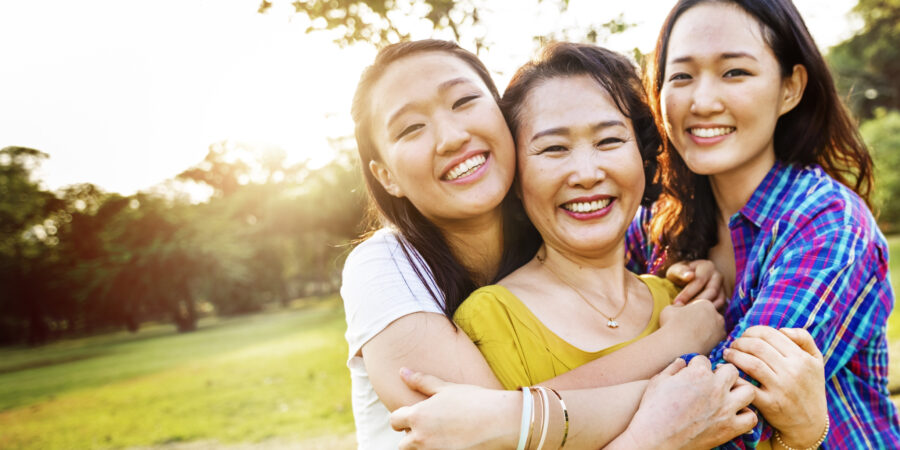 Send mom a really nice Mother's Day card in minutes. Postable will print, address and mail it to mom for you.
What you'll find here:
In this post you'll find 43 unique ideas along with a few bonus suggestions to really help mom feel like the queen she is. If you're having trouble figuring out how to combine these ideas into one great day, check out the two sample Mother's Day itineraries.
30 Unique activities
13 Unique indoor activities
Bonus suggestions on making Mother's Day extra special
Mother's Day sample itineraries
Top three things to keep in mind when planning Mother's Day activities.
There are a few things that just about every mother out there would want for Mother's Day. And honestly these are no-brainers, but still worth mentioning.
Let mom sleep in. [When was the last time she did this?]
Don't let mom lift a finger. [Mom shouldn't have to wipe, clean or cook a thing for anyone on her special day.]
Quality time. [Whatever you plan for the day, think about adding in some quality time with the whole family for at least a portion.]
From mom herself —
My Mother's Day is a quiet one. A day where I could relax and not have to cook, clean, wipe butts, or manage the household. On my perfect Mother's Day, my husband would take care of these things and I would expect my kids to help.

We do so much as mothers and self care is often neglected. We need to take care of ourselves. As the saying goes, you can't pour from an empty cup. So on this Mother's Day, I plan to fill my cup.

— Marissa, Simply Money Mom
Don't forget the Mother's Day card!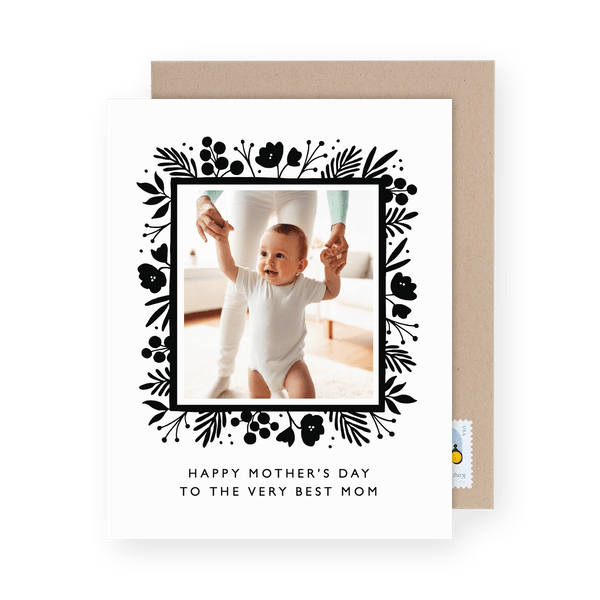 While you're busy scheming up the greatest Mother's Day to ever exist– don't forget about the crucial Mother's Day card. She will no doubt be looking forward to reading your special message. Remember to write something from the heart! Mom is one special lady so don't cut any corners — sending her a text on Mother's Day is a huge no-no.
Pro tip: Send mom a really nice Mother's Day card right now. Postable will print, address and mail it to mom for you via USPS..
What can I do on Mother's Day? Mother's Day activities Galore!
We hope the ideas here will spark your enthusiasm for planning the most epic day for mom. And regardless of what your family looks like, this list has Mother's Day activities for adults and families with children alike.
Don't forget to keep mom's likes and dislikes at the top of mind when making arrangements. Remember — just because you love a long hike doesn't mean mom will and vice versa. If mom loves to hike and you don't, suck it up. It's her day so make it count.
A few additional things to keep in mind:
These ideas can be stacked to create a slew of stellar activities for a full day.
Some of these activities may not be appropriate in 2022 with social distancing guidelines; depending on where you are and your personal situation. Some outdoor alternatives have been noted.
Skip down for completely indoor Mother's Day activities ideas below.

1. Go to the spa.
Research a local spa and schedule mom some well deserved me time. If you want to make it a girl's day — that would work too (and you get a little pampering out of it too). This is a simple activity that requires basic planning — just make a reservation!
2. Take her out for a meal.
Make this just a mother-daughter/son activity or have the whole family, including Grandma because it's her day too, join in on the fun. You can make this a Mother's Day brunch or dinner. Lots of flexibility here based on what you think mom would like best. Make a reservation at mom's favorite local spot. If mom is the adventurous type, do some research and find a new location you think mom would enjoy.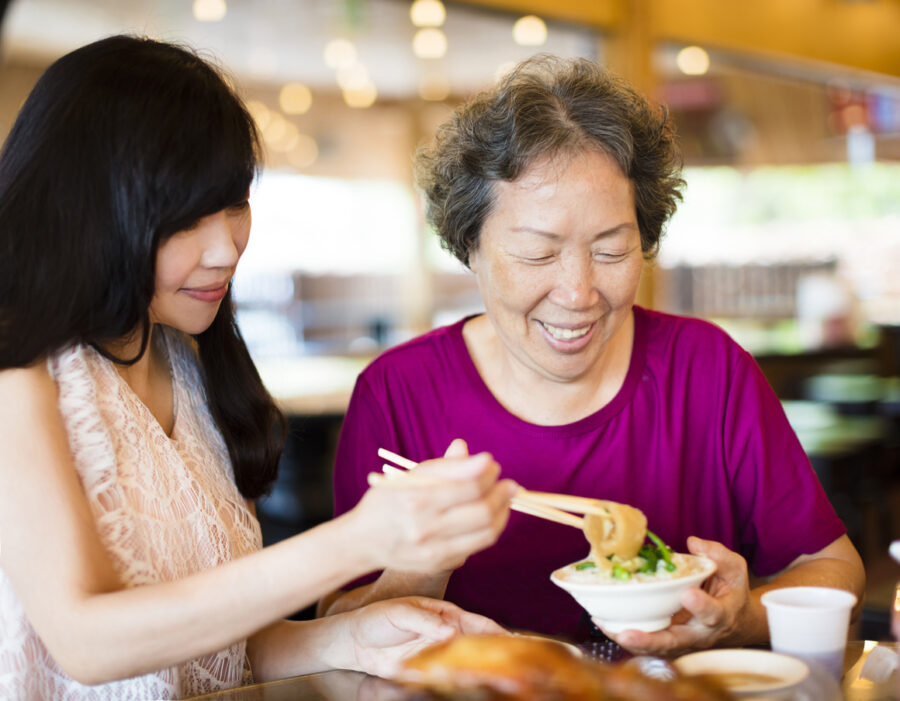 3. Go camping!
If mom is the kind of gal who enjoys time outdoors, there's no better way to spend quality time with the entire family than pitching a few tents and roasting some marshmallows around the fire. It lets mom get away from the house so she doesn't feel the need to clean or cook and it's the perfect way to spend time bonding as a family. Make sure mom is the one to sit back and relax while the rest of the family prepares all the camping goodies like food and tools. Invite another family to join the fun to make it a social event (just ask mom for her preference first).
4. Breakfast in bed — the oldest Mother's Day activity in the book.
It's simple and oh so traditional. Let mom sleep in while you make some of her favorites. Need some ideas? Try one of these recipes.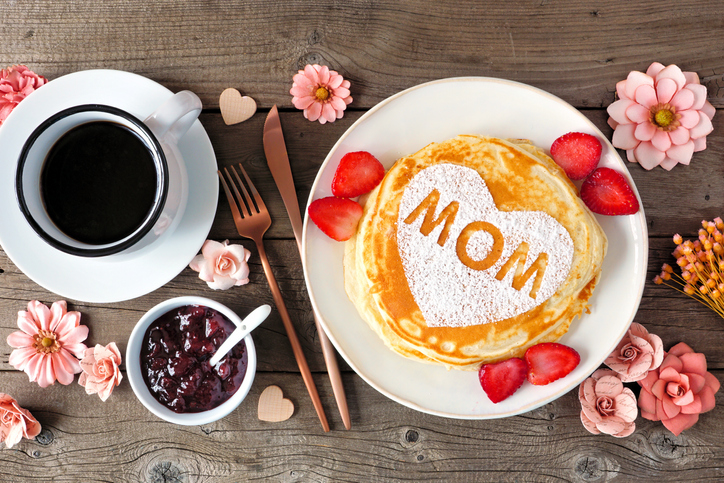 5. Book a private yoga session.
Does mom practice yoga? Going to a yoga class is wonderful and maybe that's the thing you'll want to do this Mother's Day, but consider something a bit more special. Hire a private yoga teacher (that you know mom would love) to come to the house to give her a one-on-one on the morning or afternoon of Mother's Day.
Outdoor alternative: Book a private for you and mom outside at your favorite local park or even the backyard.
6. Have a picnic.
Everyone loves a good picnic, right? If mom loves the outdoors, this is a great option to enjoy some treats surrounded by nature. Pack all the finger goodies you can think of, a cute blanket and maybe a small flower vase as the centerpiece.
Indoor alternative: If you don't live in a climate that's conducive to outdoor picnics on Mother's Day… You can still have a picnic indoors. Move some furniture to make extra floor space. Lay down the blankets and bring out the picnic basket. Recreate the experience indoors for a special meal.
7. Get active with mom!
If mom loves to get sweaty, why not spend some time doing just that. Take the family bikes down to the park or to the nearest trail. Take a run with mom around the neighborhood to start the day sweating together or simply go for a long walk at a state park.
8. Go bungee jumping.
Is mom more adventurous than you'd ever hope to be? This activity will not be the most common, to be sure, but it's very likely that there are moms out there itching for some heart pumping adventure. Bungee jumping would certainly check those boxes.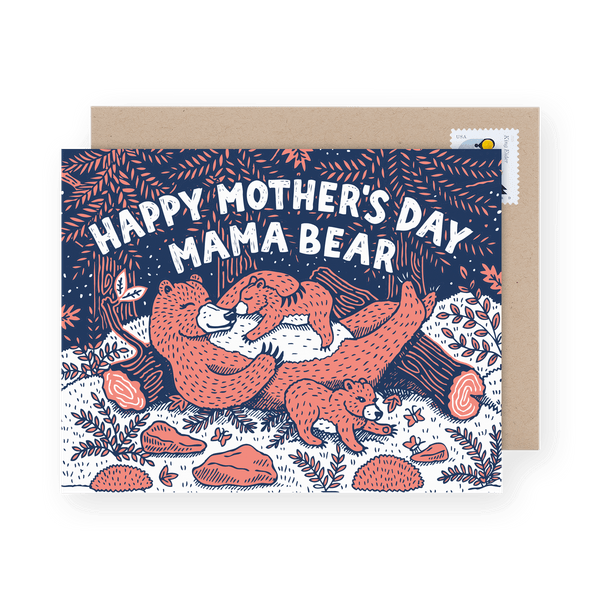 9. Take a trip to the farmer's market.
It's a lovely place to spend a morning — browsing flowers, munching on farm-fresh snacks and maybe doing a little shopping for the evening's dinner.
10. Help mom out in the garden.
If mom loves nothing more than getting her hands dirty with some planting, give her a helping hand. Help her with whatever tasks need to be done and enjoy spending time together. She'll appreciate your help and the quality time.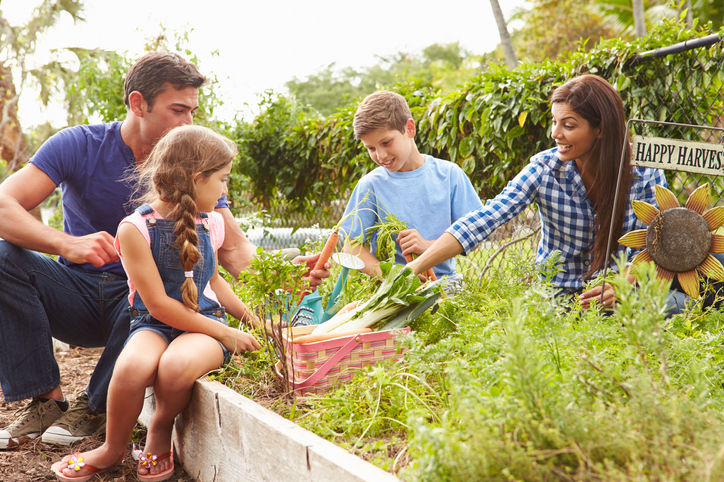 11. Start a family garden.
Ok so maybe mom doesn't already have a garden of her own, but you've heard her talk about wanting one. This is your chance to help make it happen! Get the whole family involved and spend the day building out a little family garden.
12. Soak by the Pool.
If you live in Florida — or really any southern state where May is already in full blown summer mode — give mom a nice relaxing day by the pool. If you have one of your own or know someone who does, plan for all the moms in your lives to spend a day just taking in the sun by the pool. Prepare some fruity cocktails mom can enjoy and bring all sorts of yummy snacks to her side as random delights throughout the day. Family pool time is a lovely way to let mom relax and still spend time with everyone.
Pro tip: If you live in a city with nice hotels, many times you could book a day fee to relax by their pool. Do some research to see if this is available in your area.
13. Dinner and a movie.
Sometimes the old faithful date ideas are winners. When was the last time you went to see a film with mom? Let mom choose the movie and don't forget the popcorn.
14. Volunteer together.
There are a ton of volunteer opportunities in most towns. You'll need to do some pre-planning to see what is available. Perhaps there is a beach or lake clean-up or an opportunity to read at your local library's story time.
Whatever way you choose to give back — do it together. Volunteering as a family will give you something extra special to bond over and you might even want to make it a yearly tradition.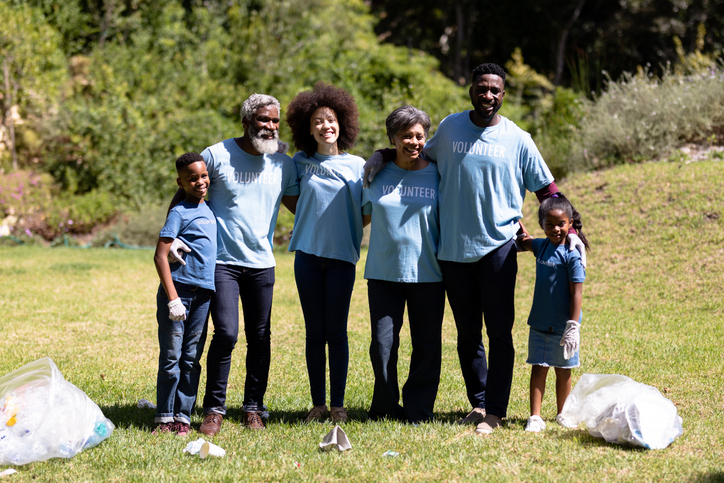 15. Create something together.
Is mom crafty? Brainstorm some ideas with her ahead of time on what she might enjoy making. Prepare all the tools in advance— paper/canvas/paint/coloring pencils etc. — and lay out all the goodies so that mom doesn't need to participate in the prep (or clean up).
16. Go to the beach.
Although summer hasn't quite graced us with her presence, spring has definitely sprung! Why not enjoy the beauty that the beach has to offer without the blistering heat? It's the perfect location to get some family quality time (what mom really wants).
Make sure to have a plan B in case the weather is not cooperating on Mother's Day.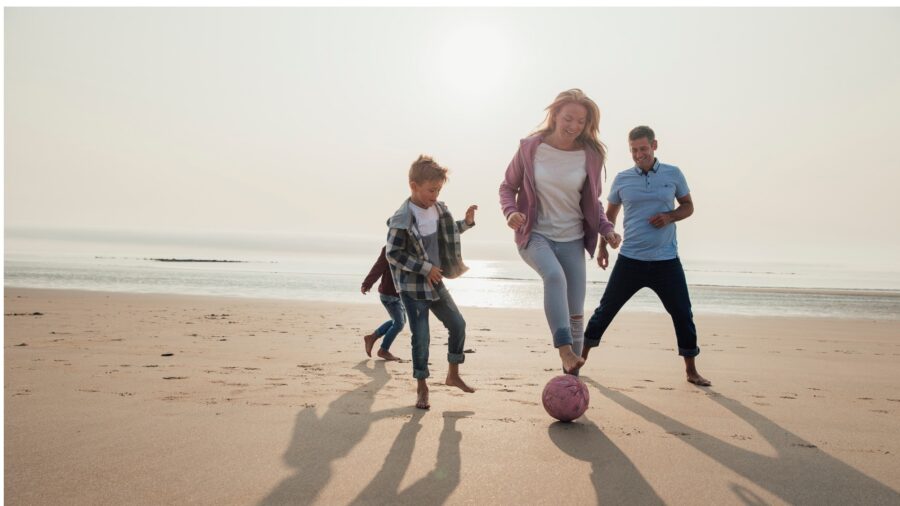 17. Turn mom's story into a book.
Everyone has a life story worth knowing and mom is no exception. Combine arts and crafts with a little research and a whole lot of quality time for a day of helping to re-create mom's story. Use old family photos, mom's own recollections and the internet (full of family history tidbits). Make a sort of life-story-book for (and with) mom. She'll love getting to re-tell some of her favorite memories and you'll get to know her even more!
18. Visit a winery.
Because nothing says "I love you mom" like treating her to endless delicious wine.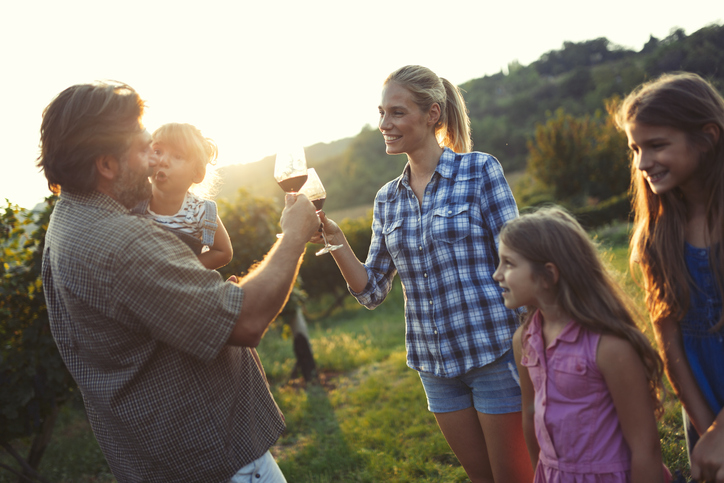 19. Try a new recipe.
Have a fun recipe you and mom have been dying to try out? Why not do it together? This only counts as a good idea if mom actually likes to cook and isn't constantly in the kitchen. This shouldn't feel like another chore. No matter what, make sure to be the one that does all the prep and clean up.
20. Day trip surprise!
Catch mom off-guard with a spontaneous (well, sort of) family day trip somewhere nearby. Make sure to plan the day accordingly so you're not completely winging Mother's Day. Know the route, how long it will take, where you'll be spending the day and the best places to eat (and maybe even make reservations).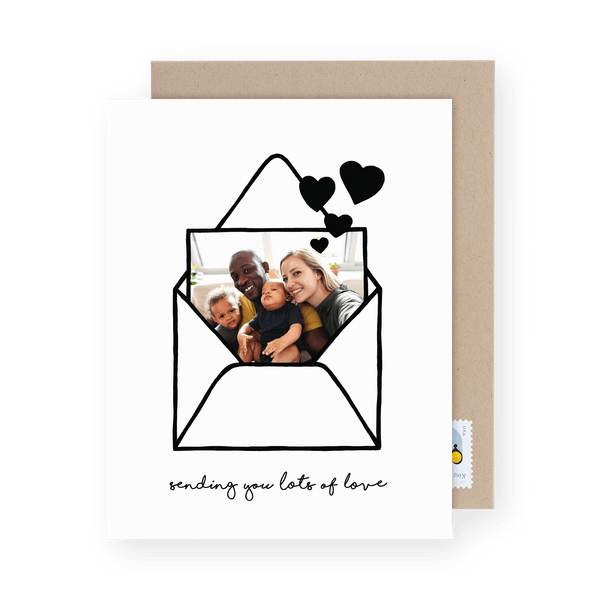 21. Start a pen-pal tradition with mom.
Ok, so this shouldn't be the only thing you do this Mother's Day, but a fun little addition to the special day. Suggest you and mom become pen-pals and see if you can do it for a whole year. Save the letters and cards you send to each other throughout the year to read the following Mother's Day (maybe even the start of next year's Mother's Day craft).
This is a great option for long distance families.
22. Have a photoshoot.
Capture this Mother's Day with some beautiful photos and make a whole day out of it. Prepare by hitting up a salon (or do the dollying up at home) and getting mom all jazzed up. Mimosas are always a good addition. Hire a local photographer in advance to help capture the fun and loving mom you all know and love. You can make it all about mom if you think she'd love that or turn it into a family photo-esque day.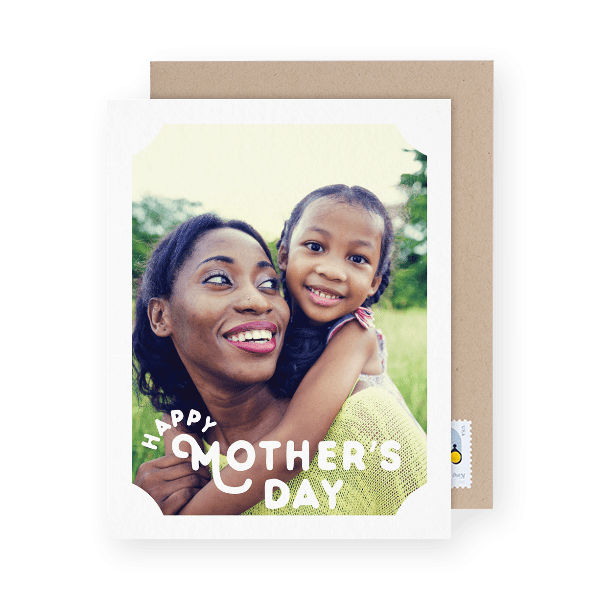 23. Take mom on a shopping spree.
Take mom on a shopping spree where you help pick out things for her. Help her try things on, pick out outfits and make her feel like the special queen you know she is.
24. Visit a museum.
Does mom appreciate learning more about Degas or Van Gogh? Perhaps she's just really into art history. Chances are she doesn't have much room in her already busy schedule to go to a museum just for fun. Book a private tour of her favorite wing or type of art to make it even more special.
25. Go for a hike.
Does mom really* love the outdoors? What better way than to take her on that trail she's been eyeing.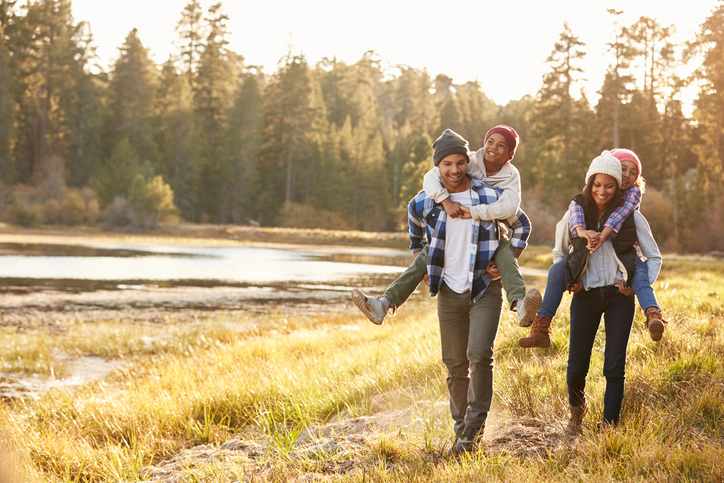 26. Paint night.
Love to get artsy, but don't feel all that good at it? The paint night craze is likely perfect for Mother's Day. It'll help bring the talent out while sipping on some yummy wine. 
27. Flower arrangement class.
Who knew this was even a thing? If you think mom would be keen to learn how to arrange a beautiful bouquet, this delightfully floral activity will be perfect.
28. Stroll through a sculpture garden.
Another lovely way to spend Mother's Day outdoors. Do a bit of research to find a local community sculpture garden and take a lovely stroll — maybe with a couple lattes in hand.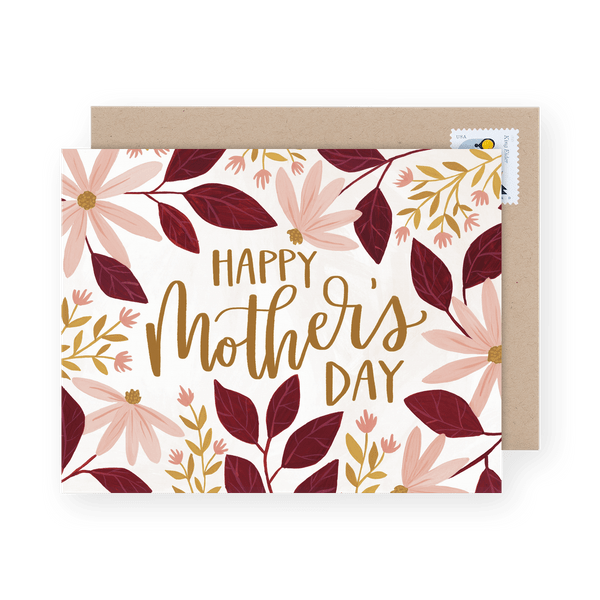 29. Cooking class.
Get creative making something yummy with mom by taking a cooking class. This can be especially fun if mom wants to learn a few new tricks.
30. Mom's very own happy hour.
Have a few moms in the family? Why not celebrate with all together under one roof and from the same mini-bar? Make a signature cocktail for the moms in your life — or a few different creations each named after a mom. And don't forget to serve the special ladies first!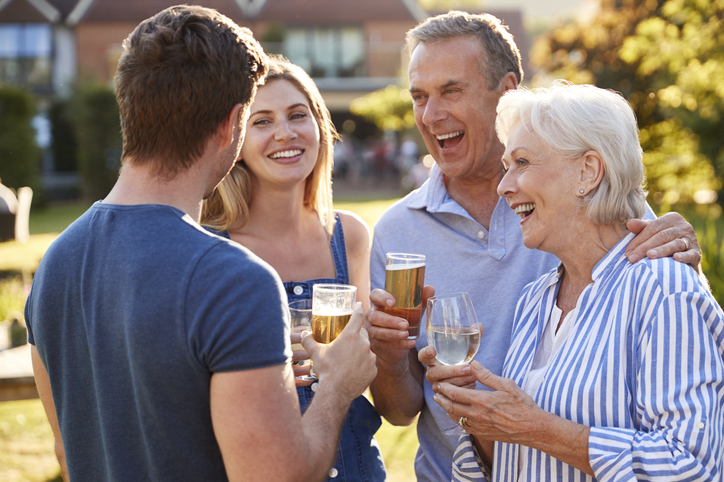 What should I do for Mother's Day at home? Indoor Mother's Day activities!
The previous Mother's Day activities were mostly socially distanced friendly — with many of the plans revolving around being outdoors. If you're making plans indoors this year for whatever reason it doesn't mean they need to be dull. Here are some uniquely fun ways to spend Mother's Day indoors.
31. Virtual Museum tour.
Remember that trip to the museum? How about making it virtual! Most museum websites allow you to take a stroll online. To make this extra special, get a projector and a white screen (or just a big white sheet) to project the tour on a wall.
32. Puzzle.
Seems like 2020 was the start of puzzle-frenzy while everyone was in lockdown, but turns out… Puzzles are actually kind of fun! Make some yummy tea or mimosas and get to puzzling. See if you can finish the whole puzzle in one day. Once you're finished, consider framing the masterpiece as a reminder of your time together. Plus, many puzzles are stunning so it can make for lovely wall decor.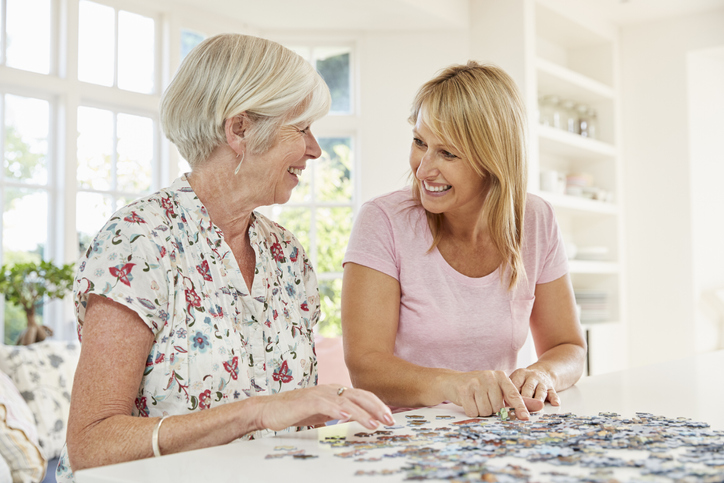 33. A virtual class.
If the last couple of years taught us anything it was the power of virtual… Everything. Any class that you might have considered doing in person, you can likely get access to — at least for Mother's Day 2022 — virtually. People are still offering online versions of yoga or some other fitness classes. If mom is more of a creative type, see if your local studios offer virtual paint classes, cooking classes or even a flower arrangement class. The plus side of staying in and taking an online class — or any other indoor Mother's Day activities — with mom this year (other than social distancing) is the ability to curate the whole experience. Make mimosas or some other fruity cocktail while arranging flowers or painting a blank canvas. 
34. Stream an online concert.
In the same vein, you can opt for an online concert. Whether it's something that's streaming live or a concert you find on Youtube. Make it extra special and see if you can find one of mom's favorite concerts and project it onto a blank wall (or a hanging white sheet).

Alternatively, you can stream another type of musical performance. Think a virtual musical or a ballet performance.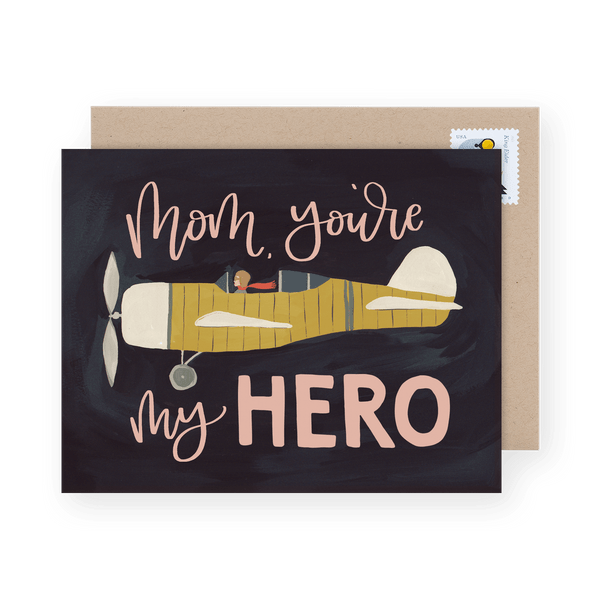 35. Bake together.
If mom actually enjoys baking, this can be a fun Mother's Day activity you can do indoors. You can stick to the trusty recipes you both know and love or get experimental. If you think mom would enjoy getting extra adventurous try to find a recipe that's challenging and maybe even uses tools or techniques the two of you wouldn't already know. Watch a tutorial video here and there and don't forget to have fun!
An added suggestion: set up a camera (or your camera phone) pointed at your baking station and put it on a time lapse. When you're all done, it'll be a fun treat to re-watch the whole process!
Important: You do the prep and the clean up! This is mom's day, don't let her clean.
36. Plan a travel trip for the future.
Perhaps traveling to a far off place (or even the state next to yours) is something that is plausible for your family in the near future. Spend a part of Mother's Day researching fun destinations you could visit. Do it over brunch or just set aside a couple hours to dig in and dream up an adventure together!
37. Host high tea.
Is mom a tea fan? Why not host a lovely high tea extravaganza? Have the whole family participate or let mom invite her closest friends for a lovely lady high tea. Make sure you prepare some delicious (and perhaps unique) tea selections and don't forget to research proper tea brewing techniques for each one. Pair the teas with some small sandwiches and pastries — make them yourself or get them at your local bakery.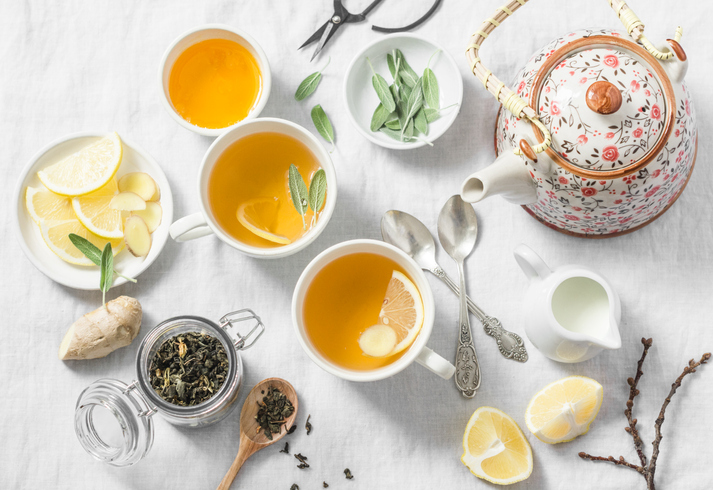 38. Scrapbooking.
If you think mom would have fun getting crafty with old pictures and stickers while reliving old memories, this Mother's Day activity may be a winner. Prepare a scrapbook and all your scrapbooking materials — think stickers, markers, glue and glitter! Visit your local print shop to print out some photos from your phone and make sure to get some from mom's as well.
Set up shop on a large table and have fun getting crafty. This can be a fun little Mother's Day activity post-breakfast over coffee.
39. Watch old home videos.
Another indoor Mother's Day activity to celebrate mom with the whole family. Pop the popcorn and get out the old videos!
40. Plan a spa day at home.
If going to the spa is not an option — for whatever reason — planning an at-home spa day for Mother's Day can be a winner. Pamper mom with fancy face masks, and foot soaks. Give her a manicure and don't forget the cucumber eye patches. The key here is in the preparation. Make sure to gather everything you'll need — all the spa goodies, perhaps a cozy robe and of course a bottle of bubbly. You don't need to be an esthetician to give mom an at-home facial.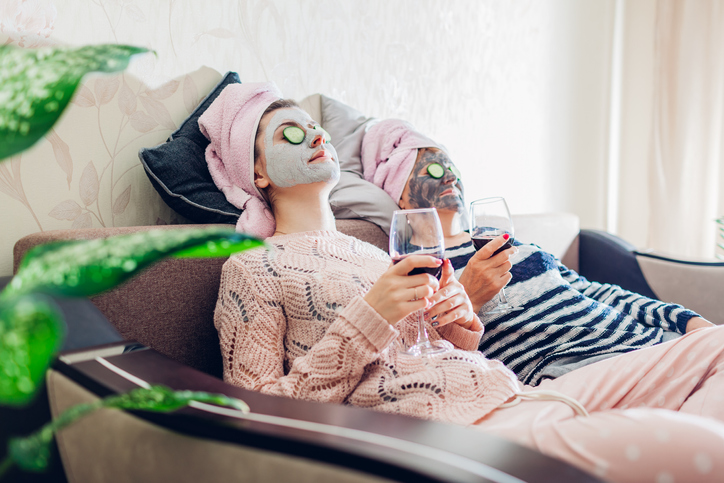 41. Start a mother-daughter/son book club.
If mom loves to read, this could be a great time to start your monthly mother-daughter/son book club! You'll need to choose your book a month in advance so that Mother's Day can be your first official book-club meeting. Continue the new monthly gathering well after Mother's Day and see if you can make it a whole year.
42. Cook for mom.
How many meals has mom made for you? This mother's day, turn the table and make all of mom's meals for her. That means more than just breakfast in bed. It also means you'll need to do some grocery shopping.
This will take some planning, so make sure you think ahead. Plan out 3 meals for mother's day and keep mom's favorite dishes in mind. Make a list of the things you'll make and the ingredients you'll need. Go to the grocery store in the morning or the night before to be ready for breakfast. If mom normally wakes up early to feed the family, be sure you're up and making the first meal before she does.
Chances are, mom normally cooks for more than just herself. So be sure to plan to cook for anyone she'd normally be feeding. The idea is to keep mom out of the kitchen so she can enjoy her day while making all of her favorite meals.
Don't forget to do the dishes (don't make a mess in the kitchen and expect mom to clean it up).
43. Re-create a wine tasting at home.
Check out your local winery or knowledgeable wine store clerk and pick up several different types of wine. Get a little background on each (this may require a little homework on your part) and buy some pairings to go along with the booze. Make it a family only gathering or ask mom to invite some friends.
How can I make Mothers Day special? Beyond Mother's Day activities, ways you can make mom's day extraordinary.
Clean the whole house.
Take on one of mom's daily chores so that she has more time to enjoy Mother's Day. You may not have paid too much attention to all the up-keeping mom usually does, so be sure to pay attention; whether it's vacuuming or sweeping the floor to cleaning the bathroom. Wake up early and surprise mom with a clean home or do it the night before.
Watch your siblings.
Have young siblings that need taking care of? Why not give mom a day to herself by babysitting your siblings (without being asked). As a plus, use the time with your young sibling(s) to create something for Mother's Day.
Send mom out on a day at the spa while you take care of the kids at home. While she'll love spending time with the family on Mother's Day, giving her some time alone at first will make her day extra special.
Write mom a thank you letter.
Yes, a mother's day card is a must. But instead of the short and sweet 'Happy Mother's Day Mom' why not use your writing skills this year. Write her a well thought-out letter of appreciation. Don't wing it. Brainstorm, outline, edit and don't forget to proofread.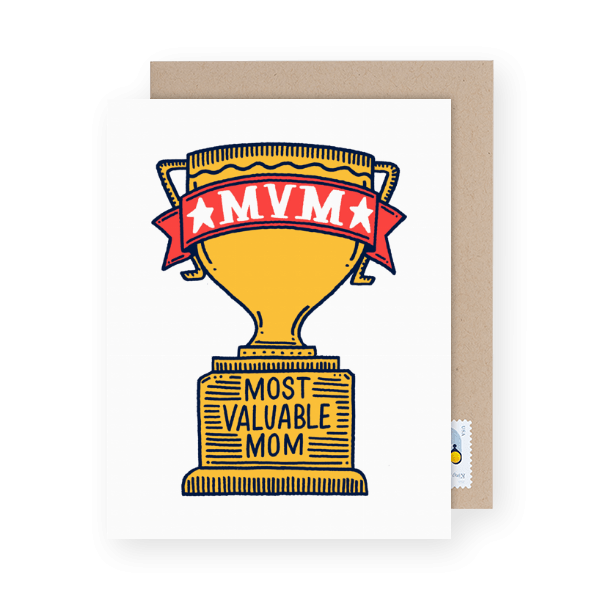 Two sample itineraries for a truly unique Mother's Day mom will love.
Ok so you've read through this giant list of ideas and your mind is likely buzzing with potential. How will you combine these activities into one epic day? Here we have two Mother's Day sample itineraries to get you thinking.
A full day with mom on Mother's Day.
The night before, get to cleaning the whole house!
Let mom sleep in and wake to a sparkling home.
Make mom Breakfast in bed.
Head to the park for an afternoon Yoga session (or do it indoors).
Stroll through the farmer's market, picking out a few yummy items…
Take those items and have a light picnic.
End the day with a low-key Mother's Day Happy Hour with the family and any other moms in your life.
Order mom's favorite takeout to compliment the happy hour.
Mother's Day Itinerary for long-distance families.
Send mom flowers from a local florist so it is the first thing she gets after waking up.
Zoom with mom and ask her some fun questions (interview for your mom life book).

Make plans for a trip together in the future.
Take a virtual class together… or plan your monthly mother-daughter book club.

Order mom's favorite takeout for lunch (or dinner)… thanks to apps this is now possible or just call the restaurant.
How will you spend Mother's Day this year?
Send mom a really nice Mother's Day card in minutes. Postable will print, address and mail it to mom for you.