Running a company in the midst of 2020 turbulence cannot be easy. Celebrating the 2020 holiday season, however, can be quite doable (albeit an exit from the norm) with a virtual company holiday party! So, maybe the idea of planning a virtual company holiday party is making you a little nervous. We get it — it's totally new terrain for many company owners and managers. Luckily, planning and executing a successful virtual company holiday party is a lot like any other holiday event. It just requires a bit of brainstorming, organization and planning — the guide to which is right at your fingertips. We're here to help make sure your employees and team members are talking about the insanely fun virtual holiday event their management pulled off during an unprecedented holiday season.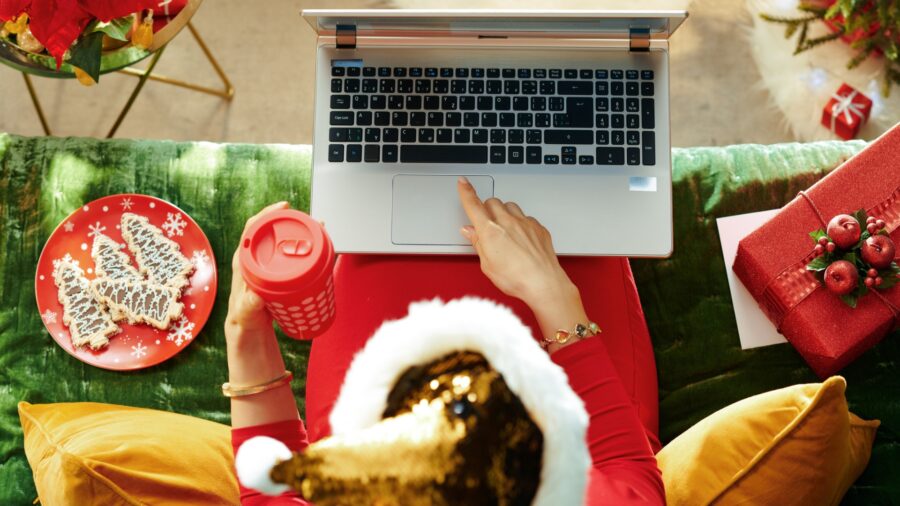 Yes, we're all exhausted from online calls and meetings. But there's still a way to make use of the digital platforms we've become quite familiar with these last few months due to the COVID social distancing measures.
Table of contents for planning an epic virtual company holiday party in 2020.
STEPS
TIPS
THEME IDEAS
GAME & ACTIVITY IDEAS
FAQS
Steps to organizing your virtual company holiday party.
Prepare the guest list with mailing addresses.
Decide on a theme.
Send real invitations to your guests.
Prepare the itinerary with the virtual games and activities.
Choose your video conference application & test them out.
Mail out party goodie bags with party essentials.
Send a reminder to guests the day before.
Really nice Business Holiday cards, mailed for you. Show your employee appreciation without leaving home.
Step 1: Prepare the guest list with mailing addresses.
Unlike years' past where company holiday parties took place in person, your entire itinerary is going to revolve around the items you include in your goodie bag. This means making sure the addresses you have for your employees and team members are accurate.
Given that most companies have updated addresses for their employees already this shouldn't be an issue, however, we're living in some odd times so make sure that your team members aren't currently residing elsewhere. The last thing you want is for your invitations and goodie bags to arrive at the wrong address.
This step will also help with planning once you know exactly how many people will be attending.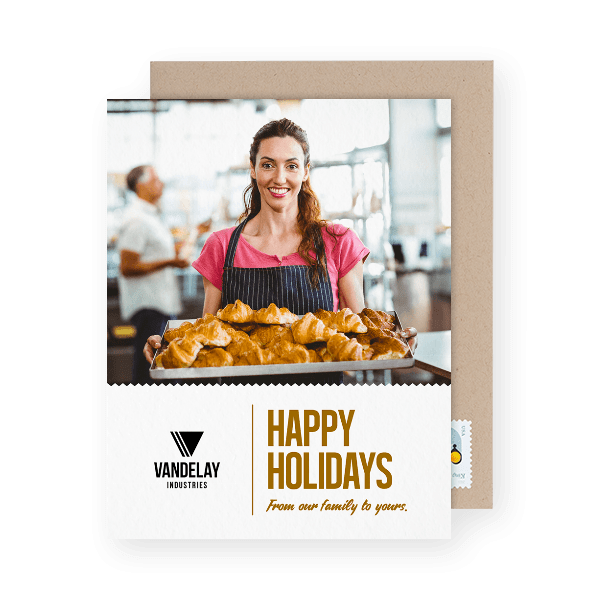 Step 2: Decide on a theme.
Deciding on a theme for a virtual company holiday party is really important as this will set the tone for everything on the itinerary as well as the tone of the party. Whereas before you could just rent a private room at a restaurant, order some snacks and booze and call it a night — you're going to have to get a lot more creative to make a virtual party as exciting as if everyone were in the same room.
So, what will you choose? We have a number of suggestions with itinerary options as well as goodie bag contents below.
Step 3: Send real invitations to your guests.
You want your company holiday party to feel like it's more than just another Zoom meeting, right? Then level up by mailing out real holiday party invitations to get your employees and team members excited about actually joining in on the virtual fun!
Take whatever theme you've chosen and keep it in mind when selecting the design of your party invitations. Obviously, these shouldn't have a physical address and instead a simple note guiding your guests to their email where a link will be sent.
Pro tip: Postable will print, address and mail your company holiday party invites for you.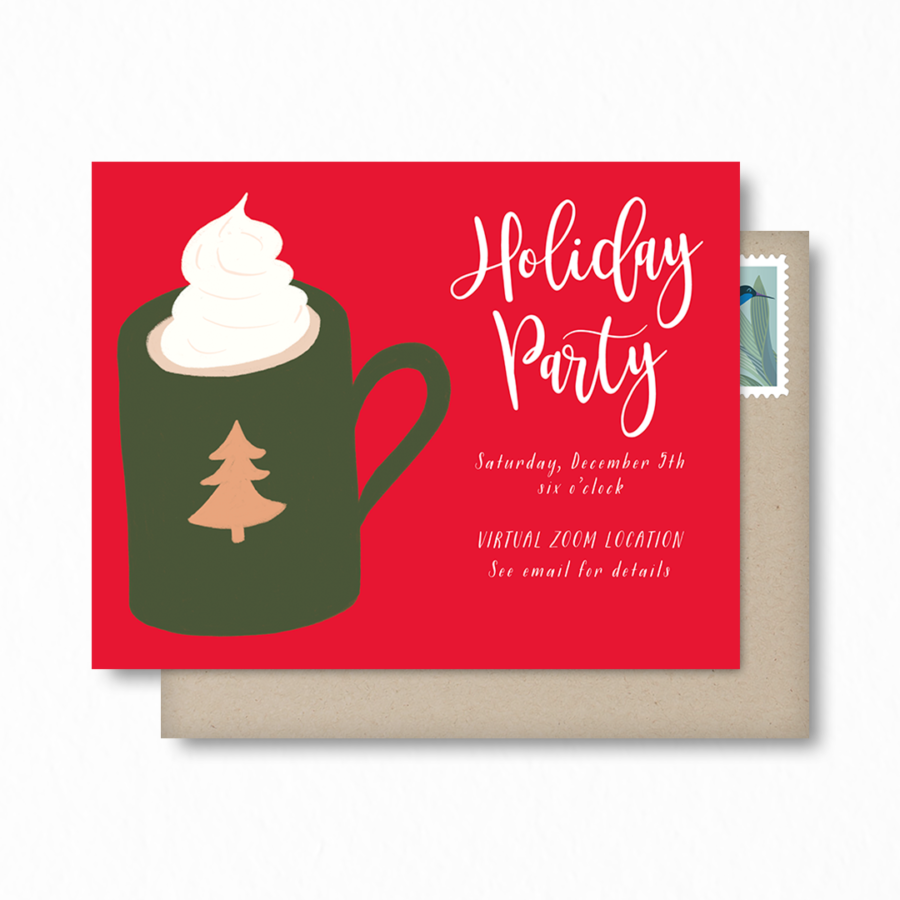 Step 4: Prepare the itinerary with the virtual games and activities.
Keeping your chosen theme in mind, map out the itinerary for the party. Though this wouldn't be quite as necessary for an in-person holiday party unless you plan ahead with fun activities your virtual company holiday party will turn into an aimless Zoom meeting. Nobody wants that.
Keep reading for lots of fun options to choose from.
Step 5. Choose your video conference application & test them out.
By now your company and team is probably very well versed in online group meeting applications. Theoretically this step should already be whatever you normally choose, however if your normal platform of choice is not ideal for hosting whatever activities you're planning on having consider testing out other options. Zoom tends to be a great choice for most as it's flexible and functions well with most online activities.
Once you've made your choice, give it a test run. If you're planning on hosting a holiday movie trivia game make sure the application will run smoothly during the game. If you've got a bigger team and would like to give them options on fun activities to choose from you'll need a platform that allows for breakout rooms. Whatever you choose, just make sure the application will work properly with your plans.
Step 6: Mail out your holiday party goodie bags.
We've already mentioned that this year's holiday goodie bags will be an important part of the event. Whatever you choose as your theme and activities will inevitably be dependent on the contents of the goodie bag you will need to mail out. For example, if you're planning on a cookie decorating extravaganza, you'll need to include the cookies.
Regardless of what you choose as your theme and activities, you'll want to include some form of booze (it is a party, right?), appropriate decorations for your theme and perhaps a little something they can use during the party and hold onto for after (like a champagne flute for example). This doesn't have to be a huge effort, but should definitely have a few little items to get your team members in the holiday spirit and ready to enjoy the virtual party. Read on for various suggestions.
*Check your state's laws for shipping alcohol.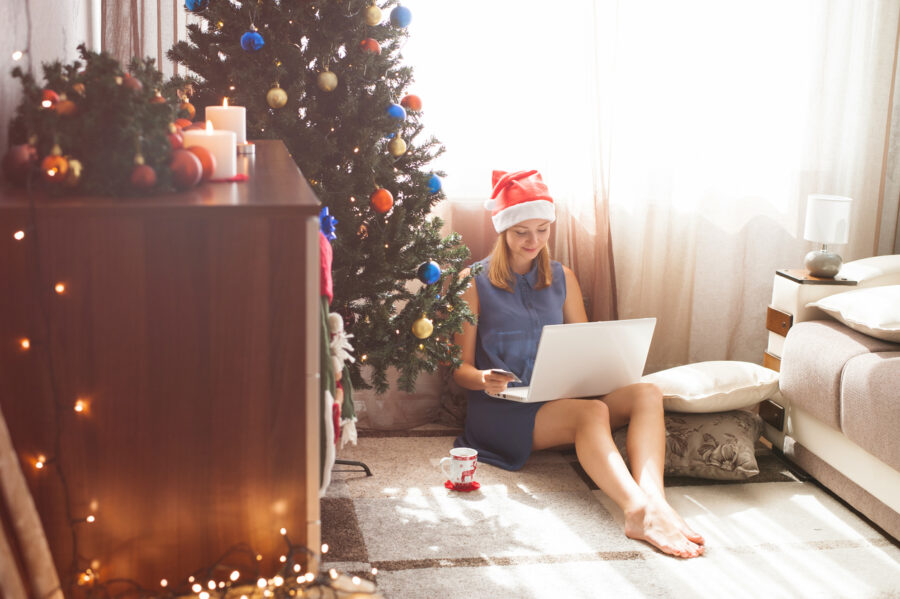 Step 7: Send a reminder to guests the day before.
Even though you've mailed out real holiday party invitations — which will definitely help set the tone for your online event — you'll still want to send out a brief reminder the day before.
Alternative step: hire a planner.
Alternatively, you can skip all the aforementioned steps and just hire a professional event planning company to take the reins on planning your online company holiday party. This can be especially helpful if your guest list is over 50 people.
Tips for throwing a virtual company holiday party.
Ok, so we've outlined the steps necessary to plan your online company holiday party, but here are a few tips to keep in mind before we dive into some fun examples you can actually use. This is the ultimate guide after all!
Stay organized.
Choose a theme that promotes interaction.
Celebrate with inclusiveness.
Encourage dressing-up!
Repurpose the budget.
Send something physical.
Stay organized.
When planning your 2020 online company holiday party this year, make sure to stay organized. If you've ever planned an event, you know this is key to a successful party — virtual or not. You can use free online to-do list tools to stay on top of everything or even an old school spreadsheet can do the trick.
Pro tip: Postable's free holiday address book will keep your company guest list organized AND you can use it to easily mail your company holiday party invites without leaving your computer.
Choose a theme that promotes interaction.
When brainstorming ideas on this years' company holiday party theme, make sure you're aiming for something that will encourage your guests to interact with one another… The last thing you want is forced Zoom small talk. Yikes.
Also, remember this is a party so food and drink is essential. There are plenty of fun themes and activities you can choose from that involve food.
Celebrate with inclusiveness.
The last thing you want is to isolate any of your employees or team members. Unless you're certain everyone on your team celebrates one holiday, keep the theme and activities general.
Encourage dressing-up!
The more we can do to help people feel like they're away from their couches and inside a holiday party, the better. A theme that encourages your guests to dress up will help set the tone of the party and get everyone involved in having a good time.
Repurpose the budget.
Chances are, you had budgeted for a company holiday party when you and your team were creating the yearly budget. Just because you're no longer hosting an in-person event (thanks, COVID) doesn't mean that you shouldn't use the budget elsewhere. In fact, hosting an online company holiday party is arguably far trickier than an in-person event and will require a bit of investment in order to make it one to remember (and enjoy).
Send something physical.
Regardless of what theme you choose to go with or what activities your itinerary will call for — you should plan to send along a goodie bag to each of your team members. Consider the budget you have set aside for the typical holiday party and decide what is appropriate for 2020's celebration. Since you're likely saving quite a bit on venue costs, you'll have some wiggle room to get creative which will allow you to really throw your team a virtual holiday party they'll remember.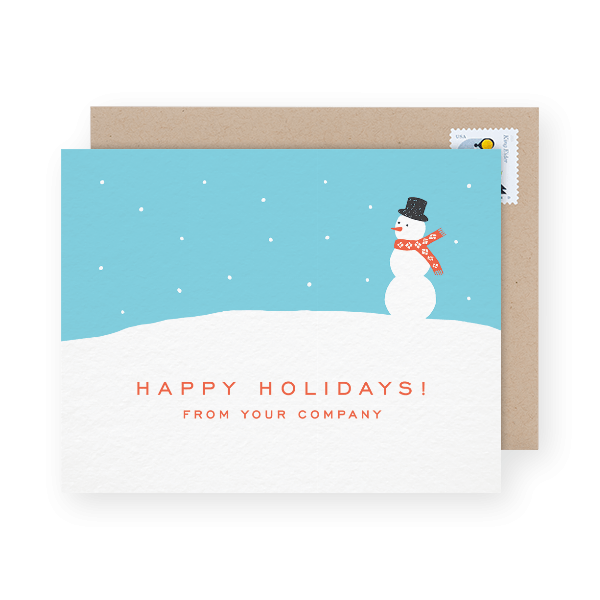 Virtual company holiday party ideas.
Some of these theme ideas will have a built-in itinerary with games and activities while others will have more wiggle room for you to get creative in coming up with activities and games.
Theme ideas for your virtual holiday party.
Company Superlative Awards
DESCRIPTION: Channel your inner Moira Rose and turn the holiday season into Awards Season. Mail out a survey with whatever fun categories you can think of and have the team cast their votes. Include classic categories like Most Likely to Take Risks or Most Likely to Be Early AND come up with fun awards like Snack Queen/King, Most Likely to Multitask in Their Sleep, or Most Likely to Save the Day.
*Make sure everyone wins at least one category.
During the actual party, plan to have fun examples for each winner for the host (presumably the planner) to announce along with the winners.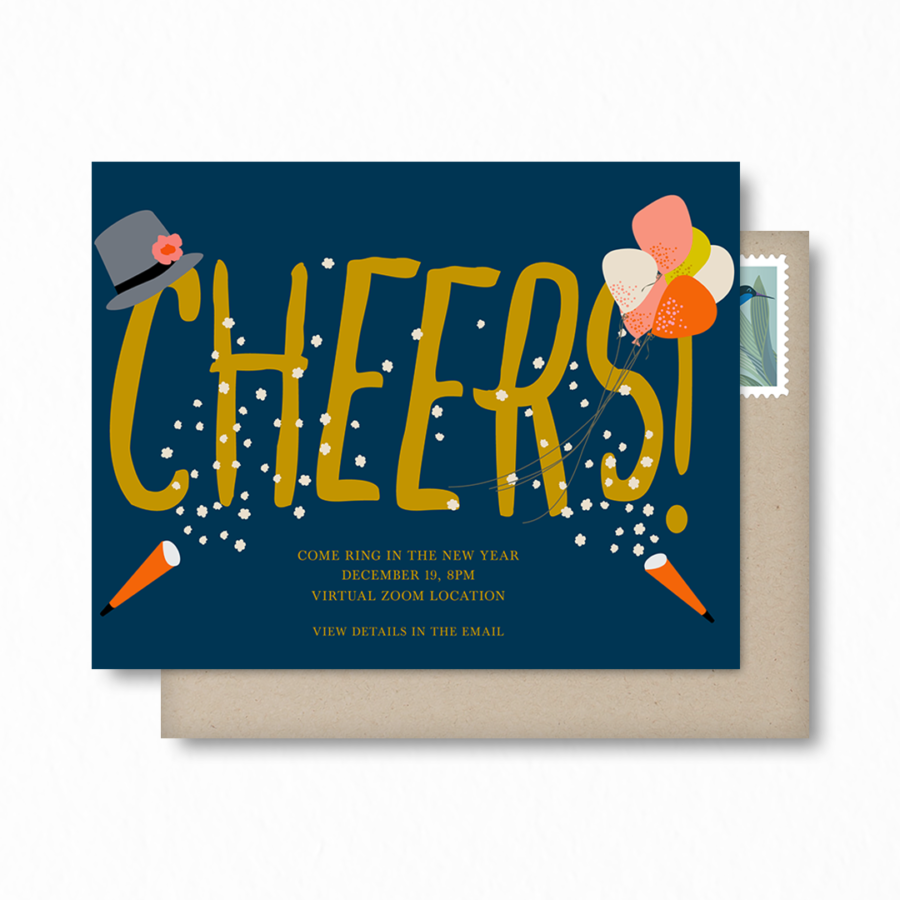 GOODIE BAG:
Sealed off envelopes for the winners of each category.
A beautiful champagne flute they can keep beyond the party.
Champagne for toasting the winners.
Cake pops covered in gold and black confetti.
Gold and black party streamers they can put up to really get into the awards mood!
ITINERARY SAMPLE:
Greetings & Welcome Speech
Year summary video
Round 1 of awards (5-7 categories)
Intermission holiday movie quiz with prize
Round 2 of awards (5-7 categories)
Conclusion & congratulations on surviving 2020
Ugly Christmas Sweater party = Ugly Sweatpants Party!
Seeing as how 2020 has flipped everything upside down about a million times over — why not take the classic ugly Christmas sweater party and give it a spin. For months now with COVID, your team members have been working from home. This likely means the lower half of everyone's wardrobe has remained more or less on the comfortable side. Take this and roll with it for your virtual holiday party! Ask everyone to showcase their best ugly holiday (remember to stay inclusive) sweatpants this year!
It'll be a fun dress-up opportunity without having anyone force themselves into pre-work-from-home pants.
Cookie/gingerbread decorating contest.
DESCRIPTION: Dive into the holiday spirit with sweet treats and invite your guests to join in a friendly competition. A cookie or a gingerbread decorating contest will help your team members and employees forget about all the other Zoom calls they've ever been on and engage in some good old team building fun!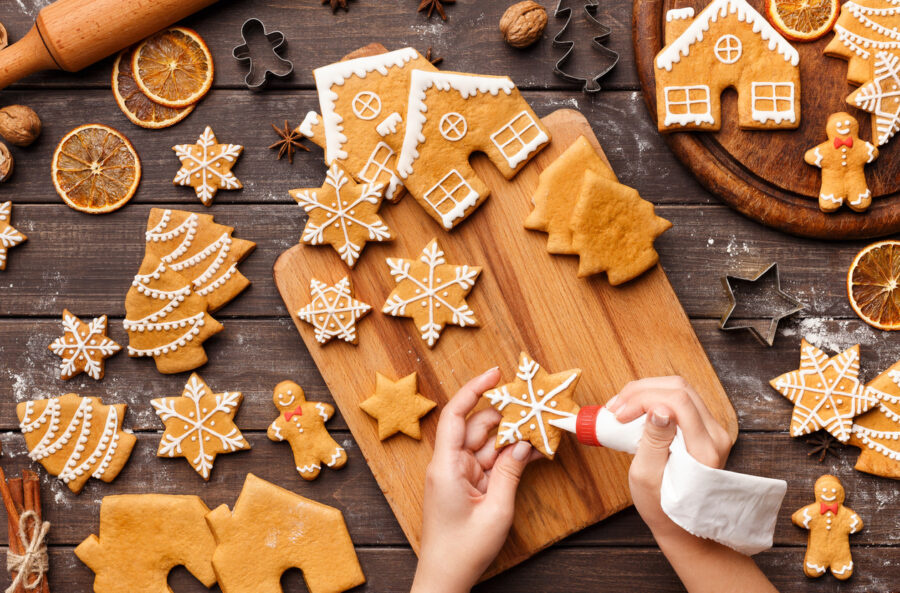 GOODIE BAG:
Pre-baked cookies (use a local bakery that can most certainly use your support right now)
Sprinkles, icing and any other cookie-decorations
Spiked eggnog
Holiday themed baking timer OR themed cookie cutters as a little gift
ITINERARY SAMPLE:
Greetings & welcome (give time to trickle and settle in)
Competition rule outlines (give time to set up and provide competition time etc.)
COOKIE DECORATING!
Cookie show-off & winner vote
Activity #2
Conclusion & thank you for a great 2020
Holiday School 101
DESCRIPTION: If you and your team love learning something new it could be fun to stream an online class together. Don't make it too cerebral, this is still supposed to be a party after all. Think: Wreath making 101 or Holiday Cocktails for Beginners etc.
GOODIE BAG:
Supplies: everything you and your team will need to participate in the class (cocktail or wreath making ingredients for example).
Holiday party hat to get them into the holiday spirit.
If you're not making food/drinks — include something in your goodie bag.
Self-care holiday party
DESCRIPTION: If your company is more interested in yoga and meditation than boozy movie trivia, this virtual company holiday party might just be up your alley. Trade the spiked eggnog for a cup of ceremonial grade matcha and a group meditation. Hire your favorite yoga teacher to lead your team in a 1-2 hour yoga class that's appropriate for every skill level and includes a meditation.
GOODIE BAG:
Matcha-making kit (great gift for guests to have)
Matcha powder
Calming holiday scented candle
Holiday themed tumbler (for the matcha)
ITINERARY:
Greetings & welcome speech
Yoga + meditation class
How to use your new matcha kit (make a cup of hot matcha together)
Sip + chat about the positive things that took place in 2020 (hopefully there's a few) & what you're looking forward to in 2021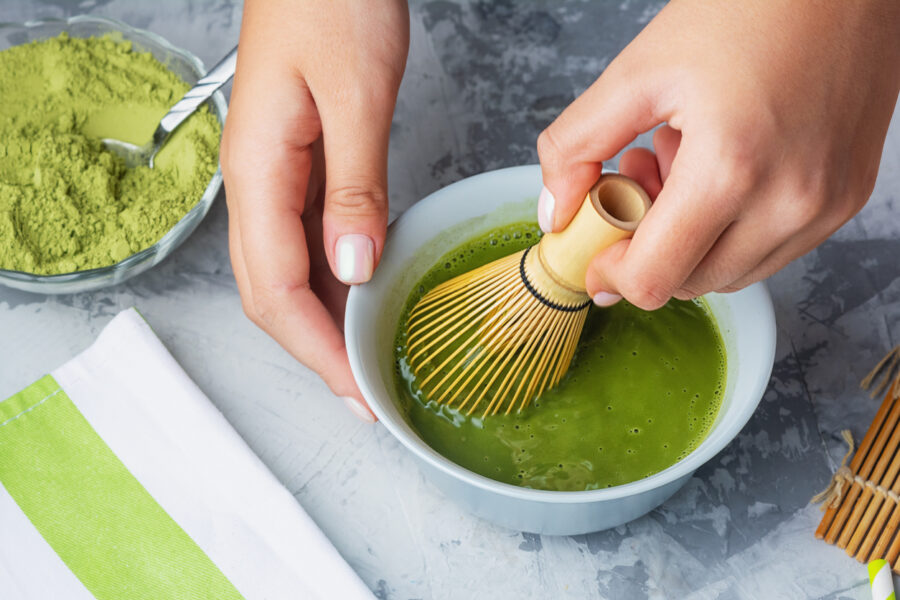 Games & activities to engage your team members during your virtual holiday party.
If your chosen theme doesn't already come with it's own set of activities, here are some additional ideas for fun games you can play with your team.
Holiday Trivia Games
DESCRIPTION: Everyone likes a good trivia game. Well, most people do. Take a poll during your planning phase to see what type of trivia your team would prefer (holiday movie or holiday tunes are typically favorites).
GOODIE BAG:
Festive tumbler
Spiked Eggnog or Baileys + hot cocoa
Mini snack box filled with meat + cheese for them to make their own board.
Holiday party hat or some sort of easy-to-hang decor
Holiday Bingo
DESCRIPTION: Go oldschool with a little game of Bingo! Make your own board with boxes that are relatable to your team's lives or download a free holiday printable Bingo board.
GOODIE BAG:
Holiday Bingo board printed on *thick paper stock.
Little chocolates or other kinds of candy to serve as the Bingo chips!
A bag of locally made holiday cookies (your local bakery will thank you)
Sparkling wine
Marshmallow Story Time
DESCRIPTION: Aka Chubby Elf… If your team is familiar with traditional holiday stories this game will be a load of fun! Each person takes a turn being the chubby elf — they'll stuff their mouth with as many marshmallows as possible and proceed to tell a holiday story. The team or person who guesses what story they're telling wins!
GOODIE BAG:
Marshmallows
Hot cocoa mix
Baileys or Whiskey (dealer's choice)
Mixed bag of yummy chocolates
Home Scavenger Hunt
If your team is always one that's up for something different, this online holiday party game may just float their boat. A theme is picked (something weird, sentimental, holiday-themed, new, old etc.) and everyone scours their home to pick one item to share with the rest of the team. Kind of like a virtual show and tell!
Secret Santa or White Elephant
Everyone loves receiving gifts so turning this yearly tradition into a virtual version would no doubt make for some very happy attendees. Simply ask your team members to draw names — virtually using an online randomizer tool — about 2 weeks prior to the party to give everyone enough time to gather a gift and mail it out to the recipient. And don't forget to set price limits.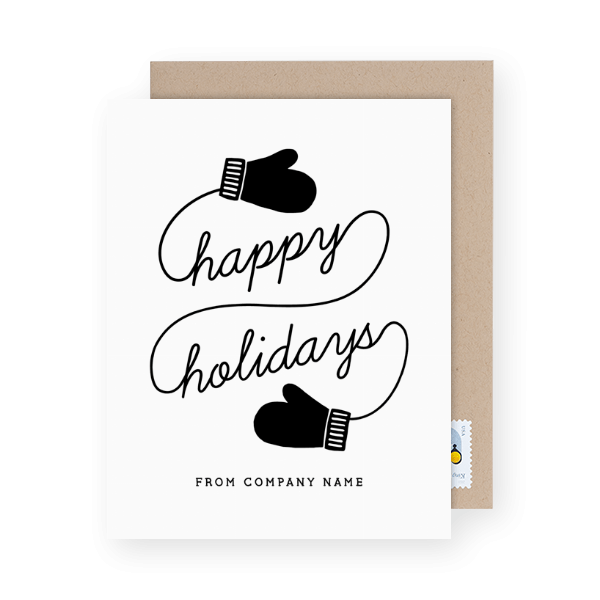 FAQs about virtual holiday parties
* What are virtual holiday parties?
Given the social distancing measures we've all been under in 2020, a virtual holiday party is a replacement of the in-person holiday party. It is held online via an application like Zoom or Google Meets.
* What are the benefits of throwing a virtual holiday party?
It's more important than ever to increase our connection to one another. Without having the ability to see each other in person, virtual holiday parties give us the next best thing. It's especially important to keep employee morale up during challenging times and hosting a holiday event is one great way to show them you appreciate their efforts. Don't let 2020 stop you from allowing your team members to bond.
* How do you do a virtual white elephant gift exchange?
As mentioned above, you can choose a white elephant gift exchange as one of your virtual holiday activities for your holiday team event. Have your team members anonymously and randomly pick a name — using a randomization tool — in advance (about 2 weeks) and set a price limit. Make sure the recipients have mailing addresses for everyone to mail them out by a certain time so that everyone can open them up during the virtual party.
* What are the best ideas for virtual holiday parties for remote teams?
This post is full of great ideas for you to choose from including several itinerary ideas! But in general, you'll want to make sure to send goodie bags (this is a must) that will help to supply whatever games or activities you have planned — so make sure to plan some. Lastly, make sure to celebrate general holidays so that everyone is included!
* What are virtual holiday games?
Virtual holiday games are activities that attendees to a virtual holiday party can play together from the comfort of their own homes. Social distancing means we can't quite all be in the same room, but that doesn't mean we can't all have some holiday fun together. As listed above, some virtual holiday games include holiday bingo, holiday movie trivia, Chubby elf etc.