With a new baby on the way, it's very likely that your to-do list has gotten increasingly longer over the course of the last few months (and steadily growing). Sending birth announcements is likely on that very to-do list. While mailing the cards is still in the future (gotta have the baby first) you've found your way to the web's most comprehensive source for birth announcement ideas to get you inspired. Here you'll find birth announcement wording ideas, real samples of design templates that are bound to melt your heart at first glance as well as newborn photo ideas that you can use for when your new bundle of joy makes their photo debut. Everything you need to know is right here so let's dive in.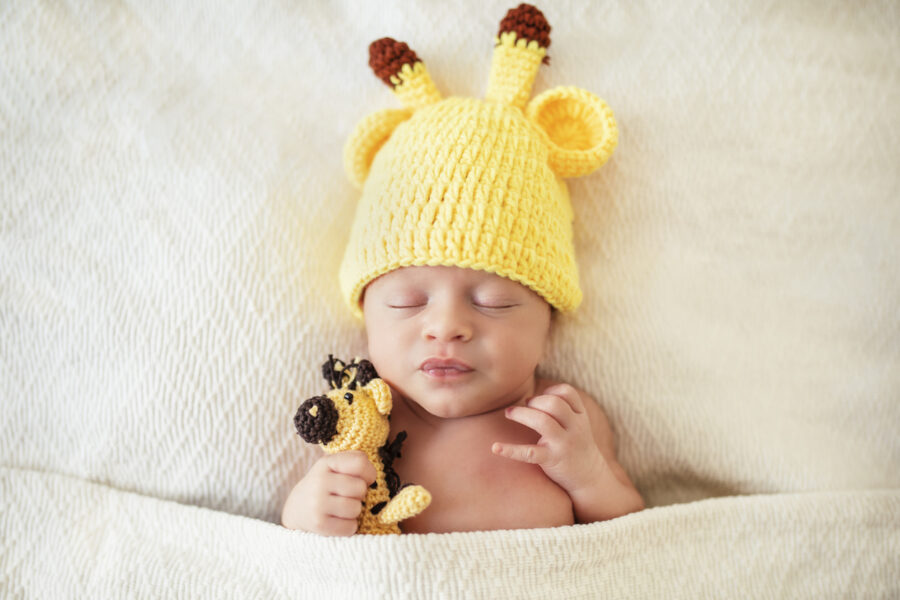 Table of Contents
To help you manage the loads of birth announcement ideas coming your way, use this handy navigation table of contents.
Tips to make the whole process a breeze.
What details should you include on your birth announcement?
Classic birth announcement wording ideas.
Funny announcement ideas and samples.
Twin birth announcement ideas and samples.
Holiday wording and design samples.
Our favorite birth announcement designs.
Mail your Birth Announcements in minutes. Beautiful custom designs all printed, addressed and mailed for you.
Birth Announcement Tips
Before diving into wording details and examples, let's get into a few birth announcement tips that will make this process easy as pie.
Gather mailing addresses ahead of time.
Select the birth announcement design now.
Plan to have a photoshoot shortly after the birth.
Mail your baby announcements in minutes shortly thereafter.
Gather mailing addresses now.
Gather the mailing addresses that you'll need now — before the baby arrives and you're rushed to get the cards into the mail. This way, when you're ready to mail them — the addresses will be handy.
Need addresses? Postable's FREE address collector will collect them and organize them for you.
Select the birth announcement now.
Another task you can accomplish before the baby arrives: browse and select the birth announcement design that makes your heart flutter. This way, you can spend a little extra time playing around with the templates, plugging your baby's name to see how the font will look on the final product, taking a few nights to just sleep on it — all in peace. Once the baby arrives, all you'll have to do is plug in the details and upload the photo.
It's all about minimizing your workload post-birth… Because you know, sleep is important.
Plan your photoshoot.
You obviously can't have a photoshoot without the baby, but you can make the plans to have one. Finding a photographer that jives with you and has the 'look' you're hoping to capture will take a bit of time so getting this done ahead of time will save you a time-crunch induced headache. Once the baby arrives, you'll be ready for the photoshoot.
Mail your birth announcements in minutes.
Having done all the organizing and work ahead of time, once the photos are in your hands you can upload your photo for a ready-to-go birth announcement!
Pro tip — Postable will print, address and mail your birth announcements for you. This way all you have to do is click send.
Birth Announcement Wording
At a loss for words? Expecting a brand new baby can do that. Not to worry we're here to help fill in the gaps. The birth announcement wording that you can include on your birth announcement will vary depending on the tone of voice you'd like the announcement to have and the details you'd like to share. The most important part to remember is this: enjoy the process and don't overthink it. This is a time for joy and celebration, the last thing we'd want is for you to feel stuck or boxed in. Etiquette exists, sure, but this is your baby — take what you like and leave the rest.
What details do I include in my announcement?
Ok, ok, but what about the details?! At the minimum, most birth announcements wording will include:
Baby's full name
Birth date
Additionally, you can include any combination of the following:
Time & place of birth
Parent's names
Sibling names
Weight (in pounds & ounces)
Length (in inches)
Depending on the birth announcement template that you choose, usually these fields will already be marked on the card so all you have to do is fill in your custom details.
Birth Announcement Samples
Now to put all the elements together — the introduction wording, the baby details, the baby photo and of course the birth announcement design itself. Here you'll find some birth announcement wording ideas you can use to introduce your newest family member as well as actual samples of cards.
Classic Wording Examples:
Welcoming…
Welcome Little one
Welcome to the World
Introducing
Proudly Introducing
Welcome Baby
New Baby Blessings
Meet Our New Baby
Hello World
Our Favorite Classic Birth Announcements
Eager to see these classic Birth Announcement wording examples come to life? These are just a handful of some of our favorite classic designs to get you inspired. Click on any of the buttons to play around with each template and see how your baby's name would appear. Remember, you can always save your changes and come back to the edited templates later on in your Postable account.
Don't have an account? Sign up for a free account and get access to your own free online address book.
Simple Hello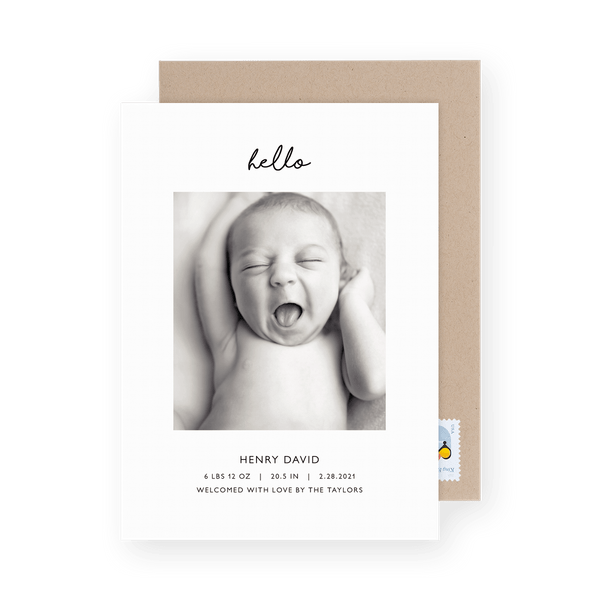 This minimalist inspired design is both classic and modern. The lovely little 'hello' is all the introduction this announcement needs. Choose to keep your photo black and white or make it color — the choice is yours.
Welcome Little One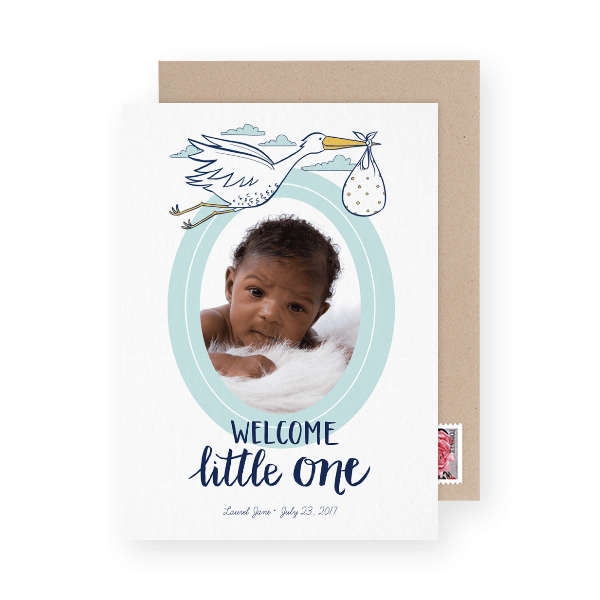 This 1Canoe2 hand painted announcement template is minimalist on the details and maximalist on the design. Your baby's photo will of course be front and center while the hand painted border adds a unique touch.
Classic Framed Announcement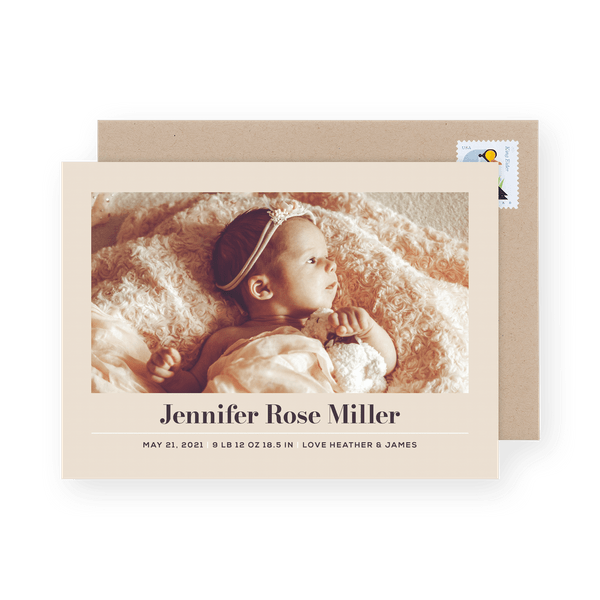 If you're looking for something truly classic, this baby announcement is perfect. A lovely blush background gives way to the main photo. The font with your baby's name is classic with a touch of flare.
Welcoming Script
Sometimes birth announcement wording means not having any 'introduction wording' at all. This modern photo baby announcement does it perfectly with the elegant black brush script where you can customize your baby's name. The full photo background gives the design a very modern feel.
Introducing…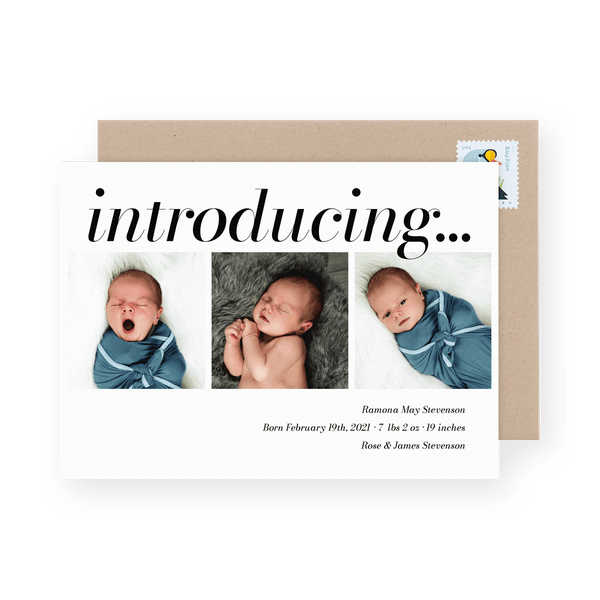 Looking for multiple photo birth announcement ideas? Look no further. This simple design is bold in its use of the large font 'Introducing…' (there'll be no mistaking what kind of card this is) as well as the ability to add multiple baby photos. This would be especially great if choosing just one photo is an impossible task.
Funny Birth Announcement Wording Ideas:
Ready for a giggle? Here are some funny birth announcement wording ideas to get you inspired or maybe just give you a laugh.
We've been bizzzzeeee.
Hello
Oh Baby!
Bon Jour Bebe
Cats out of the bag
Introducing our little stinker
We Made A Tiny Human
Funny Birth Announcements Ideas
Busy bees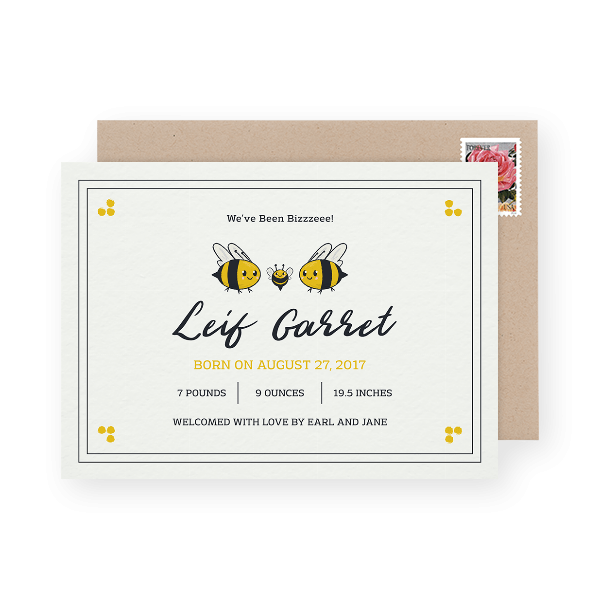 Including a photo with your birth announcement is not required. If setting up and carrying out a newborn photoshoot is just not feasible for you for whatever reason or you just prefer a non-photo announcement — you've definitely got options. This is just one example and a funny one at that. We love a good pun!
Oh Baby!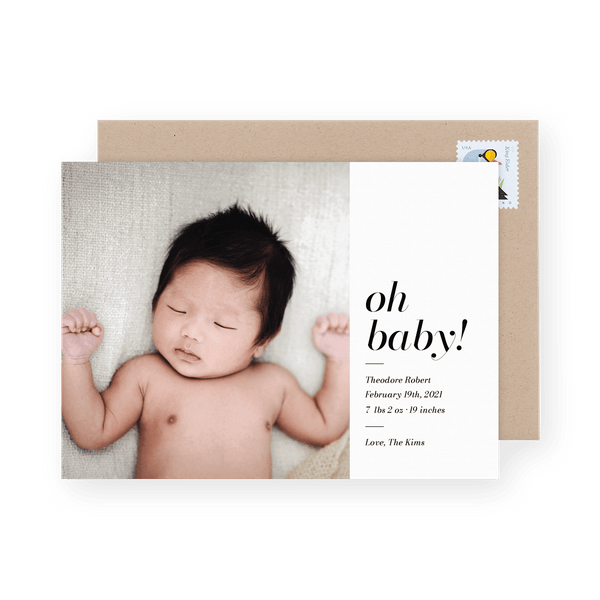 This simple and modern design is matched perfectly with the light-hearted pun introduction.
Cat's Out of the Bag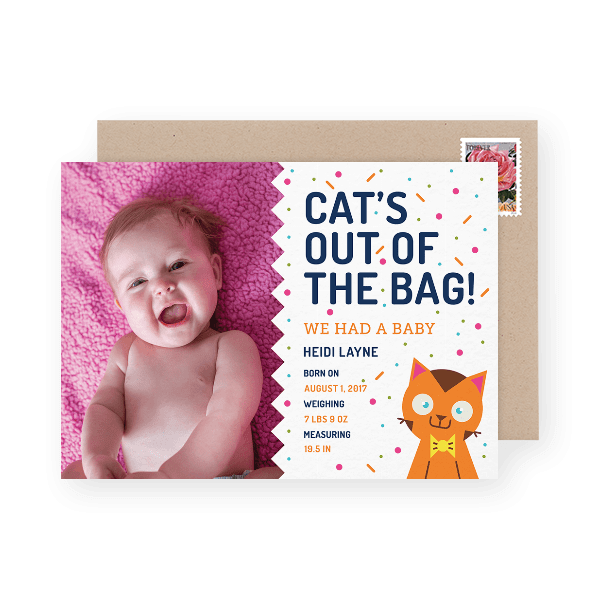 If you're looking for a funny birth announcement with a whole lot of spunk and personality, this design would be perfect. The funky shapes, quirky design elements and the funny introduction wording make this baby announcement a delight.
Tiny Human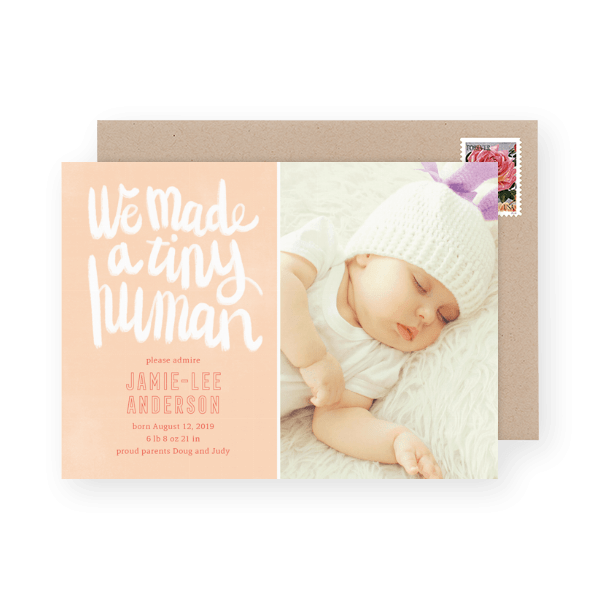 Baby Girl Birth Announcements Wording
She's Here!
It's a Girl!
Announcing the arrival of our daughter…
Twinkle, twinkle little star… Do you know how loved you are? Introducing our little girl…
Baby Boy Birth Announcement Wording
He's Here!
It's a Boy!
Oh, Boy!
He's officially a little bro — welcome…
Twin Birth Announcement Wording
Twinning
The best things come in pairs…
Twin Birth Announcements Ideas
There's no rule that says you have to use specific templates for twin birth announcements (or boy or girl announcements for that matter), but here are a few unique twin announcements ideas.
Welcome Baby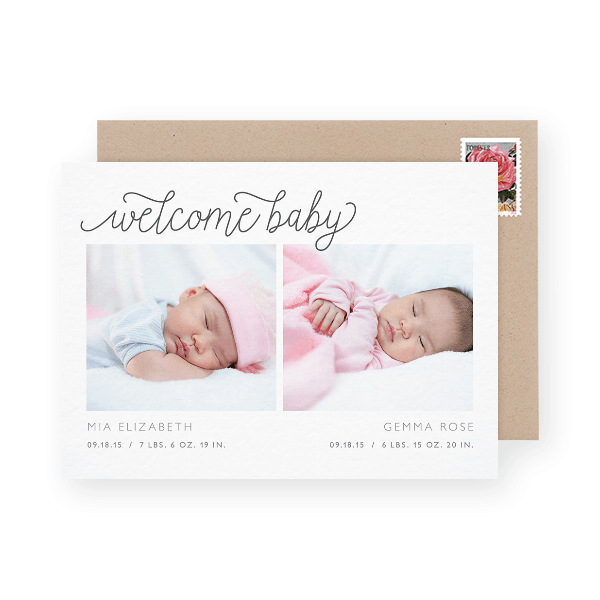 This lovely and minimal template has the space for both twins' details and has two photos you can upload separately. Perfect if you're looking for a clean and simple design.
Classic Twin Announcement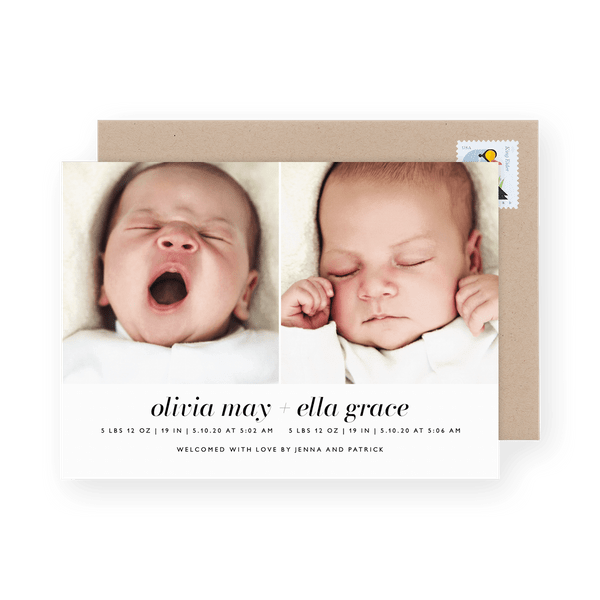 Another elegant birth announcement that specifically has space for twin names and images. This announcement has a subtle, but very lovely warm hue to give this design an extra welcoming feel.
Twin Wreath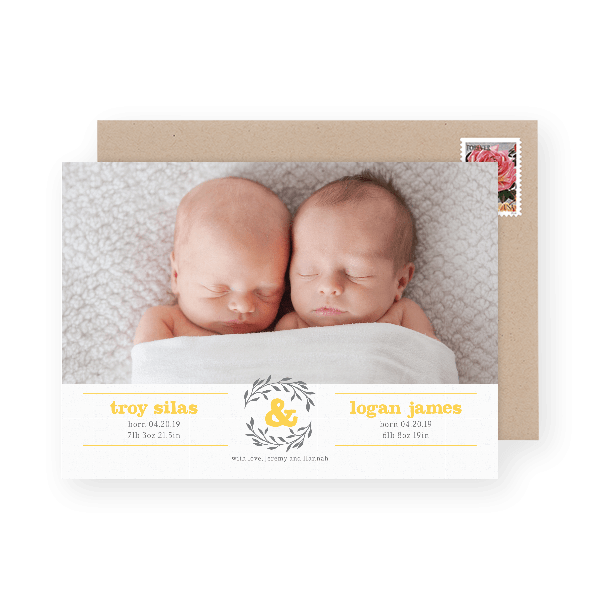 A lovely twin birth announcement with a bit more flare. The yellow design elements certainly add some interesting touches.
Holiday Birth Announcement Wording
A joyous time of year indeed! If you're sending your birth announcements during the holiday season, doing so with the holiday theme is a lovely way to combine holiday cards with your baby announcements. Here are some wording and design ideas.
Merry & Bright
Baby's First Christmas
Merrier Than Ever
Our Favorite Holiday Birth Announcements Ideas
Merry & Bright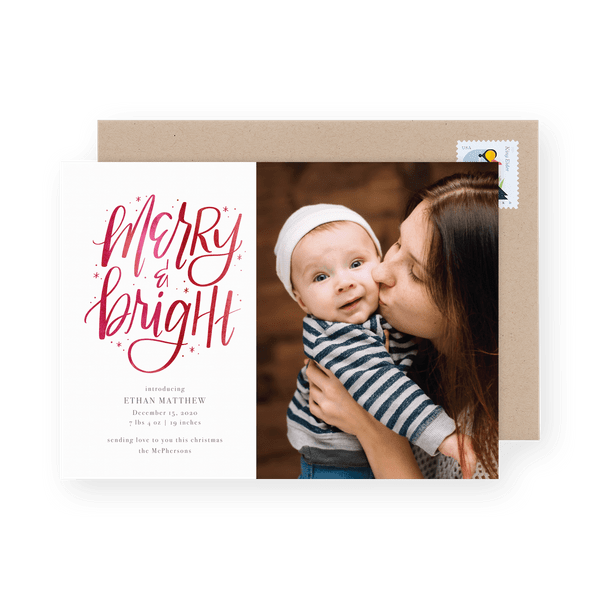 This Cindy Reynolds design practically jumps out at you with the bold and merry red letters. We love the festive feel appropriate for holiday announcements.
Baby's First Christmas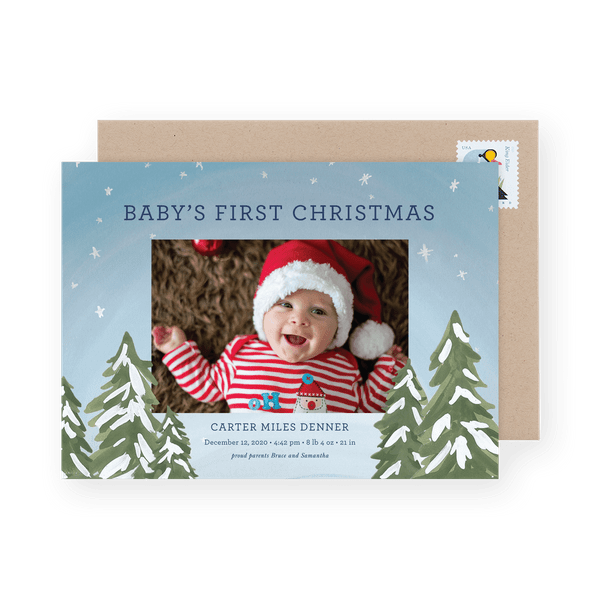 A baby in a Santa hat is all you really need for a holiday birth announcement, but elaborate hand painted scenery like this one by 1Canoe2 is certainly a welcome addition.
Our Favorite Designs
It's not always in the wording. These birth announcement designs have blown our minds and we couldn't wait to share them with you. All of these baby announcements were created by independent artists who put love and care into these designs — and it shows. Some include some traditional wording like 'Introducing' and some just let the designs speak for themselves.
Hello Bubble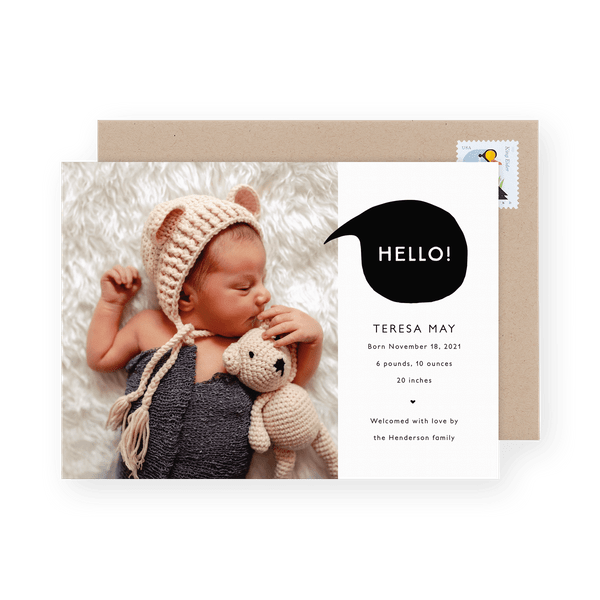 In true Hello Paper Co. fashion, this design perfectly balances bold design elements with a minimalistic touch. The adorable little speech bubble is really the only wording example you need.
Wildflower Baby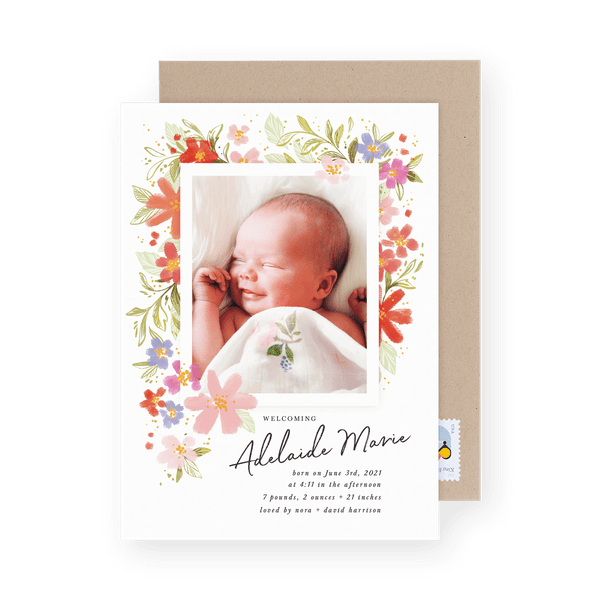 It's love at first sight with this Paper Raven Co. creation. The intricately drawn wildflowers peeking out from around the photo border on this design are stunning and we love the simple scripted font for the name of the baby.
Pink Anemones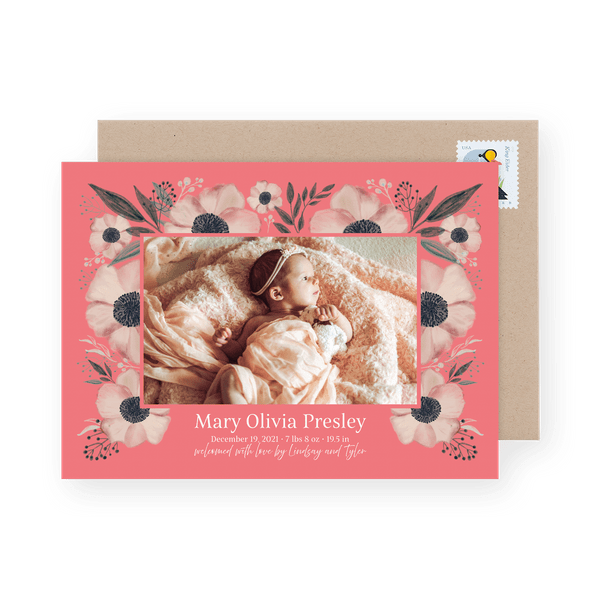 The color on this Erika Firm creation is subtle and bold all at the same time. We love the elegant florals bordering the photo of this birth announcement. It's hard to look away!
Adventure Baby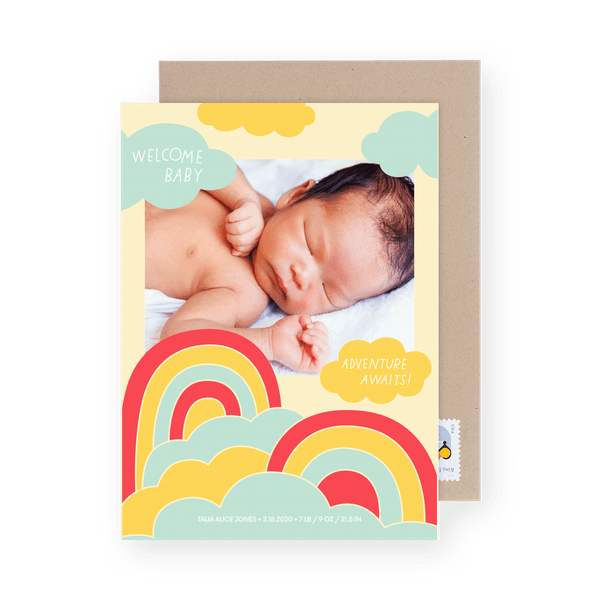 Well if this isn't the most fun looking baby announcement there ever was!? The Good Twin really channelled their inner adventure to bring this creation to life and we're all about the rainbows and whimsical pop of color.
Tropical Birds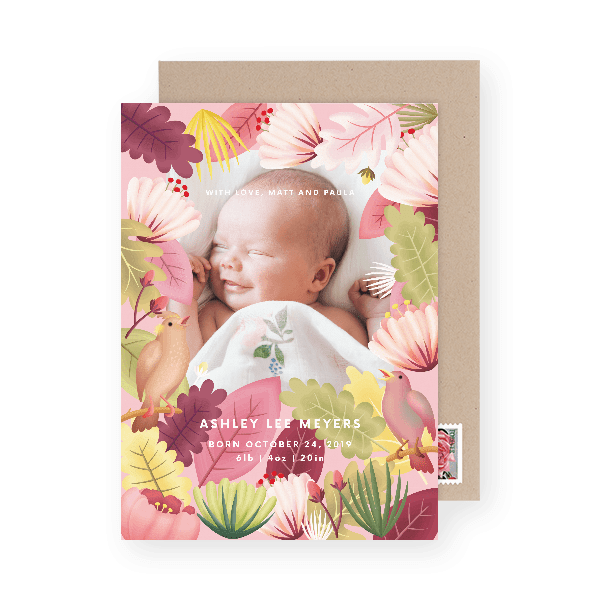 If you're looking for something truly unique, this Clap Clap creation borders the photo in a unique and unstructured way. The florals appear to be hugging the little bundle of joy and we're absolutely in love.
Dream Sky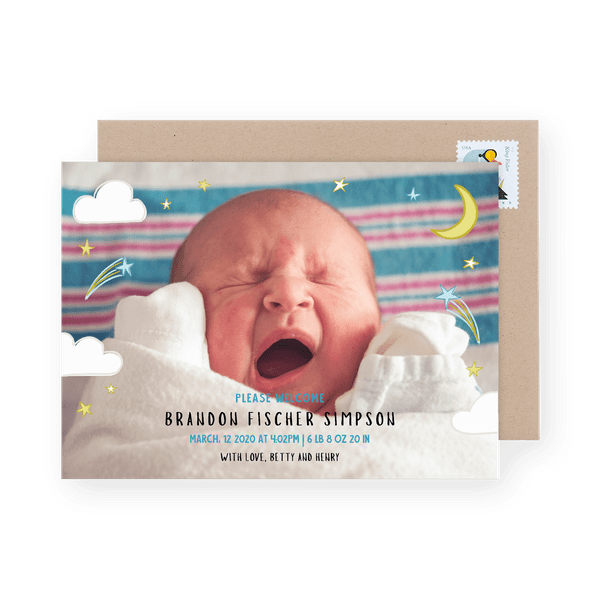 Have a yawning photo you're hoping to use? This delightful design by Scotch & Cream was practically made for it. We love the small, but mighty design elements that really take this simple birth announcement and turn it into something unique and playful.
Welcome Shapes Pink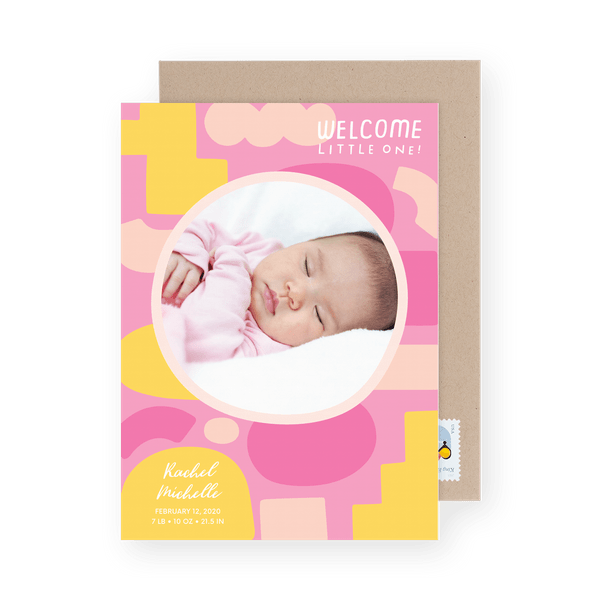 Another pop of color from The Good Twin and this time it's all in the pinks with a dash of yellow. This announcement will give everyone all the feels.
Baby Daisy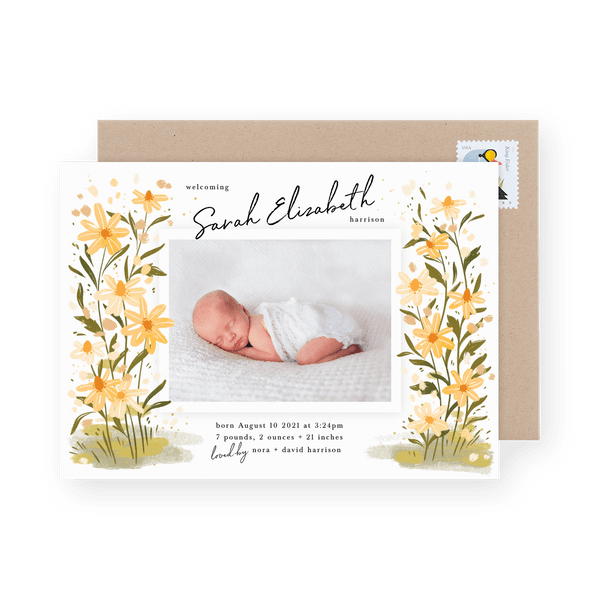 Last, but certainly not least… Another intricate design from Paper Raven Co. that'll knock you off your feet. The yellow-ish color scheme has a bit of a fall theme to it, though not overwhelmingly so that you couldn't use this during any other time of the year.
Announcements On Social Media
Should you make an announcement on your social media accounts? Sure, why not. If you're usually posting your life's ongoings on there anyway chances are you likely can't help yourself… And we wouldn't want you to. Go ahead, post! It's your baby… Share the news! You can make a cute little IG story using all the fun functions the app provides (go ahead, GIF away).
However…
That's not to say that these are formal birth announcements. We live in a world where nothing escapes us — we get news delivered to us at moment's notice, text messages arrive every hour and emails await our return to the inbox. These are all very mundane parts of our lives at this point. If you want to make a formal gesture and announce the arrival of your new baby doing so on Social Media isn't very… Well, formal. Sending paper Baby Announcements invite those closest to you to celebrate in your new joy — they're intimate, formal and unique. All things that social media is not.
Who Receives A Birth Announcement?
With that said, who should receive one of these formal announcements? The short answer is everyone you're close with who. This usually means friends you see regularly or long-term friendships who've been with you for years on end (even if you don't regularly communicate) as well as family members near and far. In fact, the farther away the more special your birth announcements will feel since these people can't just come and celebrate with you in person.
When To Send A Birth Announcement?
Etiquette says you have 6 months to send your baby's birth announcement after the birth. Beyond that and the announcement isn't really news anymore. If it's time to mail out your baby's 1st birthday party invitations — they're no longer a newborn.
Mail your Birth Announcements in minutes. Beautiful custom designs all printed, addressed and mailed for you.
Birth Announcement Photo Ideas
While you're browsing birth announcement ideas, it only makes sense to also get some inspiration on the kind of photo you're going to want to use for your own little bundle of joy. Here are some ideas you can do yourself or share with your photographer.
Simple white blanket and a sleepy baby.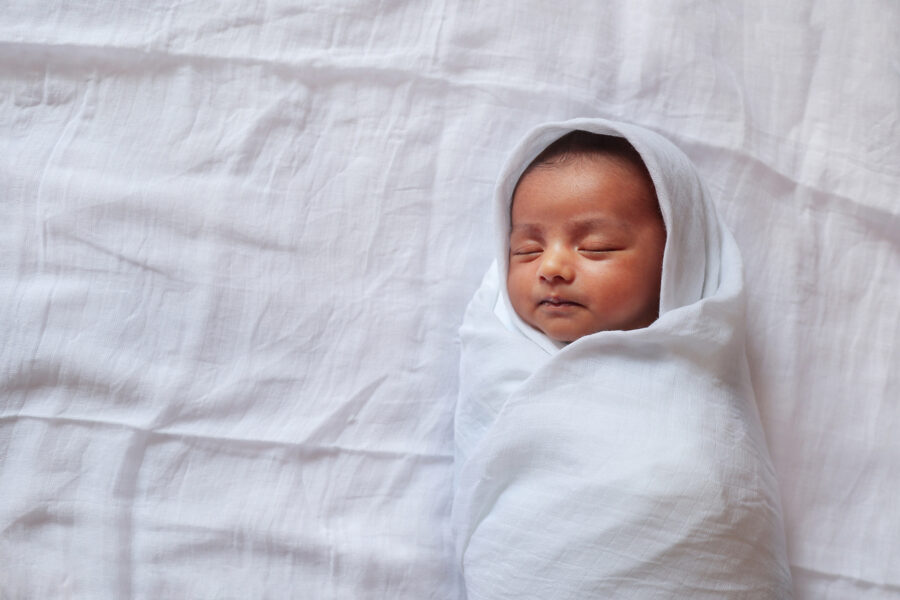 This is a great option if you're looking to use a birth announcement template that fills the entire card with the image. All the white space created by the blanket will allow the text and design elements to be easily read. Plus, a swaddled baby is always adorable.
Funny colorful hat with a matching little toy.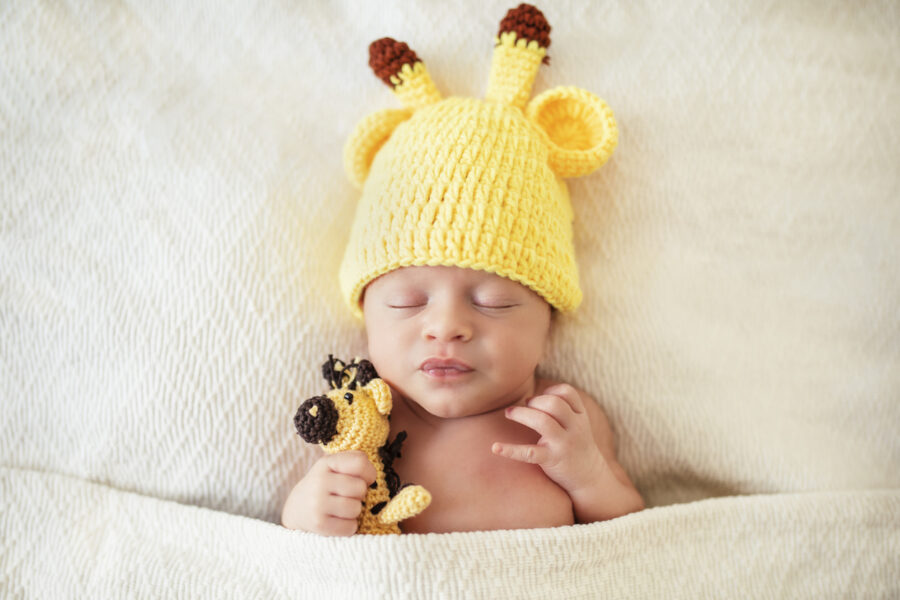 Is it just us or are all tiny little hats kind of funny. If nothing else, they're definitely adorable. Either way, we love this idea of a sleeping baby. It adds a pop of color and a little extra character to your birth announcement.
Yawning baby.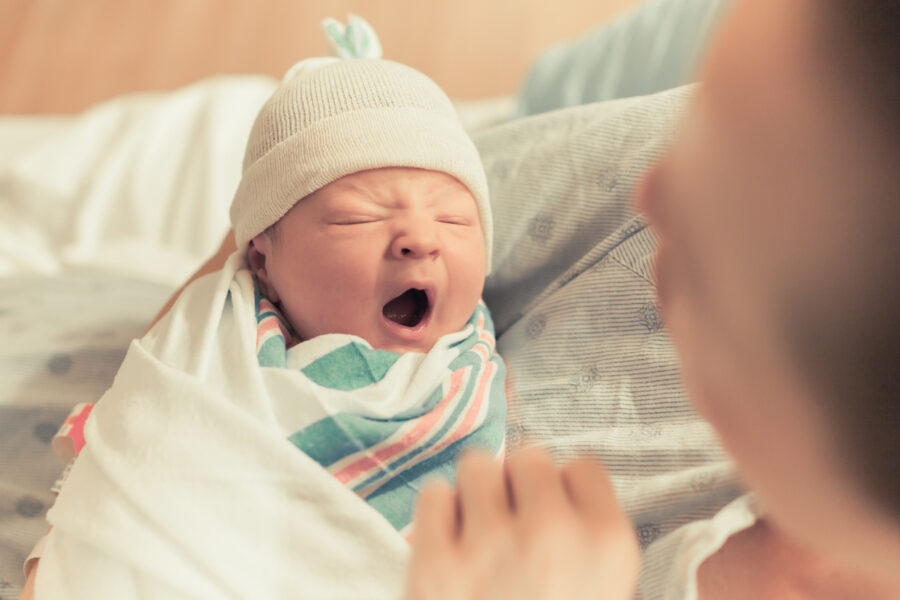 Baby yawns are the cutest and they do it all the time so it shouldn't be too hard to capture. Add a yawning photo like this one to a night time/sleepy themed birth announcement like this one.
Arranged hands.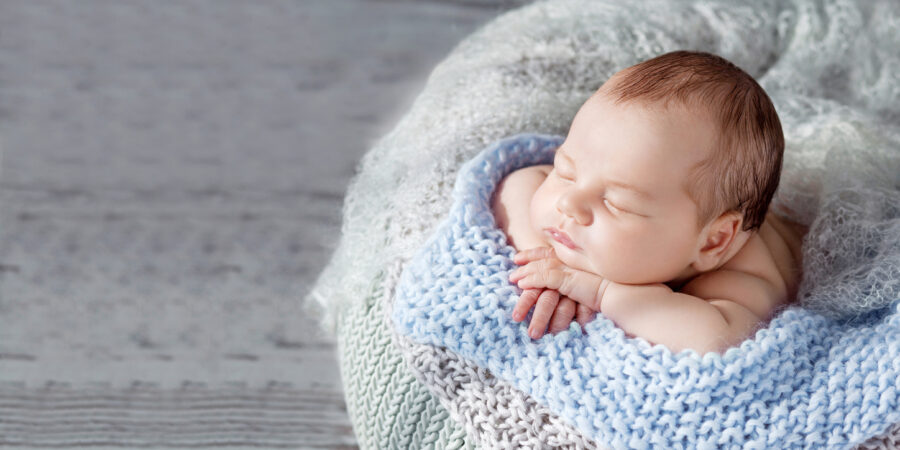 Arrange your little one's hands to stack like the photo for an extra touch of ah-dorableness galore!
Zoomed out, spread out, sleepy baby.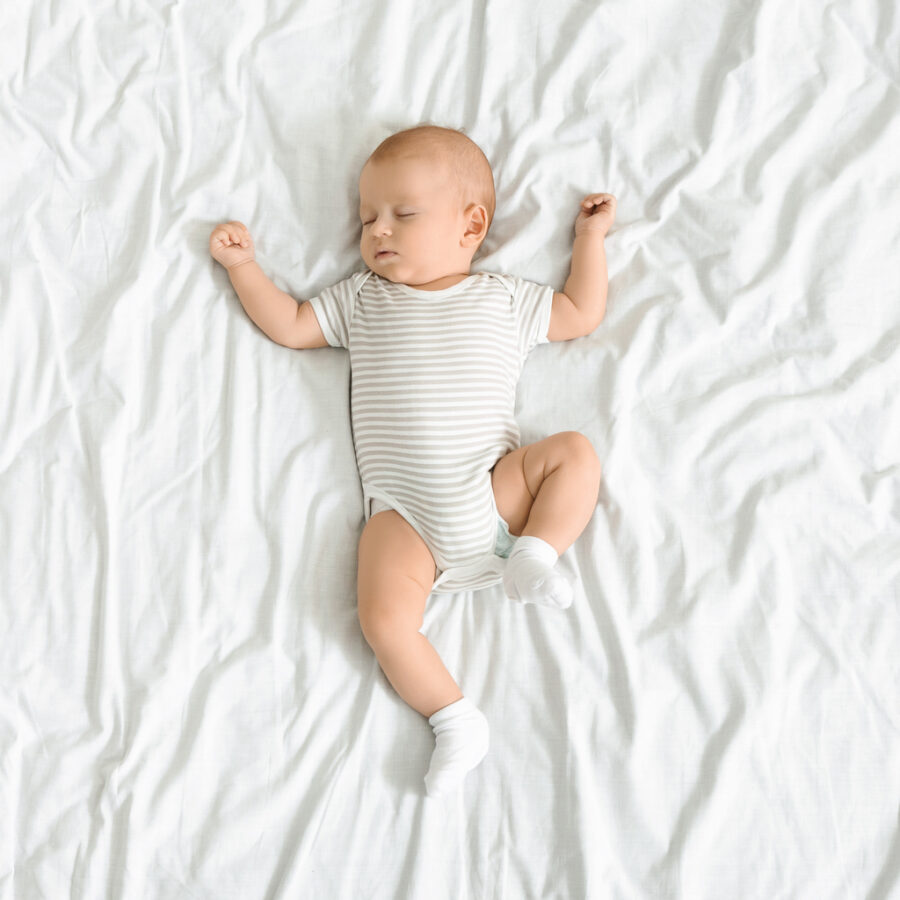 Another great option for creating lots of white space for design and text elements to surround your baby's photo on the birth announcement.
Little royalty.
Oh the cuteness! Adding a small little prop like a little crown adds a little personality touch without taking away from the simple beauty of your baby.
A little bow and a basket.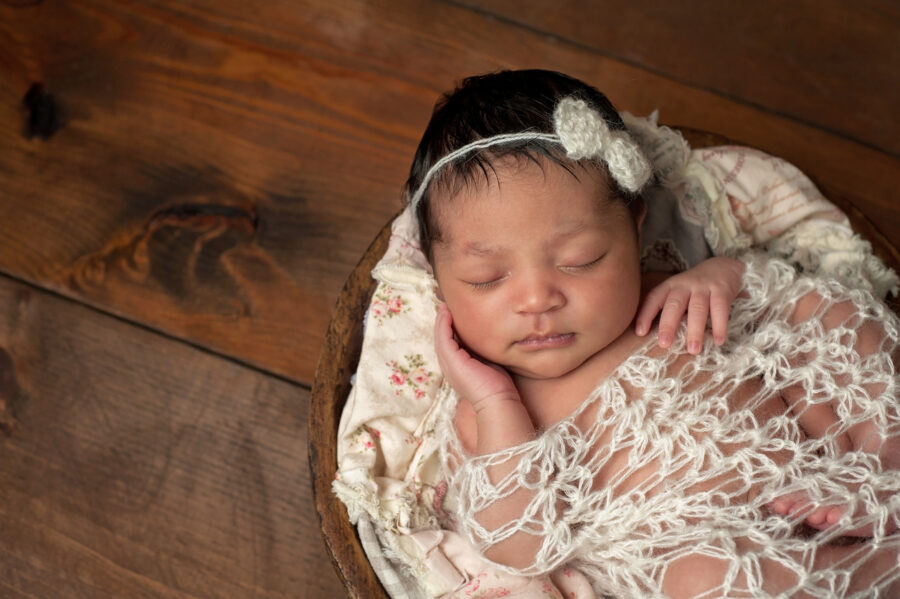 Babies in baskets make for adorable photos. You can opt for more deep warm tones instead of the white space by using wood flooring like this image and don't forget the little bow!
Baby burrito with a pop of color.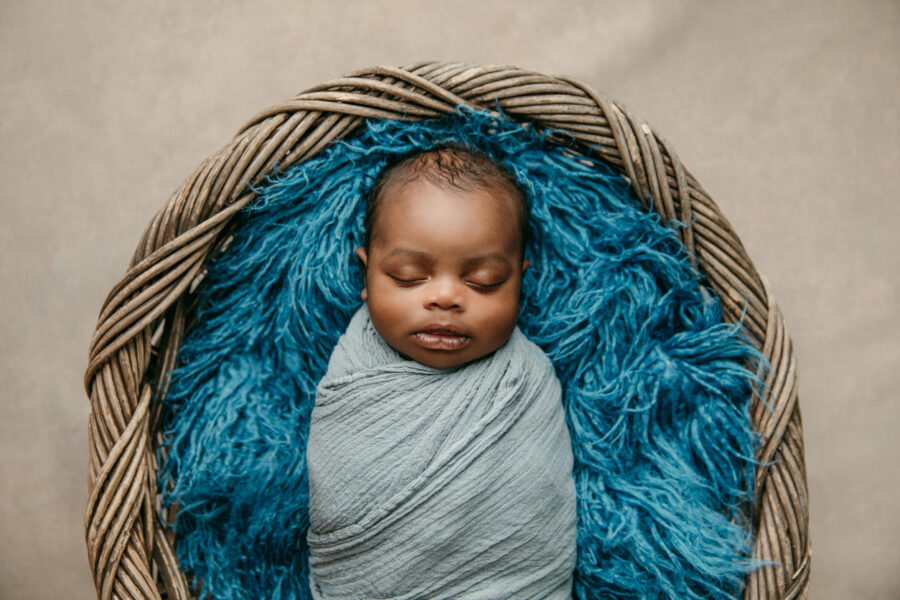 Another basket option with a pop of color. We love the different shades of blue. You can use whatever color you choose to add to go with your birth announcement design colors as well.
Belly down with a hat and little mittens.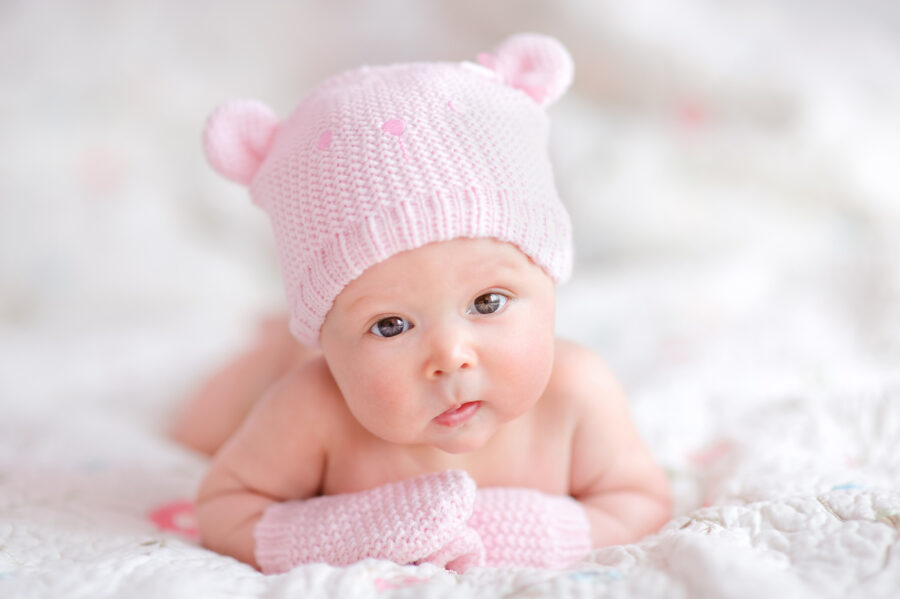 Belly down, mittens out! You cannot go wrong with a tiny hat and some tiny mittens.
Whatever photos you choose to use for your birth announcements, make sure you're uploading high quality images (300 dpi). Have some photos you'd like to test out on real cards?
Got enough birth announcement ideas?
Ready to get started by collecting mailing addresses and playing around with designs before you land on the perfect one?