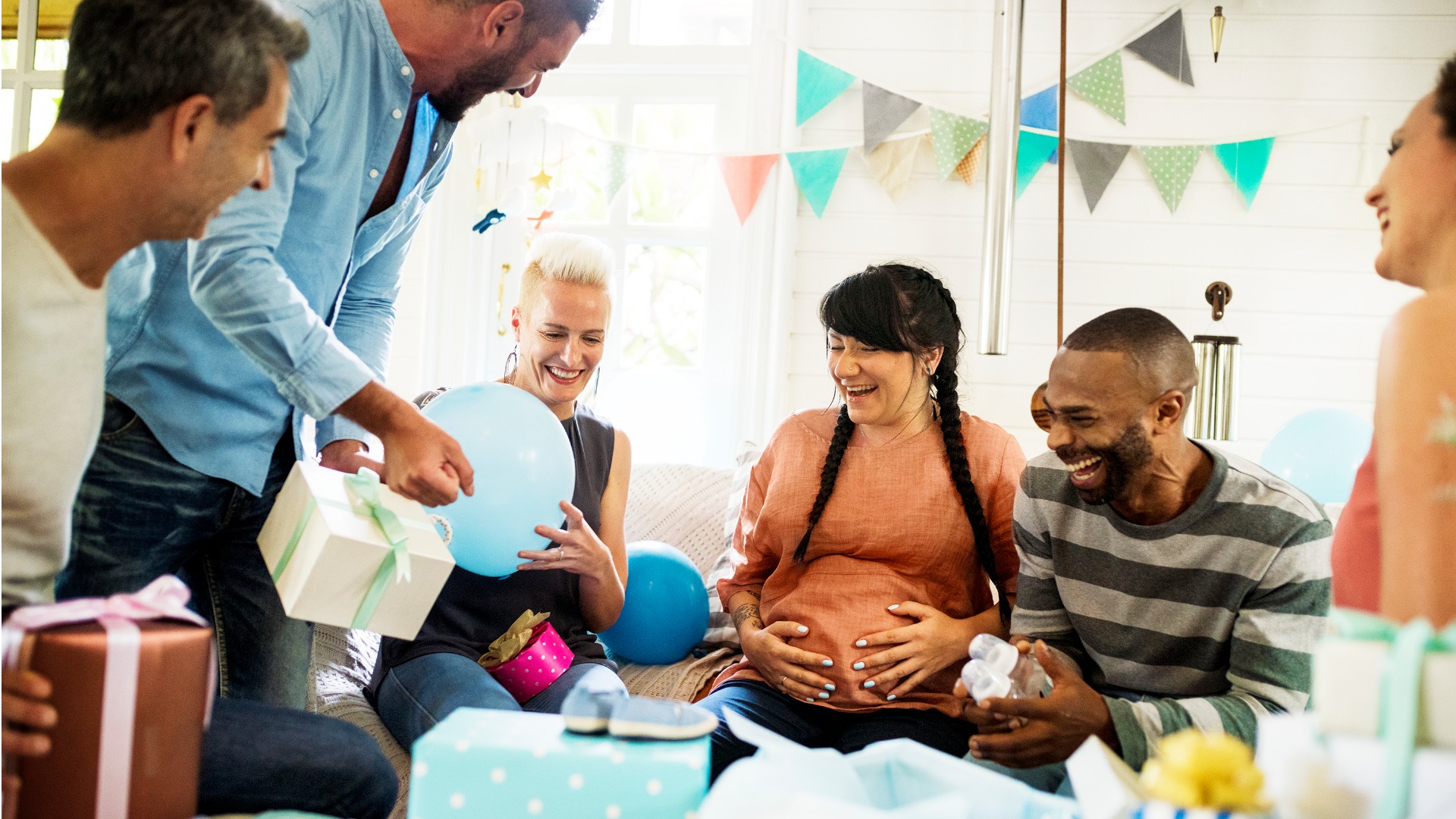 Unsure how to plan a great coed baby shower without alienating half your guest list? Want to plan an epic gathering to celebrate both the mom-to-be and the dad-to-be? Want do it with grace and elegance and most importantly —have fun!? Well, you've come to the right place. If there was ever a time to sidestep a traditional way of doing something and modernize it, 2022 is a good start as any. Coed baby showers are becoming less of an abnormality and enthusiastically taking their place in the mainstream. The baby on the way will make its way into a world with two loving parents —both of whom are excited to begin this new journey in their own right. Planning the ultimate coed baby shower will help both parents get prepared for their newest chapter and of course, help them celebrate the arrival of their baby.

Before diving into the ins and outs of planning a coed baby shower, let's define exactly what we're talking about here. 
Send all your coed baby shower invites in minutes. Postable prints, addresses and mails 'em for you.
What is a coed baby shower?
A coed baby shower is an event that takes place to celebrate *both the mom and the dad to-be. Traditional baby showers only focus on the mom-to-be and typically only include female guests. Whereas a coed baby shower celebrates both parents and invites both men and women to join in on the fun.
The traditional baby shower tends to include games, food, themes and presents focused entirely on the mom and her lady guests while the coed baby shower will include activities, menus and gifts for both parents and all of their loved ones.
Essentially, a coed baby shower is more inclusive and gets everyone in the family involved because it really does take a village. This can be a great way to start the life-long partnership that is parenting. 
How to plan a coed baby shower that's actually fun.
When planning a coed baby shower — whether it's for a close friend or your family member — it's important to remember that you want everyone in attendance to actually have fun. Contrary to popular belief, baby showers don't have to suck. This is your chance to make it a fun celebration for both parents as well as everyone in attendance. Here's how to make it happen. 
Tip 1. A coed baby shower needs coed hosts.
Ok, maybe need* is a bit of an overstatement, but if you can swing it — having both a man and a woman planning the big event will bring two different perspectives to the planning process. This way the two hosts can balance each other out making it less likely that any of the guests will feel out of place during the shower.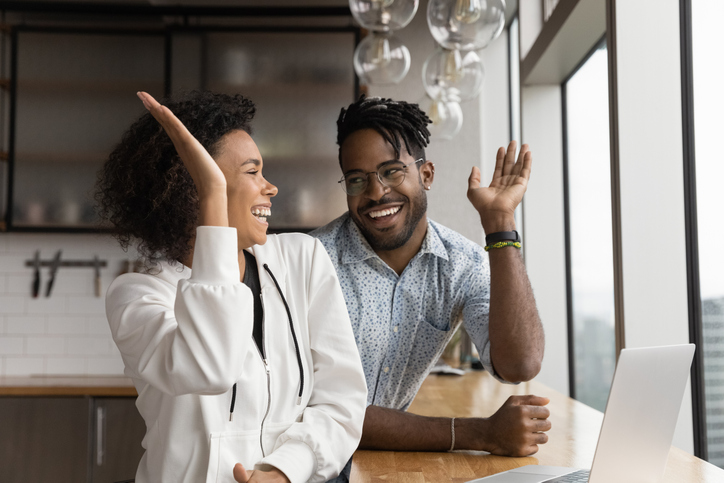 Bonus points if the male host also happens to be the dad-to-be's close friend AND someone who is a dad themselves. It can be a big help to the dad-to-be to have a close friend nearby through the entire process. This male-counterpart will also come in handy with making decisions for the co-ed baby shower on everything from invites to games.
Tip 2. Pick your coed baby shower theme: swap pastels for neutrals or a combination of bright colors. 
Once you and your hosting partner are ready to rumble, the first thing to consider is the baby shower theme. While the traditional use of pastels is lovely, a coed baby shower should appeal to both mom & dad (to-be). Try not to get carried away with frills and stick with more neutral tones. Remember, you're appealing to everyone. 
Send all your coed baby shower invites in minutes. Postable prints, addresses and mails 'em for you.
On the other hand, you can have fun with colors by going on the brighter side and getting bold.
The first place your coed baby shower theme will be reflected in are the invitations. Here are a few ways you can incorporate color schemes without alienating your intended guests. 
You can still have a lovely delicate theme, but approach it with more neutral colors like this baby sloths baby shower invite.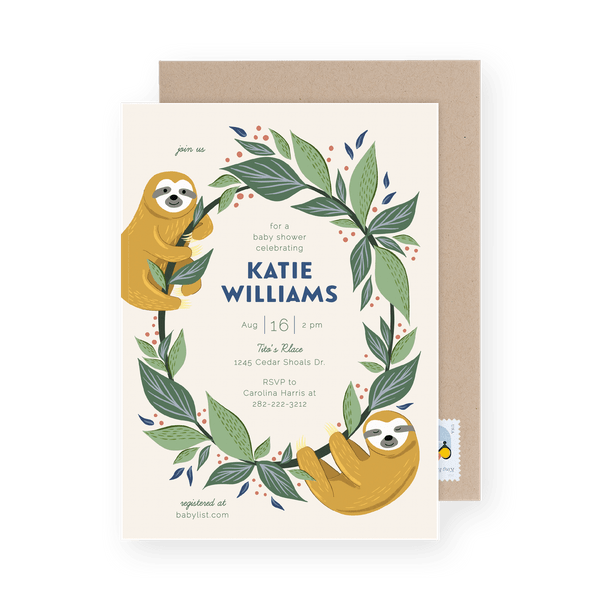 If mom and dad to-be are sports fans, incorporating that into their coed baby shower theme and therefor baby shower invites is a great idea!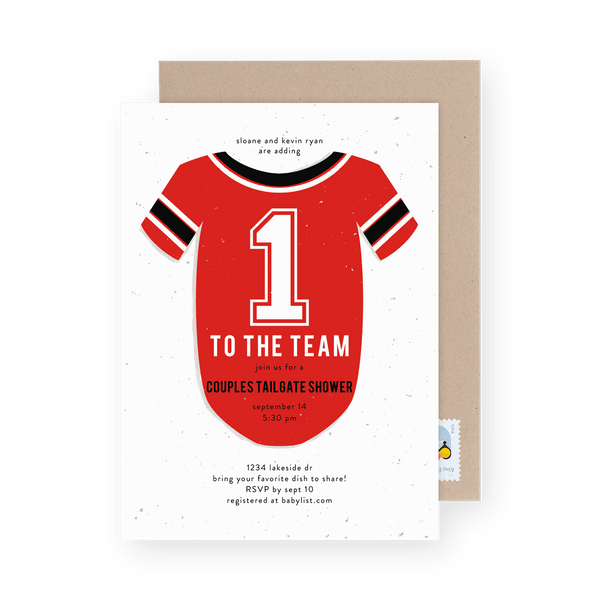 Everyone loves a good giggle. Using a funny coed baby shower theme or even just a bit of humor on your coed baby shower invites is a fun way to make everyone feel included.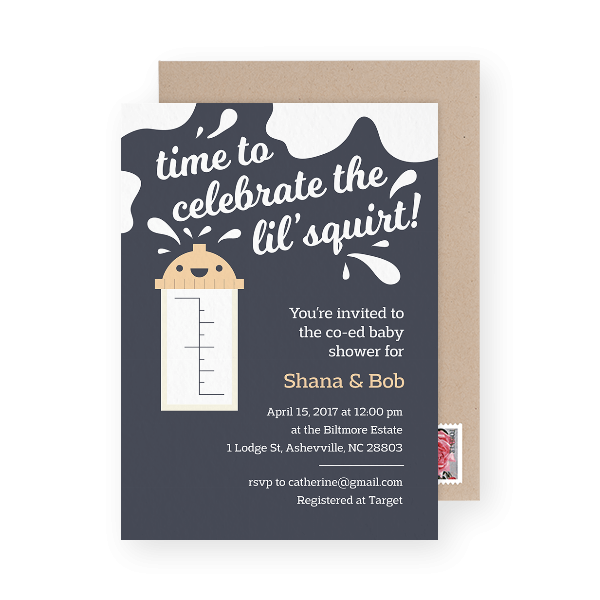 And finally, you can always go with the tried and true. A popular coed baby shower theme is Beer & Diapers (like this coed baby shower invite).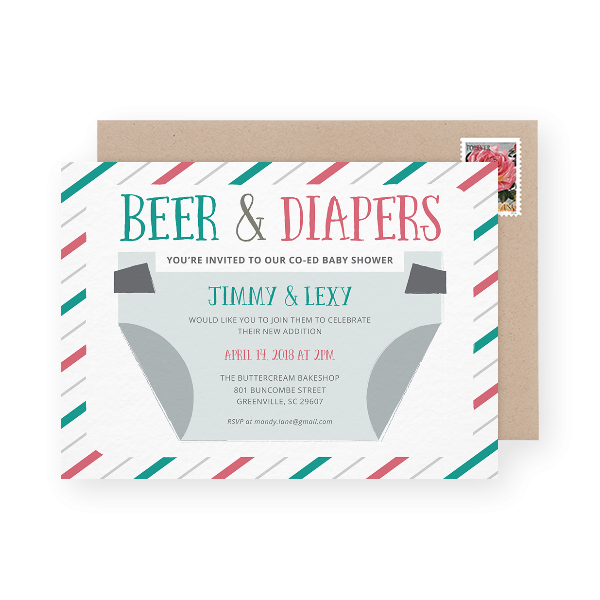 Tip 3. Make your co-ed guest list.
This may seem obvious, but it's easy to drift back into the traditional thought process and create an imbalanced guest list. Having that coed host situation will certainly help to make sure that doesn't happen.
Draw the guest list from both the mom and dad's side. Include friends, family, and anyone else you think the couple will want to see. Don't forget to run the finished list by the guests of honor. While you do want to be inclusive, it's important to make sure you don't invite someone who shouldn't be there.
Need mailing address for those baby shower invites? Postable can collect them for you in minutes… For free.
Tip 4. Create the menu: swap cucumber sandwiches with something more hearty.
Exchange the light snack food such as cucumber sandwiches for a menu that's more likely to fill up your guests. You can still have a buffet and snack-type set up, but aim for 'snacks' that are heartier. If you're planning for a summertime baby shower, a fun outdoor BBQ may do the trick! And while the mom-to-be will be sticking with a slew of fun mocktails, you'll want to make sure a good variety of alcoholic drinks are at hand to everyone's liking. That means beer!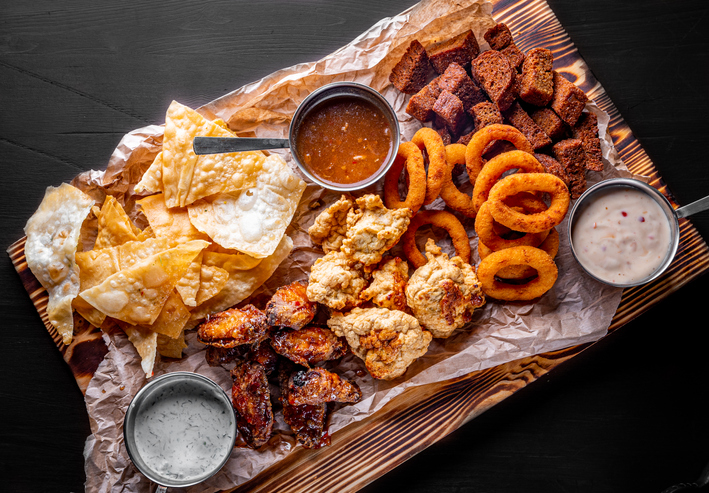 Some coed baby shower menu ideas:
Beer themed: think pretzels and cheese dip, bratwurst and buns, crackers and cheese.
Summer BBQ: pulled pork, burgers, hotdogs, spiked lemonade, cold beers!
Just because you're switching to a menu that's more hearty, doesn't mean it can't be cute. Adding place cards, little flags and other decorations around the food area will tie whatever theme you have chosen with your hearty menu.
Tip 5. Keep the games!
Traditional baby shower games are often associated with cringe worthiness, but they definitely don't have to. For your coed shower make them partner games. Plan some fun partner activities for your co-ed baby shower to make sure to include everyone. Here are some fun non-traditional baby shower games that are perfect for a coed guest list.
Parent trivia (split into teams and have contestants answer trivia questions about the parents).
Baby Beer 1 (put water, milk, soda, beer, fruit punch into bottles and have a chugging contest).
Baby Beer 2 (fill baby bottles with different types of beer and have your guests guess what they are).
Baby or beer belly (have guests guess if the belly is a baby or a beer belly on a print of your own or one like this from Etsy.)
Pacifier beer pong (exactly as it sounds… use a pacifier instead of a ping pong ball).
Where's the baby (as each guest arrives, hand them a baby doll. They can hold onto the doll, place it down, or hand it off to someone else. The guest with the most dolls at the end wins.)
Tip 6. Don't forget gifts for dad-to-be!
While many of the gifts that the parents will receive will be for the baby itself, some gifts are targeted only for the mom or only for the dad. While traditionally, only the mom partakes in this exchange, in your coed baby shower you want to make sure dad is not left out. Encourage guests to bring gifts that will honor both parents. Don't forget the dad-to-be and make sure both parents take turns opening the gifts. Most people have a great idea of what to get mom (especially if there is a registry), but baby shower dad gifts might not be as obvious.
Here are some dad-to-be gifts ideas:
A basket of really yummy coffee.
Books about dads and babies — that he can read to the new baby.
A call of dooty dad apron.
'I have the best dad ever' onesie.
Matching Tee with a onesie (ex. pizza & pizza slice).
Tip 7. Plan for other non-game activities.
Photo stations are always a big win regardless of what party you're throwing. Setting up a photo station with fun props for your guests to use at your coed baby shower will make it easy for guests to have some fun spontaneously. This is especially great if your guests don't know each other very well.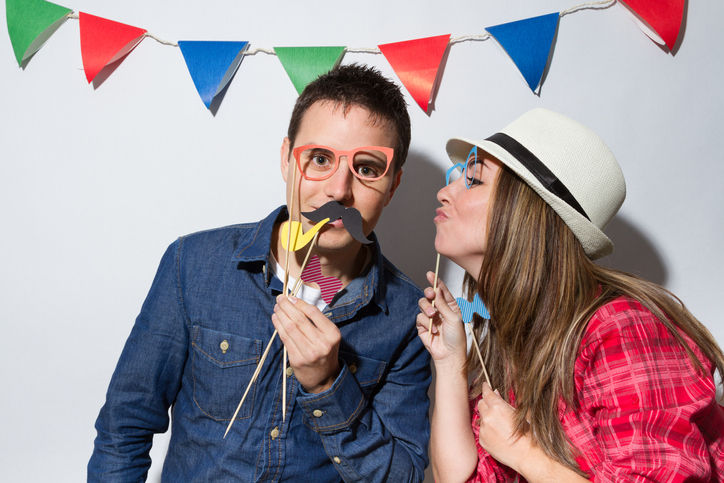 Friends and family will be able to have some fun taking pictures before the shower gets officially kicked off or later as things are dwindling. Include props that are aligned with your theme or really anything fun your guests can play with.
Tip 8. Plan gender neutral favors.
Make sure your coed baby shower favors are to the liking of everyone invited. Try to stick to gender neutral things like cookies and other sweets. A big winner seems to be more alcohol so including some booze as a favor will be a nice touch!
You're now ready to plan the world's greatest coed baby shower. Don't forget to start with those invites.
Beautiful baby shower invitations mailed in minutes. Postable will print, address and mail them all for you.