You've picked a date, sent out the holiday party invites, and nearly everyone RSVP'd "yes" to your first-ever yuletide bash.
The only hitch:
You're about to host 20 people (and some inevitable +1s) in your tiny apartment. We're talking a studio with micro-sized proportions.
Where the ho-ho-heck are all your guests going to fit?
Easy. Simply follow these five sweat-proof tips from MakeSpace, the full-service alternative to self-storage units in Brooklyn, the rest of NYC, LA, DC, and Chicago. Their pointers will help you plan, prep, and pull off a jolly holiday party in your small home:
1. Plug tasks into your calendar

Like so much in life, preparation is key for a successful shindig. Parties can be unpredictable, and the margin of error shrinks when you're hosting in diminutive digs.
While you can't foresee every broken glass, wardrobe snag, or Menorah mishap that lies ahead, you can do your best to plan for emergency backups.
Enter your holiday planner.
Enlist your planner as a place to assign due dates for all the tasks on your to-do list. You know, the one you've checked twice thrice. The mental database where you've written down every sequence for the party, from "stock up on ice" and "chill the champagne," to "order new cologne" and "hang the mistletoe."
Whiteboards are great makeshift calendars because they're so customizable. Use Washi Tape, like Jennifer Snyder does, for as-needed color coordination.
Another advantage of whiteboards:
They're in plain sight, meaning little tasks are less likely to slip through the cracks in the bustle of the season.
Or try a printable calendar. We love Scattered Squirrel's holiday prep and host/hostess cheat sheet, and this holiday party timeline from Martha Stewart. To-do apps and services like Todoist are also useful. And Evernote can be integrated with your Google calendar.
Katie from Organizing Moms recommends checking with your family or friends to make sure you've accounted for all upcoming events.
Don't be afraid to delegate to-dos. Your guests and loved ones will appreciate the opportunity to help out, especially for tasks they might excel at. Let your DJ friend plan the playlist, or think of who might orchestrate the most scrumptious wine and cheese pairings.
Then seize any free time to plan downtime for yourself. Catch up on self-care, whether it's via meditating, a spa day, or just curling up with some popcorn and The Elf.
When it's two days before the party and you have a moment to catch your breath and relax, you'll be that much more excited to play host.
2. Strategize a scrumptious menu
via The Merry Thought
Your menu depends on the holiday you're celebrating, dietary restrictions, the selected theme, and vibe of your invitees. So here are some pointers for serving food to multiple guests in a small space:
Serve finger foods
The fewer the utensils, the greater the table space.
Food Network suggests five "one-bite wonders" for snacks that are as showstopping as they are small.
Real Simple suggests whipping up an easy, affordable crostini option with a baguette and cannellini beans. Or cater to virtually any dietary restriction by putting out an assorted veggie platter.
Whatever nibbles you decide on, serve them on multi-tiered platters, like this wildly creative disposable tiered serving tray that you can easily DIY. More vertical space = more room for snacks.
Skip individual cocktails in favor of one or two signature drinks
While beer is great and all, those bottles take up precious fridge and table space. Opt for a crowd-pleaser you can serve in bulk.
Think variations on punch, like this cranberry juice, sparkling cider, and ginger ale punch from Food Network. Or go classic with a big batch of eggnog.
Do as much food prep as possible before the party
Odds and ends you can do in advance really add up to save counter and fridge space, especially during the "Day Of" scramble.
Think make-ahead appetizers like gingered nuts. Or sugar cookie dough you can freeze ahead, and totally taste test during your downtime.
3. Make as much space as possible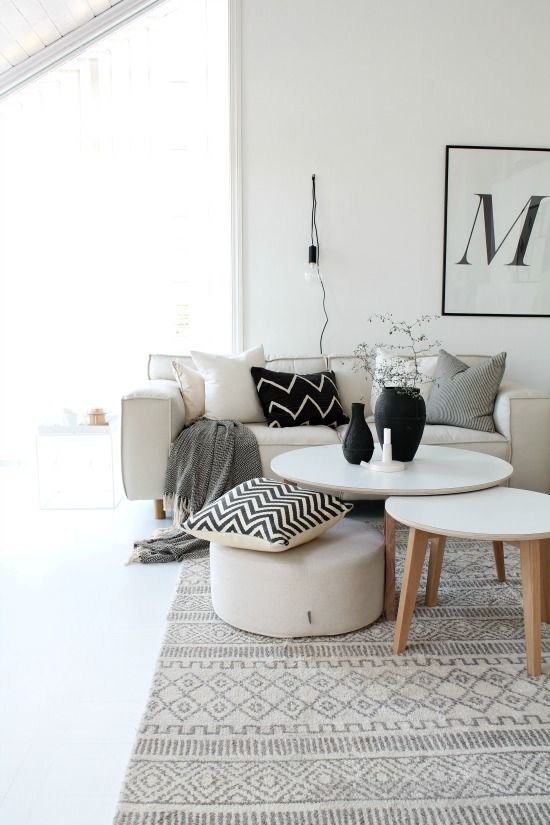 via Homey Oh My
"Clear away clutter before the guests arrive," suggests Tova Weinstock of Tidy Tova, a professional organizer based in New York City. "Clean surfaces are ideal party surfaces (think: falling picture frames, drink spills getting over your important paperwork, etc.), especially in a small space."
Not sure how to tackle your clutter, quick?
Weinstock suggests storing any obvious clutter in a shoebox or container during the party. "And if it's still sitting in the box months later … maybe it's time to let go of those items!" she adds.
Get rid of clutter during the party by thinking outside the closet. "Pile coats and bags onto your bed," Weinstock recommends. Or rent a portable coat rack. If the outside hallway is secure, you could even leave it there to save room inside.
You'll also have to get creative with seating. Think stackable stools or extra floor cushions, which are great fixtures for making small spaces cozy. And remember: Parties are made for mingling, so don't expect everyone to be sitting the whole time.
One thing you should expect, though? Body heat. Lots of it. Small homes heat up quickly, so leave the windows open a bit to let air circulate freely.
4. Get creative with your decorations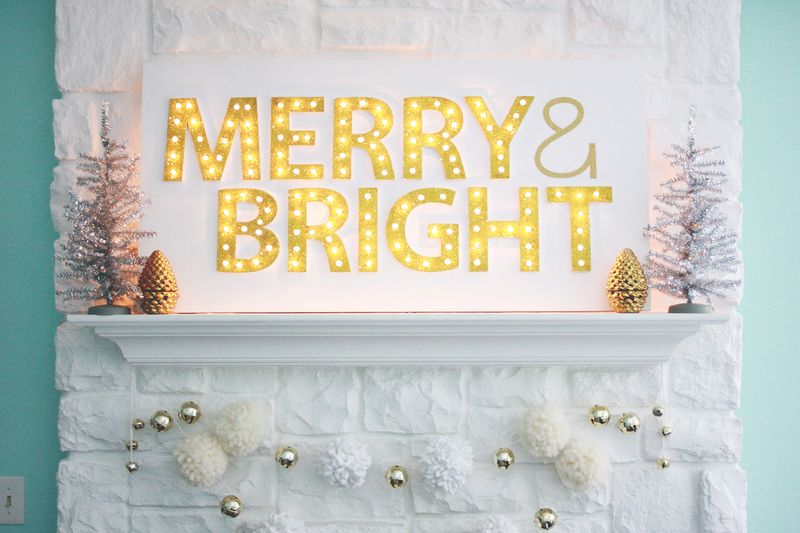 via A Beautiful Mess
In a small space, you have to get strategic about how you're going to deck the halls.
One solution: Make your decorations (literally) good enough to eat. They'll look festive for your guests, who will gladly help you clean the decorations — by eating them all up.
Love popcorn? (Who doesn't?)
Make a tasty popcorn garland.
No room for a tree?
Hang a tree-shaped chocolate gingerbread Advent calendar on your wall instead. (Yes, the cookie dough can be frozen in advance.)
Or put the "eat" in wreath with this herb-based wreath from The Yuppie Chef. Use its herbs to infuse cocktails, like a Lavender Bee's Knees.
Here's another genius decorating hack:
"Decorate using items that can double as party favors," professional organizers Joni and Kitt of Practically Perfect recommend. Not only does this tackle two tasks in one, they add, but it "also makes party clean-up so much more simple."
5. Keep cool and clutter-free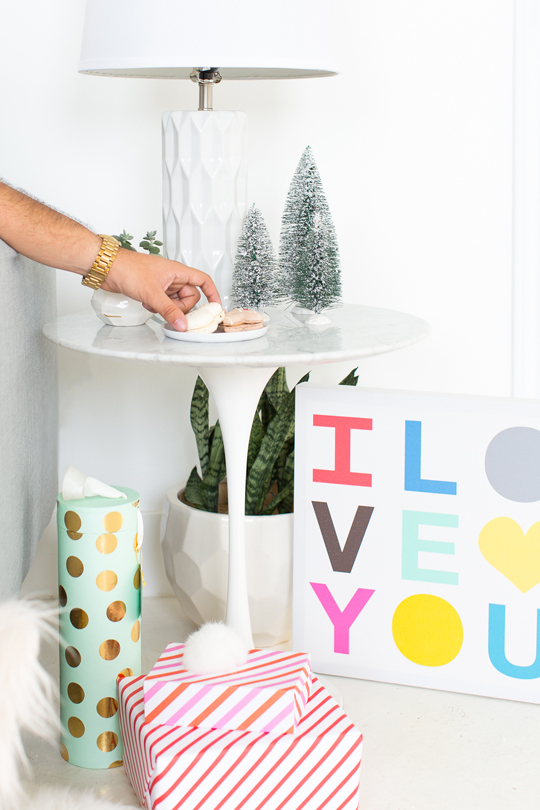 Sugar and Cloth
The punch is poured, your first guests are arriving, and the playlist is in full swing. What now?
There are a few things you can coordinate in advance to keep clutter from being a party crasher.
For starters, encourage guests to label their drink glasses, like Lydi Out Loud does with DIY wine charms. With fewer duplicates, you'll end up needing a smaller pile of cups.
Also, keep a bucket filled with soapy water out for you and your guests to toss dirty dishes into. When it comes to party plate cleanup, soaking is half the battle.
Lastly, grab a glass of some of that delicious eggnog you made, and enjoy the party you managed to pull off!