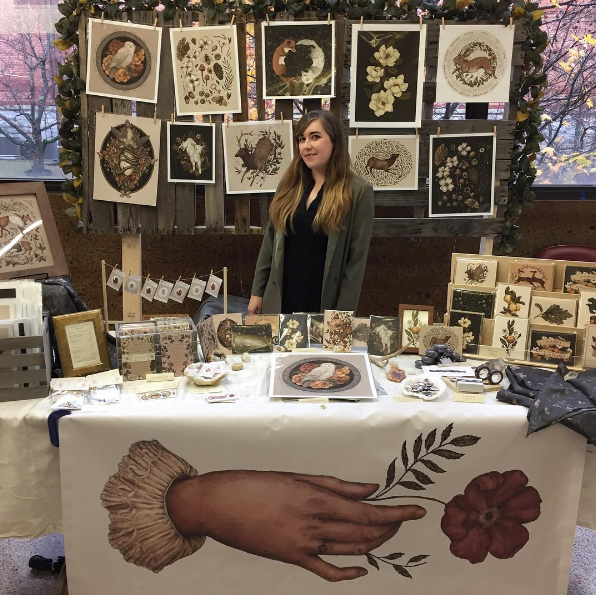 photo from Jessica Roux's Instagram
Jessica Roux is a freelance illustrator and plant & animal enthusiast. She is originally from the woodlands of North Carolina, where she grew up surrounded by an abundance of nature. She recently relocated from Brooklyn, NY to Gainesville, FL. Using subdued colors and rhythmic shapes, she renders flora and fauna with intricate detail reminiscent of old world beauty.
You can checkout Jessica Roux's Postable collection here and send the cards straight from the couch. 
1.What's your favorite book?
I'm a big Harry Potter fan, and I listen to the audiobooks constantly. My favorite one is Harry Potter and the Prisoner of Azkaban.
2. Favorite movie?
The Royal Tenenbaums
3. Favorite TV show?
The Office
4. Favorite song?
I just want to listen to the entire Fleetwood Mac album Rumors on repeat, forever.
5. Favorite food?
Salt and vinegar chips.
6. Drink of choice?
I'm a shameful addict of Diet Coke.
7. Go-to karaoke song?
8. When did you realize you wanted to be a designer?
I was in my first year of college, and I was really unhappily studying journalism. I would paint in my free time, so I decided to transfer to art school after my first year. Now I'm happily drawing (almost) every day.
9. Did you go to design school or teach yourself?
I graduated from the Savannah College of Art & Design in 2013.
10. If you had to describe your style with only three words what would they be?
Intricate, nature-inspired, vintagey
11. When did you start your company?
2013
12. Where is your studio located?
Gainesville, Florida
13. What's your favorite card of yours on Postable?
It's so hard to pick a favorite, but today I'm into the Floral Elk.
14. What artists, past or present, inspire your work?
Maria Sibylla Merian, John James Audubon, William Morris, Holly Exley, Luisa Rivera, Miranda Meeks
15. If you had to choose a spirit animal what would it be and why?
My dog Molly, because she already knows what I'm thinking and feeling. She's the best.
16. When was the last time you laughed really hard and why?
My husband is the funniest person I know – laughing so hard that I'm crying happens almost daily in our house.
17. How would you spend your dream Saturday?
Sleeping in, going for a nice hike and collecting some cool plant specimens, eating lots of junk food. I also kind of want to be floating in a lazy river alone at some point.
18. If you weren't allowed to work for 12 months, what would you do?
Travel and see lots of new sights, so that when I get back to work I feel inspired.
19. If you could live anywhere in the world where would it be?
In a cabin in the woods somewhere.
20. Was this questionnaire too long?
Nah, it was a nice break to answer these.
You can checkout Jessica Roux's Postable collection here and send the cards straight from the couch.