Looking for baby shower theme ideas? Well, you've come to the right place. What you'll find here is a source of inspiration. If you've taken on the role of planning a baby shower, you're probably excited about making it the loveliest most delightful baby shower there ever was. And we're equally excited about helping you make that happen. Before diving into the baby shower theme ideas, let's cover some baby shower frequently asked questions.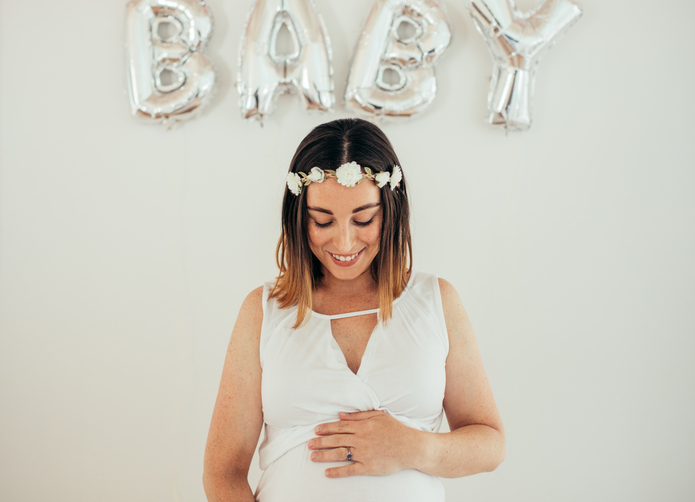 Does a baby shower need a theme?
Well, no. It doesn't *need* a theme, but planning a baby shower around one will certainly help make all sorts of planning decisions from the decor, to the menu as well as the drinks all that much easier. Without a theme, your event may also lack a comprehensive put together feel. If you don't choose a theme first, making decisions later might be a little overwhelming. A baby shower theme helps you narrow down your options and will give your baby shower a put together feel.
With that said, you could pick a baby shower theme that's really simple. Perhaps a simple color scheme like gold and green and allow that theme to guide your other decisions. Again, this will make planning the shower that much easier.
Normally we're all for coloring outside the lines and planning your event your way, but choosing a baby shower theme is very close to being a must.
Send really nice baby shower invitations in minutes straight from your computer. Postable will print, address, and mail them for you.
Who traditionally pays for a baby shower?
Traditionally, the host pays for the baby shower. That doesn't mean they can't relegate some of the efforts (including financial ones) to other friends and family members who are willing to chip in.
To avoid breaking etiquette, the important thing to remember is the mom-to-be should not ask anyone to host, and by extension pay for, the shower.
What are good themes for a baby shower?
There are a ton of really great baby shower themes to choose from and here we've broken them down by categories depending on either the type of baby shower you're planning on hosting or the time of year. And if none of these categories fits the shower that you're hosting, not to worry — you can still totally use them.
The real fun comes in once you've selected the shower theme that gives you all the feels and you run with it. How you turn a baby shower theme into an event will depend on your vision. Two baby showers with the same theme could be worlds apart. When thinking about your theme, consider how it will affect the way you plan the baby shower. How will it affect the decor, the invitations, menu, drinks, and even the way you choose to display the gifts. The way you ultimately decide to apply the theme is really how you'll make the baby shower unique.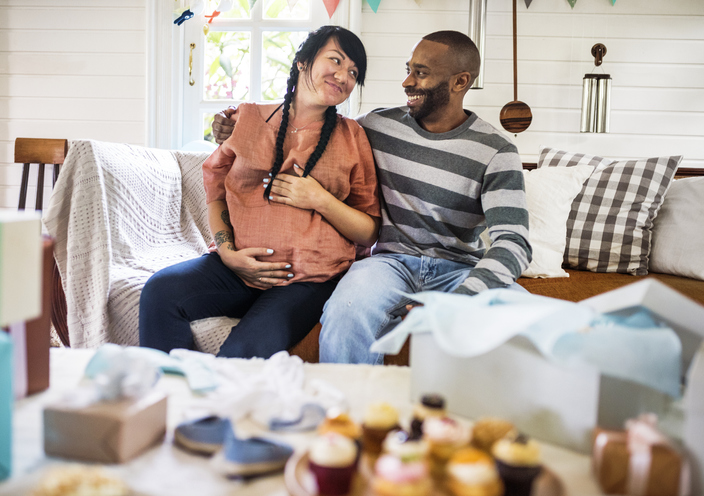 How do I apply the baby shower theme?
Ok, so once you've picked your baby shower theme, what next? What do you do with this handy piece of information as you move forward and plan the baby shower? All good questions.
As you move forward in your planning process, keep your chosen theme at the forefront. When you choose the menu, think of ways to incorporate the theme into the foods you choose as well as the ways in which you display them. The same rings true for the decor all the way down to the invitations you send –– the piece of paper that starts it all!
Pro tip: You can mail your baby shower invitations from your phone or computer. Postable will print, address, and mail it for you.
Send really nice baby shower invitations in minutes straight from your computer. Postable will print, address, and mail them for you.
General baby shower theme ideas
To start, here is a list of some general baby shower theme ideas just about anyone can use. These themes will work no matter what time of year you're hosting the baby shower.
Baby Animals
Is there anything cuter than baby animals?! Adorn your shower with a baby animals theme and get ready to hear all sorts of coos and awes. You can pick one specific animal, like the adorable baby sloth, or just apply the theme more broadly with all baby animals.
Here's a couple of examples of how you can incorporate this theme idea into your own special day.
For starters, this baby sloth baby shower invitation by Cindy Reynolds is next level adorable. You can choose to take the theme to the next level and incorporate the same color scheme as well as the baby sloth idea. If you're into being so rigid in the use of colors, you can always stick to the same warm tones as this invite.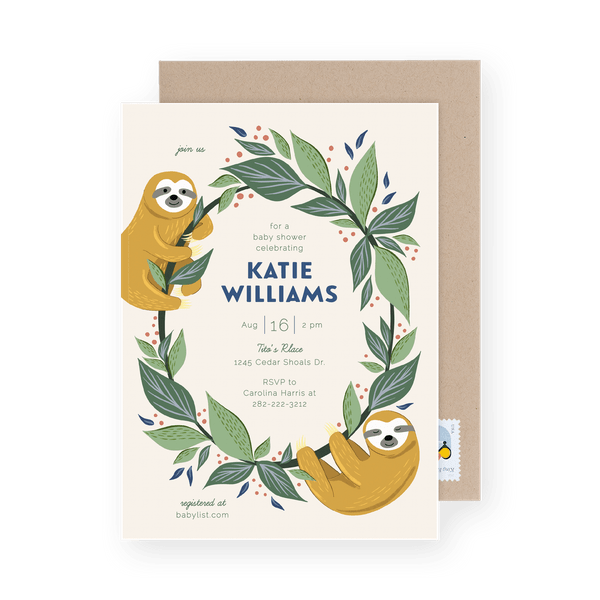 Another way to incorporate baby shower theme ideas is the food, or more specifically the dessert. Custom cookies made in your theme is a great way to tie everything together and make it tasty!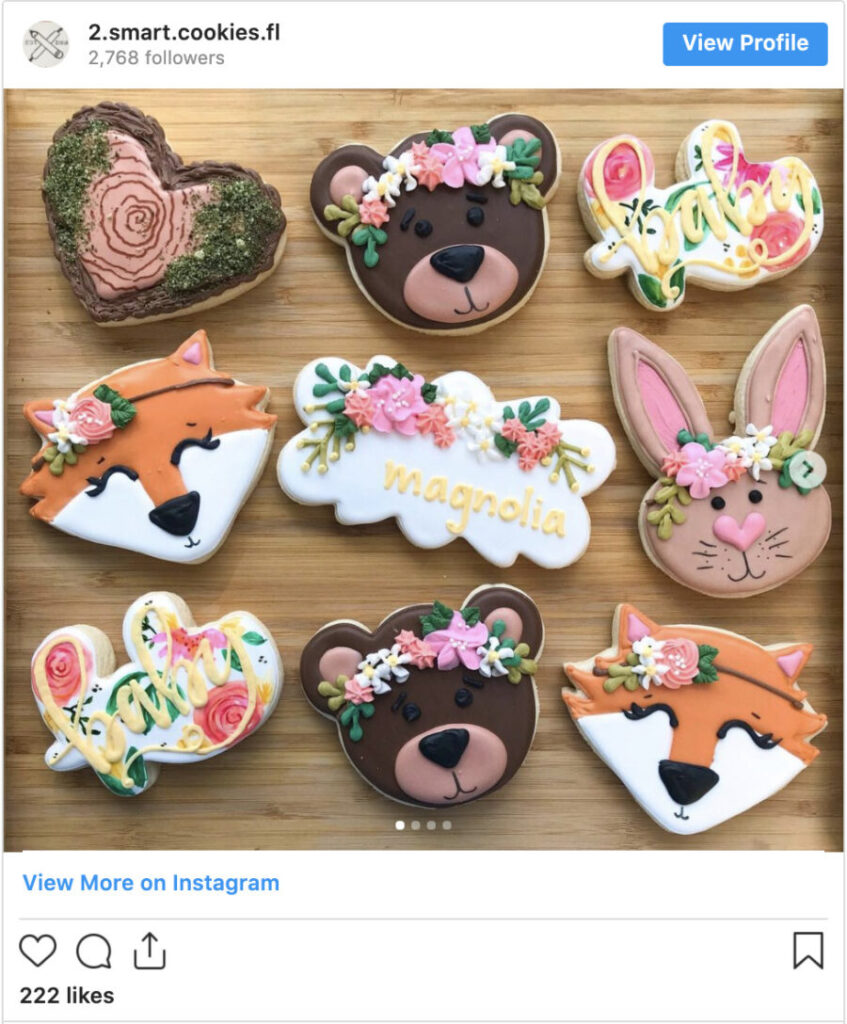 Pro tip: Have the cookies serve a double purpose: the decor AND party favors! The cookies can be left out and about for the guests to marvel at. When they're ready to leave, have them put a few in a little baggie to take home and enjoy later.
Sea Shower (under the sea)
If your party will take place near the ocean or even a pool, using this Under the Sea baby shower theme could be a fun way to incorporate your surroundings. Then again, it's certainly not necessary to be near water in order to use this theme.
We love this lovely sea shower invite!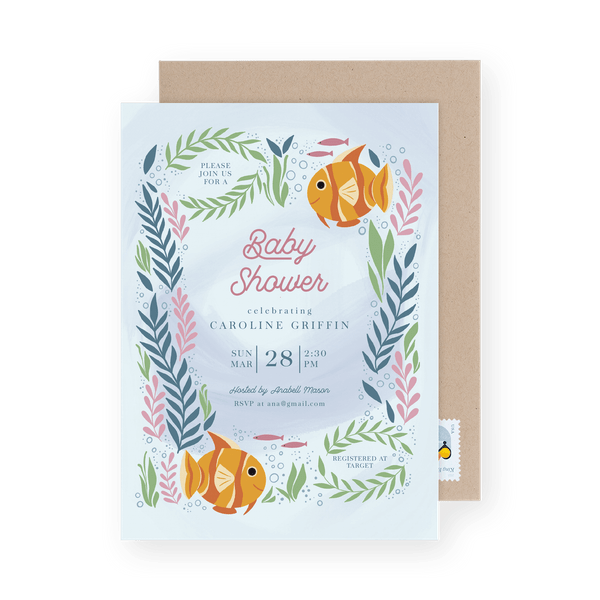 Baby Bottles
If you're hoping to do a lot of DIY decor, games, and food displays, this baby bottles baby shower theme idea would be perfect. You shouldn't have a hard time finding baby bottles (and the parents-to-be could probably use a bunch of them after you're done).
Turning your venue into baby bottle heaven could also be really fun –– fill baby bottles with yummy drinks, glitter, and however else you choose to get creative.
A simple, but still super fun baby bottle invite will be key to introducing your theme to the guests.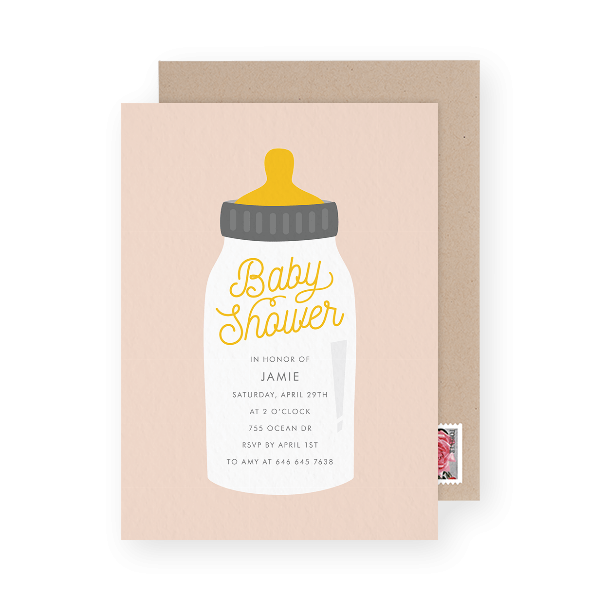 A simple way to incorporate this theme idea into your shower is with the dessert table as seen here.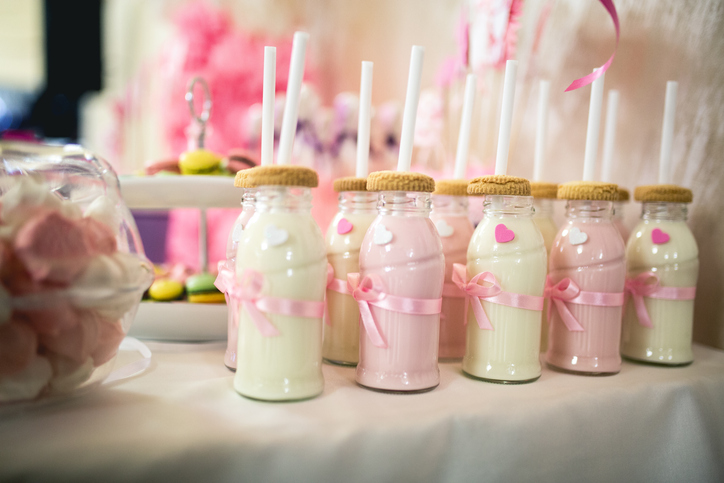 Woodland
Woodland is another popular baby shower theme used by many, but could easily be made unique by you. If the mom-to-be loves to spend her time outdoors, this theme would be a lovely celebration of her interests. It's also just super cute.
This baby deer baby shower is a lovely nod to the woodland theme without going too woodsy.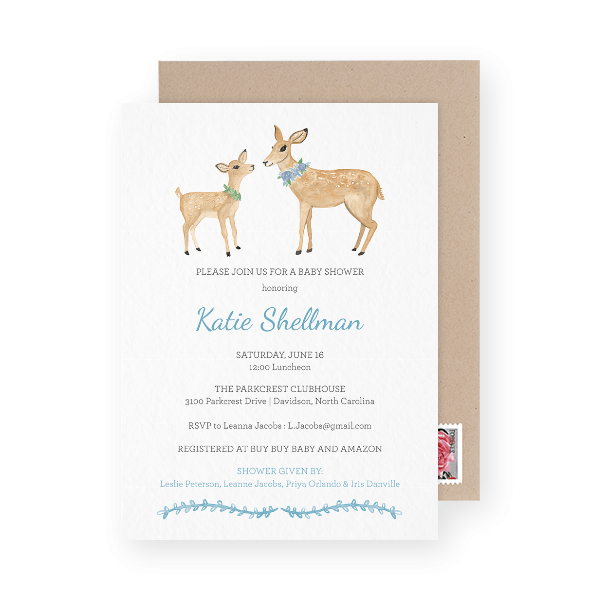 On the other hand, you could really go all out with a woodland baby shower cake like this one.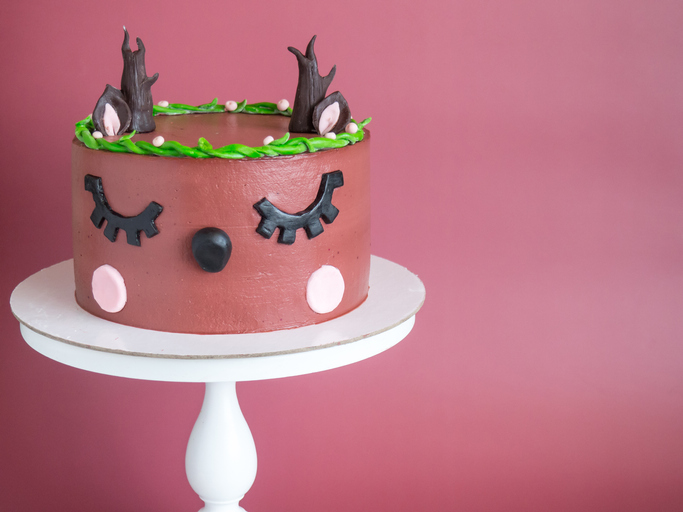 Little Sailor
Whether it's a girl or a boy, a little sailor baby shower theme can make for a truly delightful atmosphere. Add some boats and blue & white stripes and you're well on your way!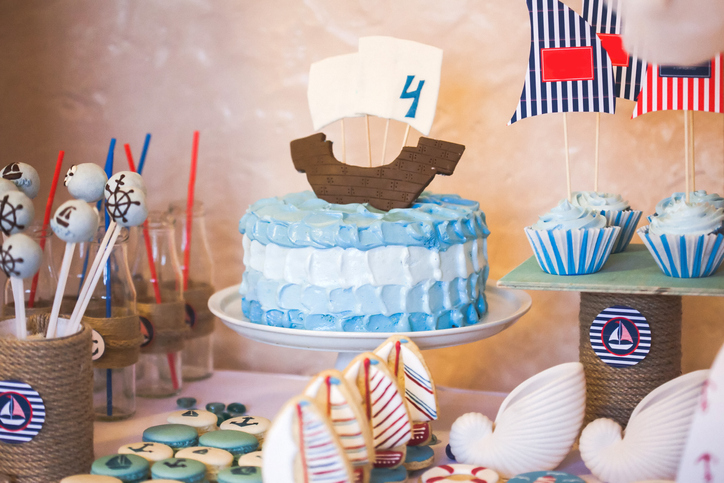 Simple color scheme
You don't need to get super detailed when choosing your baby shower theme. In fact by using a simple color scheme as your theme, you're giving yourself a bunch of leeway when it comes to decor and menu items. It'll be that much easier to plan your baby shower around this simple theme since the items you'll need will be that much easier to get.
An example of this theme in action is this paint splash baby shower invite.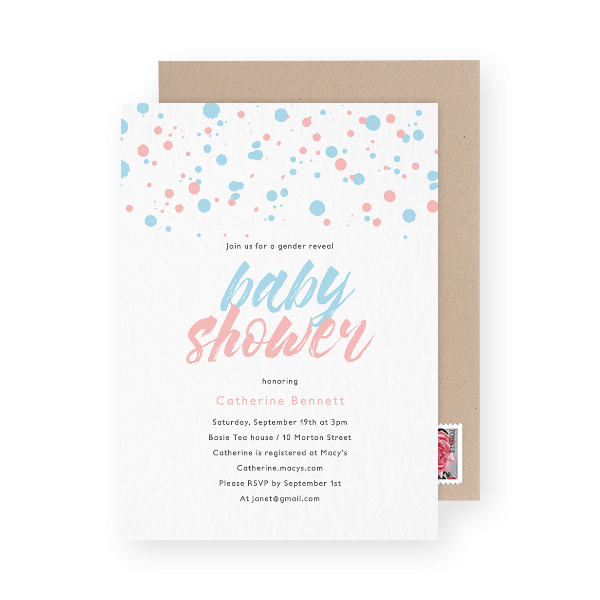 And on that note, just because your theme is simple doesn't mean the baby shower has to be. You can totally play up the colors you choose in any which way you'd like. This delightful dessert and cake table is the perfect example.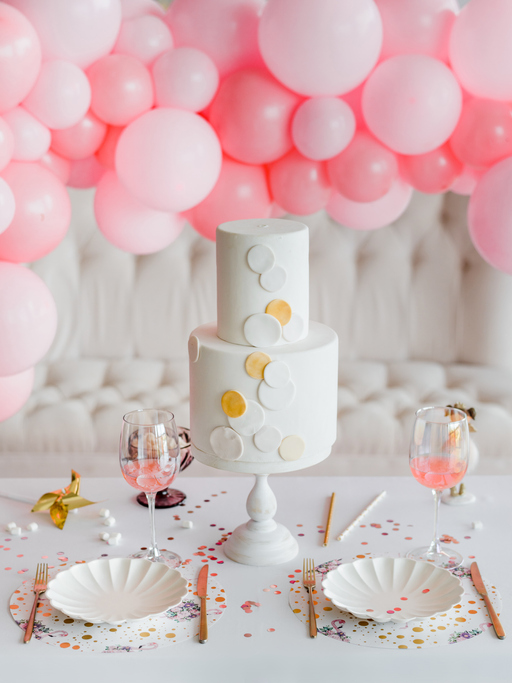 Coed baby shower theme ideas (not exclusively!)
If you're hosting a coed baby shower and want to use a theme that'll make everyone feel a bit more welcome, these baby shower theme ideas would be perfect. And even if you're hosting a women-only traditional baby shower, these baby shower theme ideas are still totally usable!
Beer & Diapers
If you're hosting a coed baby shower then anything beer themed tends to be a popular option. And while that's definitely not the only theme you could choose, it is the theme that tends to be a crowd pleaser. And honestly, we get it. You can really take this idea and roll with it… think: Beer & Babe, Baby is Brewing… And so on.
Here's a simple and fun Beer & Diapers themed shower invite that'll make everyone on the guest list feel included and excited for some baby shower fun!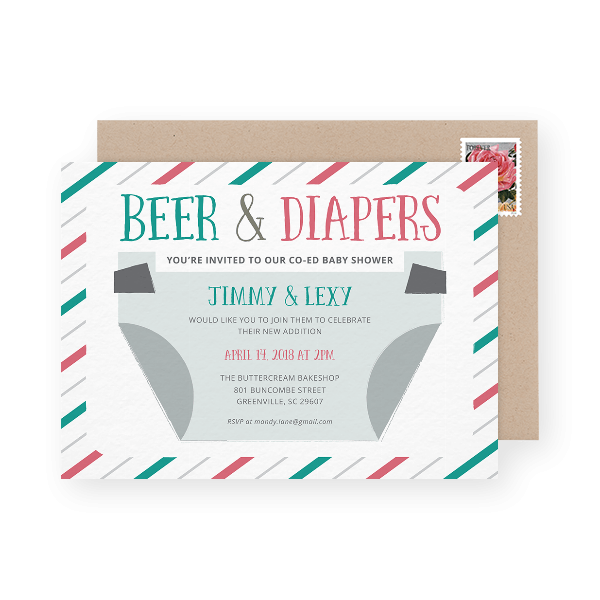 And if you thought making it about the beer would take away from the cuteness factor– think again! These tiny beer and diaper cookies are almost too cute not to eat.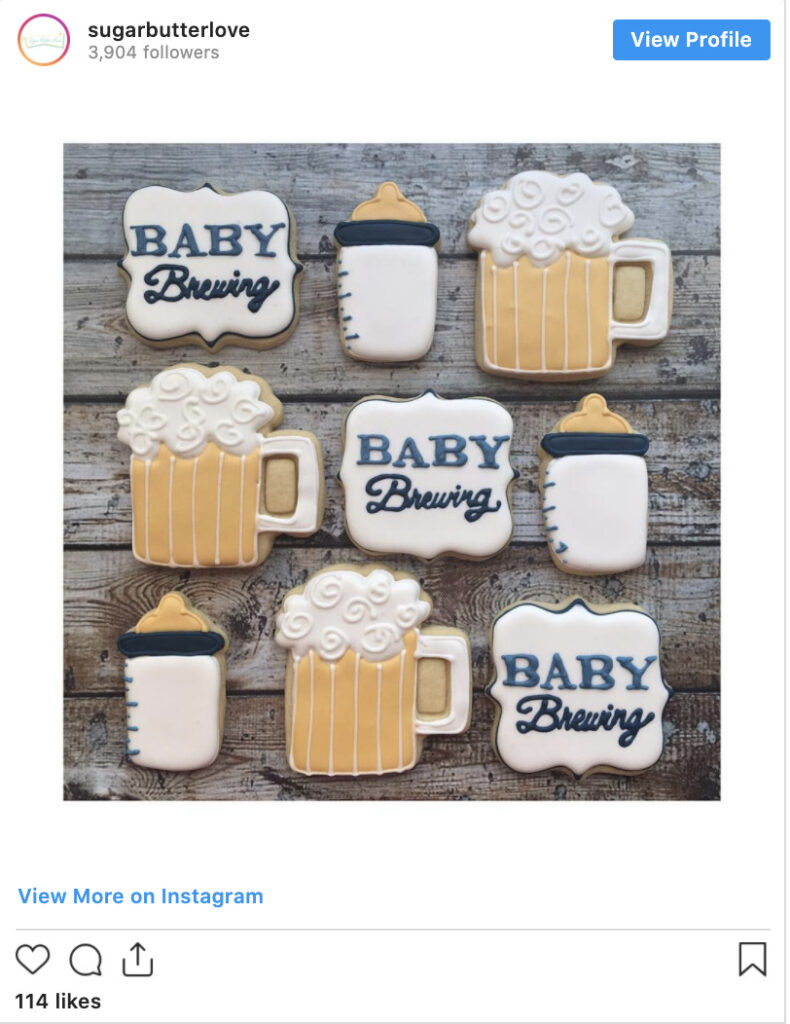 Bold Colors
Another great option for coed baby shower themes is the bold color scheme. Essentially the same idea as the simple color scheme, only we'd recommend sticking to bright and bold colors rather than delicate pastels. While there's nothing wrong with either, the pastels tend to dominate traditional baby showers and the bolder color schemes will make the shower feel more inviting to the whole guest list.
Plus, how fun does this bold colored baby shower invite look? You can totally run with this one and include bright colored banners as part of your decor.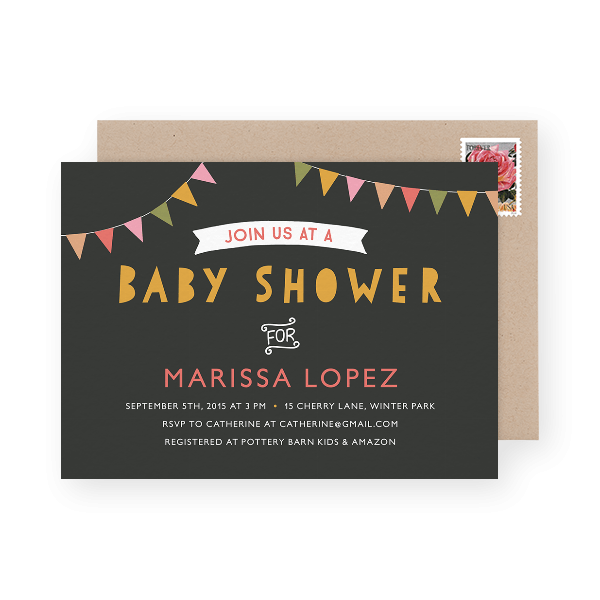 And if you need more ideas on how to incorporate this theme besides the banners, take a gander at this delicious dessert table! The colors are fun, bright, and whimsical!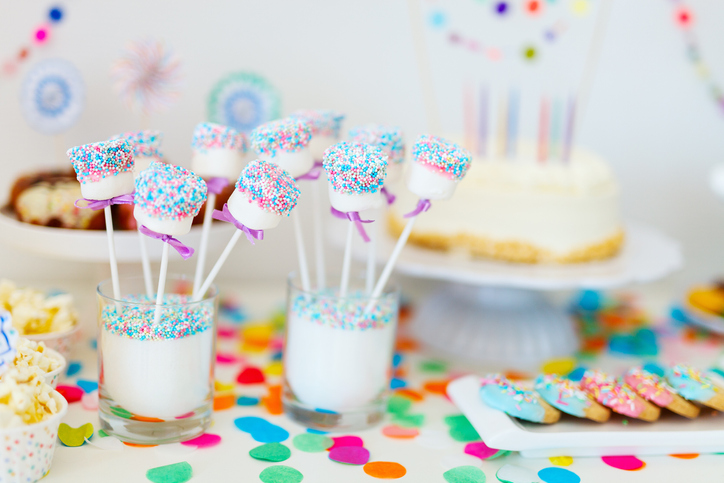 Gold & Green
If you want to get specific with the color scheme, the gold and green duo is a popular one. It's gender neutral and can still be the foundation to some amazing decorations. Plus, the cookies come out looking like a million bucks!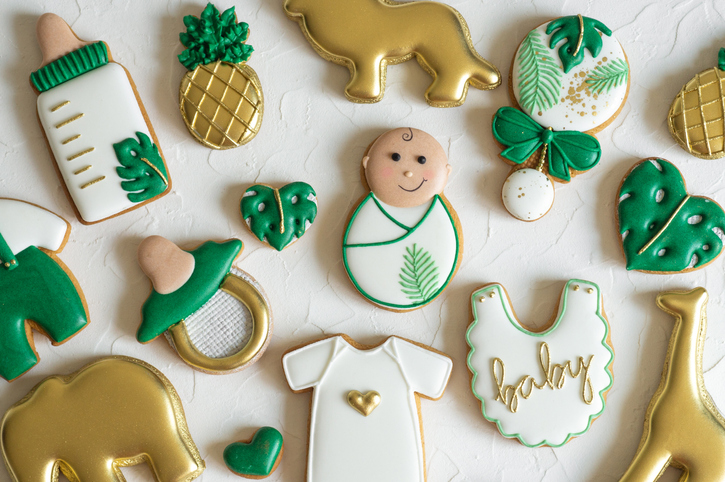 Sleeping Baby
The parents-to-be will certainly need all the sleepy vibes they can get before the baby comes. This cute sleeping baby shower theme idea is fun to incorporate and will invite some good sleepy-juju into their futures.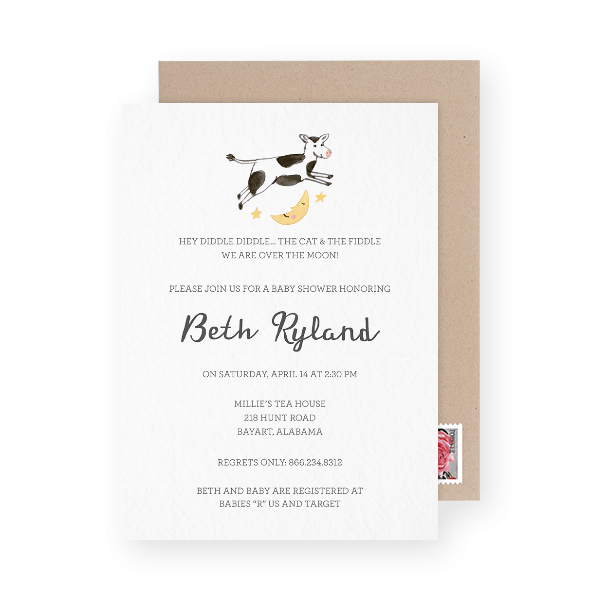 And just when you thought cookies just couldn't look any more adorable…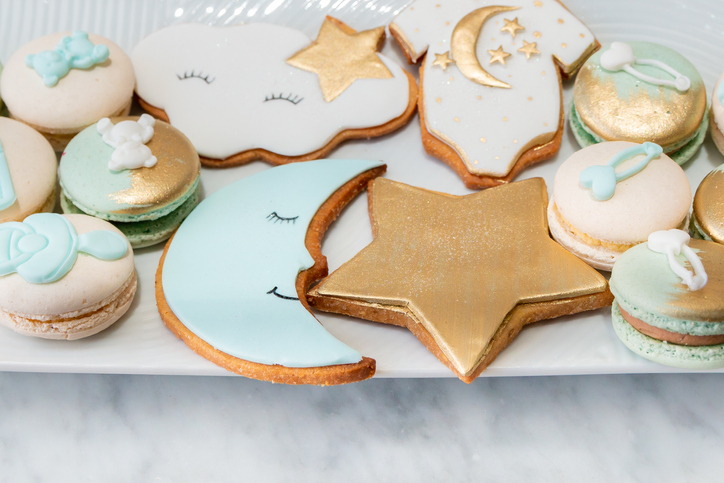 Seasonal baby shower theme ideas
Seasonally themed baby showers are all the rage and we totally get why. By choosing a baby shower theme that aligns with the time of year the event takes place, the whole outdoor world is 'in' on your theme which does part of the work for you.
Send really nice baby shower invitations in minutes straight from your computer. Postable will print, address, and mail them for you.
In other words, half of your job is done because whether the fall colors are covering the sidewalks, the blooms are releasing their aromatic smells, or the snow is glistening–– mother nature is decorating right alongside you.
A little pumpkin for the fall.
Every season has its fans, but it seems that fall really is the winner amongst them all. The weather is beyond comfortable, the natural colors are warm and cozy, and the pumpkins are everywhere!
A little pumpkin is the perfect fall baby shower theme idea and easily incorporated into decor. Just add pumpkins!
This adorable pumpkin baby shower invite by Leveret Paperie is a good place to start!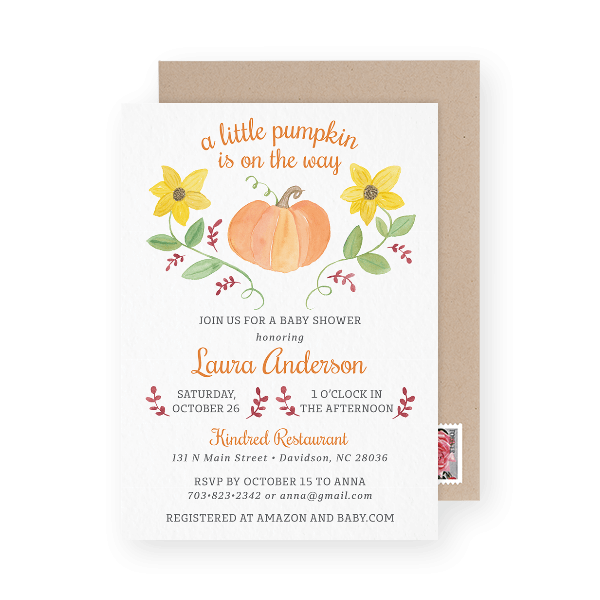 And again with the cookies… Basically, whatever theme you choose, custom cookies will always be crowd pleasers.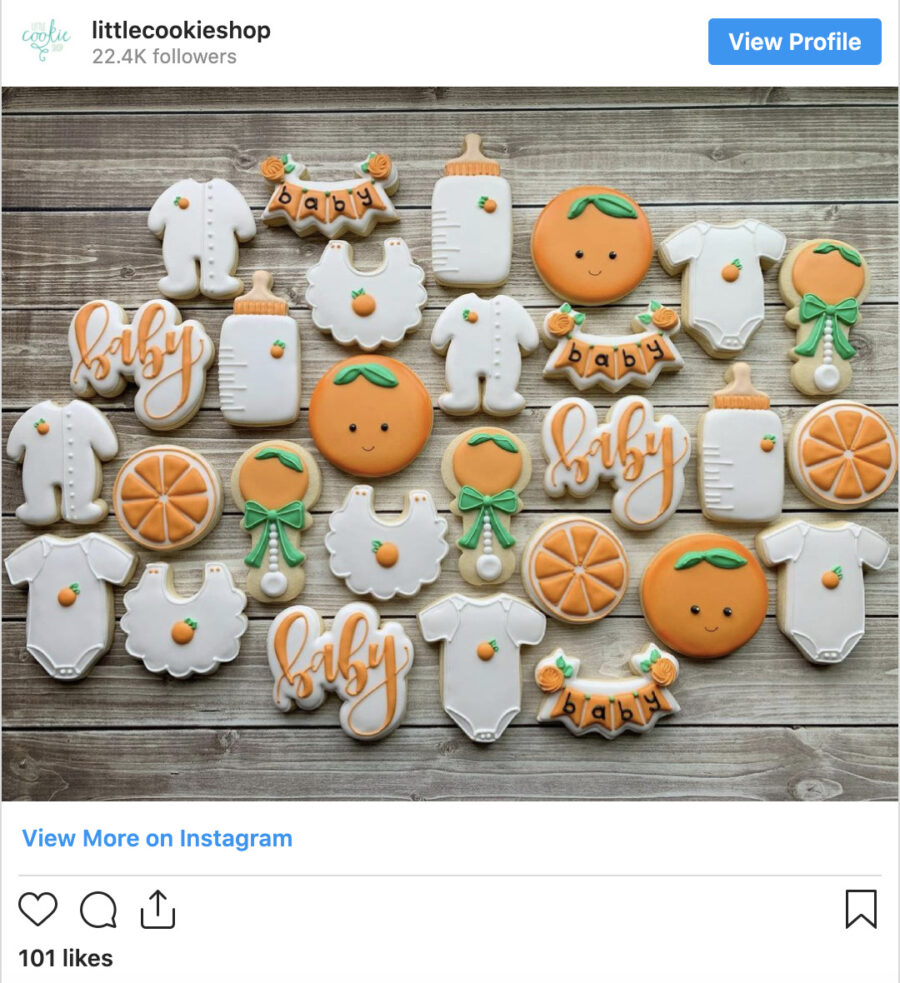 Baby, it's cold outside for the winter.
If you live in a region where snow is common, planning a winter themed baby shower is not a terrible idea. Your guests will already be in the snow-y mood — though potentially less thrilled by the snow than one would hope.
Either way, whether everyone is loving the snow or not, they'll enjoy the warmth of your baby shower and the glow of the snow-like decor.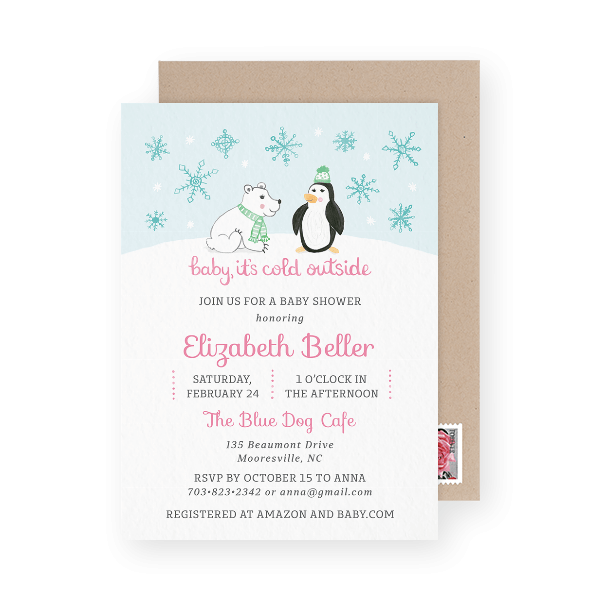 Florals for the spring.
Nothing says it's time for spring like the blooms of flowers. If you're hosting a spring baby shower and want to theme it by the season, using the floral theme is a no-brainer. The decor will be easy enough to put together. After all, flowers are plentiful and easy to gather (even if that means pulling some from the garden).
The best part? Florals are inherently beautiful so everything you do will be lovely to the eye, like this floral invite.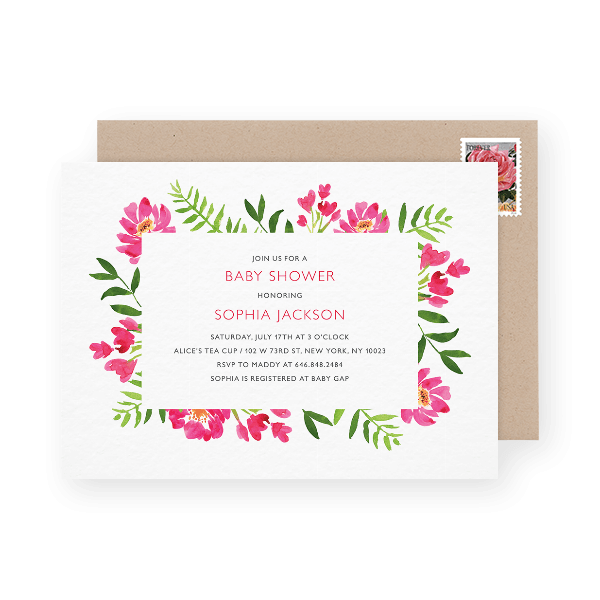 Just add flowers to everything you'd normally see at a baby shower and you've got yourself a floral baby shower theme!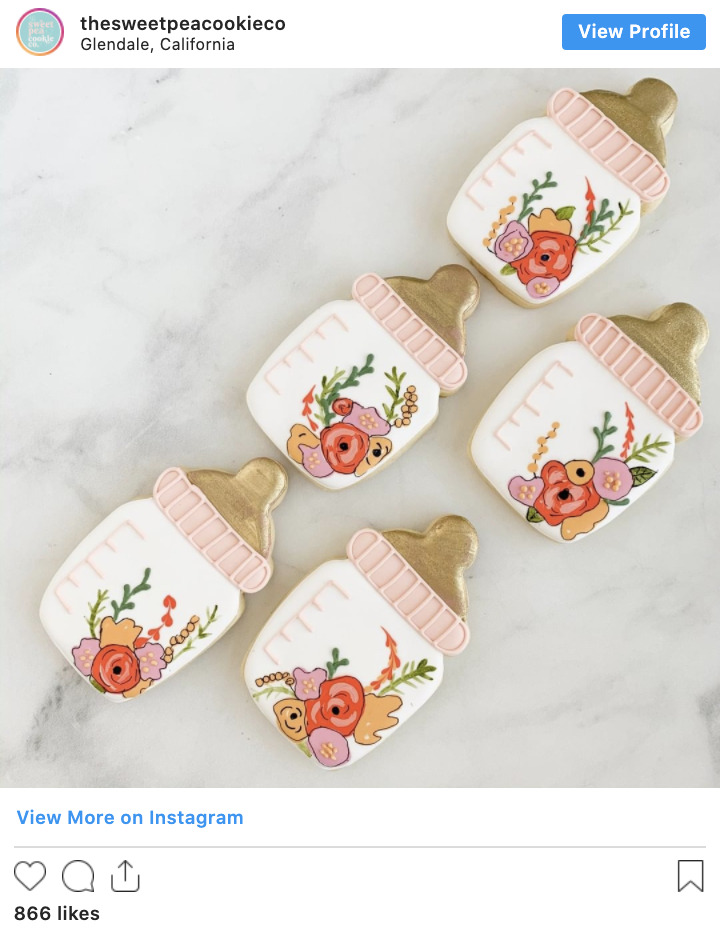 Summer showers for the summer.
Gotta love a warm summer shower! This theme will be especially fun if you live in a region where summer showers are more prevalent (think: the Southeast).
Here's a fun way to incorporate the summer shower theme into your invite.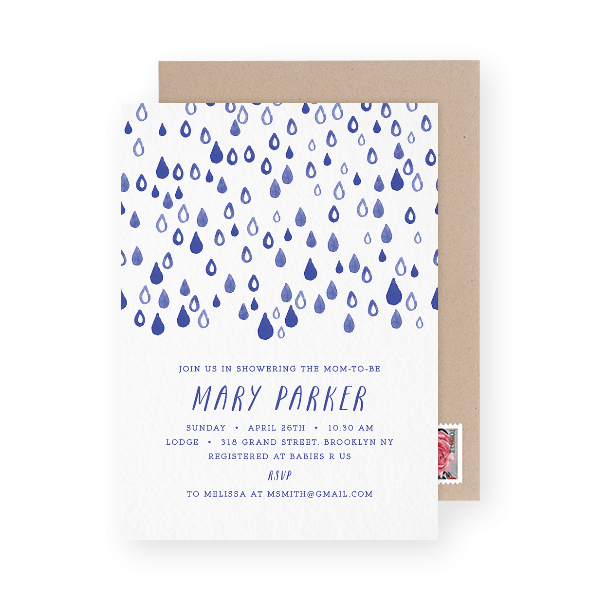 Whatever baby shower theme ideas got you excited, go for it! At the end of the day, do what feels right for you. And have fun with it!
Send really nice baby shower invitations in minutes straight from your computer. Postable will print, address, and mail them for you.