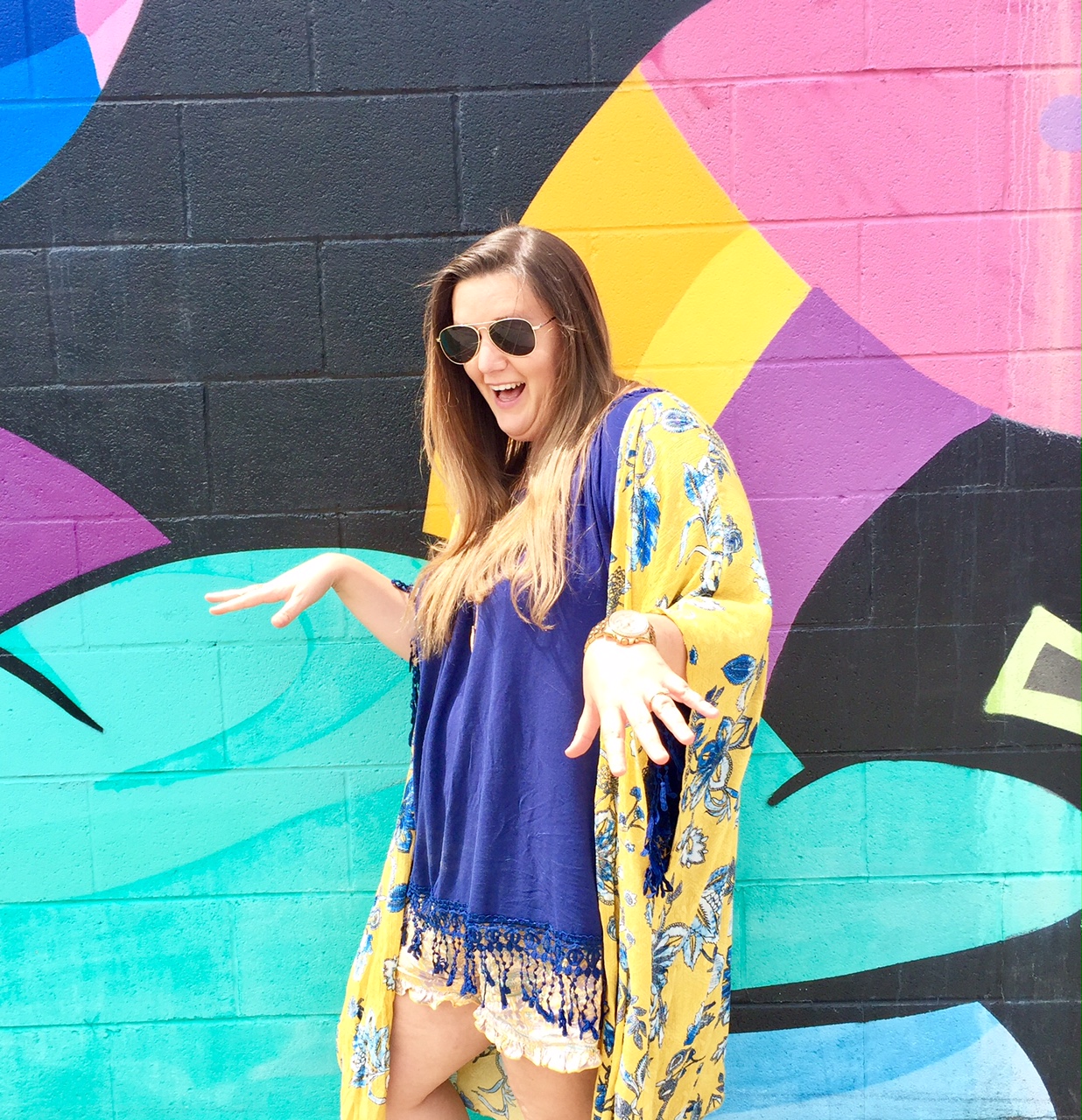 Knotty Cards is the brainchild of Casey Sweeney, who started writing and illustrating quirky greeting cards out of her one bedroom apartment in 2015. Since then, she has developed a brand that revolves around bringing humor to every day life situations. Her number one goal is to brighten your day, and she's proud to do that right from the Knotty Cards studio in Charleston, SC.
Checkout Knotty Card's entire card collection and send one to someone you love.
1. What's your favorite book?
I always try to avoid this question because books are literally my jam. See what I did there? Recently, I've been on a nonfiction kick. I love anything by Jon Krakauer. If it's like reading a documentary, I'm into it. But timeless favorites have to be Harry Potter, Great Expectations (I still have my tattered copy from 6th grade), and The Road.
2. Favorite movie?
I actually am a weirdo, and I really don't like going to the movies. And I have vast opinions of them. Love Atonement, the Patriot, and Forgetting Sarah Marshall. See. Weirdo.
The Office is the best TV show that's ever existed. I'm also a fan of Gossip Girl (ahem, Chuck Bass) and Grey's Anatomy.
4. Favorite Song?
Currently obsessed with NF since I saw his show a few months ago. "Got you on my mind" is so good. Go listen if you haven't heard of him. Also, anything by Dermot Kennedy.
5. Favorite food?
Strong advocate of saving room for dessert.
6. Drink of choice?
Wine: Pinot Grigio
Cocktail: Salty Dog
Beer: anything brewed by Frothy Beard
7. Go-to Karaoke song?
Boys of Summer by Don Henley
8. When did you realize you wanted to be a designer?
When I had read all the art books in the children's section of my local library and figured out that fine artists were poor until they died. That was the plot twist of my life.
Minored in graphic design in college, but mainly self-taught
10. Style in three words?
– Whimsical
– Imperfect
– Funny
11. When did you start your company?
In the craft store aisle in January 2015.
12. Where is your studio located?
Charleston, South Carolina
13. What's your favorite card of your's on Postable?
You really worked your ass off — The idea of drawing a butt sitting there by itself was just so funny to me when I drew it.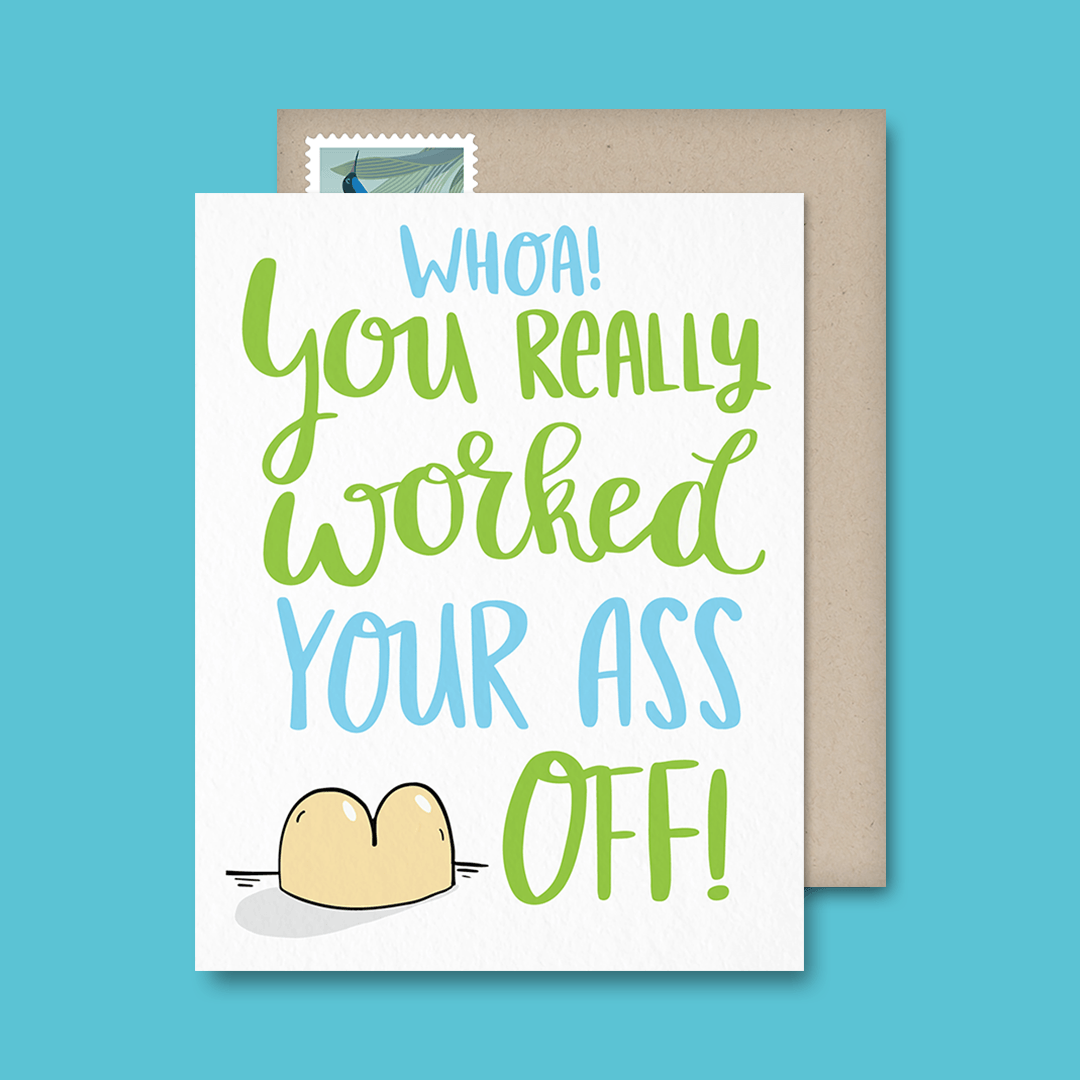 14. What artists, past or present, inspire your work?
Tupac. Oh wait, not that kind of artist. Umm…I just saw the Ai Weiwei exhibit at the Hirshorn, and I think it's most inspiring when people keep making art even when they're told not to. So many artists are rebels in their own way, and to communicate through art is inspiring no matter who you are. It's brave and commendable and hard to put yourself out there. So I think to a degree I'm inspired by anyone willing to create something and send it to the wolves, whoops, I mean the world. 😉
15. If you had to choose a spirit animal what would it be and why?
My spirit animal is my dachshund, Professor Noodles. We eat together, work together, and sleep together. He's my dude. My husband is jealous of our relationship.
16. When was the last time you laughed really hard and why?
Yesterday when describing to my sister how touristy my husband gets on vacations. He's my favorite person in the world, but he goes full on John Candy from Summer Rental when we travel, and it cracks me up every time I think/talk about it.
17. How would you spend your dream Saturday?
Wake up, it's like 70 degrees, have breakfast at my favorite Charleston breakfast place (nope, I won't give away that secret), maybe go downtown to the farmer's market or shopping on King Street with endless funds, have drinks on the water, go home to play with the pups, binge watch something on Netflix, have a private chef cook me dinner. You know, the usual, nothing fancy.
18. If you weren't allowed to work for 12 months, what would you do?
Go insane.
19. If you could live anywhere in the world, where would it be?
The more places I go, the more and more I really love Charleston. It's a very fun place to live. So I'd probably still live here but bring my whole family to live here too. And maybe get rid of some of the traffic.
20. Was this questionnaire too long?
Nope. It reminds me of those Myspace surveys I did back in the day to make sure my crush didn't die in 24 hours. Remember those? Oh no? Just me? Cool.