So you've got a new furry family member in the house! How exciting!?! Seriously, we're kind of jealous (by which we mean really really jealous). The question now lies — how will you share the big news with all your friends and family? Sure, you could post a little something to social media, but why not make the announcement more special? After all, your mail box has been full of birth announcements lately — why not share your big news in the same official manner? Puppy Announcements are totally a thing and we say — why not?! Dogs are family too. Checkout some adorable puppy announcements below and customize them with your doggie's info! Best part is, Postable will print address and mail them all out for you– giving you some extra time to go off to the park and play fetch and what not.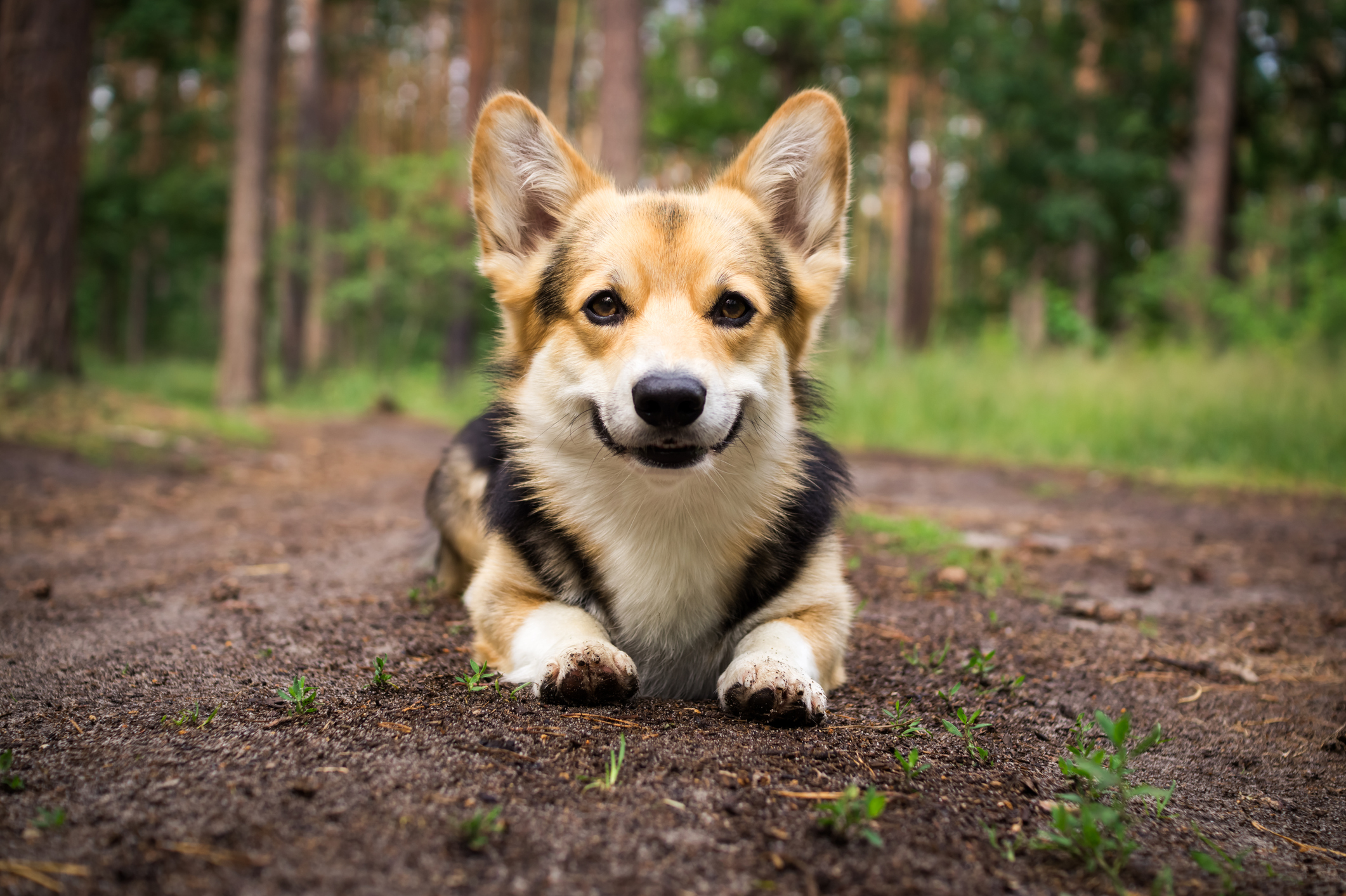 But first… What will you name the little buddy? Looking to name your new friend something unusually awesome? We got you. Along with the most adorable puppy announcements you've ever seen here is a list of 18 quirky AF puppy names you can use with your newest little furry friend.
Take a look at these adorable puppy announcements to get you all excited about sending out your very own! Click on the link below any of these announcements to play around with the templates to see how your very own photo will look like!
Simple Wood Puppy Announcement
Your puppy is already the star of your show, why not keep your announcement simple and keep the puppy photo the star of attention. This card is perfect for just that. But also, how cute is that tiny little dog bone accent?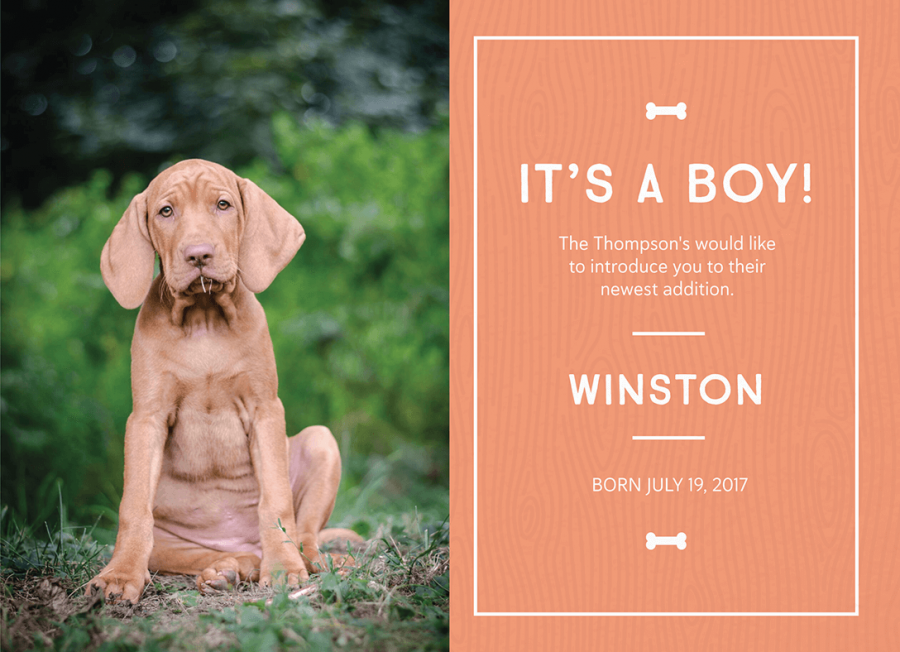 Test out this card
Blue Little Paw Print Announcement
Want to add just a little puppy-awesomeness to the design of your announcement? We got you. The background for this adorable pup announcement is the perfect little touch without over powering the photo. Use a photo that's up close and personal to really show off your furry little friend's big adorable eyes.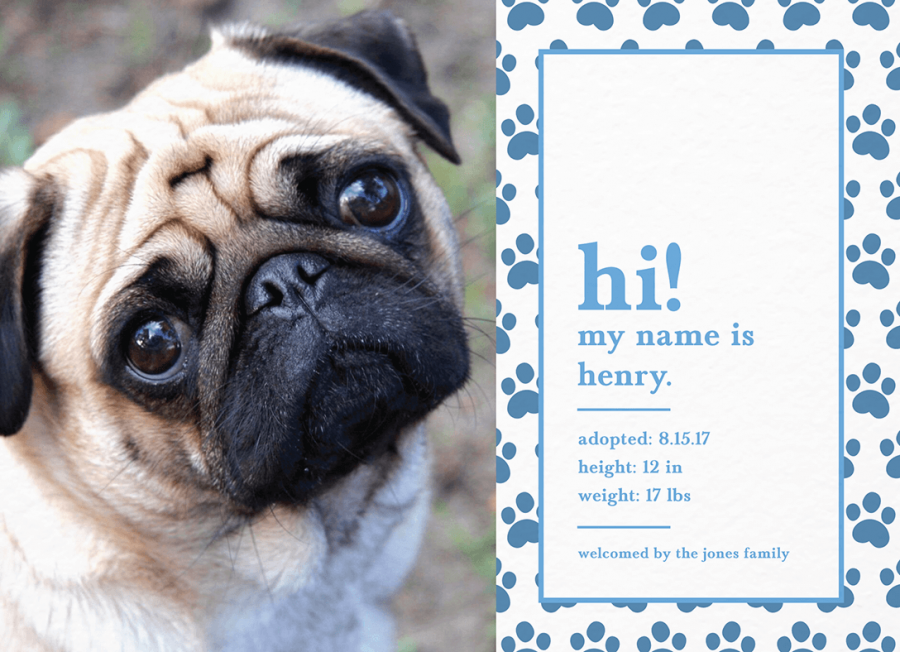 Test out this card
Simple Border Overlay Announcement
This card is perfect if you have a great horizontal image that you're dying to share with everyone. It's super simple and the white border adds just the perfect little something.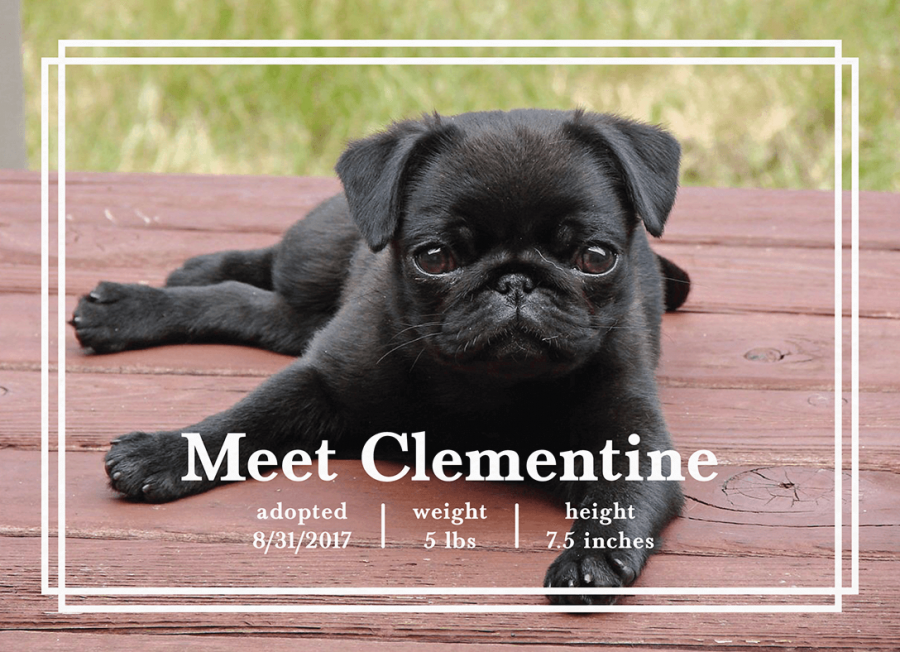 Test out this card
Hand Lettered Font Overlay Announcement
Another great card template if you have a good horizontal image you'd like to use. We love the font on this card (and yes, it's totally customizable so say whatever you want).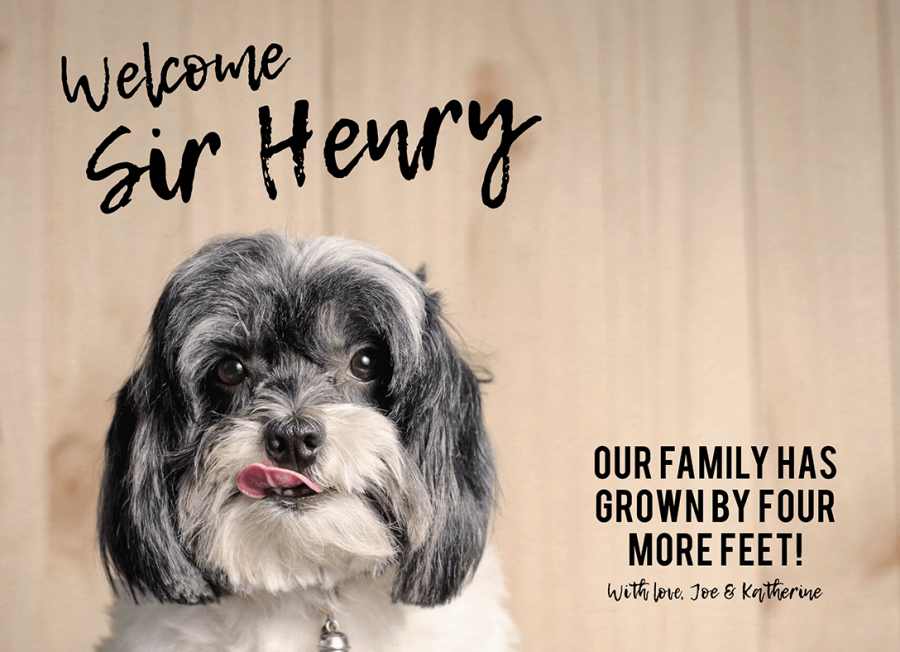 Test out this card
Bright WOOF Puppy Announcement
This color-filled pup card template is perfect for a pup with a lot of personality. It's also great if you have two new little friends to announce (lucky you!!). If not, you have the ability to upload two separate images of your new dog to show off a couple different angles! Something tells us there's no shortage of images to choose from.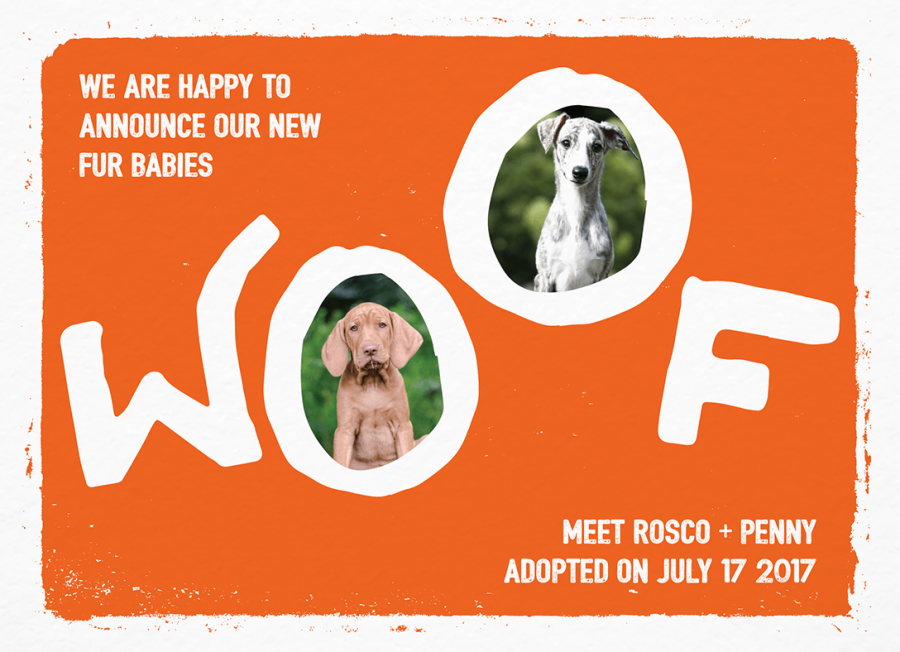 Test out this card
Polka Dot Puppy Announcement
A puppy announcement totally doesn't have to scream DOG. We get it. So this adorable design uses colorful polka dots along with a framed info text box and a slot for your very own photo.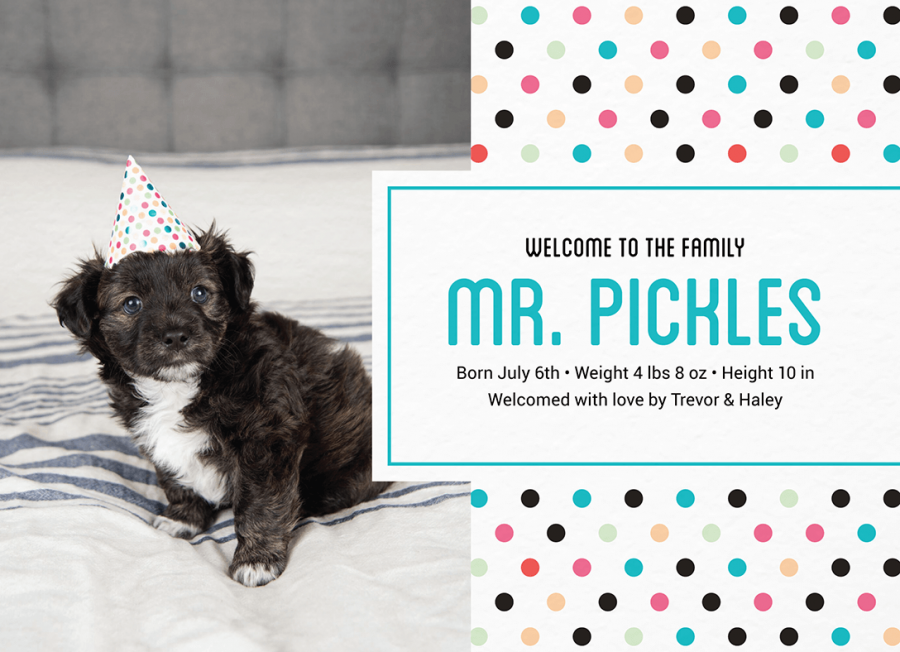 Test out this card
Have you been fully inspired to what your very own puppy announcements will look like? Now for the name…
1. Dog the dog.
Literally, name your dog — Dog. If you ever lose your memory, this name will be pretty darn easy to remember. It's also pretty funny.
2. Chewy
Hopefully it's not because your new pup likes to chew your things… But because he(or she) is just the chewiest looking puppy out there! Plus if you're a Star Wars fan, this is a good way to pay tribute.
3. Mr. Pickles
Because you like pickles and it makes for a really fun dog name.
4. Dobby
Harry Potter fan? Then you'll know what an honor it would be for your pup to carry that name!
5. Sir Henry.
Because you've always liked the whole English proper thing and your new pup is pretty much a British Knight in the fur.
6. Paperclip
You don't always need a reason.
7. Special Agent Jack Bauer aka 'Jack'
If you get a kick out of imagining your new pup is the new spy on the block. Also if not and you just like that show. That's cool too.
8. Beans
Because it's cute and your new dog is cute. Makes perfect sense.
9. Fish
This one makes no sense at all. Which makes it perfectly quirky.
10. Mister Miyagi
Perhaps your new dog is the epitome of zen. This quirky pup name would be perfect.
11. Peanut
Is your new dog destined to be big? Girl or Boy, it doesn't matter — name your big furry friend Peanut to for pure irony (and giggles).
12. Noodles
Because you like noodles that much. We get it.
13. Latke
Are you sensing a theme here? Food is pretty much the best thing in the world so why not honor it by naming your dog your favorite meal. In this case, it's potato pancakes. Who doesn't love potato pancakes? What were we talking about?
14. Taco
Taco Tuesdays are your jam so it's a perfect fit! Little Taco will may even win you some free tacos next time you bring him/her to your neighborhood spot.
15. Virginia Woof
If you're a literature fan, this little pun inspired doggy name is perfect.
16. Hairy Pawter
Another pun inspired name for the win. But you have to say paw-ter and get a giggle each time!
17. Nigel
Because it sounds serious and sometimes that's funny.
18. Pies
The word 'dog' in Polish. Or really take the word 'dog' and translate it to any language.

Don't you wish you could get all the puppies? Seriously, who wouldn't?
Now that you've looked through some seriously adorable puppy inspiration — what will you be naming your little buddy? Still not sure? Use the links below each one of the puppy announcements to test out whatever name you're thinking about to see how it looks on paper. And if you're ready to tell the world that you're a brand new puppy parent — all you have to do is click send. Postable will print, address and mail them all out for you!