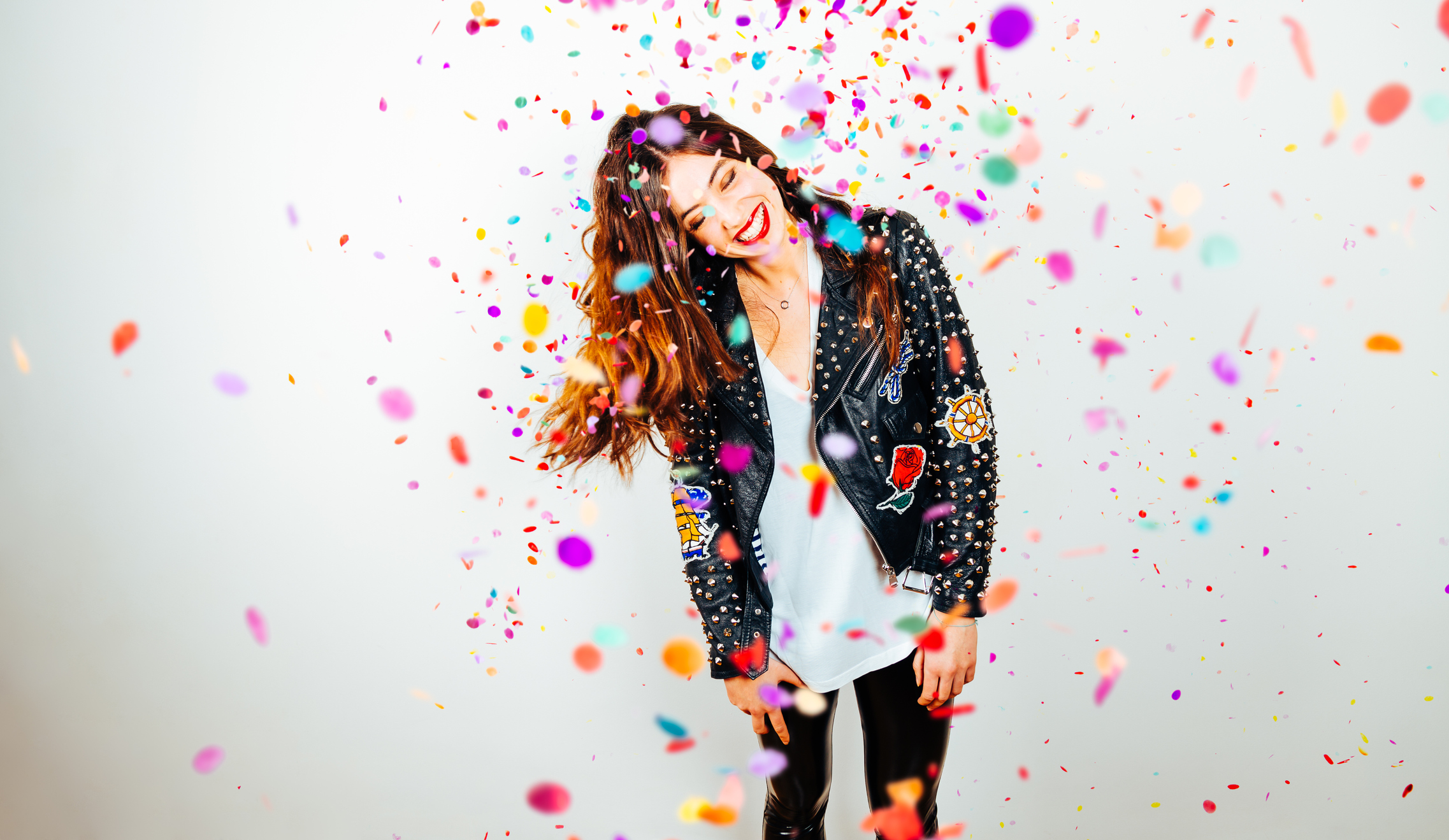 Birthdays are always special, regardless of the number of candles. However, we all know that there are certain extra special birthdays along the way and 16 is most certainly one of them. Sweet sixteen is more than just another birthday to celebrate with your teen, it's a coming of age and a very special moment in anyone's life. Turning sixteen is a big deal and if we were lucky, our friends and family helped to make our big day extra extra sweet. Every big birthday deserves a big party. Sweet sixteen birthday bashes are definitely ones to remember and that's why we've added brand new sweet 16 birthday party invites to the Postable card collection. And in honor of these new cards and all special birthdays everywhere, we decided to scour the wide world of Pinterest to bring you the most memorable sweet sixteen party ideas ever. So if you're helping to plan your teens special sweet sixteen party or if you're planning your own birthday bash — we got you.
And while you're off planning the big event, don't forget to mail out your party invites with enough notice for your guests to clear their schedules and plan to attend. It's a good idea to get the invites in the hands of your guests about two weeks prior to the big party. That means, place them in the mail no later than 3 weeks prior. Don't worry, if you're strapped for time — we got you here too. Just choose the invite that speaks to you or fits in with the birthday girl/boy's party theme, customize it and click send. Postable will print, address and mail them all out for you.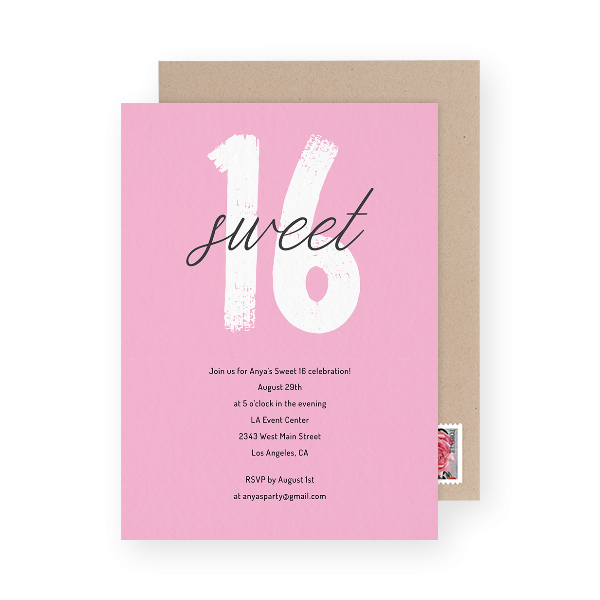 And now for some stellar ideas.
1. Cotton candy display
What's a party without a little sugar? And while you may opt out for a big cake (or do both), choosing to have a few different sweet treat options will go a long way. It also gives you the chance to get creative in your display. We love the use of sprinkles in clear tall shot glasses — it couldn't be easier. This idea is also great if your sweet sixteen birthday party theme is around sprinkles or the color pink — both of which would be adorable.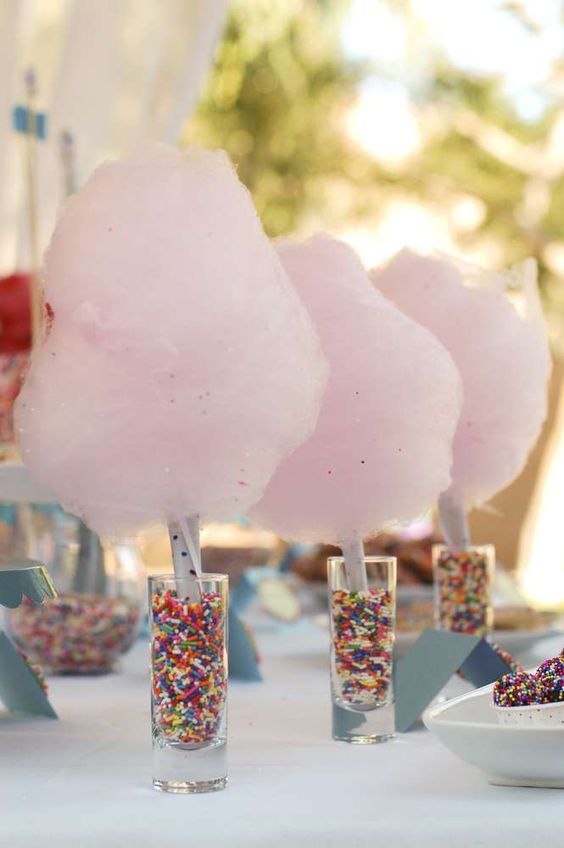 via Pinterest
2. A photo timeline display
Share with your guests all the wonderful years that came before the big 16. You can display pretty much any photos from the past for a nice touch of nostalgia and just a fun way to see the guest of honor. You can place the photos in frames or opt for something simple like a clothes line. This would work great if the party is outdoors. Add some fairy lights around the clothes lines and pins to really add some magic.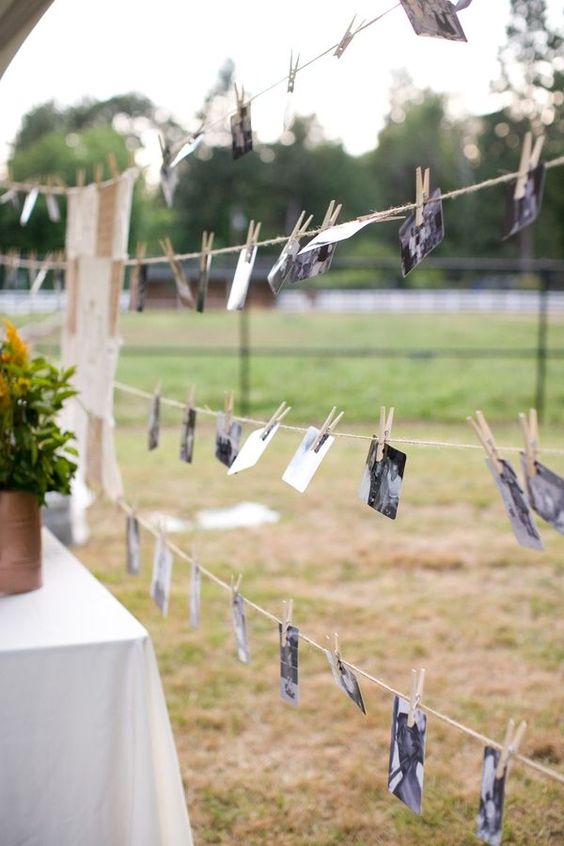 via Pinterest
3. Speaking of sprinkles…
If your sweet 16 birthday party has a pink or sprinkled theme, this invite would be perfect. We love the big bold 16 in the middle and the funky font with all the details. Customize and send this invite here.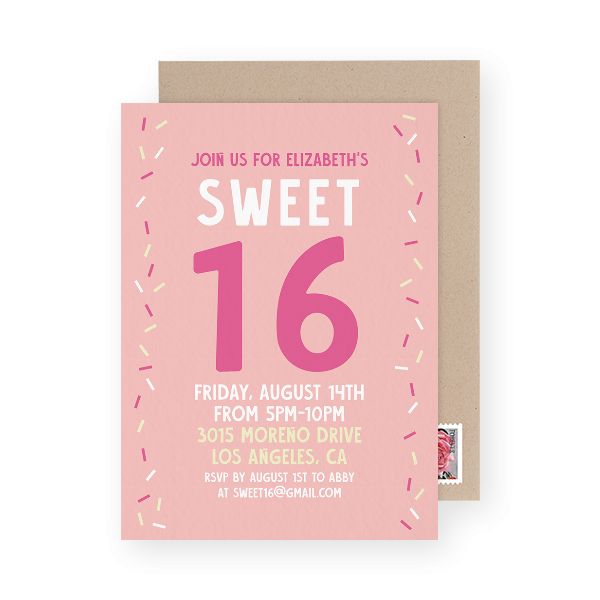 4. Blush Pink
While blush pink has been the star of every Instagram post, party theme and wedding known to man kind for the past few years — it's a hit for a reason. Blush pink makes for gorgeous decor and even prettier cakes. Just look at that frosting! Use the color for your teen's sweet sixteen (if the color so tickles their fancy), but think about using it in fun new ways. We love the pink florals on top of the cake and the fun blush pink wall colors. Also consider simply using the color as an accent as opposed to the main attraction to mix things up a bit.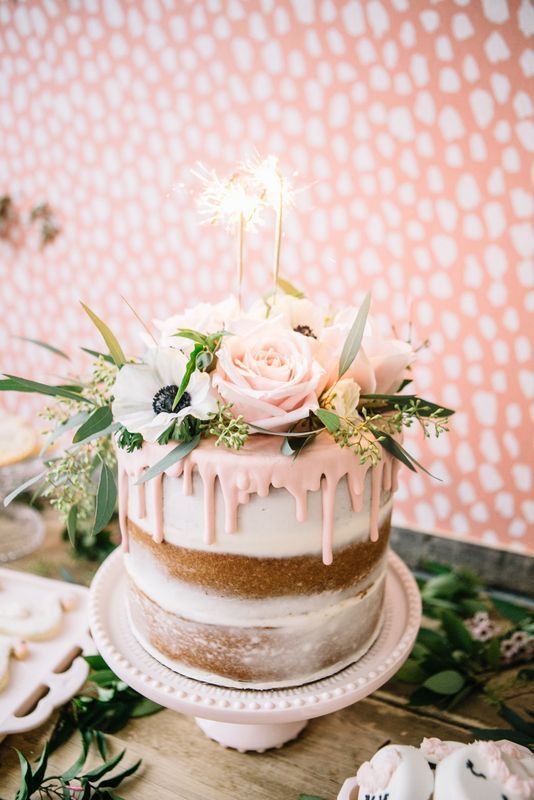 via Pinterest
5. Deep purple
Ok, so maybe blush pink is not sparking any interest. We love this deep purple hue for a color scheme! Also gotta love the unique placement of typography on this party invite. Customize and send this card here.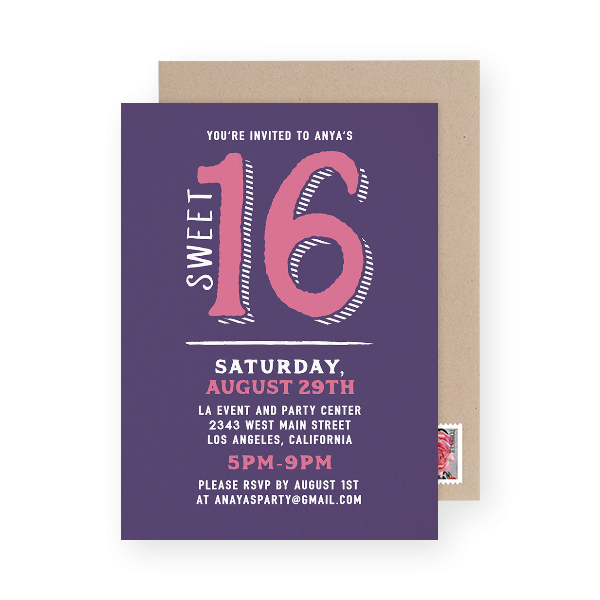 6. Glitter accents
Whatever colors you choose to theme the sweet sixteen birthday party around, glitter is always a fun accent and goes with everything. This easy little craft trick will add the perfect glam touch your party and won't set your budget back by much.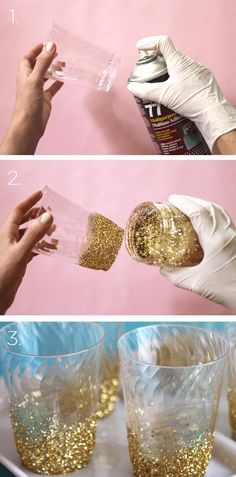 via Pinterest
7. Photo booth setup
No party is complete without a proper photo booth set up. And while you could make it as simple as a tapestry back drop, we love this floral wonderland with a polaroid frame. Take it up about three more notches by spelling out the birthday girl/boy's name in giant gold balloons.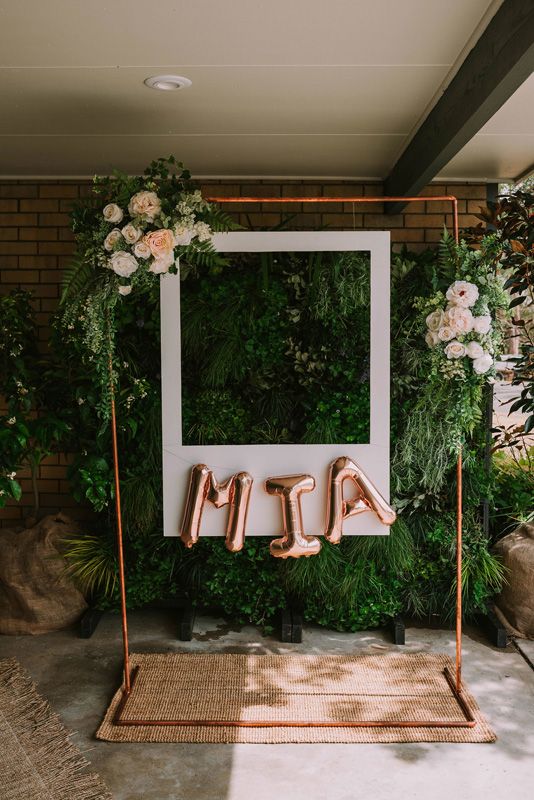 via Pinterest
8. Floral invite
Speaking of floral. We love the idea of theming a party around flowers — they instantly add decoration to just about everything. If you decide to use that as your party's theme, this party invite would be perfect. It's lovely and simple, but still introduces the floral theme. Customize and send this card here.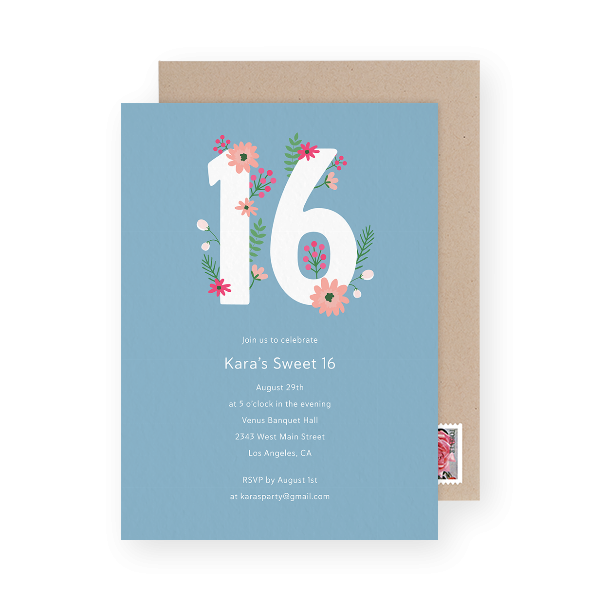 9. Cupcake toppers
Serving a big cake is elegant and makes for delightful for pictures, but there's something really sweet about cupcakes. It's also a much easier dessert to serve to a crowd. No cutting involved so the host can relax a bit. Just because there's no big cake doesn't mean you skip out on the cake topper however. Cupcake toppers are arguably even cuter anyhow. We love this glitter pink one!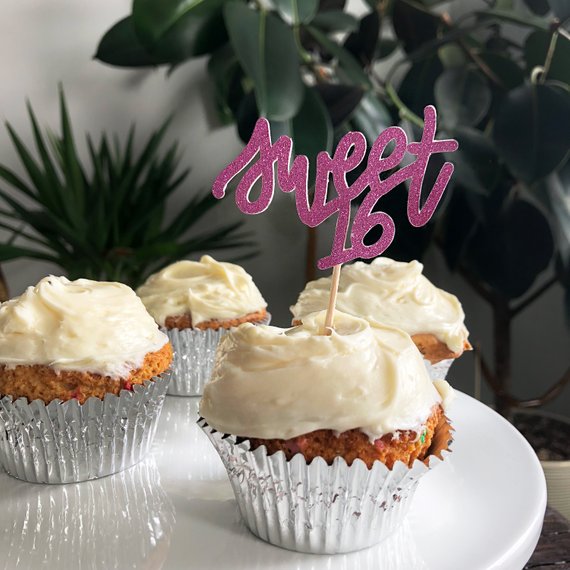 via Etsy
10. Cake table
Ok, so maybe a big cake is a must. We love the idea of mixing and matching the two to form a lovely cake table. We love the backdrop to this cake table — sweet and elegant and floral!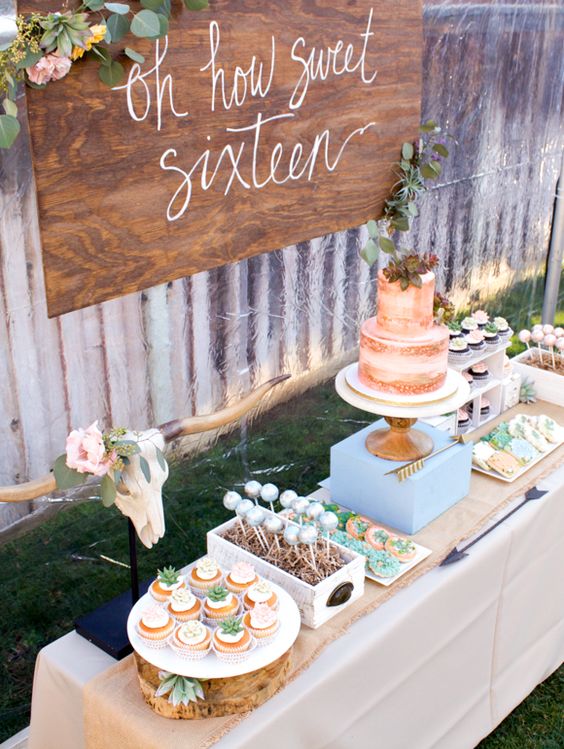 via Pinterest
Now, who's excited to turn sixteen!?
There are a million great ways to make your teen's sweet sixteen party the most memorable one yet, but the most important thing is that you enjoy the time you have together. Planning the big day is a great chance to bond and enjoy getting to make the big decisions! But before you start planning, don't forget to invite your guests.
What were some fun sweet sixteen party ideas that you ended using? Tell us in the comments!