If you've been following the Postablog for the last few years you'll probably have noticed by now that we love writing about all things wedding related. Whether it comes to suggesting apps to use while planning a wedding or the things to include on a wedding website — there's no wedding topic we're not eager to explore. This makes perfect sense, of course. We live to make sending wedding mail as easy as possible. And while we're no wedding planners, we do hope to shine some light on wedding related topics in hopes of making the process easier for everyone.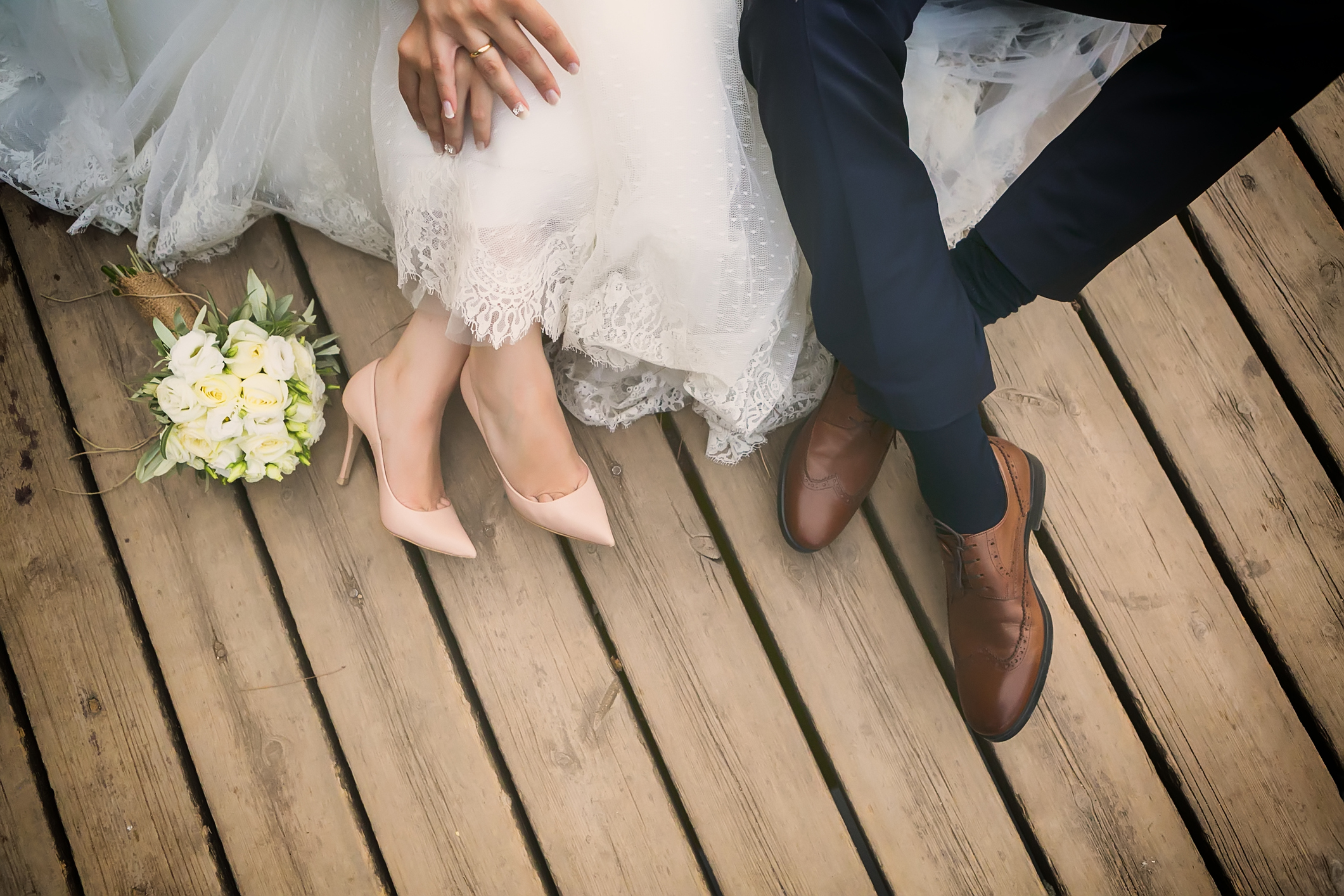 We've had a lot to say over the years so we thought we'd take this opportunity to reflect on these posts with one larger post. Think of this list as a giant bucket filled with all sorts of wedding goodness. Here our top 14 wedding related blog posts from over the years — which one is your favorite?
1. GET THE MOST OUT OF WEDDING PHOTOS: TIPS FROM WEDDING PHOTOGRAPHERS — read here
Wedding photos are kind of a big deal. The beautiful flowers at your wedding will eventually wilt (or dry out), the gorgeous wedding gown will be put away and the wedding cake will be thoroughly enjoyed by all of your guests. What's left are the memories. By which we mean the wedding photos — which also make stellar wedding photo thank you cards. Because these are such an important part of the wedding, we thought we'd get some helpful input from the professionals who make them happen. Checkout these tips to get the most out of your wedding photos. Read the post here.
2. HOW TO FINISH YOUR WEDDING THANK YOU NOTES (IN RECORD TIME) — read here
Your wedding day will be one of the happiest, most exciting days of your life. Chances are you've spent a great deal of time and energy (not to mention money) making the day everything you and your fiancé have ever dreamt of. It's also quite possible that when the day comes there are quite a few folks working hard to make your day extra special… Not to mention all the guests that came to celebrate with you and gifted you all the goodies. Needless to say, there is a lot to be grateful for and wedding thank you notes are a must. Whatever type of thank you notes you choose, this post is here to show you writing your wedding thank yous doesn't have to be a massive headache. Read the post here.
3. EXPERT OPINIONS: #1 CHALLENGE IN PLANNING A WEDDING — read here
Just starting out on your own wedding planning extravaganza? You've got your work cut out for you. Planning a wedding is a task not to be taken on easily and so we decided once again to ask the experts for their opinions. Just like any other big task, challenges and obstacles are just part of the game. We wanted to know what the biggest challenges these wedding planners have faced in their career so that maybe you can learn from these lessons. Read the post here.
4. 10 FALL WEDDING THEME IDEAS — read here
Every season has it's pros and cons as to why it's the best time of the year to seal the deal and celebrate until the sun comes up. But there's something extra magical about fall weddings. At least if you're one of those people who worship all things pumpkin. We've used the wonderful world of Pinterest to come up with some epic fall wedding ideas you can use for your very own big day. Read the post here.
5. 10 ARTICLES TO HELP YOU NAVIGATE WEDDING ETIQUETTE — read here
Going straight to the source of all knowledge — the world wide web — we've collected some helpful articles about wedding etiquette. We know how easy it is trip over a wedding pitfall so we thought we may be able to help those feeling a little lost. Luckily, it's not rocket science and at the end of the day — your wedding is yours to do with whatever you want. So, if you don't feel like succumbing to these unspoken rules — don't. Otherwise, read the post here.
6. HOW TO ADDRESS WEDDING INVITATIONS — read here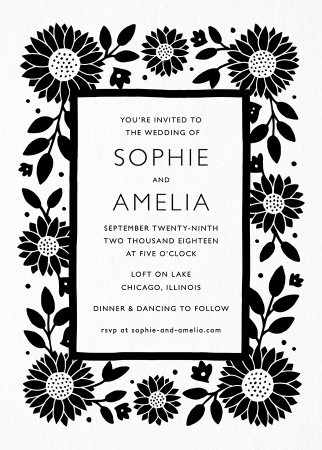 See wedding invites here
When was the last time you addressed an envelope? Not to mention an envelope with a formal invitation on the inside. Who do you address it to? What is snail mail anyway? Feeling a little overwhelmed as to what to place on your wedding envelopes? Not to worry. We got you — read the post here.
7. HOW TO COLLECT MAILING ADDRESSES FOR WEDDING INVITES (IN 5 MINUTES) — read here
Perhaps you don't even have mailing addresses of your guests in order to mail them said wedding invites (or save the dates). How in the world are you supposed to gather hundreds of mailing addresses while still planning about a million other things for the big day. Not to worry. This post will break down a crazy easy way to do this in no time. Read the post here.
8. 10 WEDDING HACKS YOU NEED TO KNOW — read here
You've heard of life hacks, but what about the simple tricks to make your wedding day a little less complicated. How to keep the groom's shoes from slipping sliding on the dance floor or keeping that veil in place? Read the post here.
9. 8 THINGS TO INCLUDE IN YOUR WEDDING WEBSITE — read here
It's 2018 and the internet has — for the most part — made everyone's life a whole lot easier. That includes weddings. The wedding website is an awesome tool many couples are using to help clearly communicate with their guests and create a better experience for everyone — including themselves. But what in the world to you include? Read the post here.
10. 22 AWESOME QUIRKY & UNUSUAL WEDDING CAKE TOPPERS — read here
Not everything has to be so serious. Especially not your wedding. We know wedding planning can get intense, but if your personality is goofy then be goofy. The wonderful world that is Pinterest has an endless supply of quirky wedding themes and we collected these 22 unusual wedding cake toppers for your viewing pleasure. Read the post here.
11. 6 MISTAKES TO AVOID WITH YOUR WEDDING THANK YOUS — read here
When you're getting ready to write your wedding thank you notes — whether you're writing them all by hand (all the power to ya) or making your life easier with Postable's handy tool — use this checklist to avoid any future headaches. Read the post here.
12. WEDDING DOS AND DON'TS FOR YOUR INVITES & SAVE THE DATES — read here
Some rules are meant to be broken. Especially if it so tickles your fancy to do so. However, some rules are simply there to be helpful to you and your guests (like giving your guests plenty of time to plan to attend your wedding). Do what you will with these Dos & Don'ts. Read the post here.
13. HOW TO SEND YOUR SAVE THE DATES IN 5 MINUTES — read here
You've made the guest list, collected mailing addresses, picked a date and are ready to for your save the dates. This post shares with you a little secret (not so well kept) about how you can easily mail them out in minutes. Yes, really. Read the post here.
14. HOW TO (GENTLY) NUDGE YOUR GUESTS FOR RSVPS — read here
Perhaps you're well past the save the date stage and have long gone sent out your wedding invites with an already past RSVP date — without all the responses you were hoping for. Use this post to get some helpful tips to nudge these non-responding guests so that you can move forward with planning your big day. Read the post here.