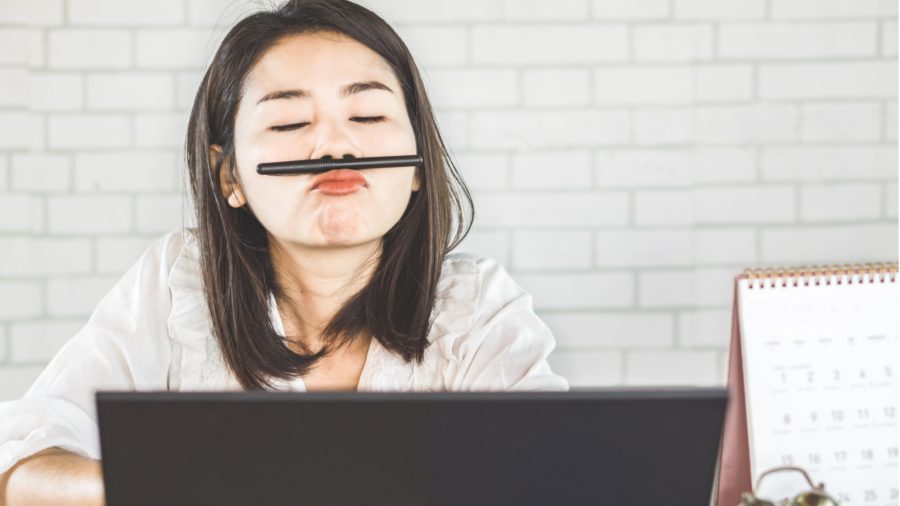 You've spent the last four years working hard and probably have a lot of experience in the procrastination department. But as you probably have already learned (seeing as how you're all educated and what not) procrastinating usually comes back to kick you in the butt. So when it comes to your graduation thank you notes, the best course of action is to get those bad boys out of the way asap… That way you can get on with your post-studying life and do all the other fun adult stuff (like pay your bills on time).
We totally get it, putting off writing your thank yous right now sounds like a grand ole' plan right now, but think about how many thank you notes you'll have piled up by the time you come around to doing them. The pile, will no doubt, feel overwhelming — what are the chances you'll actually do them at that point?
Lucky for you, we live in the age where writing thank you notes is totally possible without leaving your couch. No need to go to the post office for stamps and definitely no more pharmacy card aisles to sift through. Why not get them out of the way right now with three easy steps that you can do straight from your computer. Trust us, you don't want to make any excuses.
Start writing your grad thank you notes now and you'll be so glad you did later.
Here are 3 steps to getting your graduation thank you notes completed and out of the way.
Our epic solution to this little problem will be so simple you'll be wishing you had more thank yous to write. Because we know how important the post-graduation summer is (you've got a whole lot of beach bumming to do).  Using Postable to write & send your grad thank yous is easier than you think, we promise.
Step 1: Who gave you what?
The first step in making sure you get all of your graduation thank you notes out on time is to keep track of who gave you what. With all that you have going on at the end of the semester or even after the end of your final semester, it can be really hard to keep track if you don't stay organized.
Create a simple spreadsheet (perhaps you have some experience in this area what with all of your new education). Whenever you get a gift from someone, enter their name and their gift into your snazzy spreadsheet. This way you can stay organized and when it comes to writing your thank you notes you won't forget anyone.
In this same spreadsheet, enter everyone's mailing address so that you'll know exactly where to send each card.
[Pro tip]: If you don't have all the mailing addresses you can easily collect them with your own Postable link.
Step 2: Choose & customize your graduation thank you note.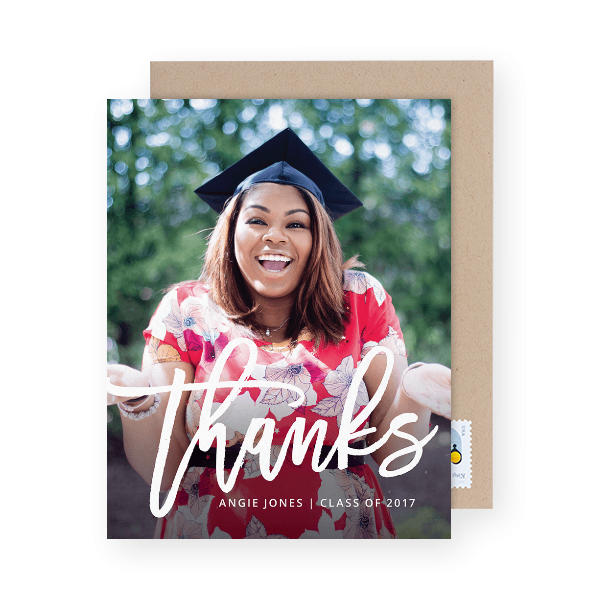 See the cards here
Go to Postable.com and choose one the many graduation thank you card designs. Whether you're the kind of graduate that likes to create everything from scratch or prefer to use a ready to use template — Postable's selection will likely have a design that suites your fancy.
If you got some graduation photos taken recently, you can even upload them into a photo graduation thank you note and show your appreciation and share your photo all at the same time.
Step 3: Write a personal thank you message.
Once you've chosen and customized your card design, write your very own personal thank you message. Keep it short and sweet (the cards simply don't have enough space to include a full letter), but do make sure your gratitude is evident. This is also where that nifty gift list spreadsheet comes into play (see step 1).
If you have all of your addresses on there, simply import that spreadsheet into your Postable account. Or use it to help you write your personal messages. You'll want to mention the unique gift from each person in your note (if you're unsure how to write a thank you check out our Ultimate Guide to writing a thank you note) so refer back to this spreadsheet.
Don't worry, you don't have to have any pretty pens or fancy handwriting. You can write all of your graduation thank you notes straight from your computer. There are nifty tools like the Carbon Copy that help you write a bunch of thank you notes all at once (just be sure to go back and customize each message).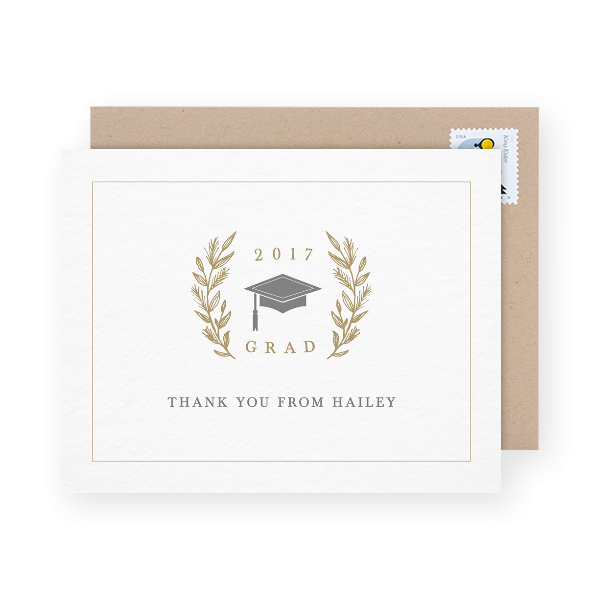 See the cards
Write all of your graduation thank you notes right then and there unless you don't want to. You can write your grad thank you notes a little at a time, as you receive your gifts or pretty much in any order you'd like. You can always save your existing drafts and come back to them as you wish. You can also send some thank you notes now and then come back to write and send more later.
It's really up to you how you decide to make this happen. Postable will print & mail them all out for you.
The point in all of this is to avoid procrastinating on these bad boys so that you don't find yourself writing graduation thank you notes when you're on your second gig post-graduation.
Just get them out of the way right away!
See? That's wasn't too bad. Actually, this is all quite easy. You've got a bunch of new responsibilities coming your way in all of your post-graduate glory. You'll want to enjoy as much of your new found freedom for as long as possible — don't waste it writing thank you notes that you've put off until last minute.
Write those bad boys right now, get them checked off of your list and go enjoy not having to worry about studying for the next exam. This new freedom may not last very long (being an adult, while fun is also full of to-do lists).