The holidays are a great time for companies to touch base with their customers and wish them a Happy Holiday season. The time of year where many people are in the most joyous of moods is definitely a time that you want to get your messaging and brand seen. Especially by those folks who have been a part of your customer base for some time. Customer retention should be at the top of your to do list — especially during this time of year. You may choose to send Christmas cards or a Seasons Greetings card — whatever you choose to send make sure the design and messaging match your company's branding. 
Your customers will likely be receiving hundreds of marketing emails each week during the holiday season. And despite what email marketing has done for you, sending a Happy Holidays email will only go so far. Of course, we're not saying skip the email — but we are saying there's so much more that can be done. If you want to create and cultivate a close relationship with your customer base and cultivate a loyalty to your brand, you're going to want to send real holiday cards. The ones that your customers can feel and touch and see just how special they are for being a part of your organization.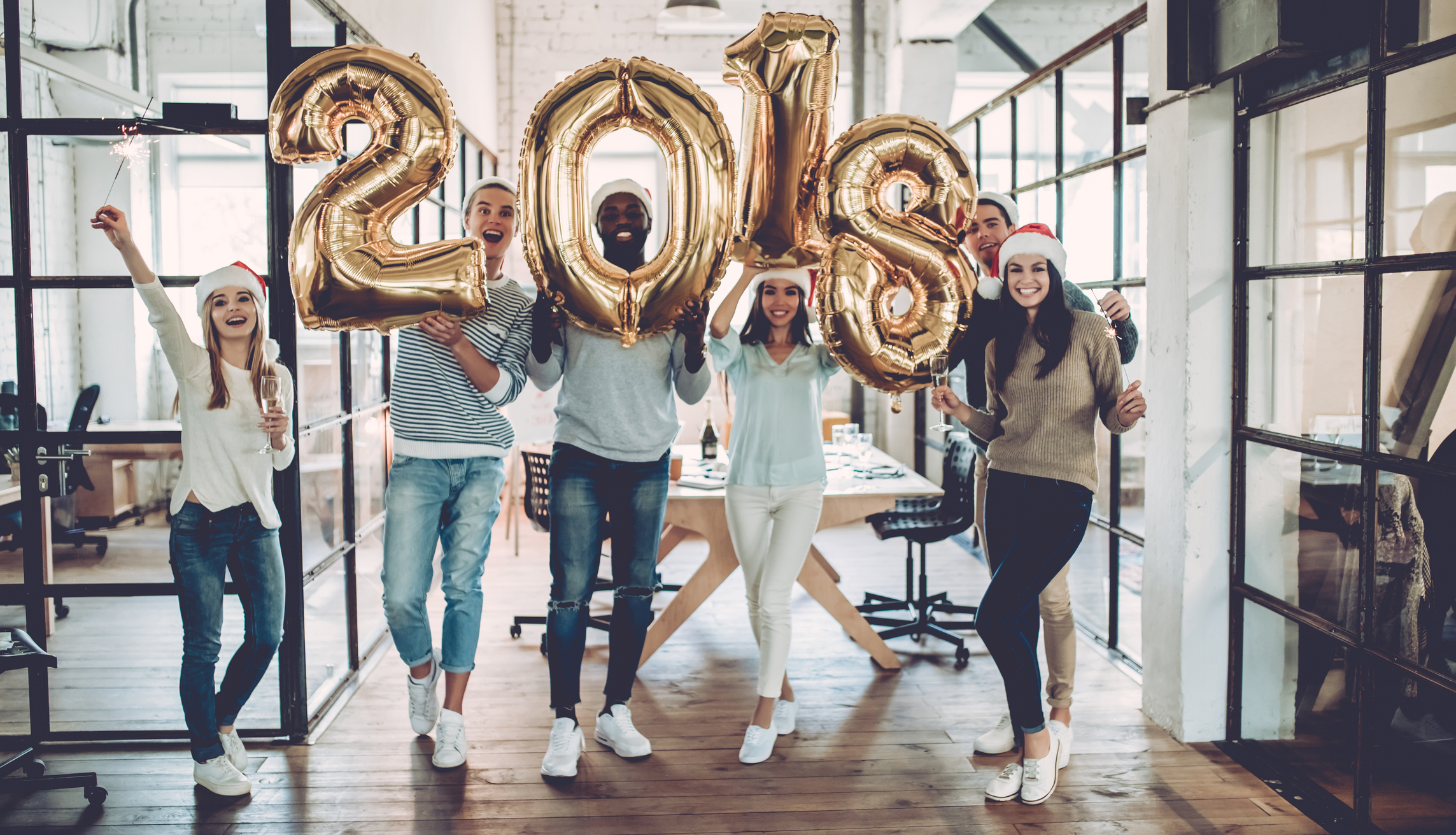 The holidays are also a very busy time for companies. Sales and services are at a peak high so taking time out to send hundreds of holiday cards is close to impossible. Postable makes it easy for you to send out real personalized company holiday cards ahead of time and only take 5 minutes of your time. Yes, really.
Create your company holiday cards now and schedule them to be placed in the mail later so that you can get this task crossed off your very long to do list.
There are a million different company holiday cards out there — we would know — but only one right company holiday card for you. Remember, you can always choose to mail your customers a different holiday card from the one you mail internally to your employees. And yes, send your employees a holiday card. This simple gesture can go a long way to helping to keep moral up and alive with your team and build on top of whatever company culture you've got. Keep this in mind when choosing the design for your company holiday cards and consider adding a gift card as a small gesture for the holidays.
Now, back to the actual holiday cards. There are a bunch of great designs to choose from — whether you'd like to add a company photo or your company logo (or both) or have a simple holiday design — it's there. But since you can browse all of your choices here, we thought we'd choose just a few festive designs to share with you on this post.
Here are our picks for festive company holiday cards that you can mail in 5 minutes.
First off, there's Thanksgiving — a holiday that is often overlooked by companies. This is a wonderful opportunity to show gratitude towards your clients and employees. Your company's holiday card will likely be one of a few cards they'll receive at that time so the gesture will stand out even more.
1. This company holiday card is both bright and colorful and classy at the same time with the simple script font. You'll be able to customize the front with your company name and of course, include your personal message on the inside.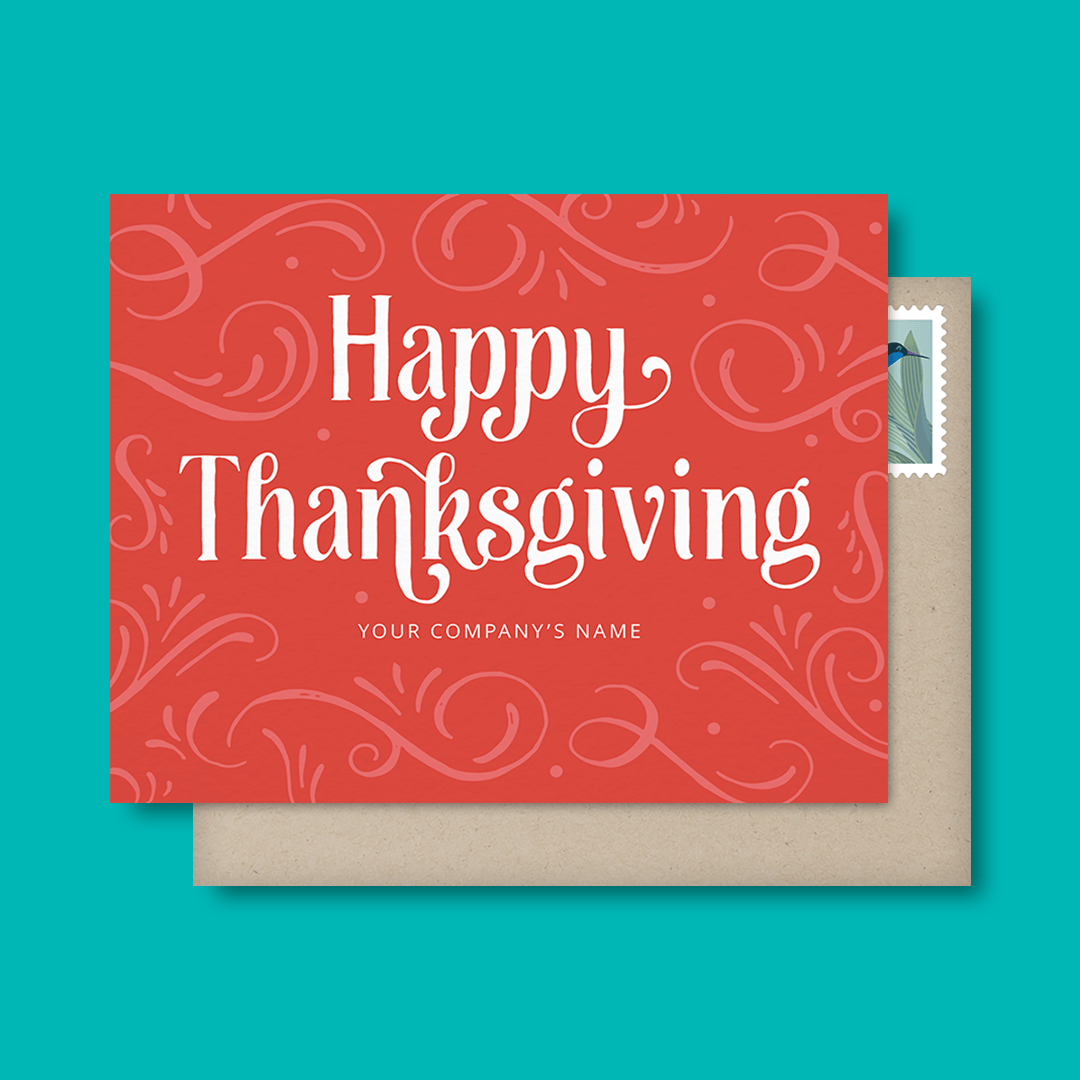 Send this card here
2. Use a photo card template and include a photo that makes sense for your business. Whether you'd like to showcase the face of your small business, a photo of your company team or a product — use this Thanksgiving company card template to create your personalized card.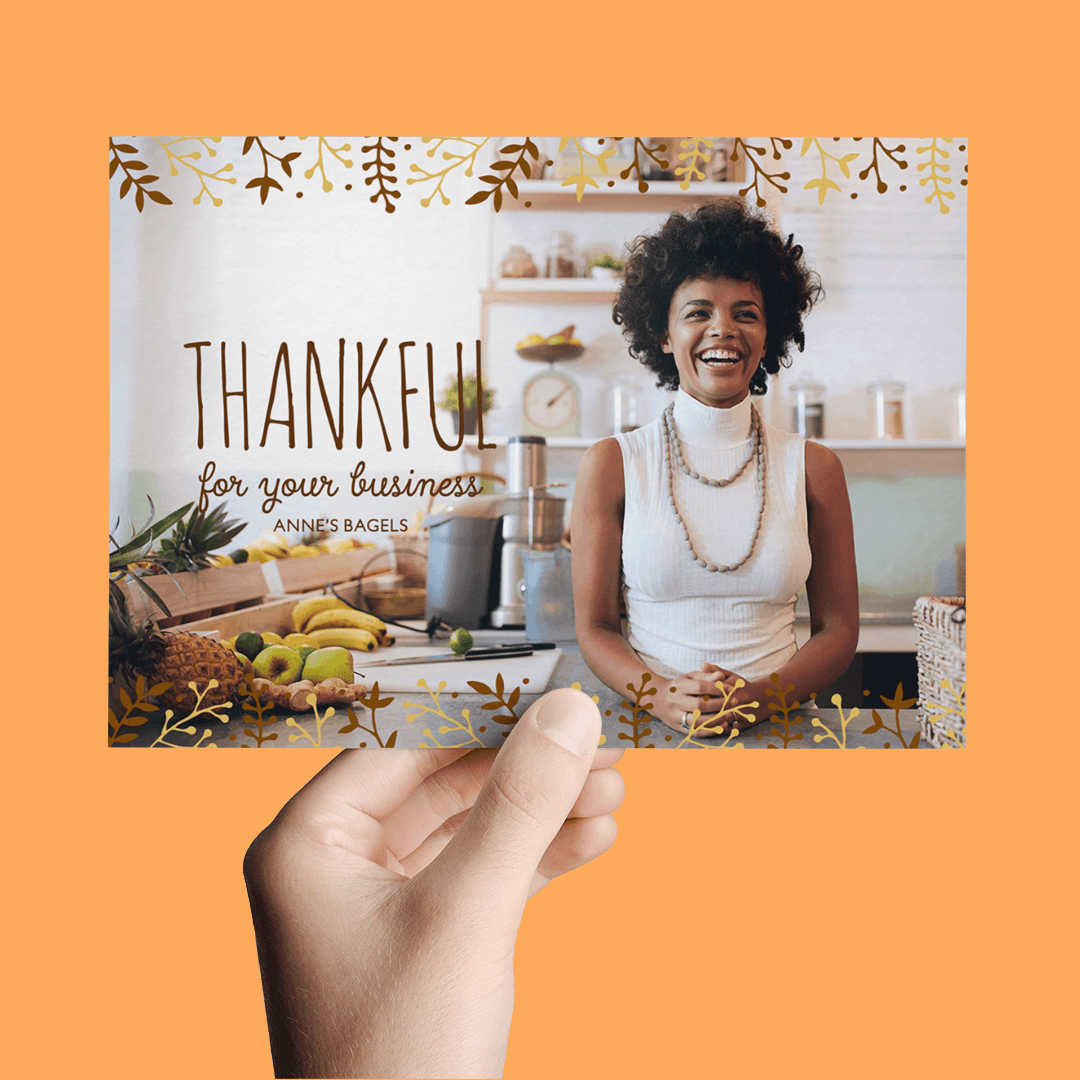 Send this card here
Thanksgiving is just the beginning. The holiday season will fill people's mailboxes with all sorts of holiday wishes, you don't want your company to be left out of the fun. A simple Seasons Greetings message is a simple and fun way to share the joy!
3. This simple Seasons Greetings card is a classic. We love the deep forest green color that fits the holiday season, but isn't too out there.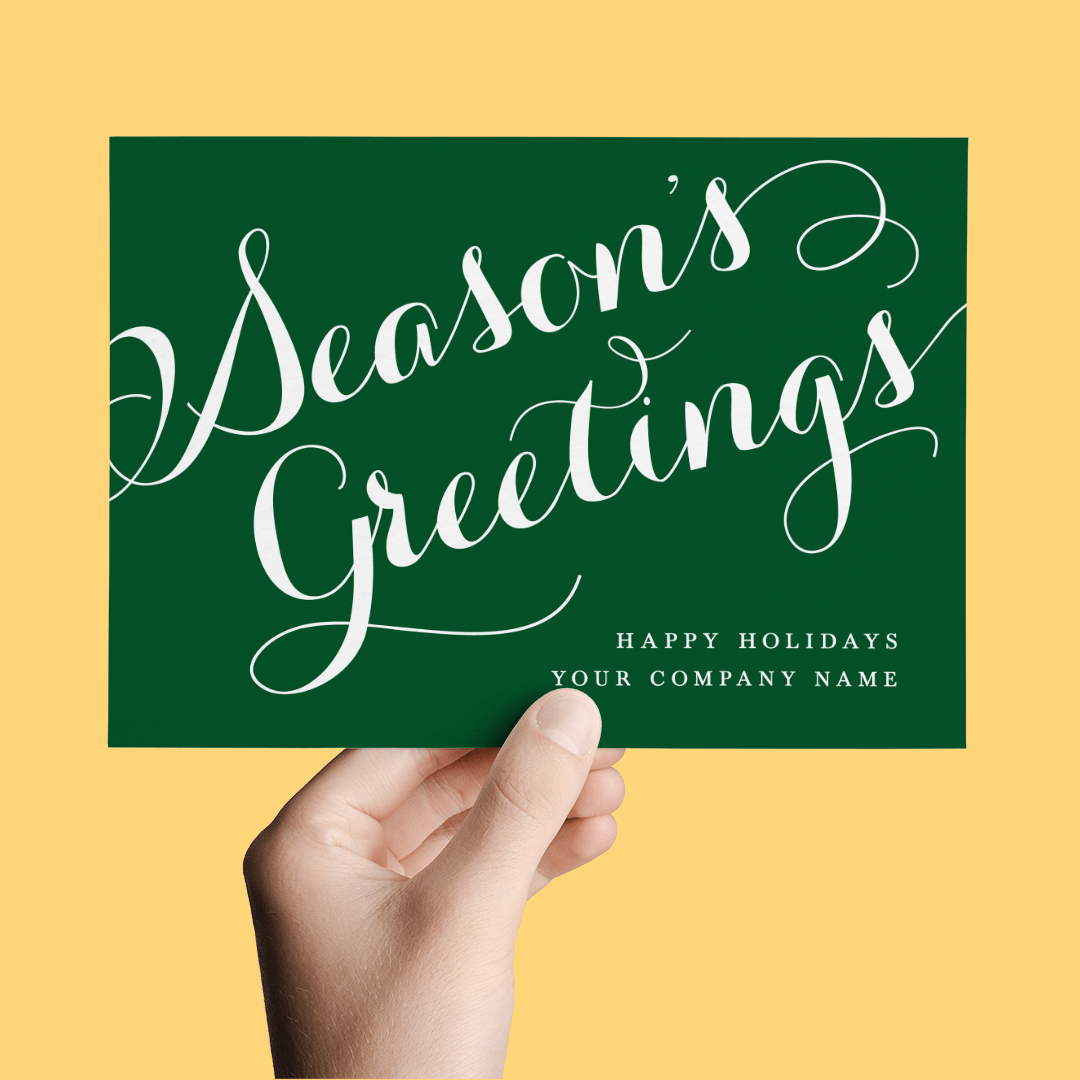 Send this card here
4. This Seasons Greetings card is a little more fun. While the background color is still green, it's a little more fun with a cute ornament and a playful font. Again, you'll still be able to customize the front with your company name.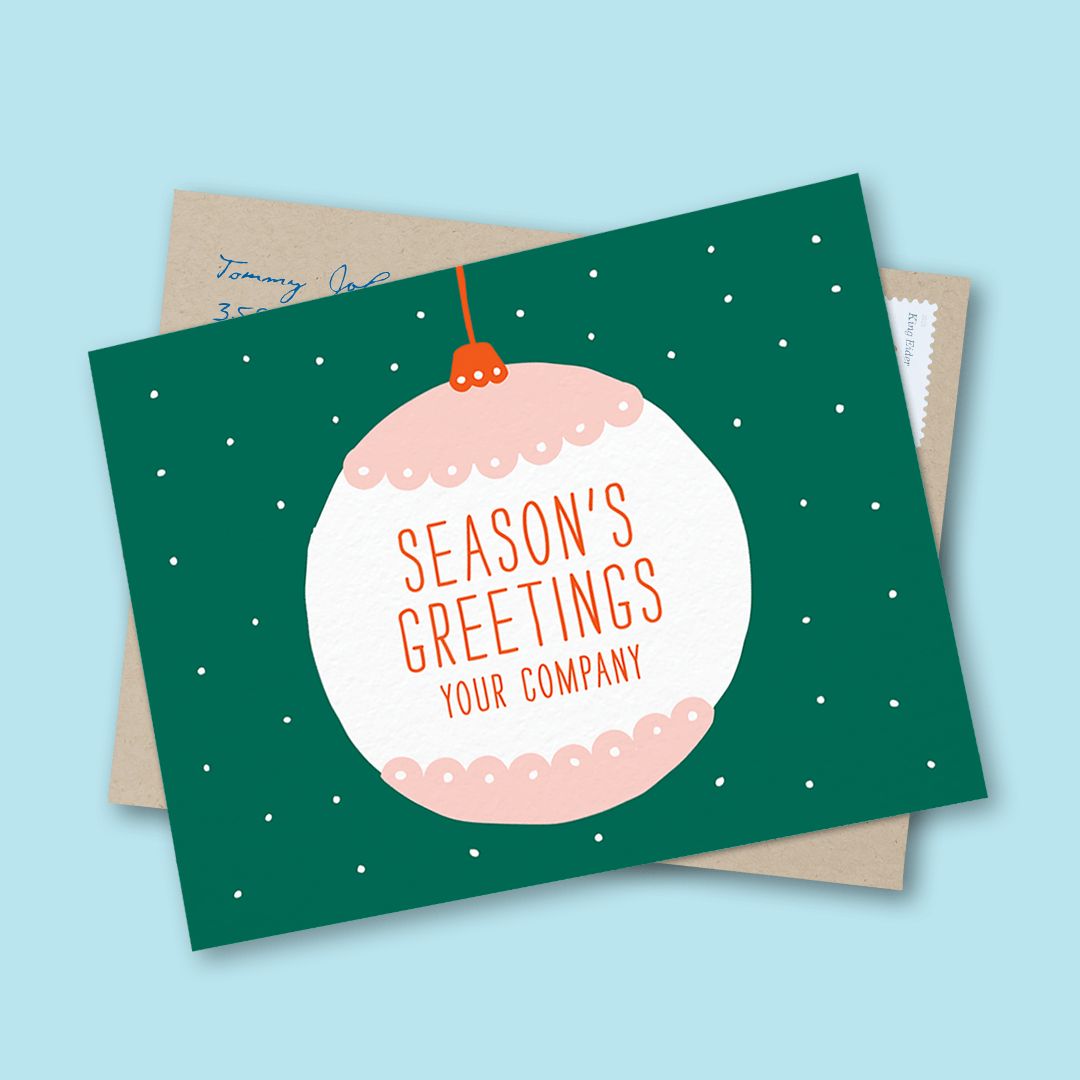 Send this card here
5. This black and white Seasons Greetings card is the perfect combination of fun and simplicity.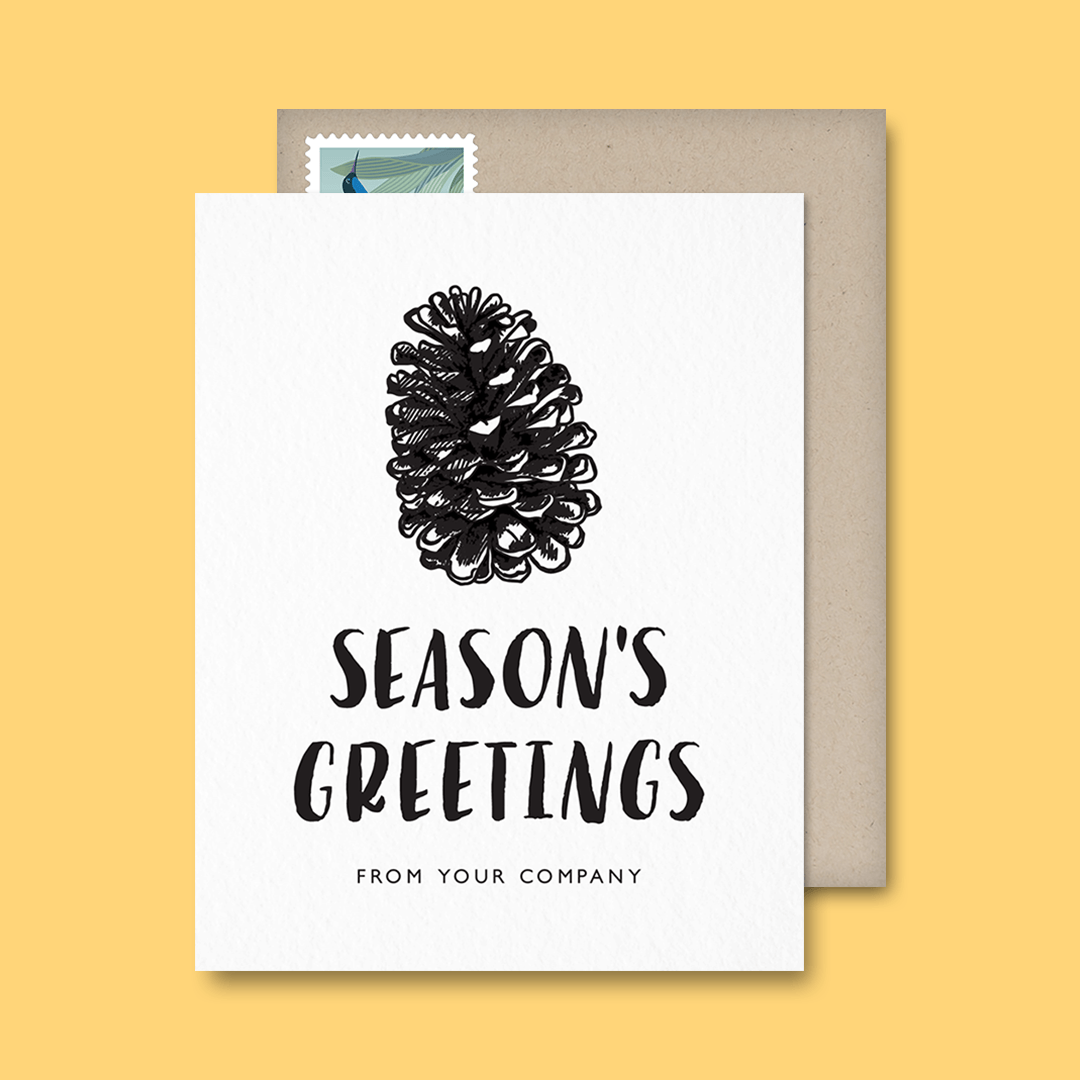 Send this card here
6. If you'd like even more simplicity and class, you can't go wrong with this card. with black and white colors and a classic script font.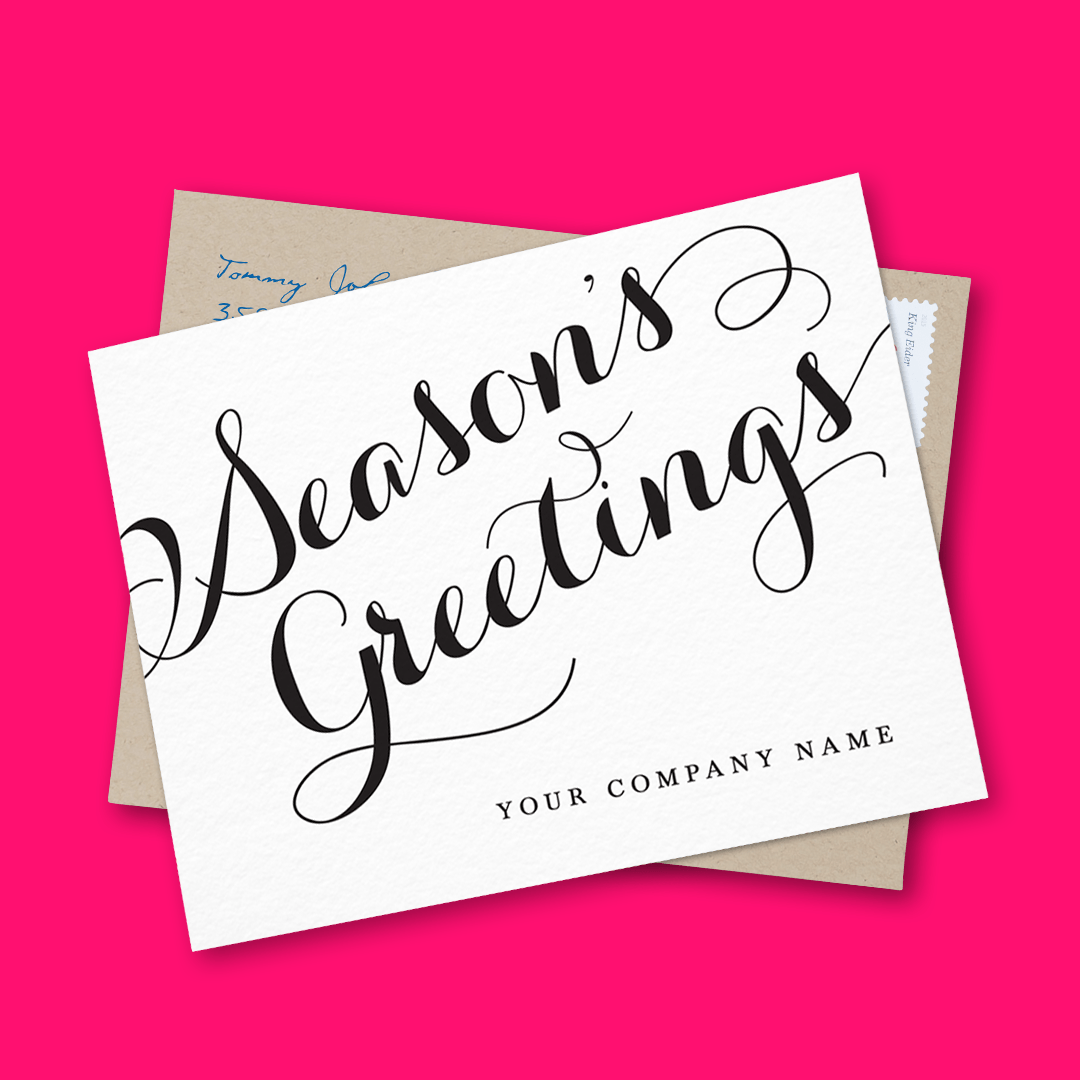 Send this card here
7. A fun and unique Seasons Greetings company holiday card, this lovely polar bears illustration is perfect for a company that's looking for something different.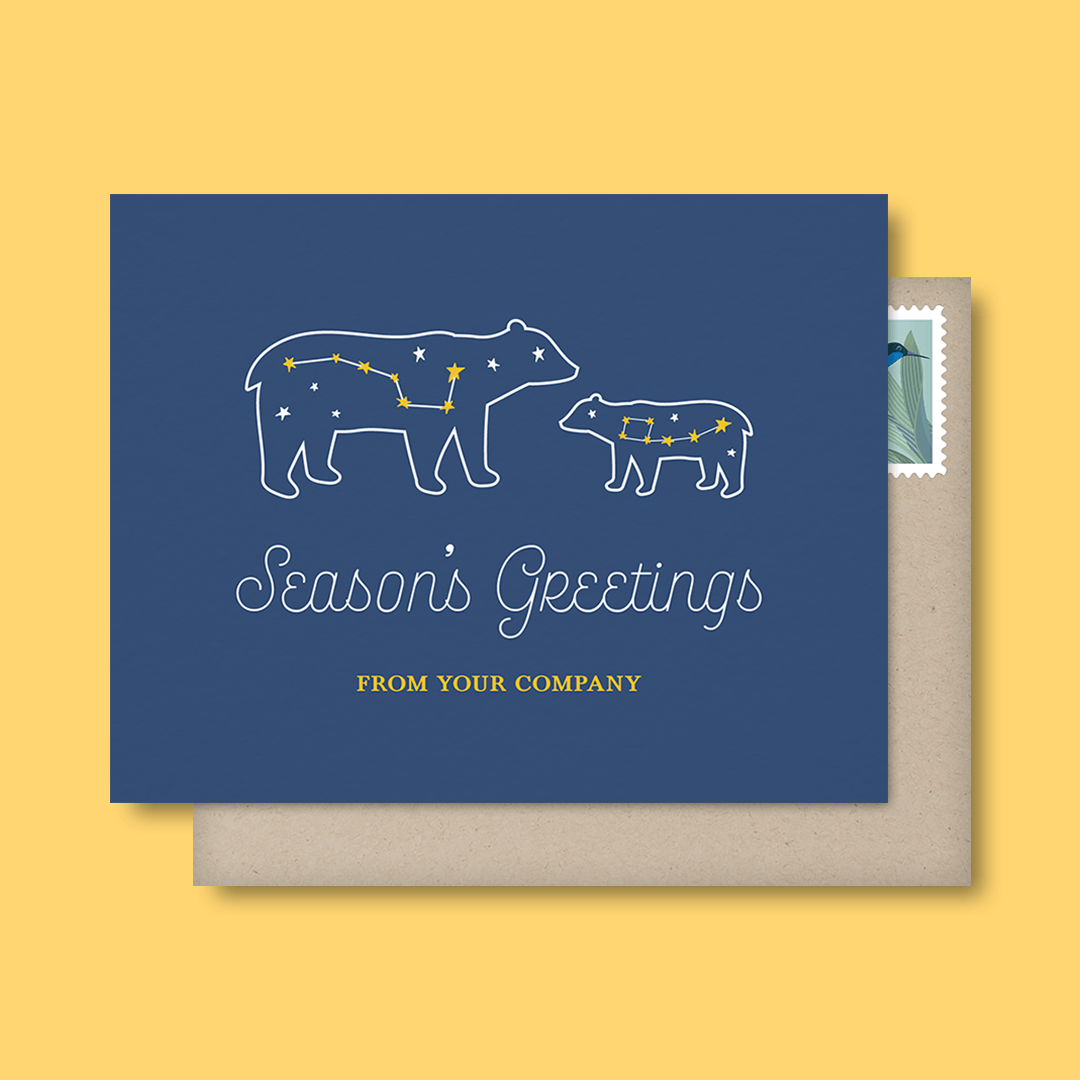 Send this card here
Wishing folks a Happy Holidays is also a great option. Seasons greetings are fun and all, but perhaps your company wants to go with the Happy Holidays messaging. We got you.
8. With a play on the business side of things, this fun company holiday card is perfect for a brand that mixes things up a bit.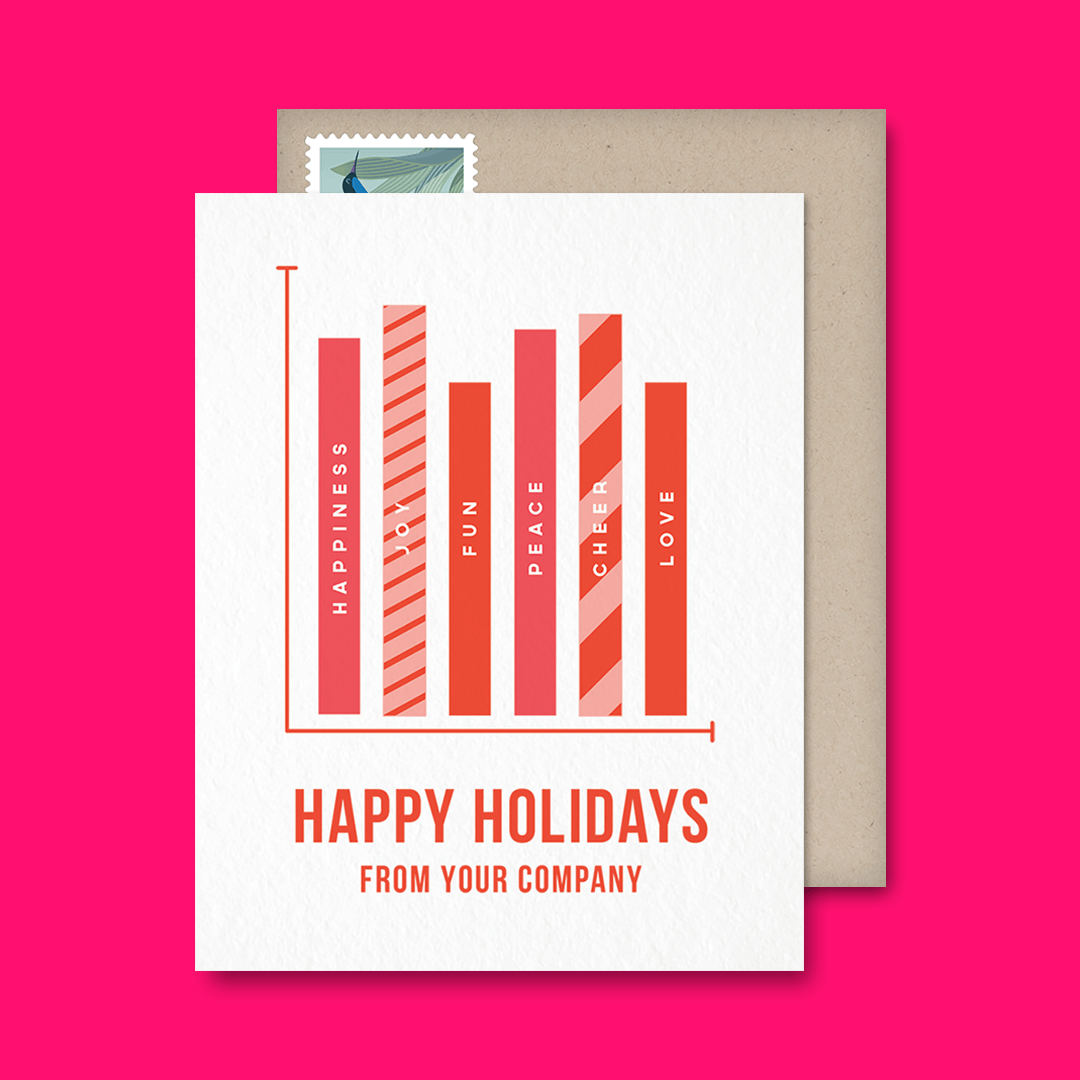 Send this card here
9. An adorable holiday scene may be the way to go with your Happy Holidays card this year.
Looking to mix things up this holiday season? There are a bunch of fun ways to send your best wishes during the holidays besides the usual suspects. These company holiday cards are all a little different so you can choose the messaging that works best with your branding.
10. Merry Everything just about covers it. We love the red on white colors and the playful design while still keeping with simplicity.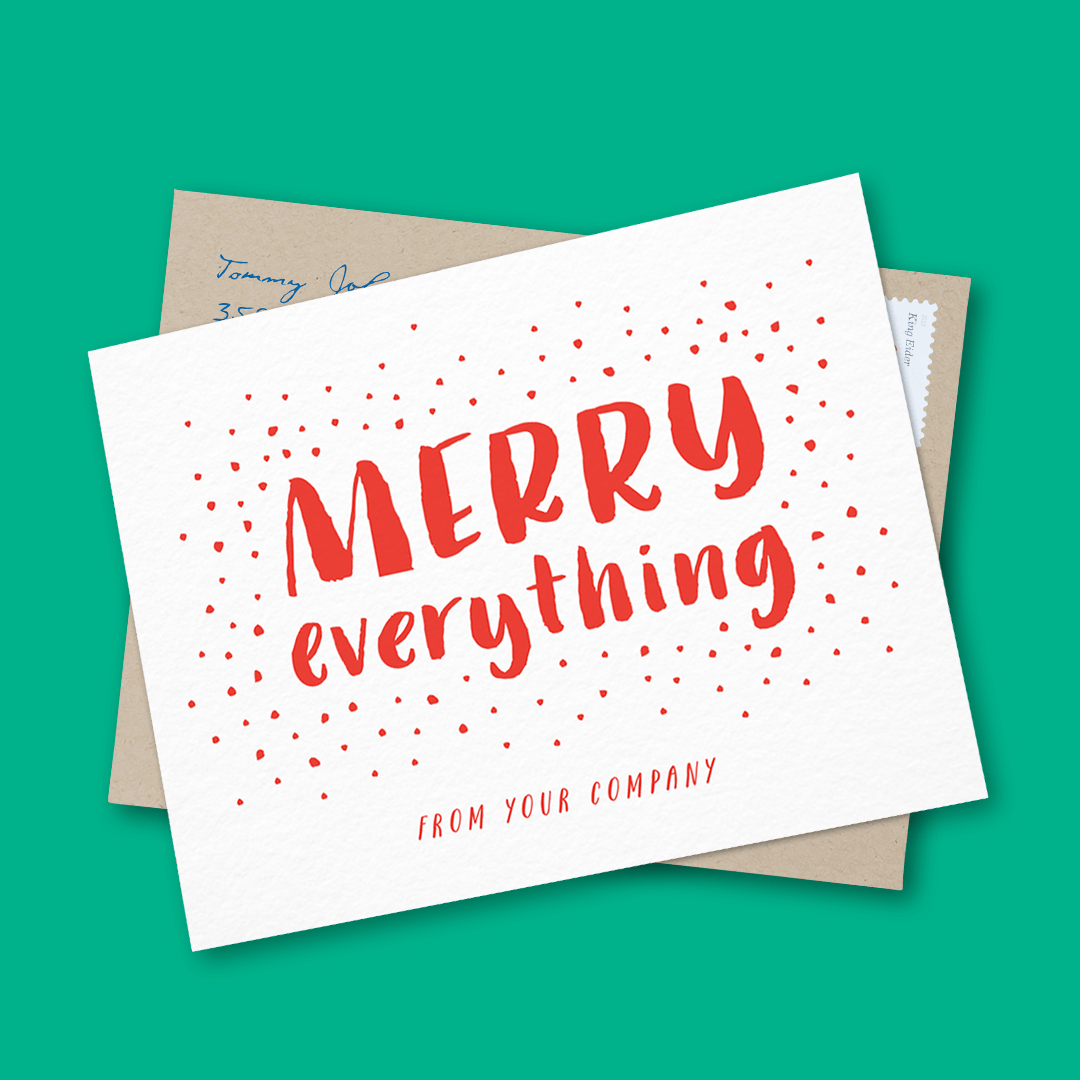 Send this card here
11. This company holiday card is printed on Kraft paper and gives a real rustic feel. We love the branches accent and of course the Be Merry messaging.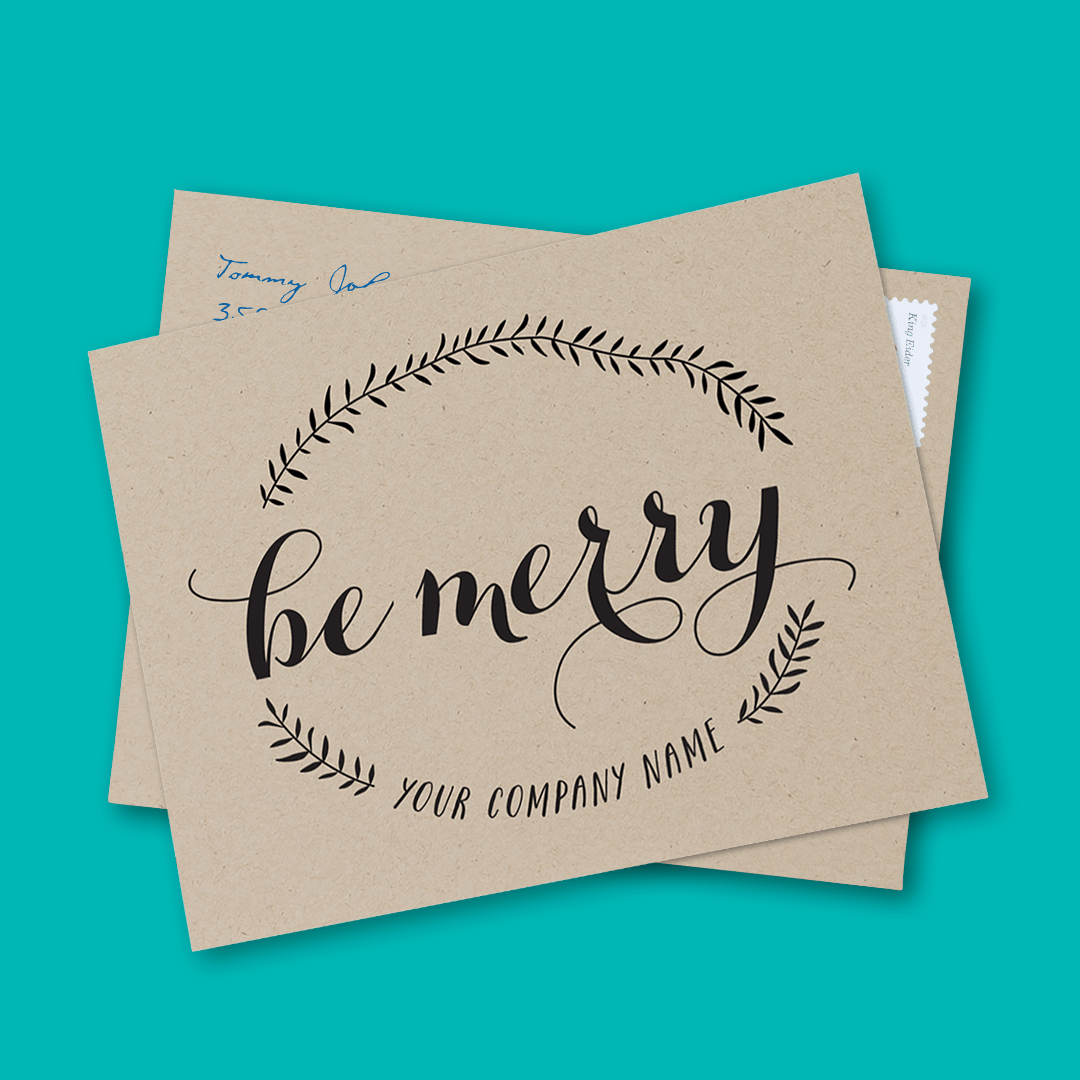 Send this card here
12. A fun play on words, this corporate holiday card is both cheerful and fun!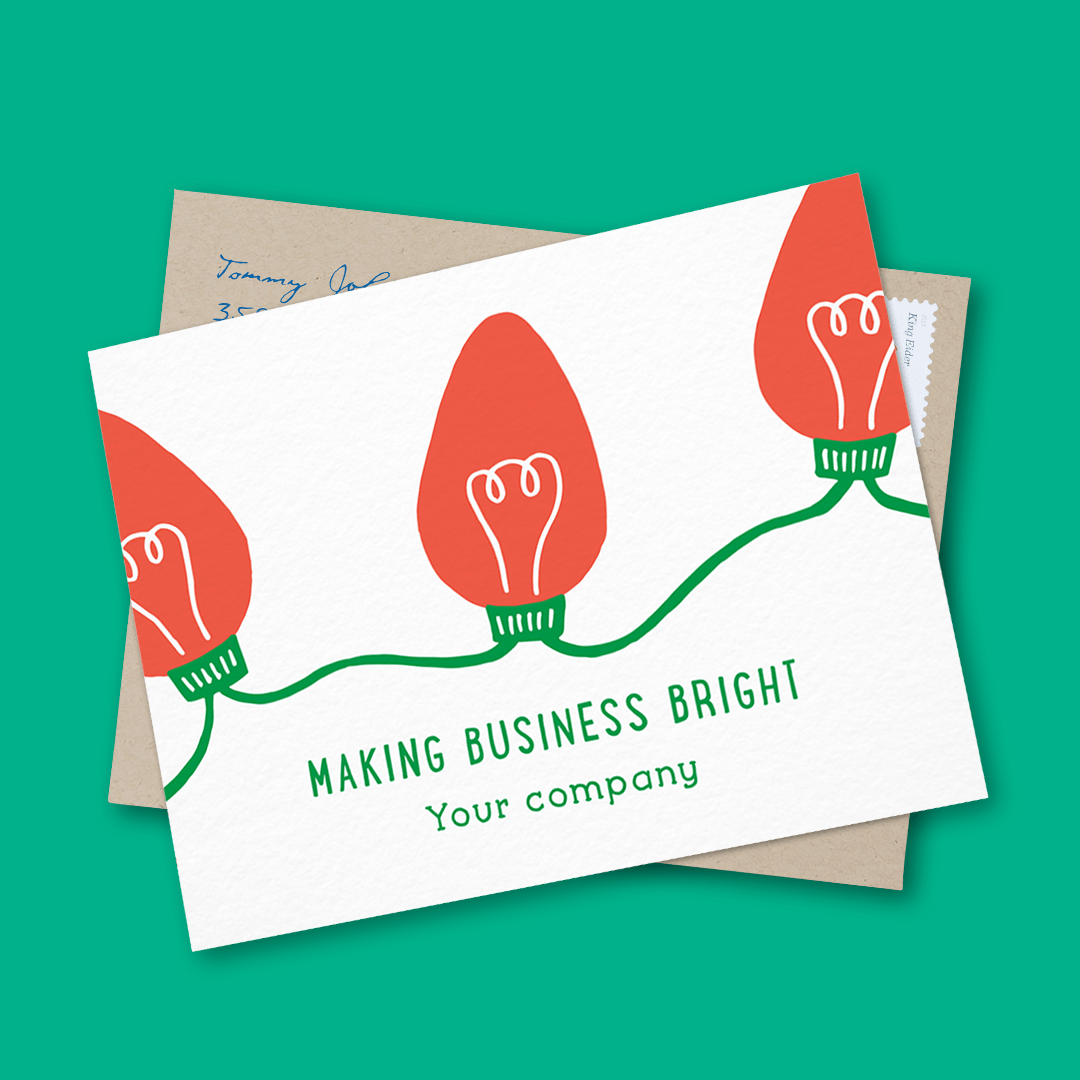 Send this card here
13. A simple Cheers does the trick. The lovely intricate border design adds a little something extra to the simple scripted font. The deep green color lets the white accents and font really pop.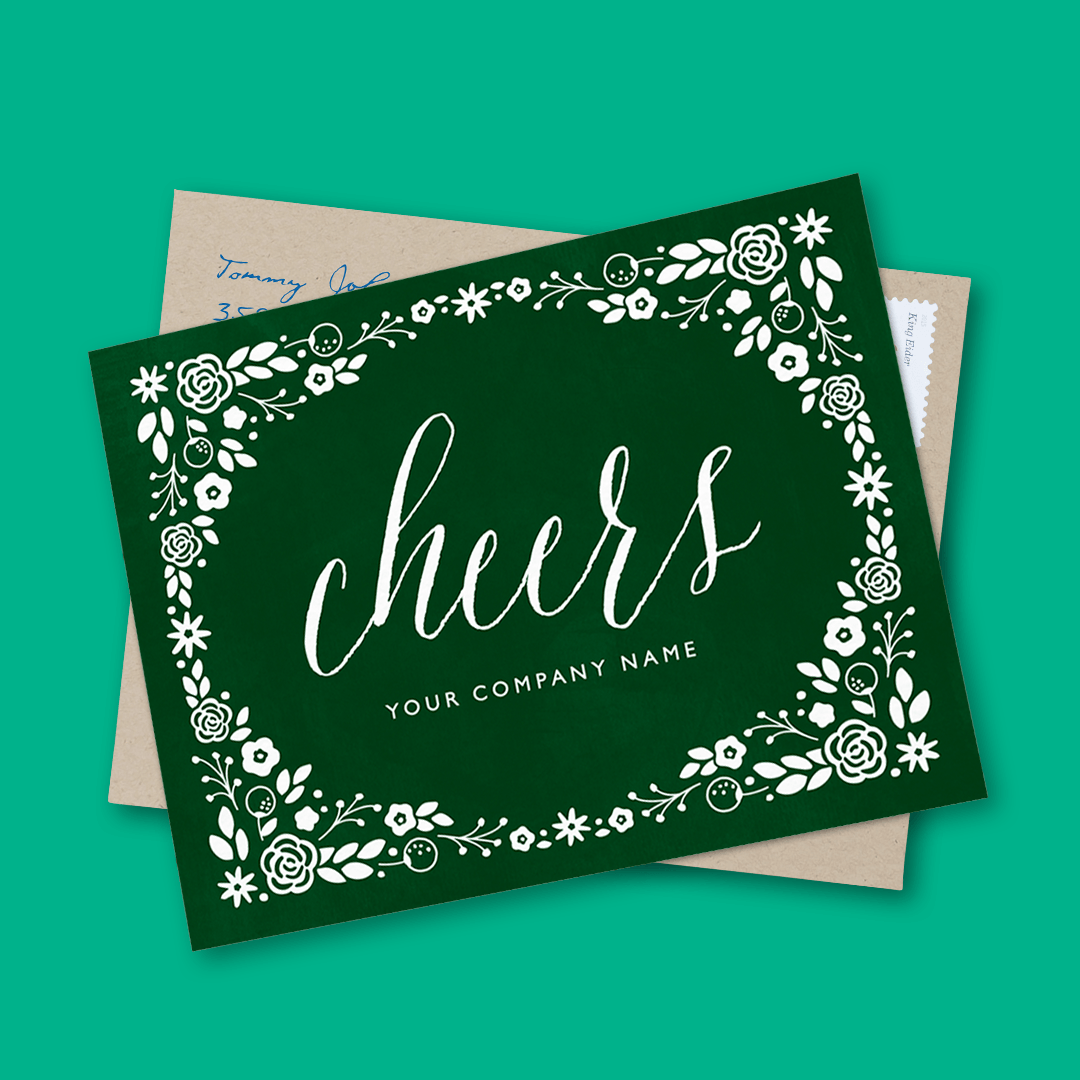 Send this card here
But how can we ever mail them in 5 minutes — you might be asking.
Easy. Import a spreadsheet of all your contacts in seconds, choose your card & write one master message (that will get applied to as many recipients as you'd like while still personalizing their first names), then all you have to do is click send. The cards will be addressed, printed, stuffed and mailed out for you. Yup, that easy.
Question is, which of these delightful designs will you choose?