With the holiday season in full swing chances are, your mail box has been bursting at the seams. And it doesn't appear to be slimming any time soon. All of your friends, family and just about everyone in your local community have been sending you all of their love with the most spectacular Christmas greetings. And as much as you adore receiving all the love, the pile of cards has been slowly collecting dust. With more on the way — Christmas is still weeks in the future — it feels like the right time to start thinking up ways to get those cards out from under a pile. Display them in a way that reminds your family (and any guests) just how loved you all are. Sound about right? Hanging your Christmas cards above the fireplace or using them as Christmas tree ornaments are lovely options. But perhaps you're wanting something a little out of the box this year. While you're gathering some ideas, we thought we'd help.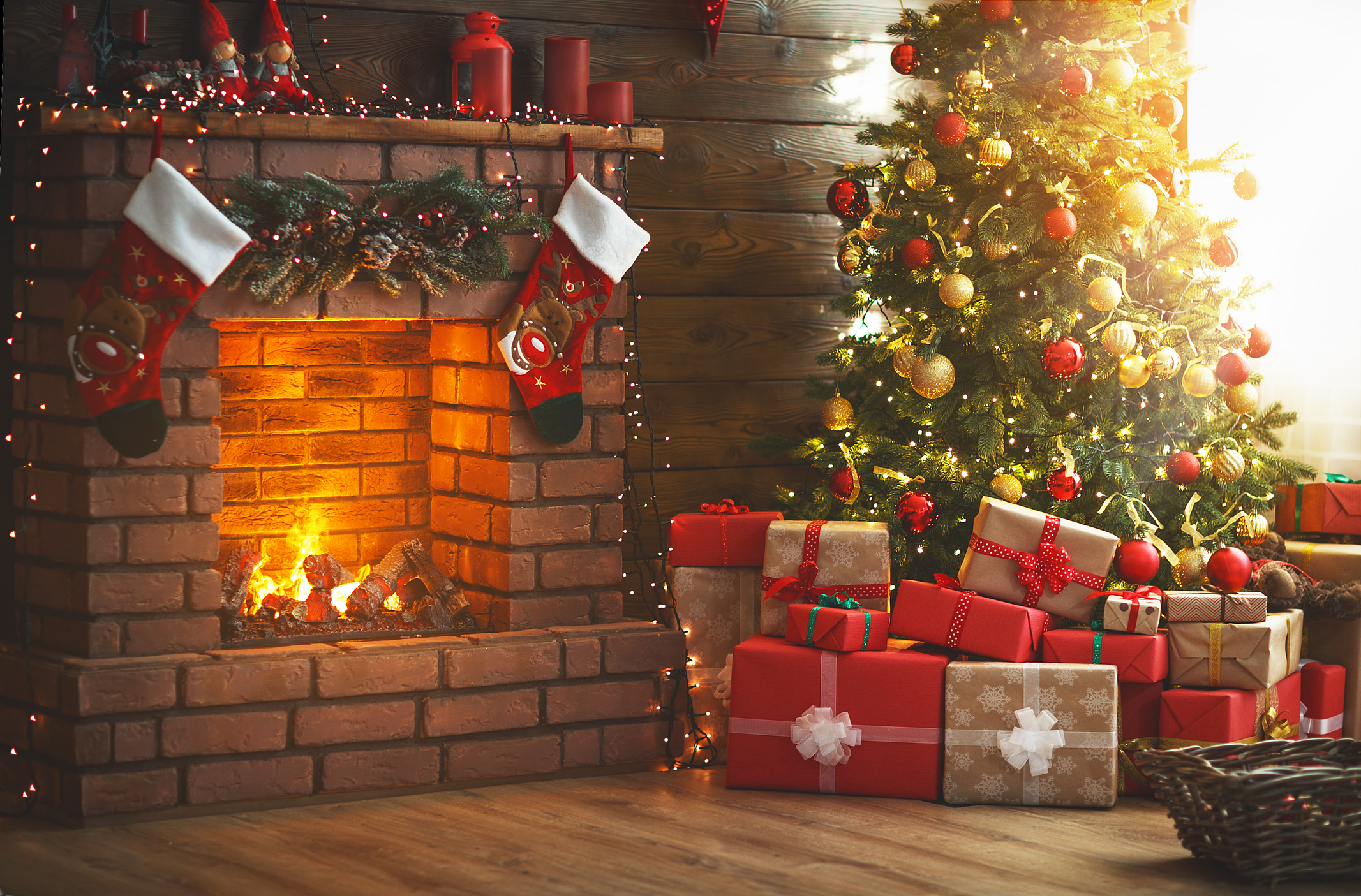 We scoured the lovely world of Pinterest and brought you the eight loveliest ideas directly to you. This way you have more time to do the things you love this holiday season! Checkout the ideas below and tell us which one you love most!
Earthy branch hanging.
If your home is stalk full of earthy tones and greenery — this is a lovely way to showcase your Christmas greetings. It may require a bit of assembling, but all the pieces are pretty simple. Make sure to use a bug-free branch (inspect it prior to getting started). Use eucalyptus leaves to add some delightful fragrance to your Christmas greetings display. What a simple and elegant way to share the holiday love!? Hang this bad boy somewhere with plenty of white space to avoid cluttering or even replace something you currently have hanging — temporarily.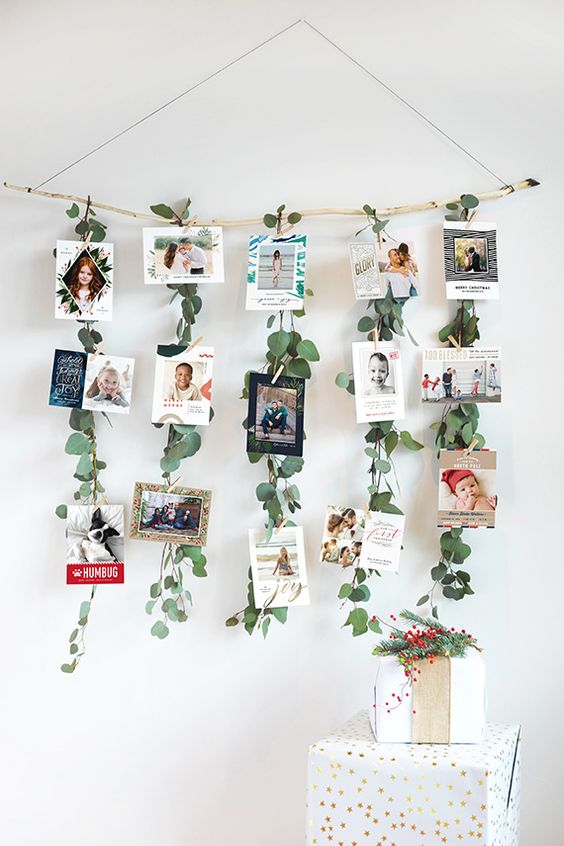 via Pinterest
Strung across a framed mirror.
We love this simple addition to an already existing piece around the house. Have a beautifully framed mirror already up and about? Hanging your Christmas cards across adds a lovely holiday feel — not to mention a great way to highlight all the love and joy that's come your way during the season. You can use a simple wire or add extra Christmas flare by using a thin tinsel. Match the color of the tinsel to that of the frame or make it Christmas-y. This is a super easy and fast way to get those greetings away from the pile and up for easy viewing.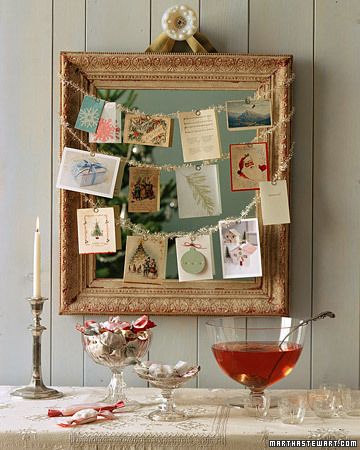 via Martha Stewart
Christmas card doorway wreath.
Talk about festive! If you're one of the folks who goes all out during the holidays to spruce up their home, then this idea may be just for you! You can use clothes pins or some strong tape to hold your Christmas cards in place. Spread them out evenly and add some additional decorations like Christmas ornaments for extra flare. If you're feeling extra festive, string up some Christmas lights!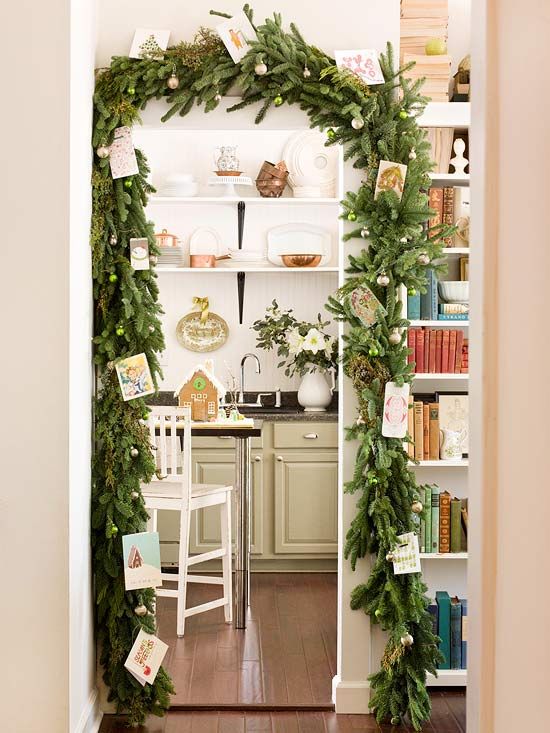 via Pinterest
Simple window display.
If decorating your home for Christmas means putting up a Christmas tree and maybe lighting a few candles then you may be keen on keeping your Christmas card display simple. It doesn't get too much easier than this simple window display. Use a wire or a string of hemp and some clothes pins. Done and done. While you could choose to string the greetings just about anywhere, placing them in front of a window like this provides the perfect back lighting with natural light.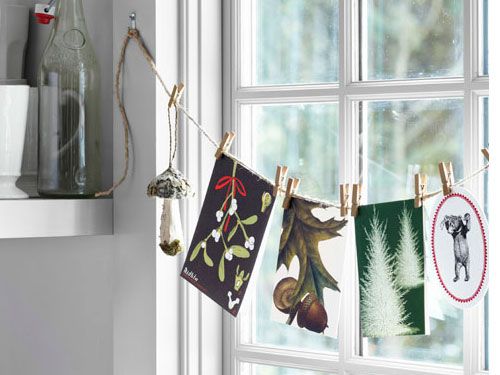 via Pinterest
Lit up room divider.
Using the existing pieces you already have in your home is easy with the addition of some mood lighting. We love this simple yet super fun idea! Take whatever room dividers you already have or perhaps you have some old closet doors lying around after your last renovation. String wire across with some clothes pins to hang the cards. You can also use the folds in the doors and the folds in the cards to easily place the cards upright. Place the dividers in a corner and add some Christmas lights. Add some extras like a Christmas wreath and a sled if you're feeling extra festive.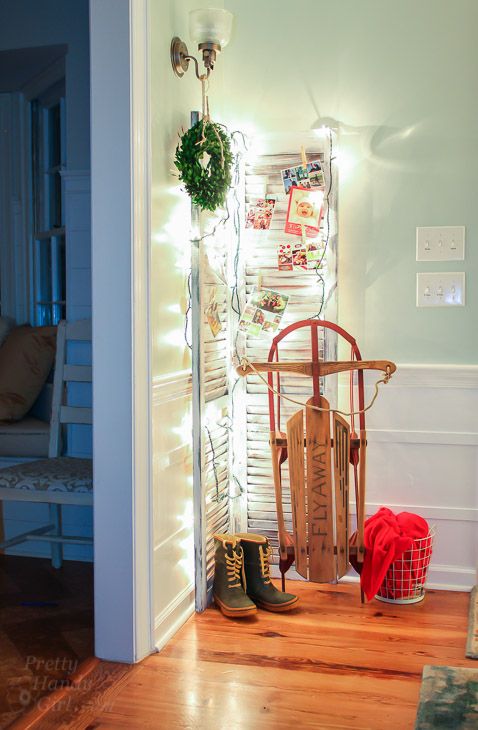 via Pinterest
A small ladder.
If you happen to have an adorable little wooden ladder — or really any aesthetically pleasing ladder — use it as the perfect place to hang your Christmas cards. Simply use a string to hang the cards down the side and think about adding a little sign close by — we love the use of the chalk board. Set this up near the entrance to the home to greet everyone with all the Christmas feels. If anyone mailed you a card, it'll be hard for them to miss the display and they'll be delighted to see you liked the card enough to display it.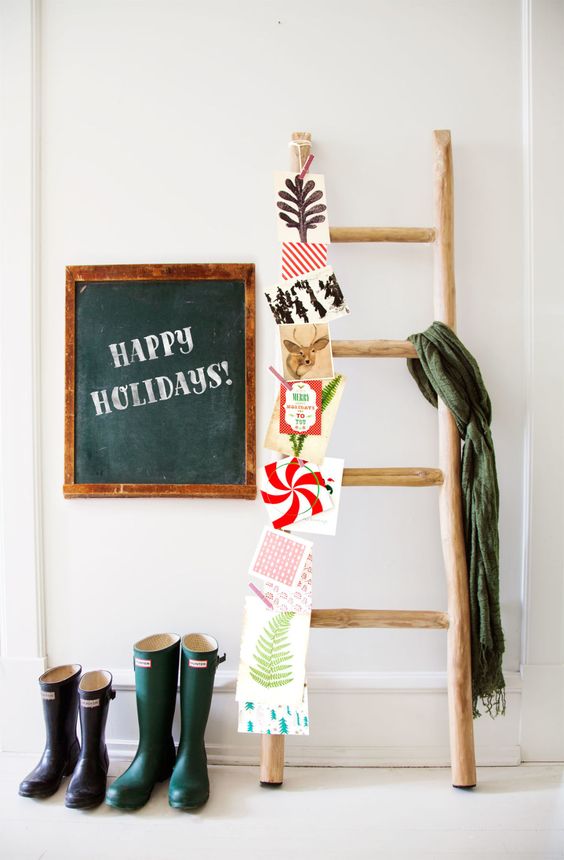 via Country Living
A vintage sled.
Or any sled really… Use some string or wire or tinsel and randomly hang your Christmas cards. We love the addition of the pin branches above for an added effect.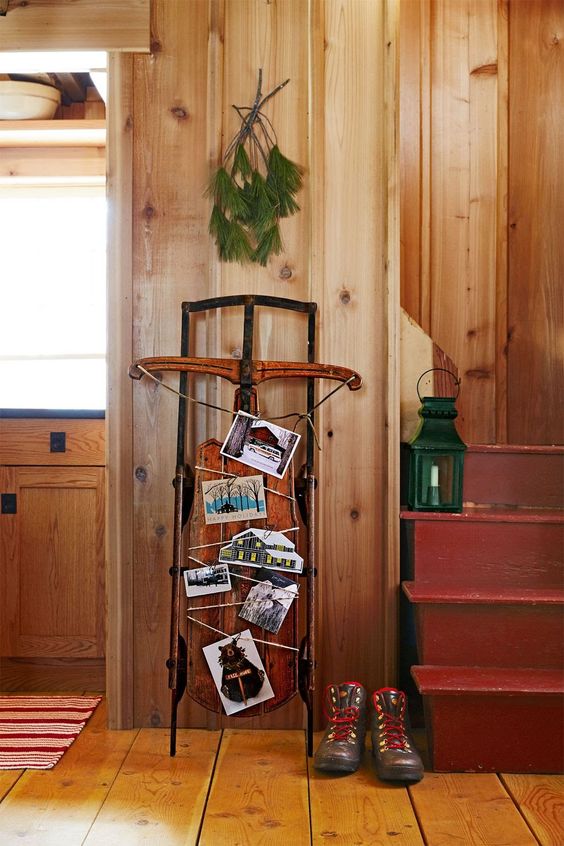 via Country Living
A simple photo stand.
Who says you have to be all sorts of creative to creatively display your Christmas cards? Sometimes less is more and if you're vibing with the minimalistic trends then a simple photo stand will be right up your alley. Place your Christmas cards into whatever photo stands you have lying around — you can always replace the original photos that are in them at the moment later — or get some simple ones specifically for this purpose. This is a great way to highlight the lovely gesture from your friends and family without having to get too crafty.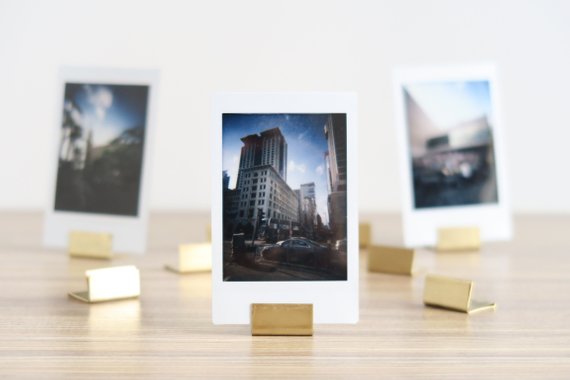 via Etsy
Have you mailed your Christmas cards yet? Feeling overwhelmed? Don't be.
Mail your Christmas cards in 5 minutes.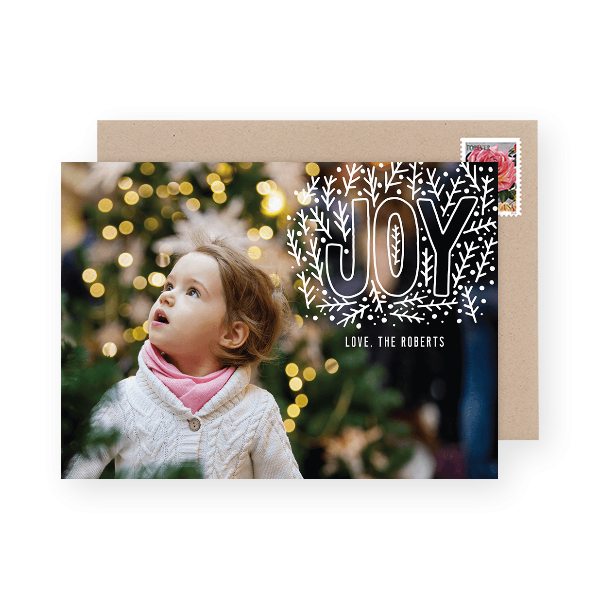 See all the Christmas cards here
Yes, really. Postable will print, address and mail all of your Christmas cards for you. The best part? You don't have to sacrifice quality for convenience. Postable works with the most talented artists around to bring you an incredible selection of Christmas cards that are printed on sinfully luxurious paper.
Have your card and have it mailed for you too.