Yes, even you. Valentine's Day is just around the corner — what will you be doing for your sweetheart this year? If you're thinking you've got plenty of time, you'd be right. But this doesn't mean you should be putting off planning for the big day too much longer. This is the perfect time to get started planning to make this Valentine's Day one to remember. And while there are many unique Valentine's Day date ideas you could do, one of the oldest and most classic love gestures anyone can do is cook. The way to the heart is pretty much always through the stomach. If you're about as useful in the kitchen as you are out of it– then making your sweetheart Valentine's Day dinner will be all that much more special. If you decide to make your valentine a romantic dinner for the big day, your efforts will be exponentially appreciated since it'll be clear just how *much* effort it took.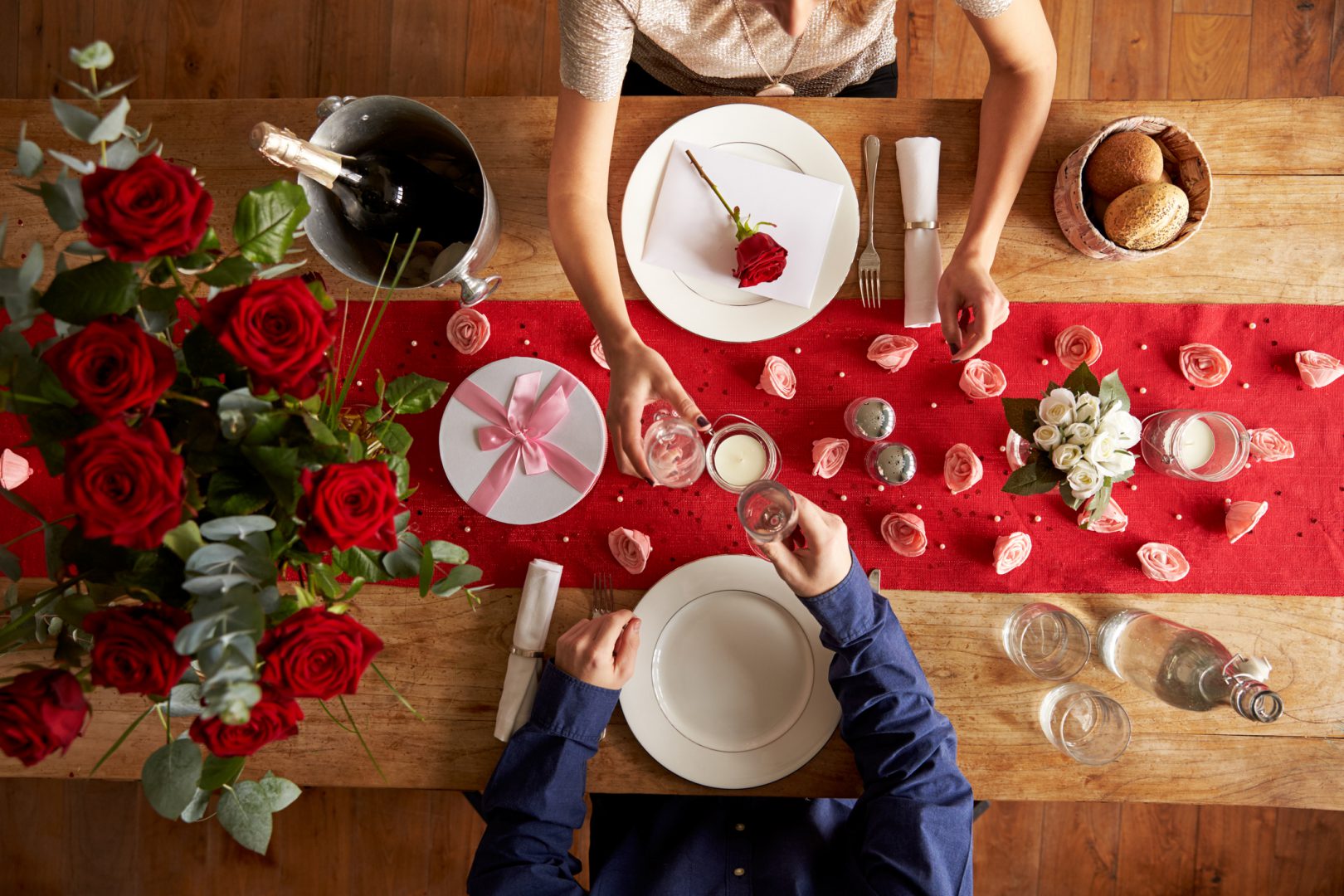 So, if you're ready to make one hell of an impression on your Valentine and surprise them to the moon and back by getting in the kitchen and cooking up something stellar — we got you. Don't worry, there are plenty of very simple easy-step-by-step recipes out there. You live in the world where everything you ever need to learn, you can find online. Lucky for you, we've done the hard part for you — digging around the internet for drool worthy recipes that just about anyone can make. And don't worry, we've made sure each of the following recipes are easy to follow, have simple ingredients and are doable by even the most beginner cooks.
Preparing for Valentine's Day is kind of a big deal so don't put it off for too long. Make sure you have some ideas on how you'll be spending the big day, the gift (if any) you'll be exchanging and don't forget the Valentine's Day card. If you're worried you'll get distracted or busy — because sometimes that happens — you can always schedule your Valentine's Day card to get mailed for you. You can do that right now and there won't be any surprises come VDay.
Once you've got your Valentine's Day card situation planned, time to think about what you'll be cooking.
Tips before you get started
Prepare. Prepare. Prepare.
If you want to have a successful Valentine's Day dinner on your hands, you'll need to do a little preparation. First, choose what you're going to be making — think about the entire menu. Will there be appetizers? What will the main course be? Are you doing dessert? What about wine? Don't get overwhelmed! Simply take some time to look at recipes (the ones listed here are crazy easy) and then make some choices. Use the recipes you've chosen to make a grocery list and buy everything you need in advance.
If you really want to make the evening special for your sweetheart — make the whole thing a surprise. Coordinate with their friend or a family member to spend some time with them so they don't come too early and ruin their own surprise.
With that said, make sure you give yourself plenty of time. Look at the recipe instructions to see how long each item will take and give yourself some wiggle room — this is your first day at the rodeo so plan for some hiccups. Buy extra ingredients in case you need to re-do something.
If you're feeling completely and totally out of your zone here, enlist some help from a friend, sibling or mom. Make sure they're not the ones making the meal though — that totally defeats the purpose and gift here. Simply ask for their guidance as you go through the process — let them help you figure out which tool is the grater from the mixer, but don't let them grate or mix anything.
Ready to make some romance happen?

Ok, now for the easiest Valentine's Day dinner meal recipes of all time.
Chocolate Fondue
Let's start with the dessert because yum. Also if you're really just absolutely unbelievably terrified of cooking then perhaps you can just start with making your sweetheart a nice Valentine's Day dessert. Although there's something to be said about putting in effort and making the whole Vday dinner happen. This chocolate fondue recipe legit cannot get any easier. via Dessert for Two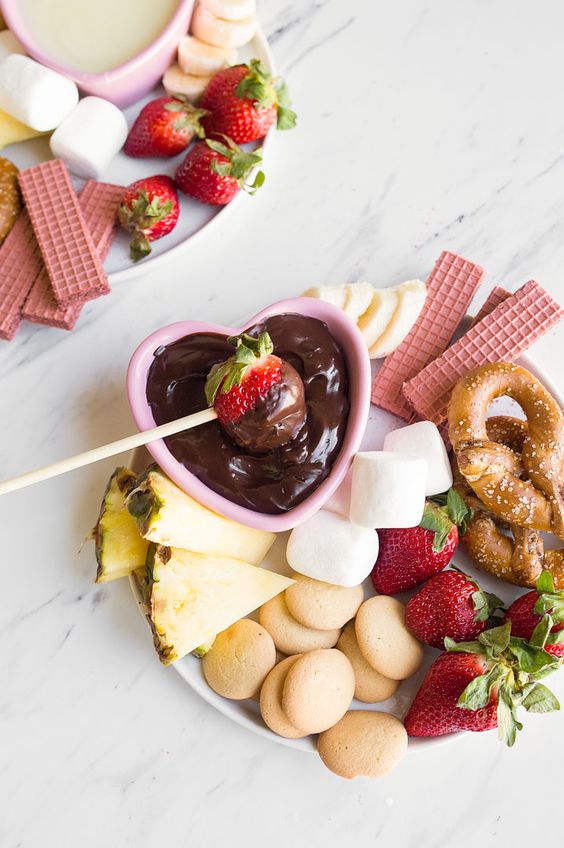 Pear ravioli in a light butter sauce
Ok, this one might require a little guidance from a friend so if you've decided to enlist someone this will be a great dish to use. On the other hand, don't let the name scare you — it's not nearly as difficult to make as it sounds. It shouldn't take but around 30 minutes so don't fret! Instead of making your own homemade pasta (unless you're really up for that task), buy wonton wrappers and make sure you have a heart shaped cookie cutter! Your Valentine will be so amazed they never have to know just how easy this was! via Julie Blanner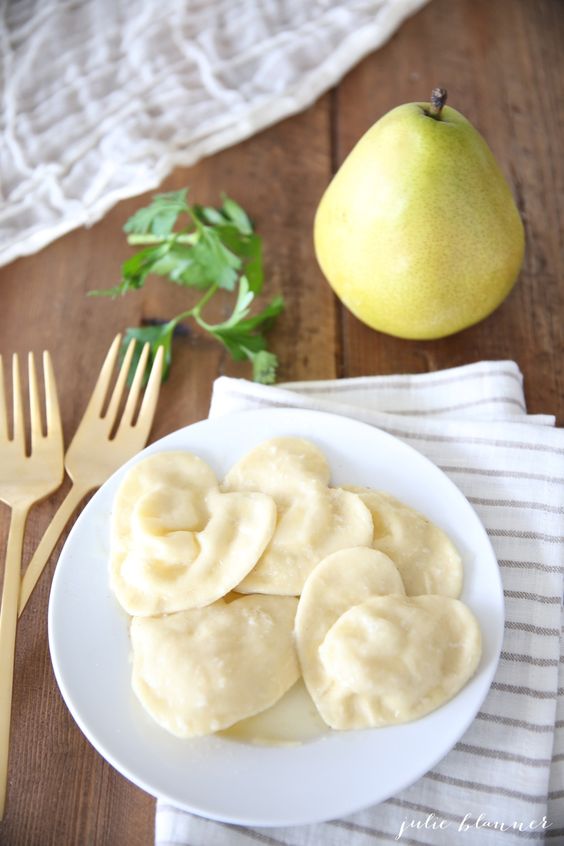 Baked spinach and ricotta rolls
Don't be scared by the number of steps in this recipe! Take a few moments to read through all the steps a couple of times and look through all the images in the post so you get familiar with what you're about to do. Prepare all the ingredients and lay them out in front of you and get to it. This recipe is great for vegetarians and sounds oh so delicious! It's also much easier than you think. via Recipe Tin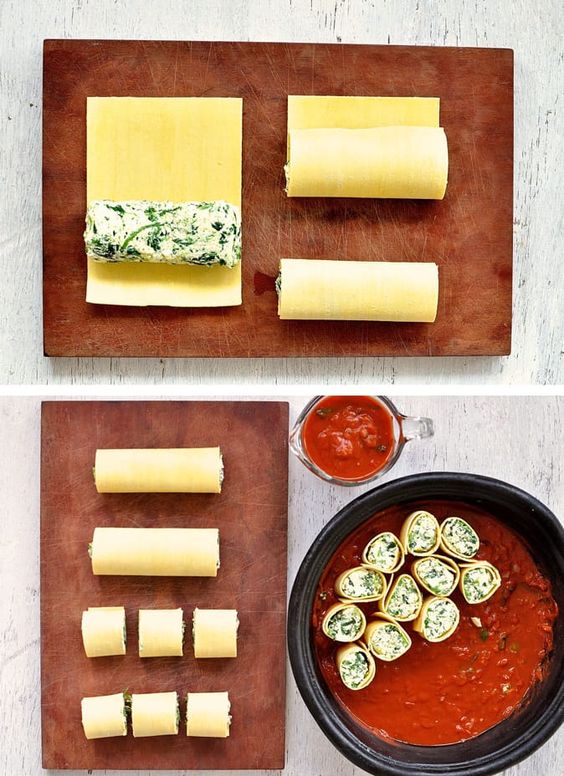 Creamy parmesan mushroom chicken
This recipe doesn't get much easier and sounds pretty darn yummy. Prepare some sort of salad or carb dish (simple white rice for example) alongside it and you'll be golden. via The Recipe Critic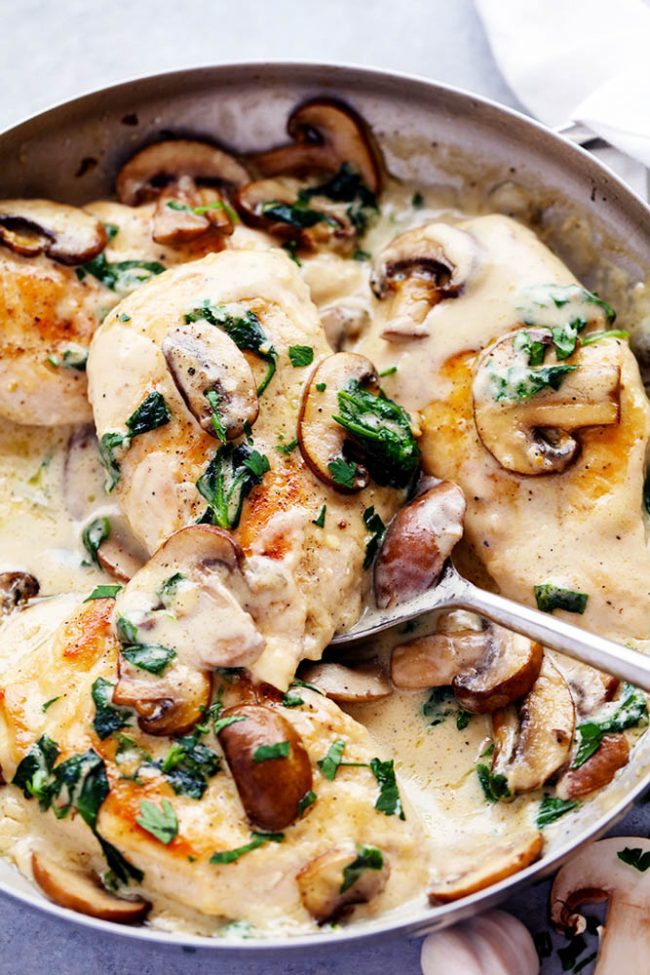 Linguine with a lemon mascarpone sauce
Pasta dishes are great for beginning cooks. This recipe sounds amazing and is very very simple. The biggest thing you'll have to worry about is making sure you time your pasta (boil it according to the packaging). Add a little cayenne pepper on top for a little kick! via The Hanging Spoon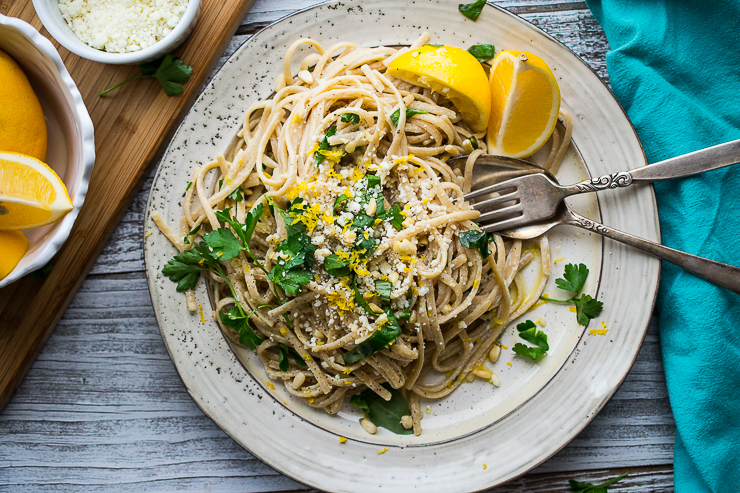 Bacon Spaghetti Aglio Olio
Try not to drool while reading the instructions on this one. There's bacon and pasta — what's not to love? Another simple recipe at your fingertips. If you've never cooked bacon on a skillet before maybe try it out here and there before the big day OR simply have your enlisted help guide you through it. It's absolutely not difficult so maybe even watching a youtube video before getting started will do the trick. via The Iron You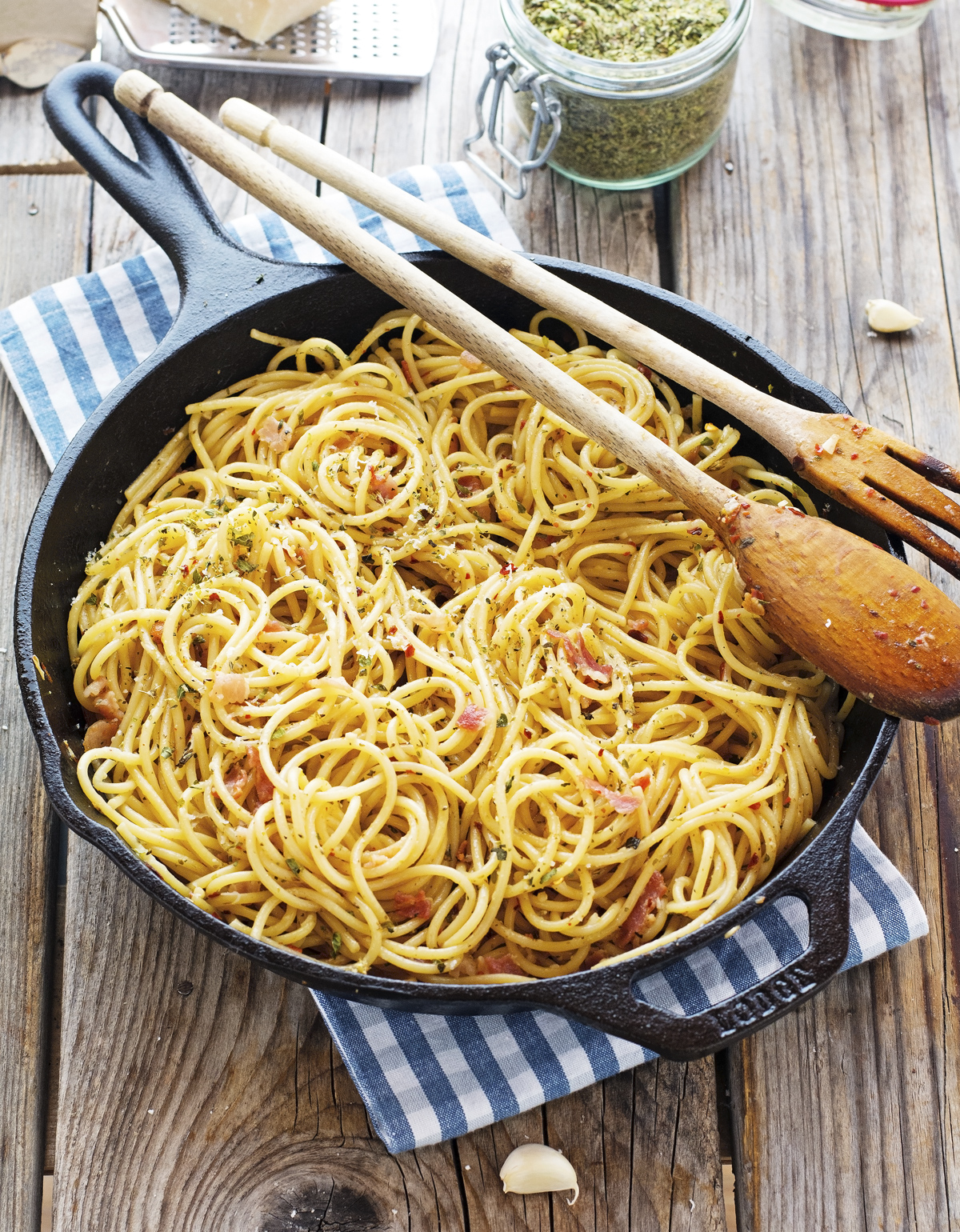 One pan roasted salmon with potatoes
Still feeling intimidated? This recipe is easiest of them all. One pan dishes were made to be the easiest meals to make. Like, ever. You've got nothing to worry about here — just follow the simple instructions and you'll be golden (like your roasted potatoes). If you're feeling feisty, add cayenne pepper to spice things up and feel free to add other veggies alongside the potatoes (carrots and butternut squash would work well here). via PureWow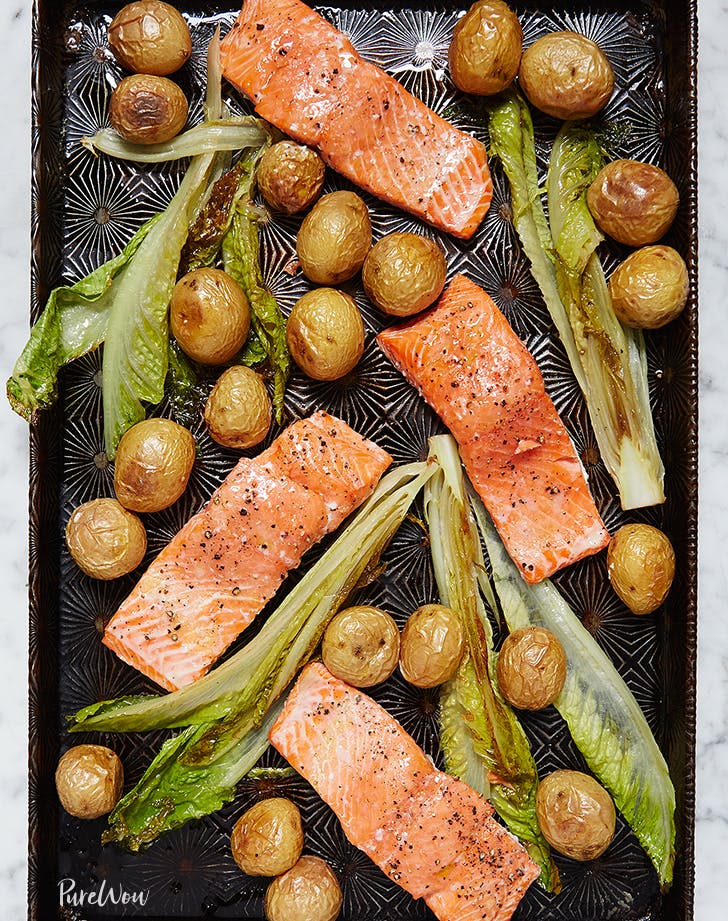 All yummy and all extra easy recipes that just about anyone can make happen. You can do it, we believe in you!
The most important thing to remember — be prepared and you'll do great! And of course don't forget to mail out your Valentine's Day card! That delicious dinner you'll be working so hard for will mean diddly squat without a personal Valentine's Day card. See the cards here.