Whether you've just celebrated your high school or college graduation, the time to step up your adulting game is now. Before we get too far in depth of introducing you to the whole idea of how to adult, we thought it might make sense to start you off with something obvious. Your graduation thank you notes. Yes, they are really necessary. In fact, thank you notes in general are pretty much an essential part of being a full grown adult, but we'll get to that later. The good news, however, is that you're living in the fabulous age of Postable greeting cards. The days of having to buy out-dated greeting cards at a card store, buying stamps at the post office and having to stuff and write your envelopes are over. Adulting doesn't have to be so hard. At least not the part of adulting that requires you to show your appreciation. You can now mail your graduation thank you cards without ever leaving your computer.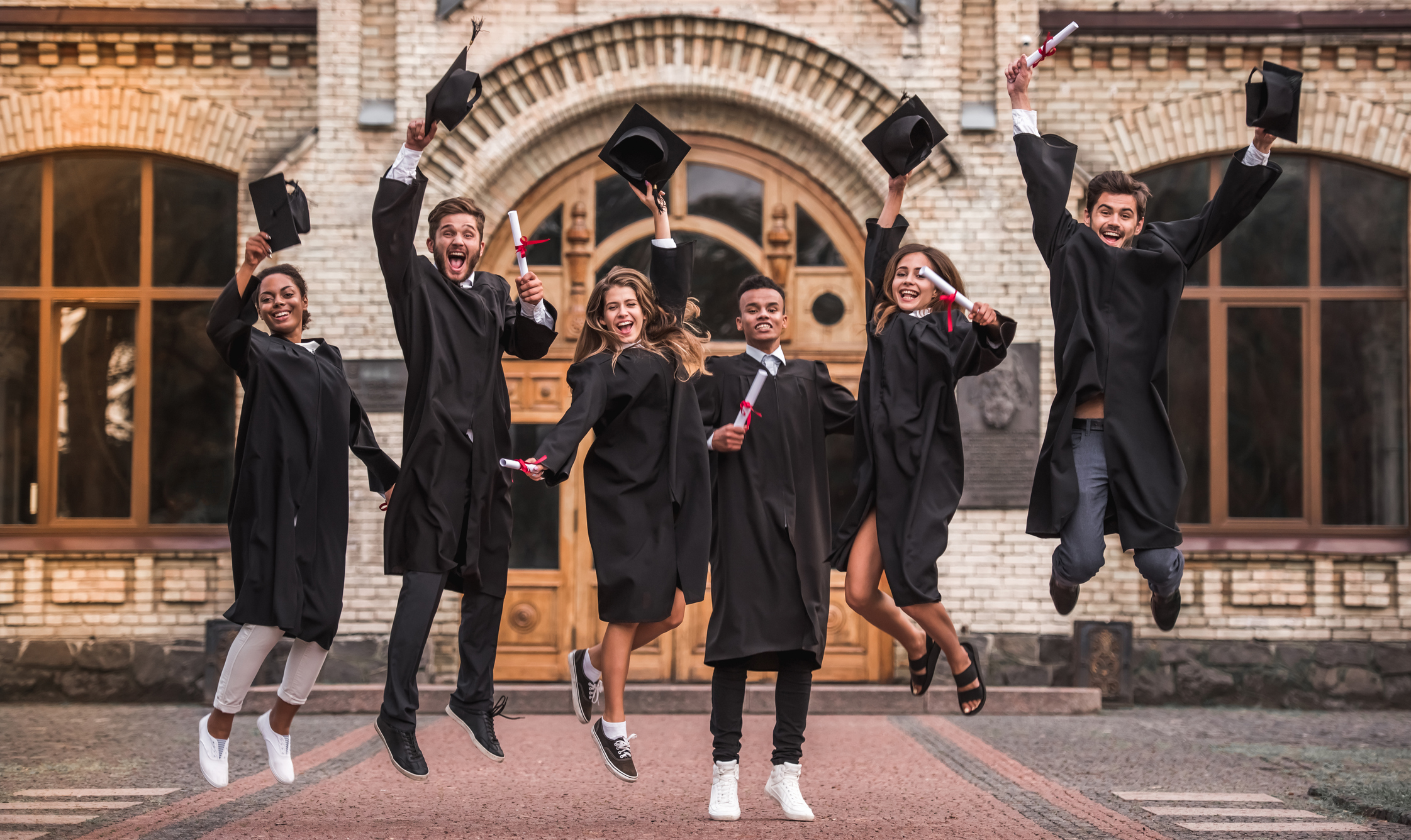 To top off the convenience factor, Postable grad thank you cards are also rather bewitching. Check out these 6 graduation thank you cards — all designed by Postable's talented artists — to write and send all of your cards in no time. Adulting will never again be this easy. 
1. Our Type Thank You Card by Swell & Grand
This simple graduation thank you card is perfect for showing off your new classy self and plugging in one of your new graduation photos. This template will allow you to customize your name at the bottom while still keeping the design super sleek and simple.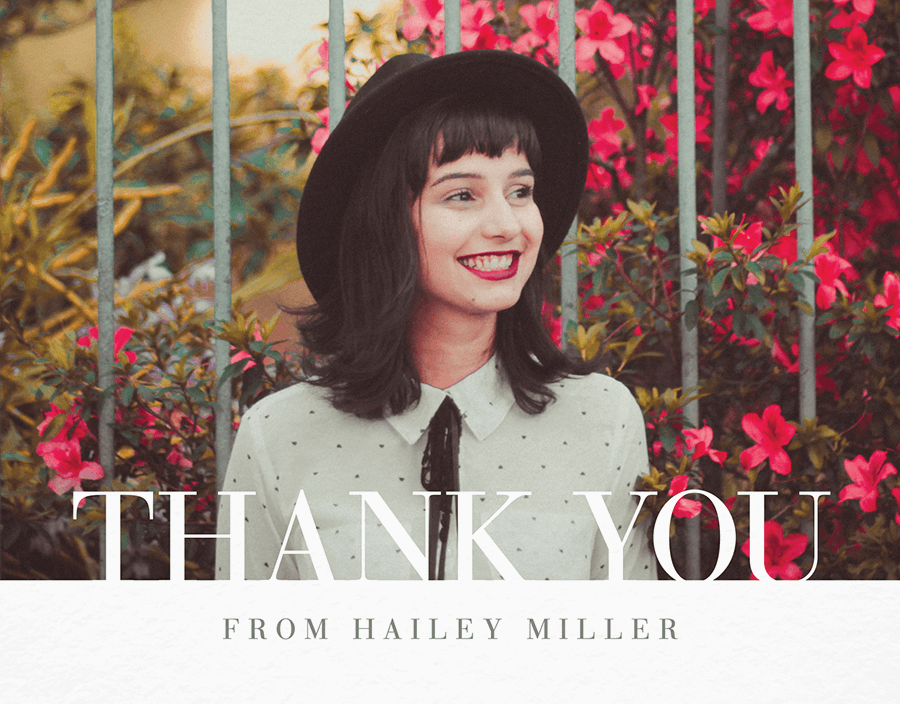 Send this card here
Graduation means you're about to begin a new adventure in your life. What better way to symbolize the beginning of your new journey than this adorable doodle of mountains and trees and what not. Perfect for the graduate who loves nature. Also, how cute is this doodle?!? As with all of these graduation thank you cards, you'll be able to customize the message on the inside to say whatever you'd like.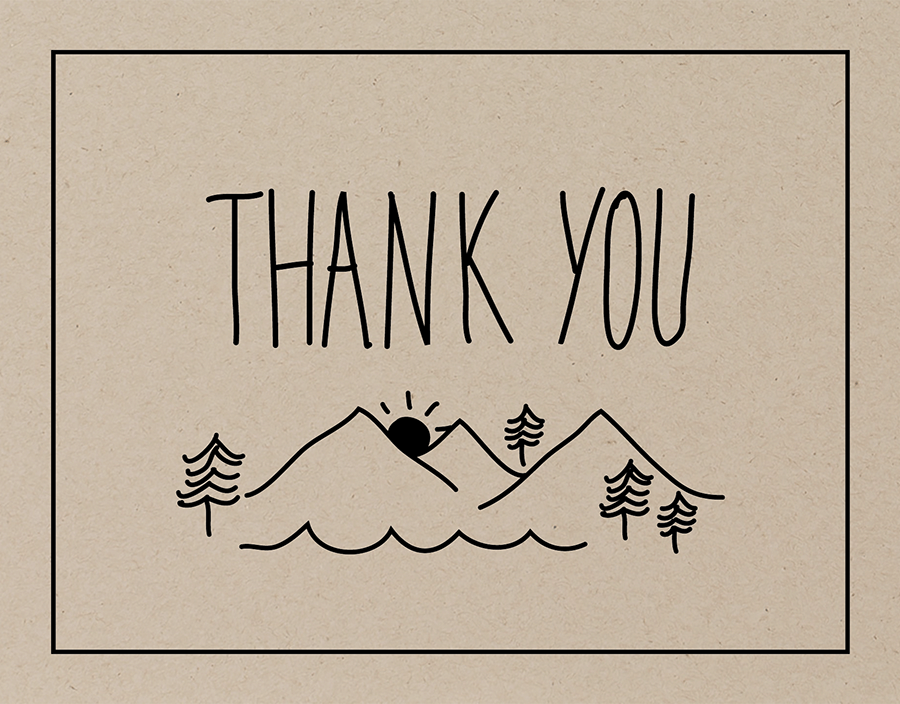 Send this card here
3. Laurel Graduate Thank You Card by Swell & Grand
This graduation thank you card says it all. The symbolic graduation cap with the delicate laurels bordering the whole thing is a perfect touch. Customize the date on top of the cap to whatever year you've graduated along with your name below the illustration. Sending these delightful grad thank you cards with your personal message is definitely the epitome of adulting.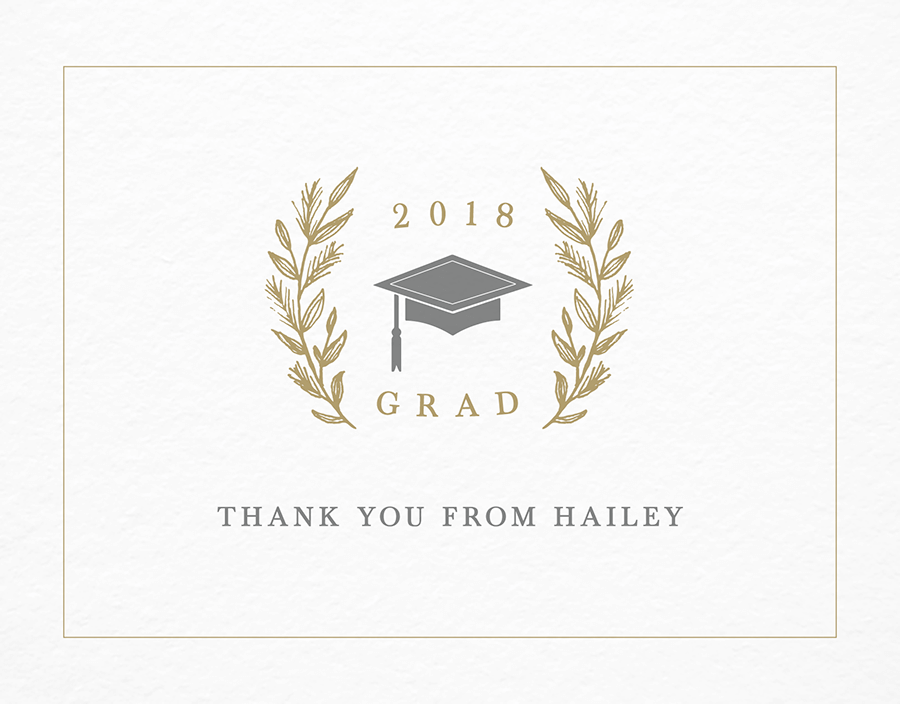 Send this card here
4. Wildflowers Thank You by Clap Clap 
If you're the Earthy type, this beautiful floral thank you card is right up your alley. It's totally fine not to include a graduation cap or even your name on the front of your graduation thank you cards. If this feels more like 'you' then go for it! The message on the inside is really what counts. That and the fact that you wrote and sent a thank you card at all is what matters most. Your grad thank you cards should match your personality. So, if you find yourself stopping to smell the flowers more often than not — why not send floral thank you cards?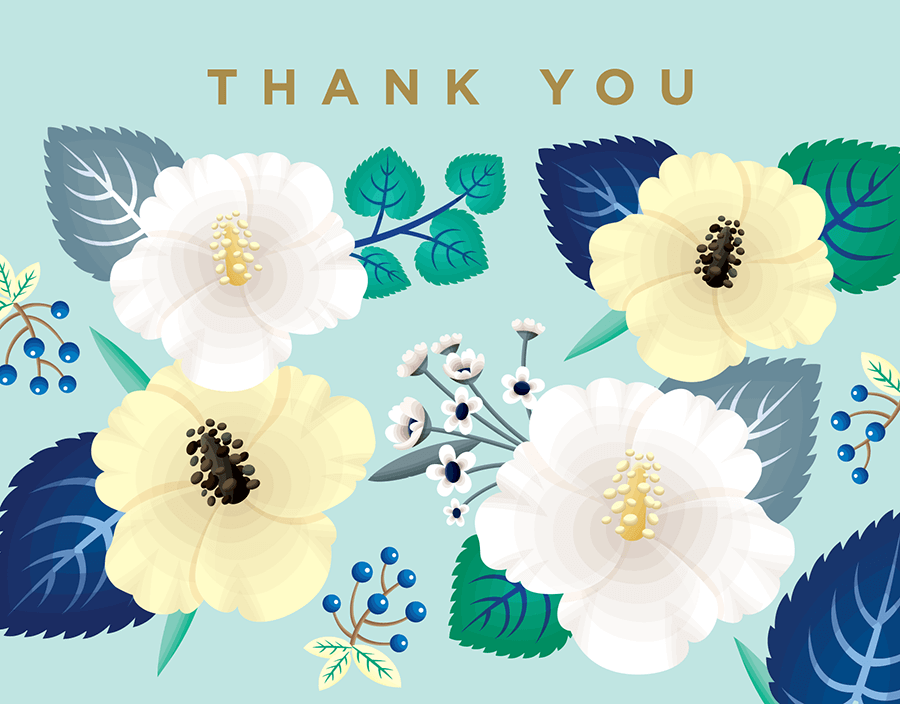 Send this card here
Going along with the not-so-serious theme — if you're more of a jokester and sending a fun and quirky grad thank you card sounds more authentic to you, then do that! This funny thank you card by Knotty Cards is bright, colorful and will probably give your recipients a giggle or two. It'll also feel way more authentic to your recipients if the front of your thank you card aligns with your personality. Just make sure your thank you message is sincere.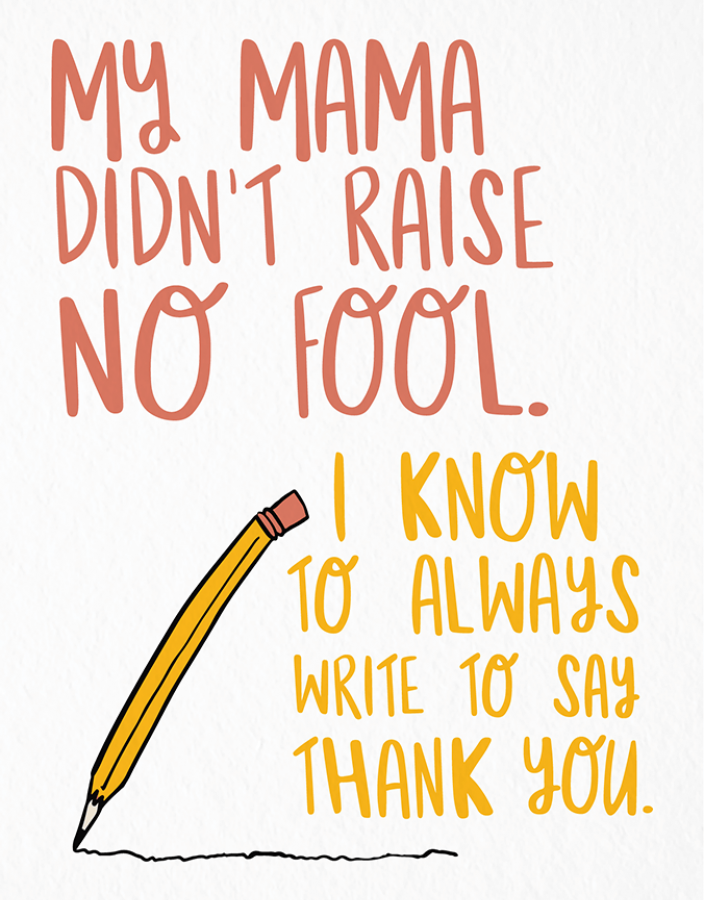 Send this card here
6. Graduation Brush Thank You Card by Swell & Grand
Want to send photo graduation cards, but want more of a fun vibe? This photo template card will be perfect. Just make sure to choose a photo where your face is at the top so that text will be easy to read at the bottom. The brush stroke 'Thanks' on this card is just the right amount of fun and class combined. You can also customize your name and graduating class at the bottom.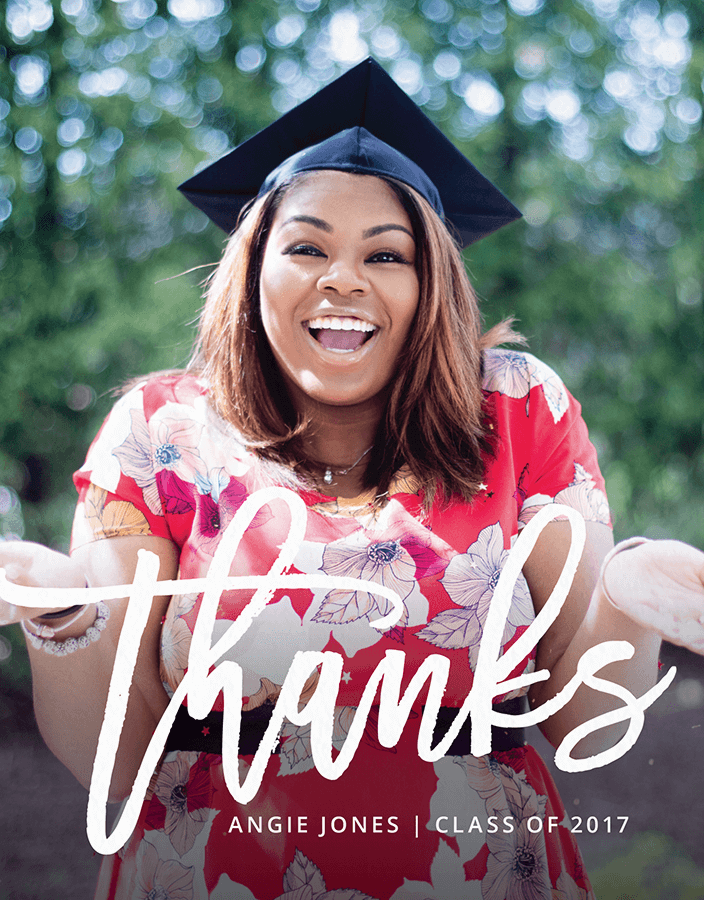 Send this card here
Want to see more graduation thank you cards? Checkout the rest of the Postable collection of Grad Thank You cards — all of which you can write and send straight from your computer because adulting is hard enough. Not sure how to start or what to write inside your thank you cards? Checkout our Ultimate Guide to Writing Thank You Notes — everything you'll ever need to know. 
Now that you've taken care of your grad thank you notes like a real adulting pro, you may be asking yourself how to adult? Here are 5 other adulting tasks you should probably start doing soon.
1. Making your own doctor appointments.
Because yes, sometimes you'll get sick and you probably should get that checked out. We're not saying get all obsessive about every single sniffle, but it's time to stop believing you're immortal and start calling the receptionist.
2. Doing laundry instead of buying new underwear.
Because you should probably clean your clothes.
3. Buying decorative pillows.
Because you know you're at the top of your adulting game when your couch is full of small throw pillows covered in quirky quotes. Like this one. But also having home decorations in general that didn't come from Target's dorm section. There's something extraordinarily grown up about spending time and money on making your place a home.
4.  Bills.
These fun things that you must acknowledge and actually pay once a month.
5. Dinner parties.
Finally! On to the good stuff. Adulting doesn't have to suck. In fact, it doesn't suck at all. Being an adult actually is all it's cracked out to be. Besides the slue of new responsibilities you'll have added to your to-do list, you're also getting to a brand new stage in life where dinner parties are a thing. And boy are they fun!