The first step to hosting a stellar baby shower is choosing a stellar baby shower theme. It can be really fun (and easy) to start to get ahead of yourself with planning all the little details for the big day — the tiny bottle drinks and the colorful banners. But before you go too far into planning all the minor details, you'll want to start by looking at the bigger picture. Choosing baby shower themes can be a bit overwhelming at first. But once you've chosen one, it will help you with the rest of the planning by being the central focal point. If you're short on time — who isn't — then you're in luck. We've compiled some of the internet's (thanks to the delightful wide world of Pinterest) most exciting baby shower themes with ideas that you can actually use.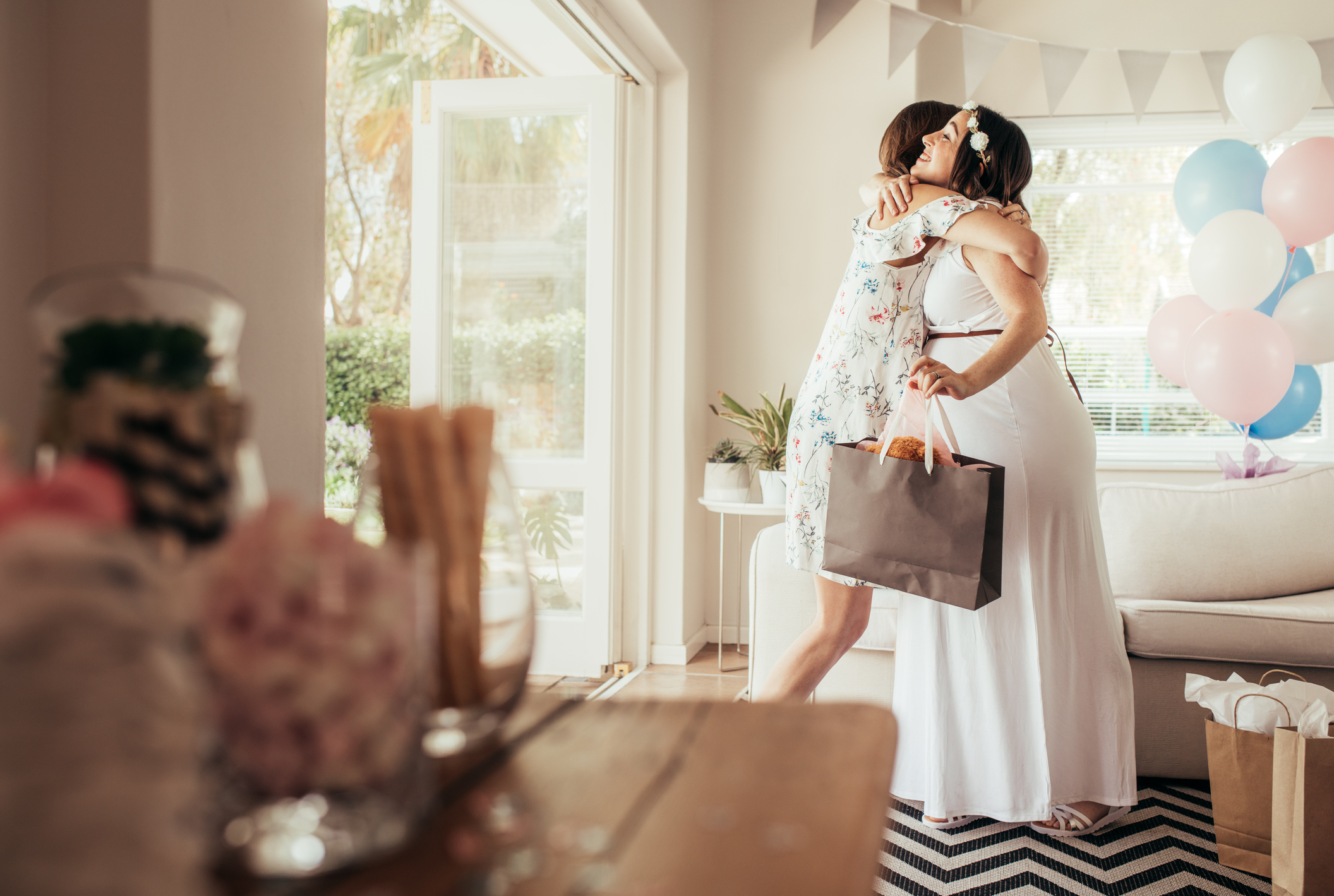 But before we get going, a big ole' congratulations is in order. Whether you're hosting your baby shower for yourself (holy moly, an extra congrats to you!) or you've been selected with this special task — you're going to have so much fun!
First up, the shower.
The most obvious theme of all the baby shower themes out there — actual rain. While it may not sound like the cutest theme there is, hold that thought! There are so many fun ways to incorporate the raining theme into your shower that will surprise you.
Send this card here
This baby shower invite is an adorable way to introduce your event and already include the theme from the get go. Especially awesome if you haven't revealed the baby's gender. Whether you choose to do so at the baby shower or keep it an unknown — you can use this invite to get your friends and family into the baby shower spirit.
Keep the rain theme going.
Didn't we say the raining theme had some potential?! This cup cake table via Sugar Parties LA is the perfect inspo. We love this showered with love cup cake table! The puffy white clouds above the table with the adorable blue watering can is the perfect touch. If you look even closer, the cup cake toppers are tiny little clouds — how cute?! Don't forget an adorable banner to finish off your own cup cake table.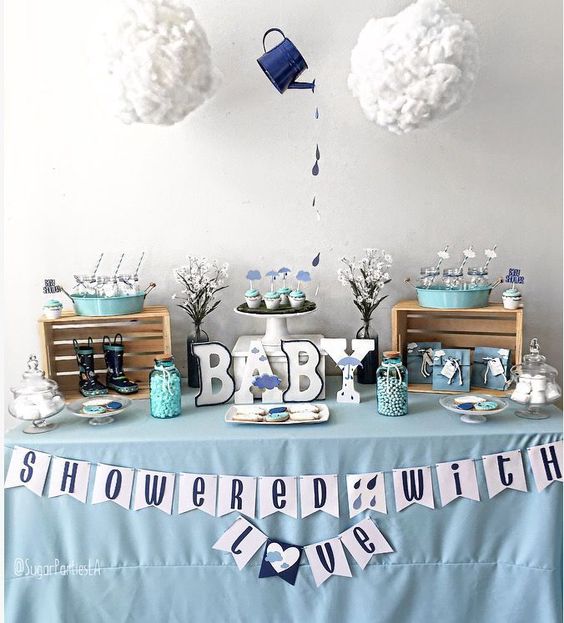 via Sugar Parties LA
Showers bring the flowers.
The shower theme has some great potential! Like using adorable little pink rain boots as a vase for flowers. A great (and super easy) way to incorporate the baby shower themes in with the decor!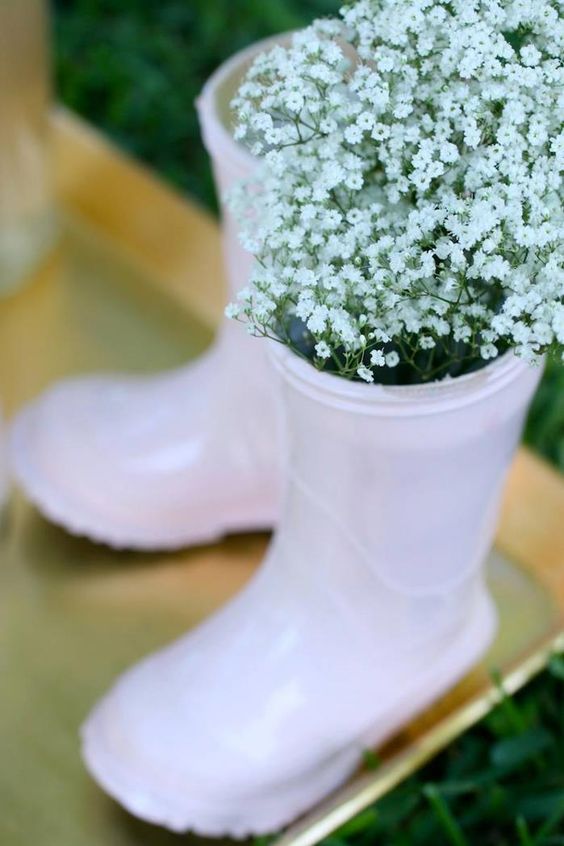 via Karas Party Ideas
Over the moon for these baby shower theme ideas.
Moving onto the next theme idea. As cute as your typical pink and blue themes can be, we're thinking a little outside of the box — or in this case over the moon.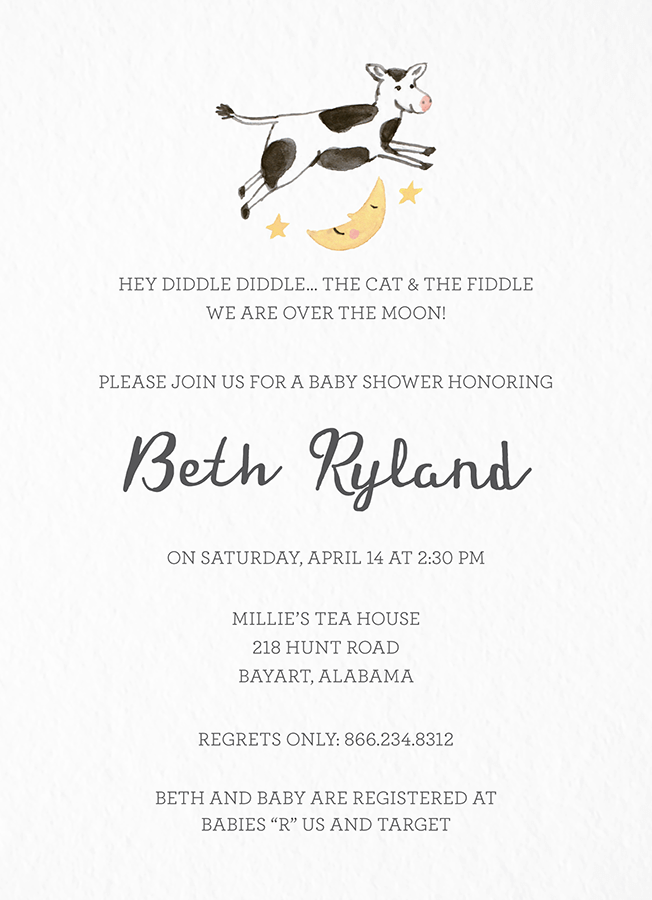 Send this card here
Introduce your over the moon baby shower theme to your guests with this adorable hand painted invite by Leveret Paperie. And as always — save yourself some of that precious time and have Postable do the mailing for you. You can easily mail any of these delightful baby shower invites straight from your computer. Simply choose the one you like, customize it with your details and hit send. Postable will print, address and mail them all out for you.
Over the moon for this cake table.
Are we taking these puns too far? Never. Another great example of how to incorporate the baby shower theme into the cake table. We love the deep blue and gold colors here with the rustic gold vase and the simple gold star cake topper as the perfect accents. Use this cake table from Confetti Party Plans as the inspiration for your own over the moon baby shower.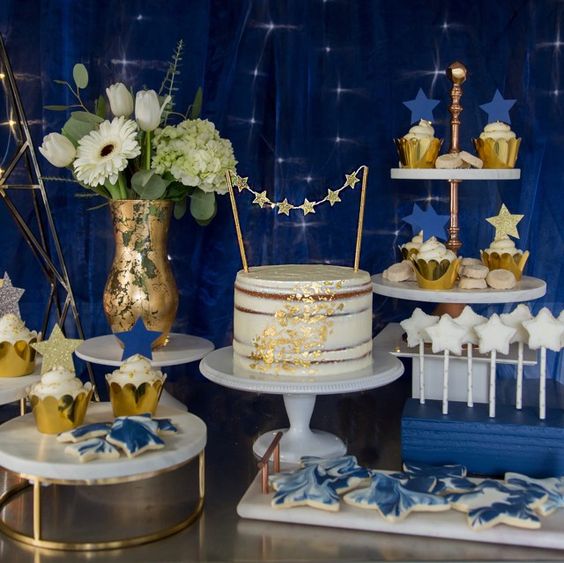 via Confetti Party Plans
Beary cute baby shower theme!
The puns just keep on coming. Bears are adorable and so why not use them as the central theme of your baby shower? Not convinced? It's ok, keep scrolling for the beary cutest of ideas.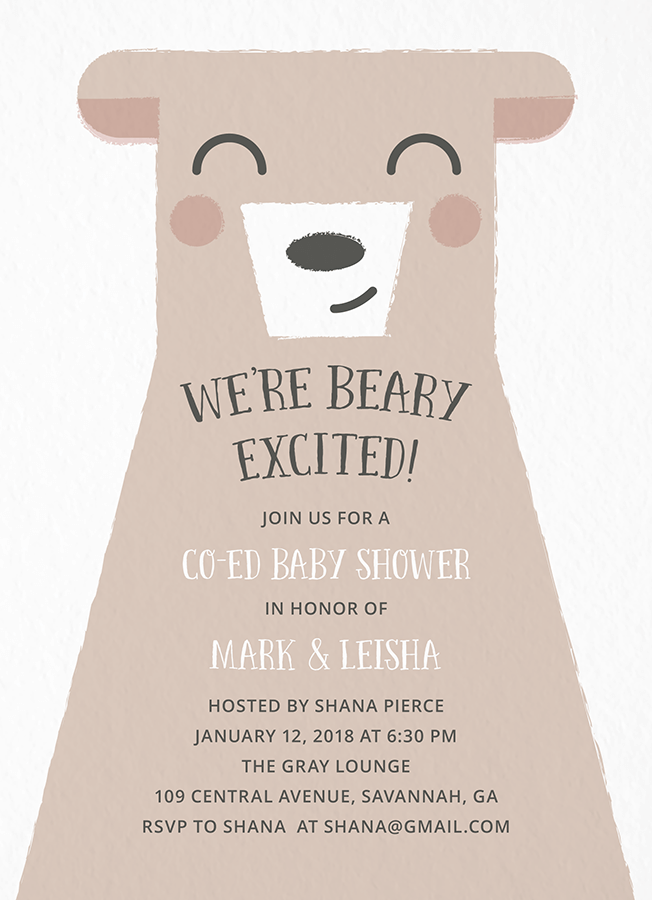 Send this card here
This Beary Excited baby shower invite is adorable! It's also a great invite if you're choosing to go a little un-traditional and do a co-ed baby shower. Don't worry, if that's not your thing — you can easily customize the text with your own preferences.
Bear cake toppers.
The teddy bear is an iconic children's symbol so it makes perfect sense to use it as the central theme of a baby shower. This adorable baby shower cake table from Little Wish Parties is the perfect inspiration. We love the light blue and yellow color combo and the cute little bear silhouettes on the wall in the background. Little tiny bears everywhere!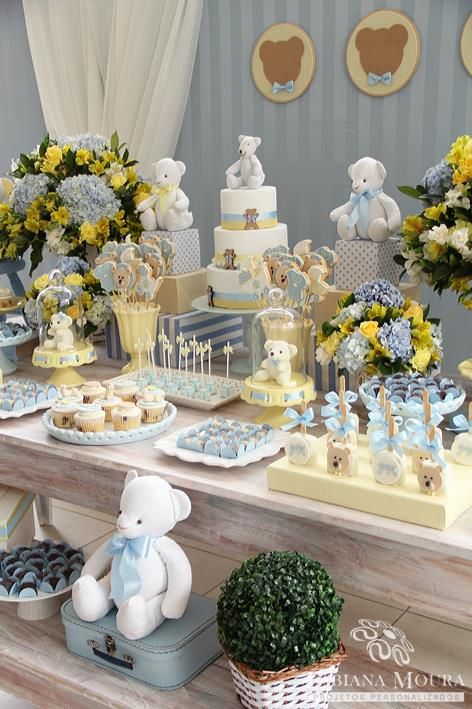 via Little Wish Parties
A simple way to add a little bear.
If you're feeling a little overwhelmed at how you're ever going to pull off these fancy looks — not to worry. Adding your baby shower theme into your decor doesn't have to be complicated. Teddy bears are pretty easy to find — simply buy a few and then add them to existing decor. Easy Peasy.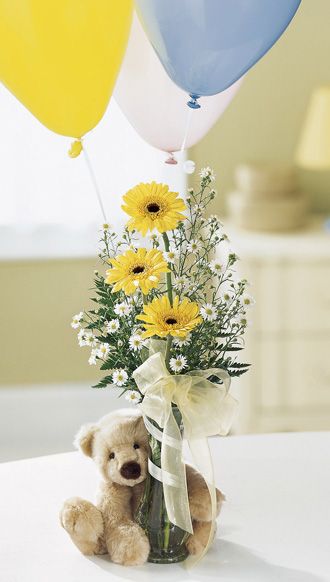 via Florist Medford
Baby Rattles for the win!
As with any of the previous baby shower theme ideas, it's not based off of the gender of your baby so anyone can use it. And if you're feeling like mixing it up, co-ed baby showers are totally a thing!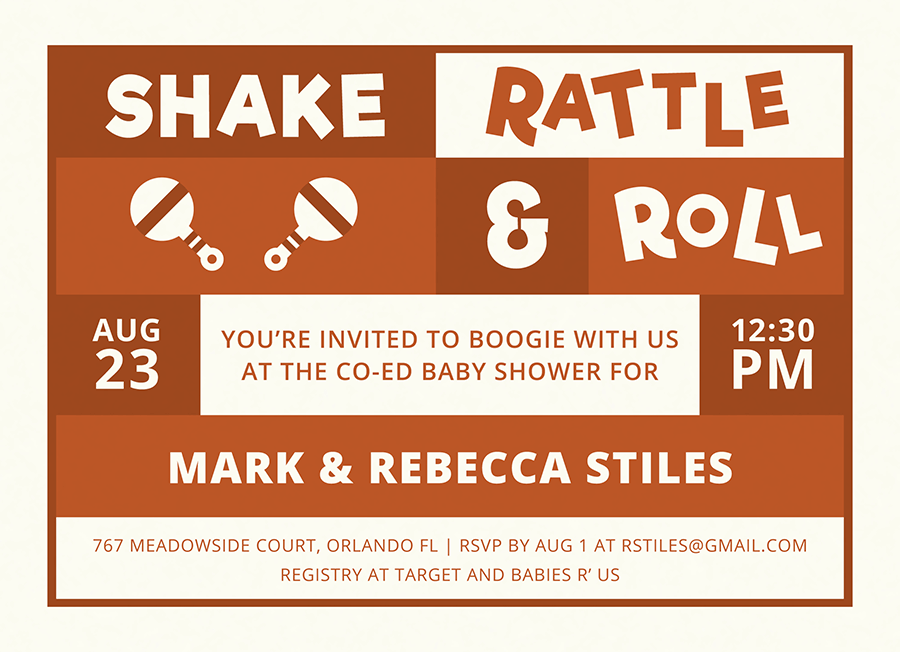 Send this card here
As always, you can customize the text on this baby shower invite to say whatever you'd like, but feel free to use the default text for inspiration! Want to boogie at your baby shower? Why not!
Rattle treats.
A fun way to incorporate the baby rattle theme (or really any theme) is to make customized sweet treats. How cute are these little rattle cookie pops from Beau Coup?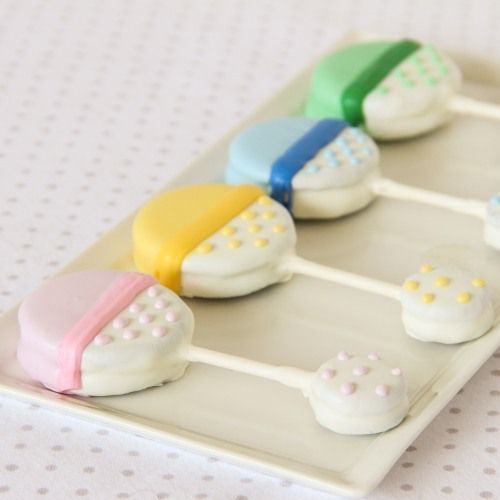 via Beau Coup
Co-Ed Drink options
Speaking of hosting a co-ed baby shower — you may want to stray a bit from the traditional drink options to include beer for the guys (and gals). This photo from Ever Mine is a great example of how to make beer cans for a co-ed baby shower totally adorable! [For more tips see: 7 Great Tips to Throwing a Co-Ed Baby Shower]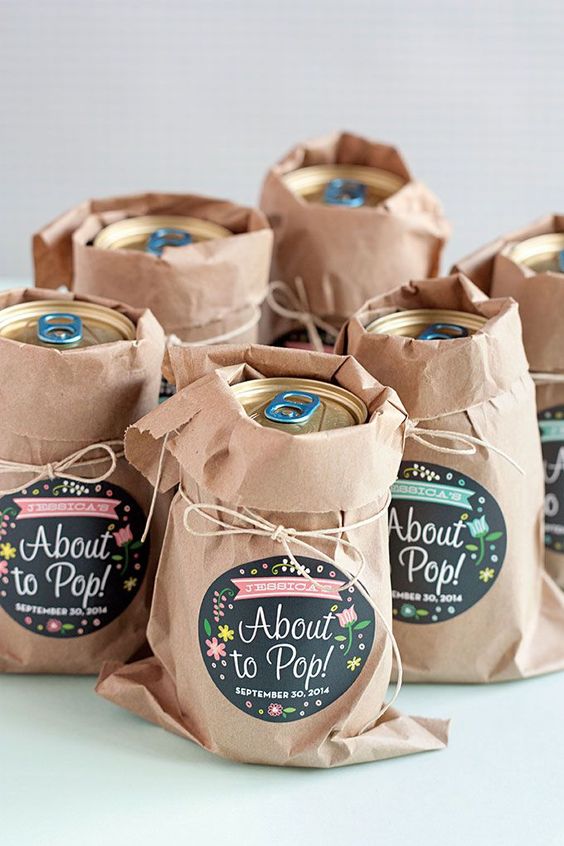 via Ever Mine
Floral baby shower theme ideas.
When all else feels off — flowers always seem to be a great option. They make for stellar decorations and are beautiful pretty much anywhere you put them.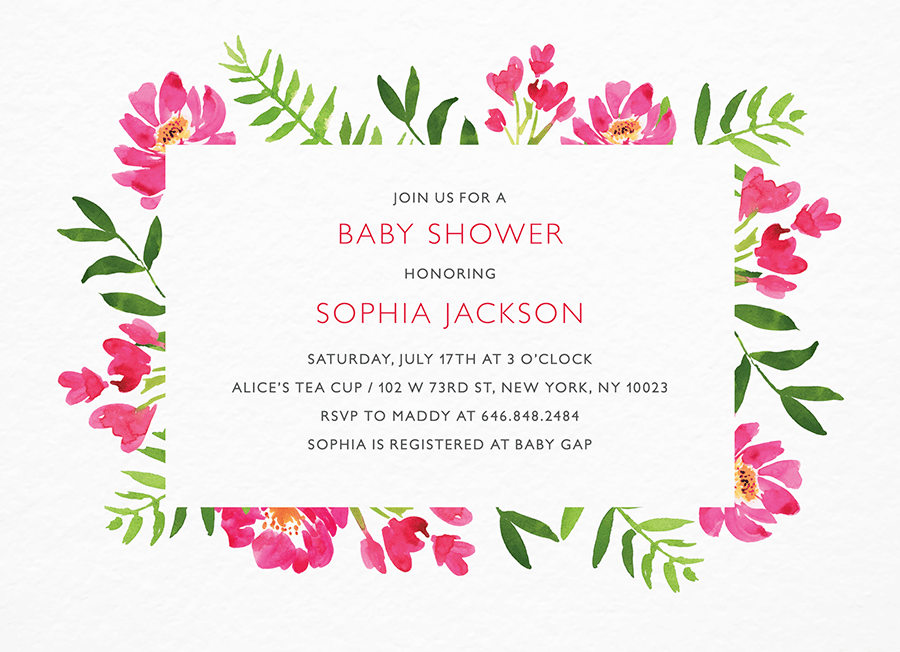 Send this card here
This beautiful floral baby shower invite is the perfect blend of simplicity and color. We love the water color feel of the flowers and the pop of the bring pink!
Floral wall decor.
As we've mentioned, using floral baby shower themes makes it super easy to incorporate — flowers are inherently decorative. But there's no reason why you shouldn't still get a little creative — your options are really endless. We love this floral back drop by 100 Layer Cakelet. Simple and elegant!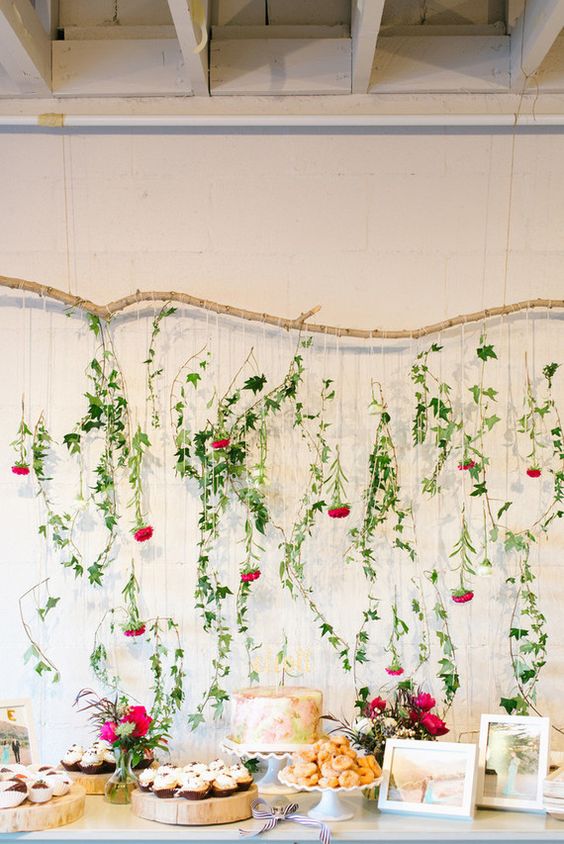 via 100 Layer Cakelet
Love Floral Wreath!
Flowers make everything better. We love this 'love' lettered wall decor and with an added floral touch it would make a perfect addition to a floral themed baby shower!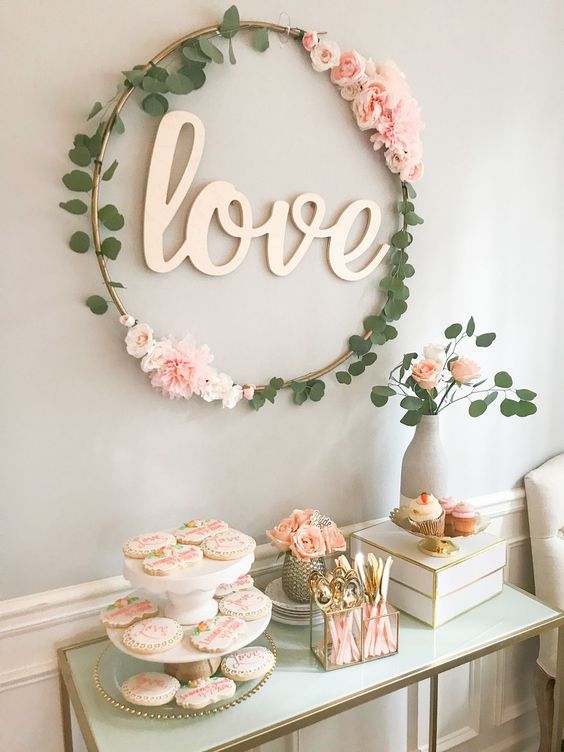 via Pinterest
Green is the new black.
Or was it pink? Does it even matter? Green is the color of plants and plants make everything better. If you want to make your baby shower have an Earthy organic feel the color green is a simple theme you can choose to do just that.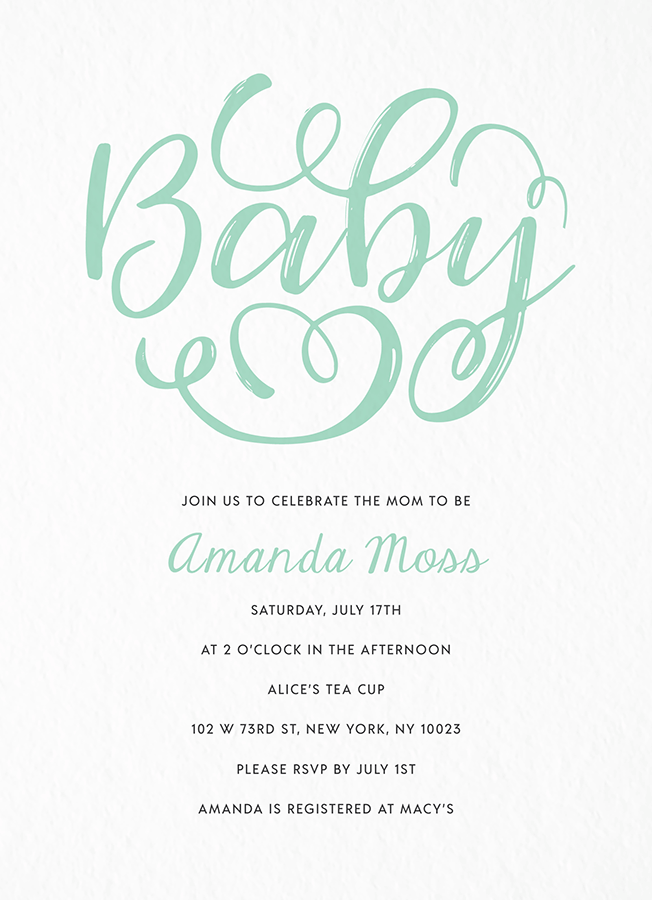 Send this card here
Keeping the invite simple, but adding the main theme component — in this case the color green — is a good way to introduce your theme to your guests.
Simple green touches.
Simply adding plants to any focal points at your baby shower will be a great and easy way to incorporate your green theme! We love the simplicity of this green plant banner to decorate the drinks table via Sugar and Charm.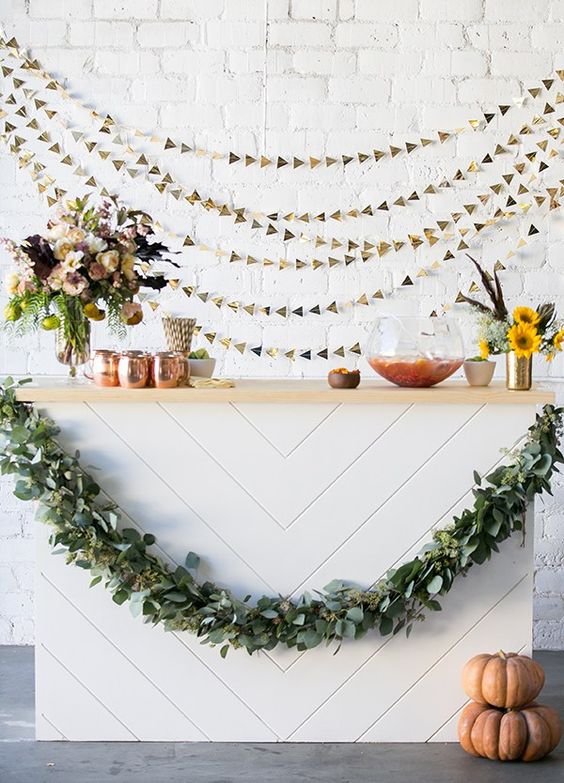 via Sugar and Charm
Succulents are everything.
If you've been looking around on Instagram or Pinterest recently surely you've seen what magic succulents can create with their elegance and uniqueness. Simply adding them to your cake will make a world of difference.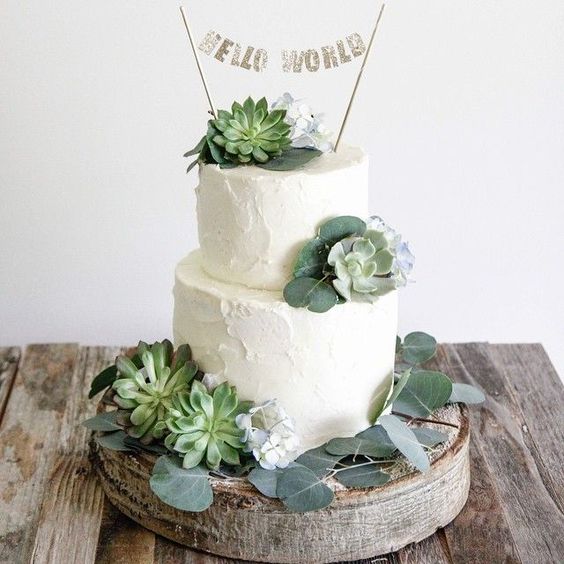 via Pinterest
Of all the baby shower theme ideas out there — we hope you'll pick the one that speaks to you! Whatever you choose, make sure the theme (and the party as a whole) is unique to you!