October isn't just for carving pumpkins and eating heaps of candy really meant for the trick-or-treating children. Well, ok so maybe it is for those things — but hear us out. October is filled to the brim with potential for fun fall activities and yes pumpkin carving is definitely one of them. So is apple picking and hay rides and cozy movie nights. And then there's fall themed parties. Obviously, parties are fun at all times of the year, but there's something extra special about hosting a fall party. Something cozy about the newly lowered temperatures and the changing of colors all around. Something special about October that makes for the perfect setting for hosting a party. So, if you've been itching to host one of your own shindigs or if you've always known fall was your favorite time of year — here's your chance to invite your friends and loved ones for a day (or night) or friendly fun.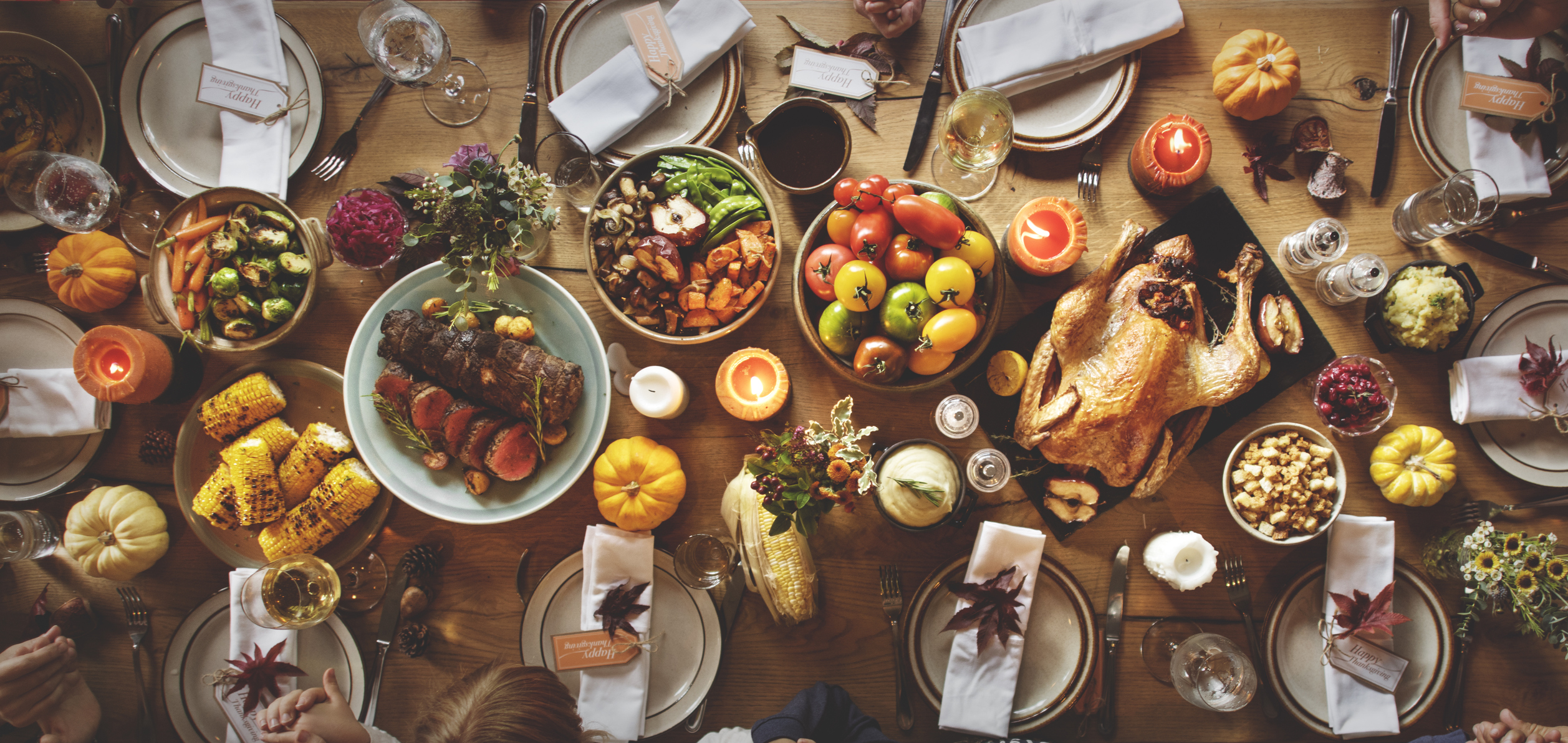 And if you're looking for fall party ideas then you've come to the right blog post. We've compiled this undeniably exciting list of fall party ideas you can easily use for your very own gathering.
1. The Friendsgiving
Oh man, the Friendsgiving! There's really no other party quite like this one. The one time of year that the focus of your friend's gathering is one hundred percent focused on the food. Ok and maybe booze. But the food is pretty central to this fall party — without the food, it's not much of a Friendsgiving. This is a great opportunity to gather your squad and show appreciation for one another — it's really nice to have friends, you know? Give thanks for one another and the massive feast you'll hopefully have. Don't worry — there's no need to try and cook the entire Friendsgiving feast on your own. That would be crazy… So unless you're hoping to one day take the Top Chef spot, learn to delegate! As the host, you should be responsible for the main dish — the turkey. And maybe something else if you're adventurous. Leave the rest up to your guests — each person brings a Thanksgiving dish they love to add to the potluck.
[See more fantastic Friendsgiving Tips here.]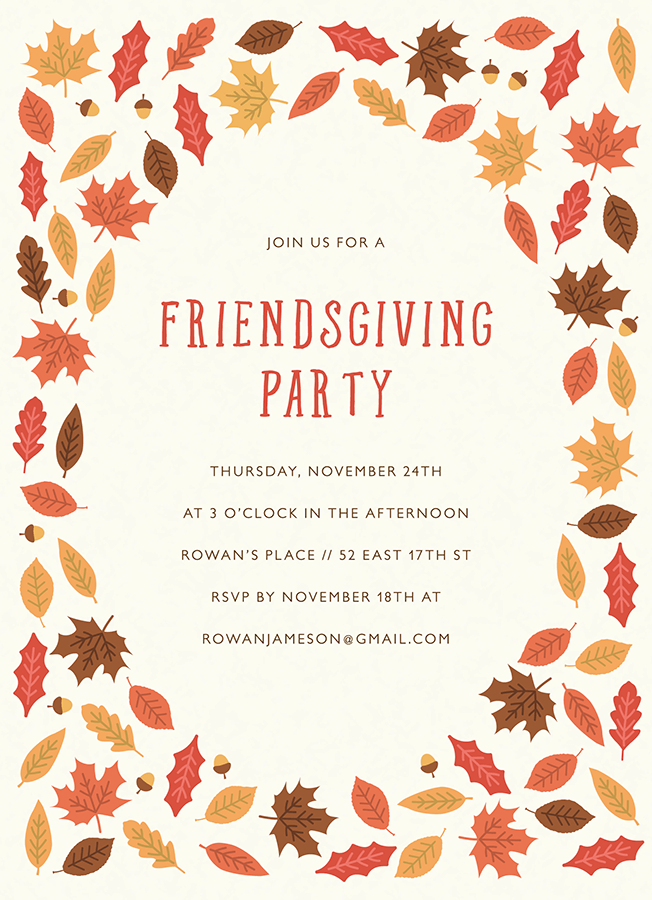 See the Friendsgiving invites here
Unique Friendsgiving dinner setting.
Want a unique table seating? Try using brown paper as the table cloth and use your (or one of your friend's) artsy skills to write each person's name for the plate setting. Just add a slue of candles of different sizes and you've got yourself a beautiful table without much effort.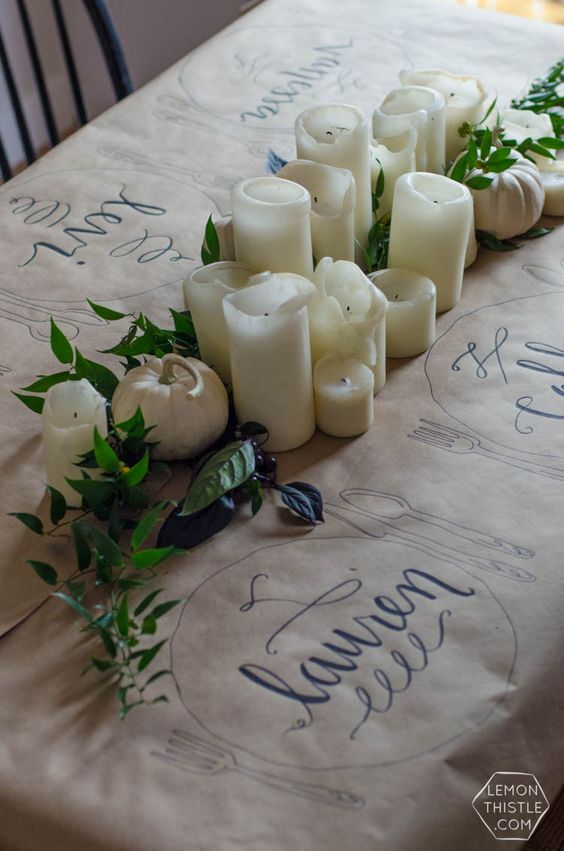 via Pinterest
2. The Housewarming
The summer has come and gone which also means that many people have relocated to a new home. Most Americans move between the months of May and September which means October is the perfect time to throw a Housewarming. If you're one of the millions of people who made a big move this summer, why not throw a Housewarming? The weather is no longer scorching (unless you're in Florida — sorry) so hosting a bunch of warm bodies inside won't pose a huge temperature problem and the fall theme will give you the perfect decor inspiration. You've probably had a few weeks to get settled — hopefully the boxes have all been put away. If you wait until winter, you'll have to deal with wet snowy shoes and giant coats — who wants that?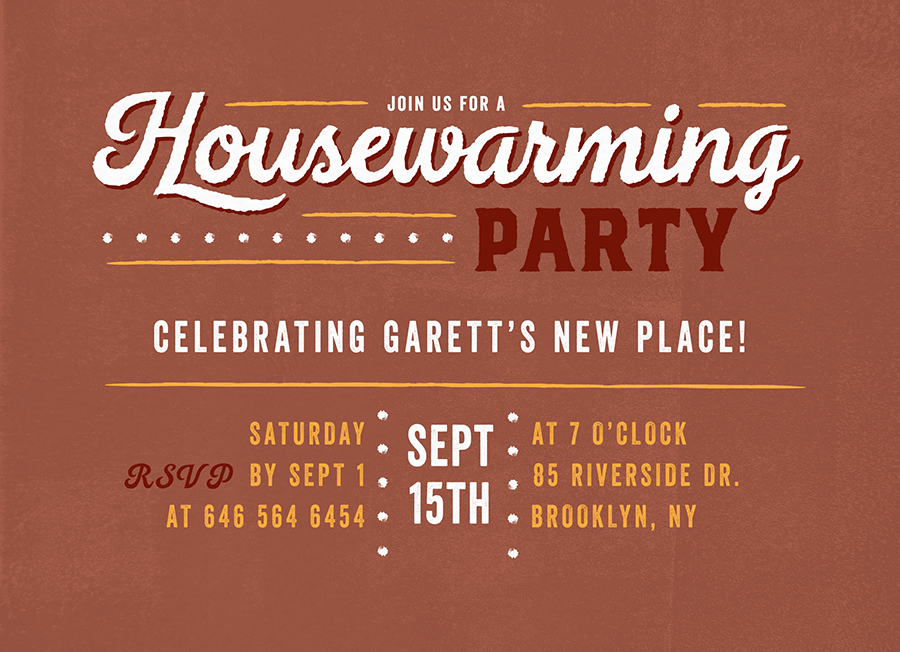 See the Housewarming Invites here
Housewarming fall theme
A fun and easy way to incorporate the fall theme into your Housewarming (and really any fall party for that matter) is to use a pumpkin as the shell for your booze ice basket. Easy and beautiful.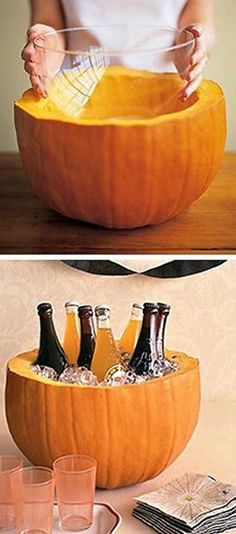 via Pinterest
3. Non Dinner Party — Party.
Despite popular belief, not all fall parties have to revolve around food. You may feel pressured to host a food-centric fall party, but that's totally not necessary. If you're just not that into cooking and don't want to buy a whole bunch of prepared food (cha-ching), don't worry. You don't have to do this just to host a fall party! You can easily get a few snacks — everybody loves chips and dip and have that be the extent of your food selection. Simply host a fall party with a fall theme. Use fall decor and fall-esque party invites (see the 'Let's Get Nutty' invite). Instead of food, your guests can contribute a bottle of booze– or nothing besides themselves.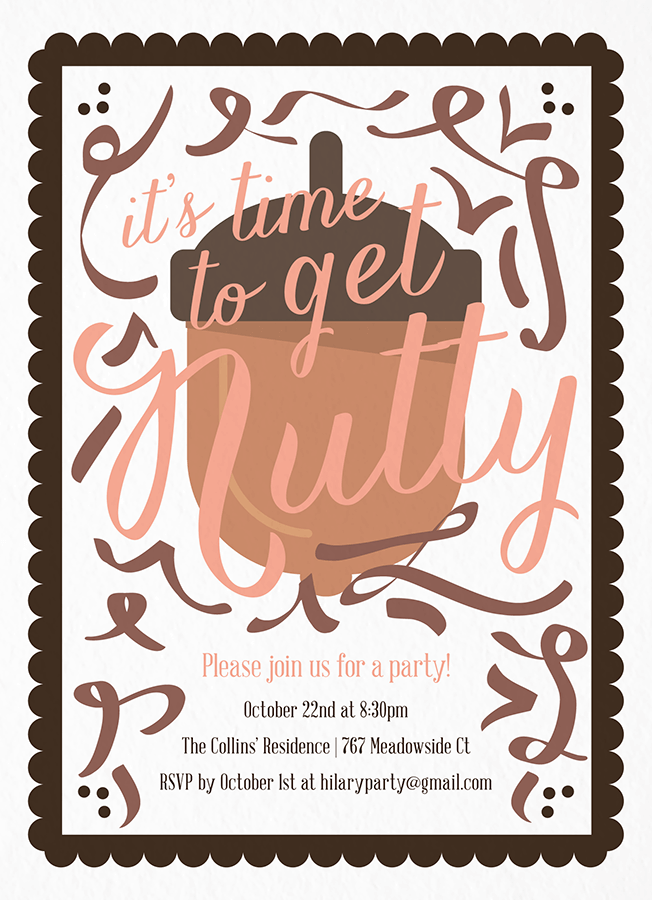 See all the party invites here
Food alternative for fall parties
Have a fire pit? Perfect. A fun and simple way to incorporate food into your fall party without spending much or cooking anything is to set up a s'mores station. Did we mention it's also a fun activity. Everyone loves s'mores!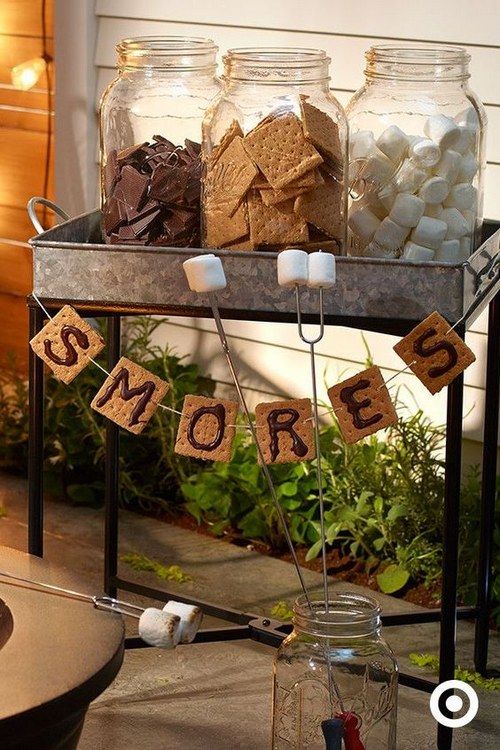 via Pinterest
4. Birthday Tea Party
If you or someone you know is one of the lucky ones who have birthdays during the glorious month of October (or really any time during the fall) — why not host a tea party? Tea parties aren't just for the little ones. Hear us out. Ok, so maybe the little ones love a good tea party, but also who wouldn't?! Delicious soul-warming tea, delightful little snacks and an adorable decor — what's not to love? Fall is the perfect time for a party that centers around warm beverages — whether it be hot toddies or hot tea. Add some boozey options to make it even more grown up. Have fun with the decor and go as crazy — like these apple spice cinnamon sugar pound cake bites — (or as classic) as you'd like with the food options.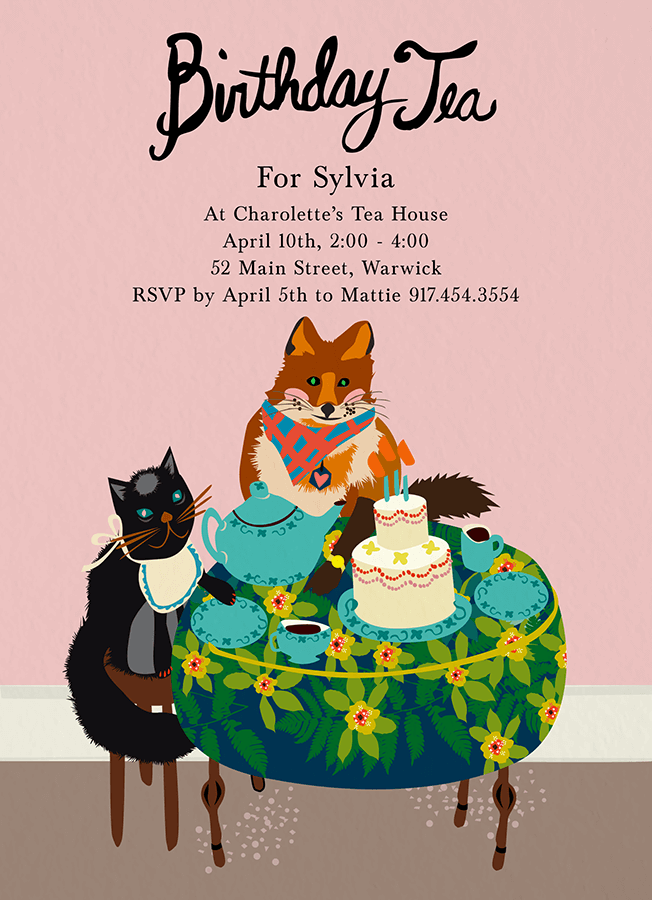 Customize this invite here
Pumpkin Spiced Latte
Hosting your birthday tea party during the fall opens the door for you to serve pumpkin spiced lattes (in addition to any teas that you like). This isn't something to take lightly as such a privilege is not afforded to summer tea parties. Not sure how to make your own? Checkout this yummy recipe from Pinterest.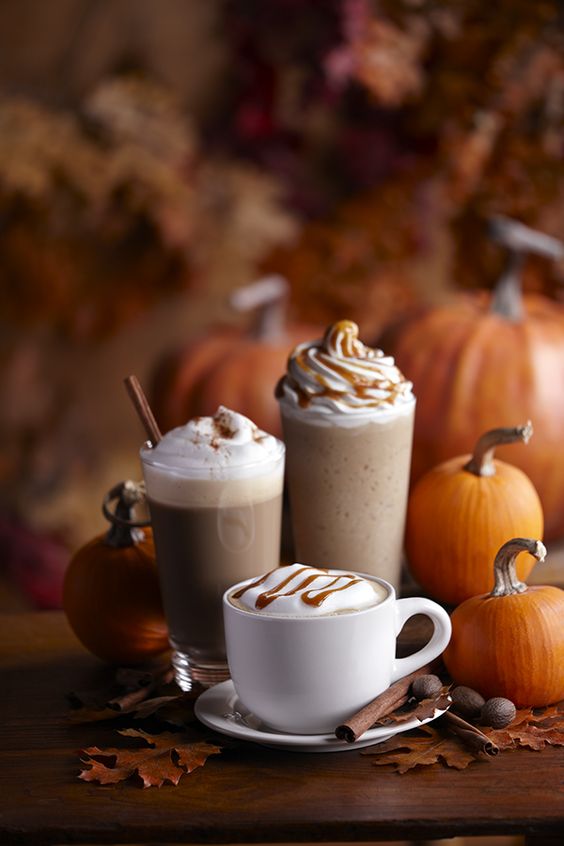 via Pinterest
Ok so who's excited to host a fall party?! It's hard not to love this season of food, friends, booze and pumpkin spiced lattes.
Question is, which party will you host?
Remember, you can easily send your party invites without leaving your PJs — to give you more time to focus on the menu or the decor or whatever else you fancy — with Postable. We'll print, address and mail your party invites for you. Easy peasy.