It seems like we were just hanging out beach side, soaking up the summer sun, but January 2019 is no doubt already knocking at our door. Time flies when you're having fun, right?! Even though it seems like 2018 has barely just made it's way into our lives, it's time yet again to wish our friends and family a happy new year! New years cards are a great way to send your friends and family your love and best wishes for all that's to come. Kick start 2019 with new years cards. Whether you're hoping to reconnect more with the ones you care about this new year or simply wish to send your love, a little new year snail mail will no doubt brighten their day (and year)!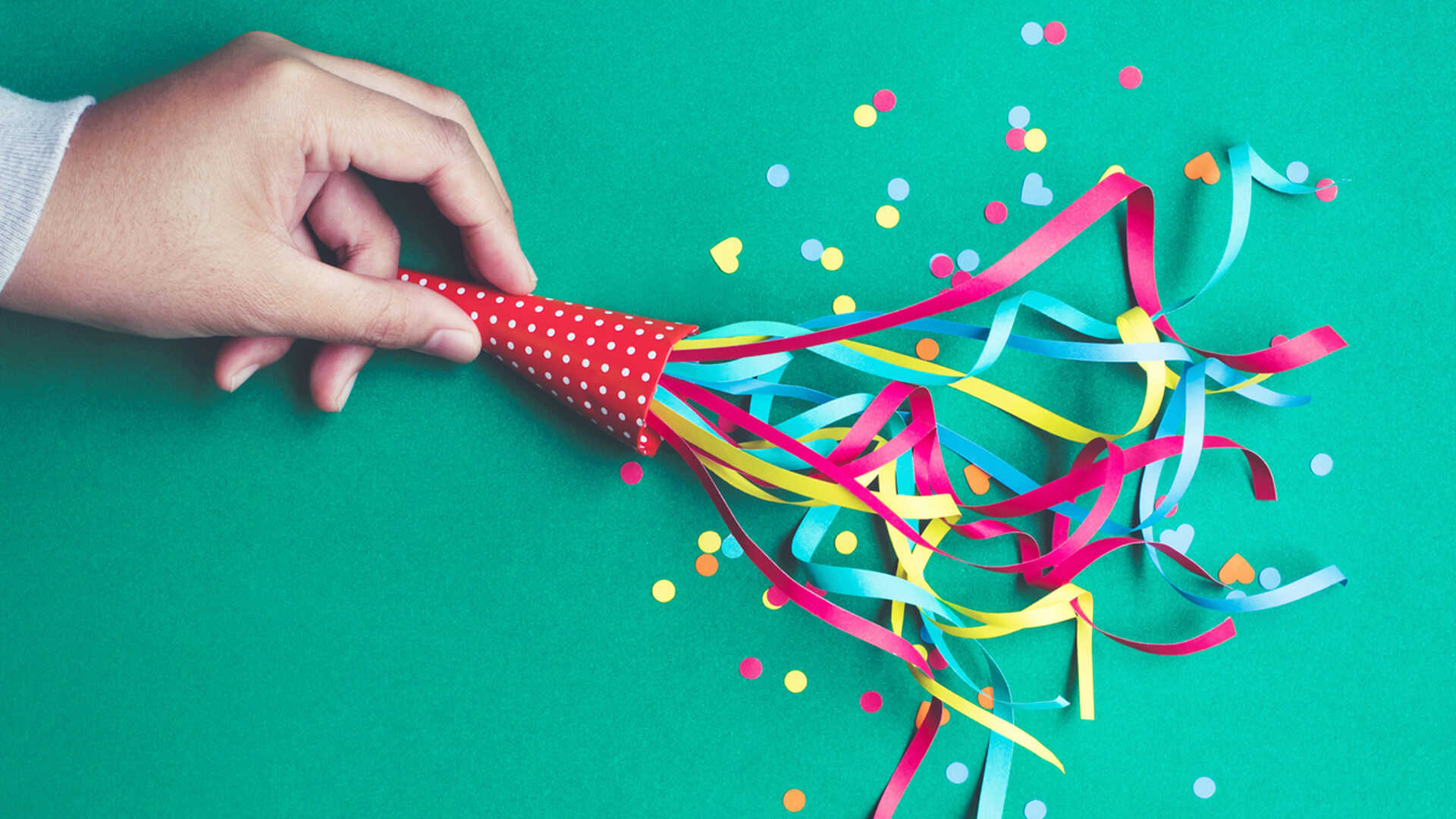 If perhaps life got in the way of your holiday cards and time slipped through your fingers, you can still send new years cards! Or maybe you were planning on mailing new years cards all along and you're right on track! Perhaps you've decided to do a double whammy this year by sending out holiday and new years cards — you always were the over achiever in the family. Whatever made you decide to mail out some love for the new year, we're totally on board. Sending New Years cards is a simple way to let your friends and family know they're in our thoughts as we begin a brand new year.
Photo New Year Cards
Did you take the perfect family photo this holiday season? Perhaps you managed to snap a few amazing shots in the blanket of the year's first snow fall. If you're hoping to share your family's newest holiday (or beach side) snap shots with your friends and family, photo new years cards are the perfect way to do just that. Use a single photo template or include multiple pictures for when you just can't choose one. And remember, you can always add more photos to the back so you don't have to make any hard choices.
1. Blue wreath New Year
This beautiful blue and green new year card by Clap Clap is a lovely way to bring some color into the new year! We love the ornate holiday wreath design element at the bottom of this card. Customize and send this card here.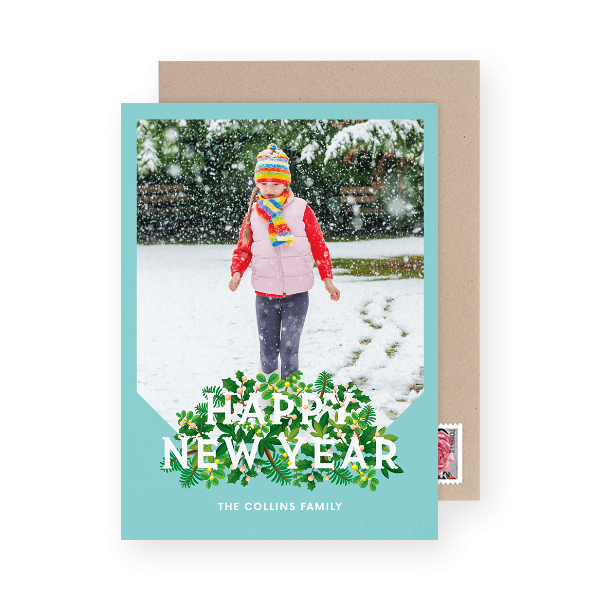 2. Red script
This new years card is both simple and ornate all at once. You can use whatever photo you'd like without worrying about any obstructive elements. The red new year script adds the perfect amount of color. Customize and send this card here.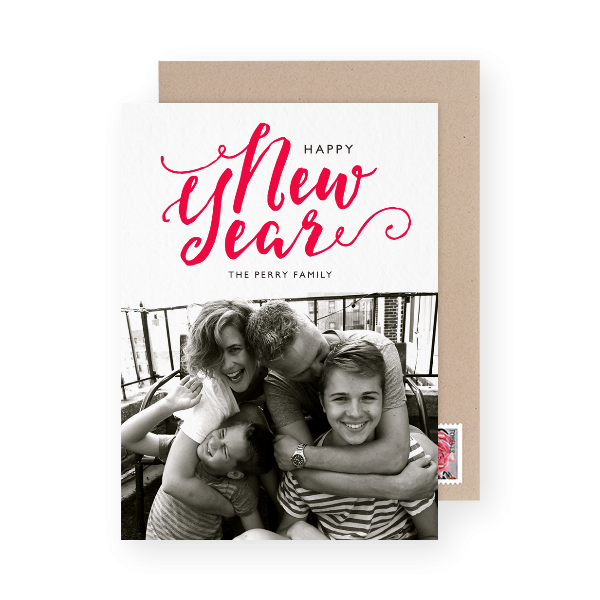 3. Bold and gold 2019
What's a new year celebration without a little gold glitter?! We love this split design with the traditional new year colors and the use of bold typography for the 2019. Customize and send this card here.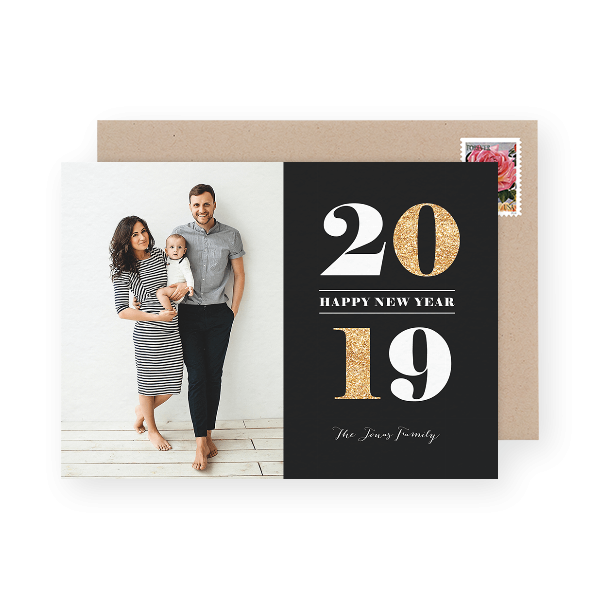 4. White 2019 overlay
We love the unique layout of this new years card design and the 2019 overlay. The little touch of red font at the bottom adds a little pop to the design. Customize and send this card here.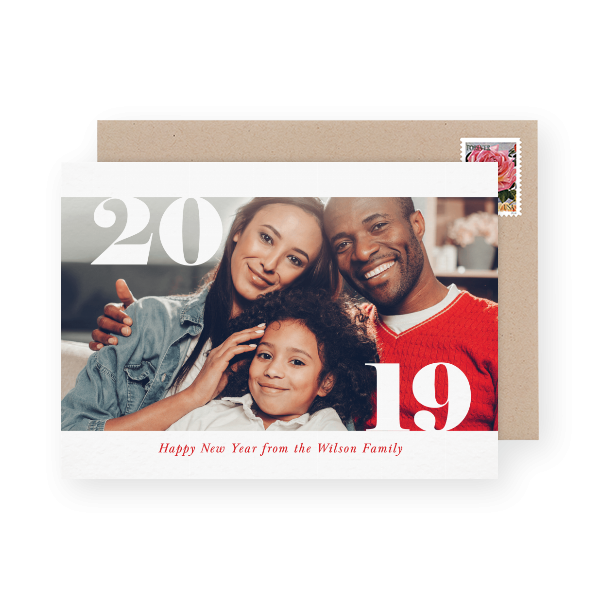 5. Gold new year
Use this template to fill up the entire space with your custom photo. We love the gold cursive font! Customize and send this card here.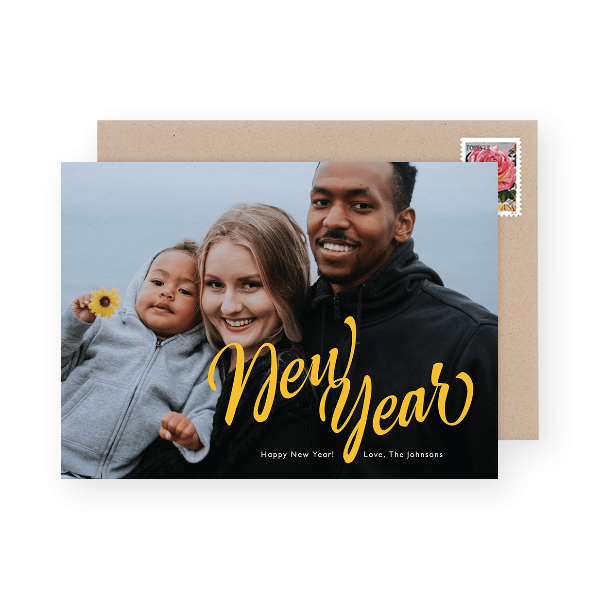 6. Happy 2019
Another full bleed photo template. Use a photo that keeps the important stuff (faces etc.) away from the top of the image. Customize and send this card here.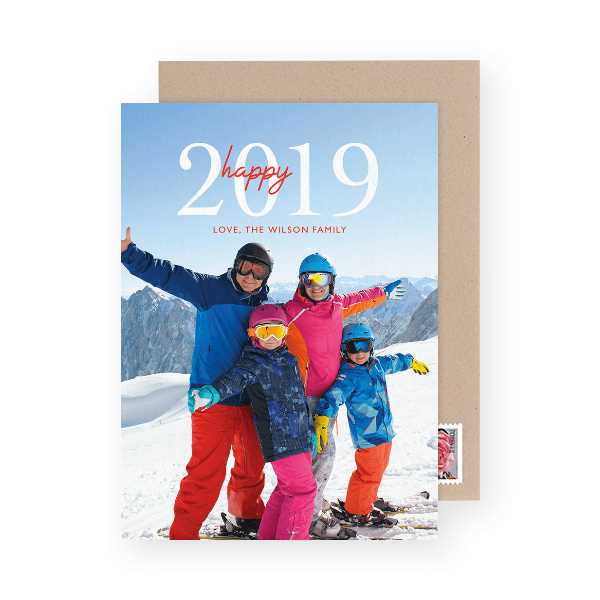 7. Multi photo cheer
Can't decide on just one photo to send along with your new years greetings? You don't have to. Use this modern new years card design and upload three different photos. Customize and send this card here.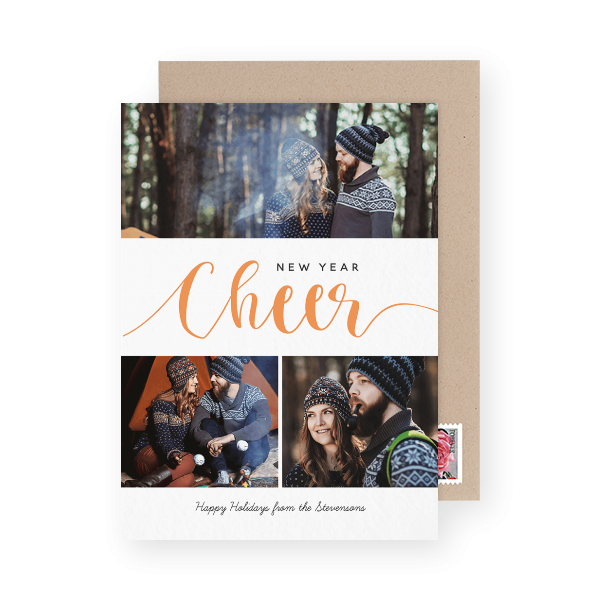 8. A Yellow 2019
Looking for something a bit funkier? This fun design has your name written all over it. Sort of, but only at the bottom. We love the bright yellow typography. Customize and send this card here.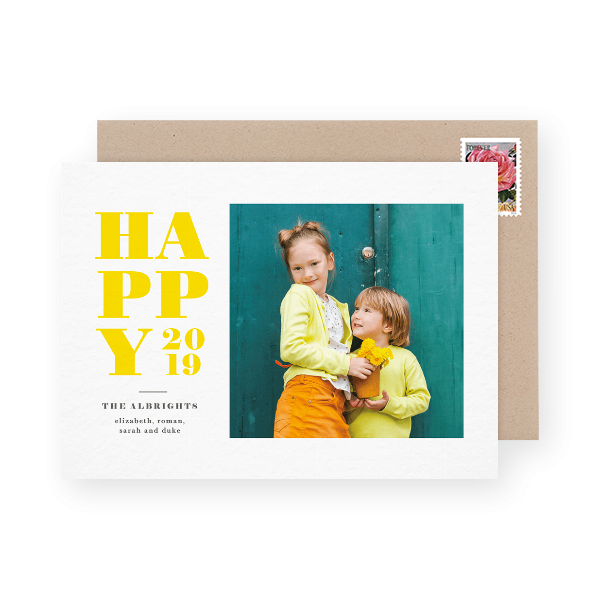 9. Gold wreath happy new year
Another delightful split design template with an adorable and simple holiday wreath. Customize and send this card here.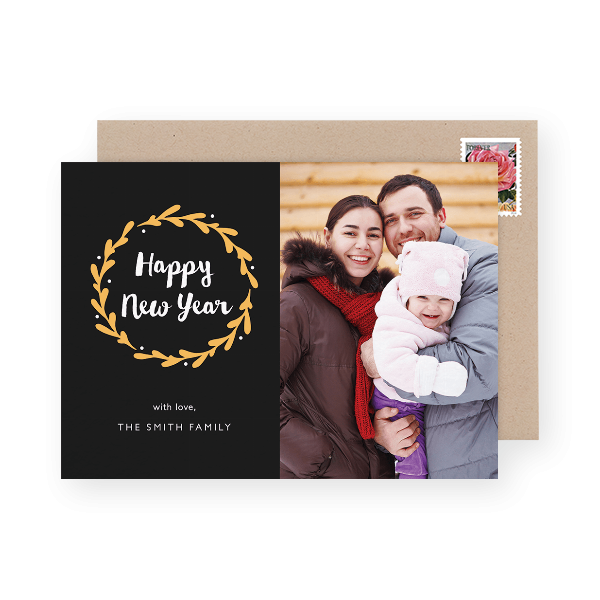 10. Balloon new year
Looking to share something a bit funkier this new years? This Fizz, Pop and clink balloon card is the perfect way to do just that. We love the use of untraditional colors — you can't really go wrong with pink! Customize and send this card here.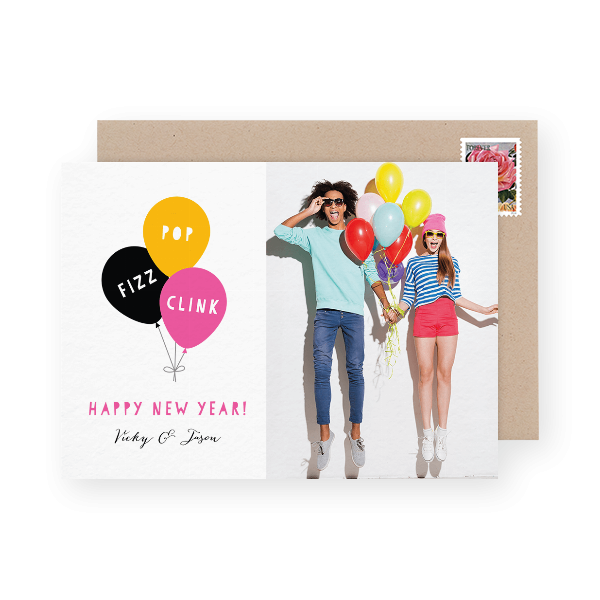 11. Confetti happy new year
Another untraditionally colorful design template perfect for passing along some joy this new years. The polka dots give the card a unique look while the simple framed custom image keeps a bit of simplicity. Customize and send this card here. 
12. Black and white cheer
Not vibing with the colorful designs? We got you. The neutral color scheme on this photo new year cheer design is classic. The charcoal color scheme would look great with a black and white photo. Customize and send this card here.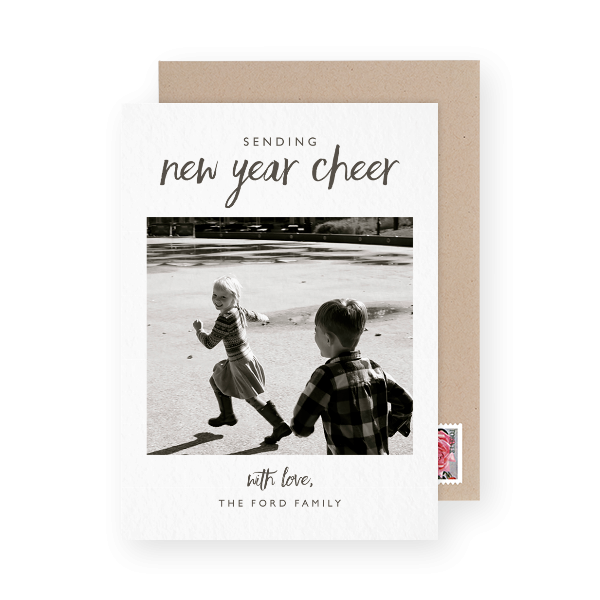 Designer New Years Cards Without Photos.
So photo templates aren't really screaming your name this year. We totally get it. A great new years card totally doesn't have to have a photo on it to send all the good vibes to everyone you love. These bewitching new years cards without photos vary greatly depending on the designer. Send your love with an amazing design and use the inside of these folded cards to write your own personal new years wishes. Tell them a joke, send them some love or simply wish them a happy new year! Whatever you decide to enter on the inside is totally up to you.
13. Peaceful New Year
We love this colorful new year design that's fun and simple all at once by the one and only Bench Pressed. The white background keeps the design elements from becoming overwhelming and the peace pun is just the icing on the cake! Write your message and send the card here.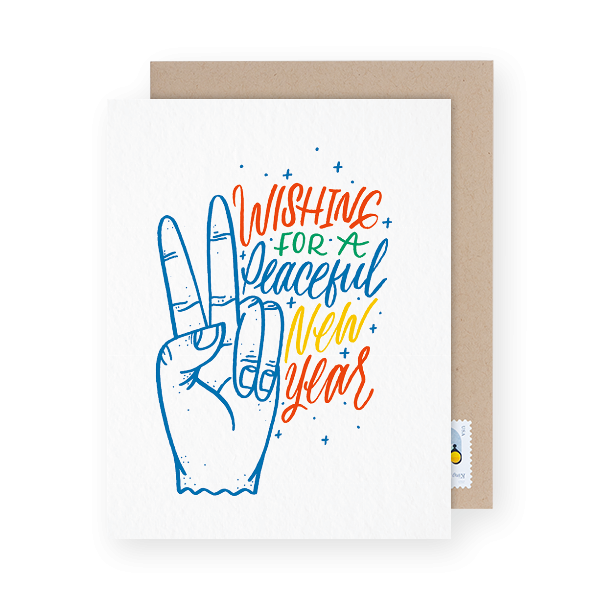 14. Our Year
Another great example of simplicity matched with a bit of colorful fun! Near Modern Disaster's iconic typography matched with this positive message will no doubt bring some serious joy to anyone on your list. Write your message and send this card here.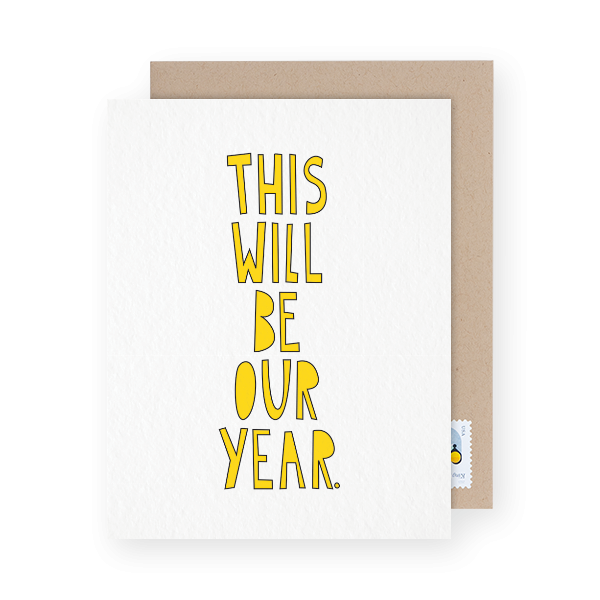 15. Loopy Happy New Year Script
Scotch & Cream is no stranger to unique typographical design and this card is no exception. The deep blue and gold colors matched with the scripted font give this design an elegance unlike any other. Write your message and send this card here.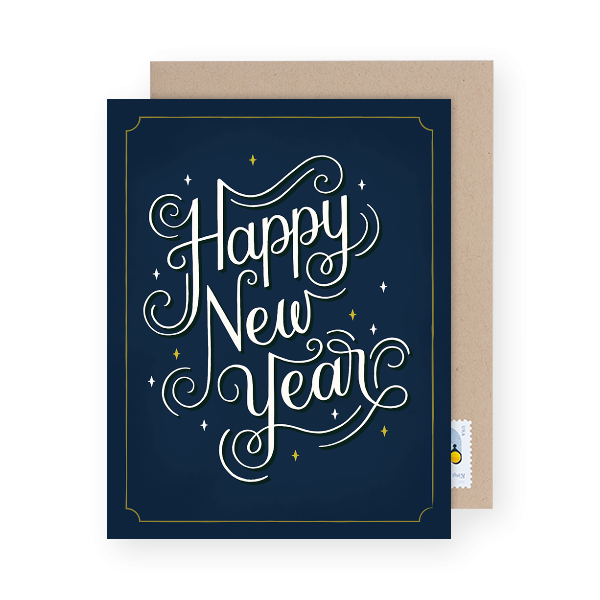 16. Gold and Black Cheers
One of Postable's newest New Years designs, this card by Shauna Lynn is bursting with playful vibes. The gold jumps out from the black background and the unique font is pure joy. Write and send this card here.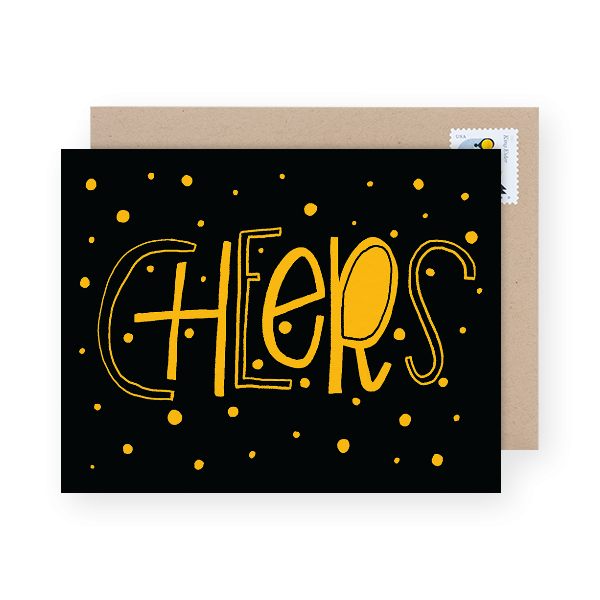 17. Grumpy Pup
You've heard of grumpy cat, but what about a grumpy pup?!? If you're really hoping to bring a smile to everyone's face, this card by Scotch & Cream will no doubt do the trick. Nobody can resist smiling at this grumpy pup illustration. Write your message and send this card here.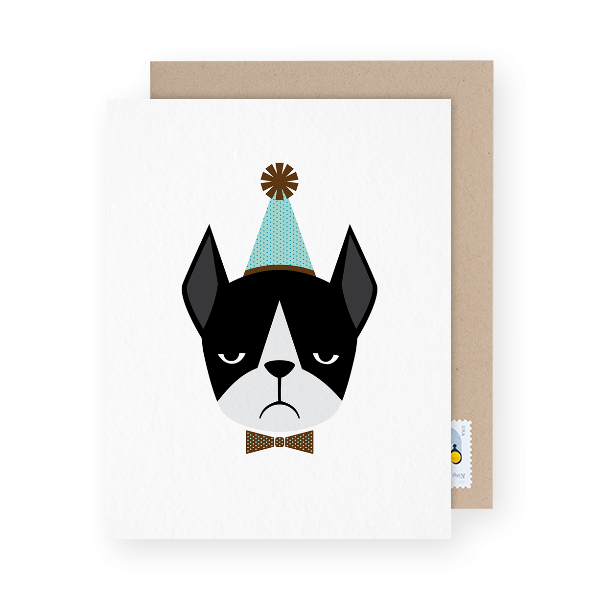 So which is it going to be? Photo or non photo? Perhaps you'll mix things up a bit and send both types to different people. Go crazy!
Want to see the entire New Years Cards collection? Check them out here.
As always, remember if you're not keen on leaving your couch to send beautiful New Years cards, Postable will mail them for you.