You've fallen in love with all of Postable's gorgeous wedding invites and birthday cards, but you've been yearning for some fabulous party invites… After all, how else are you going to get your friends to come to your epic bash? Not to worry… We've finally caught up with the times and added a bunch of amazing new party invites for you to enjoy. Did we mention we'll even mail them for you?

Here is a list of 16 of our fabulous party invites and a little unique party idea to match 🙂
Planning an elegant anniversary party? These fun (but oh so elegant) party invites can be turned into any event you might be planning.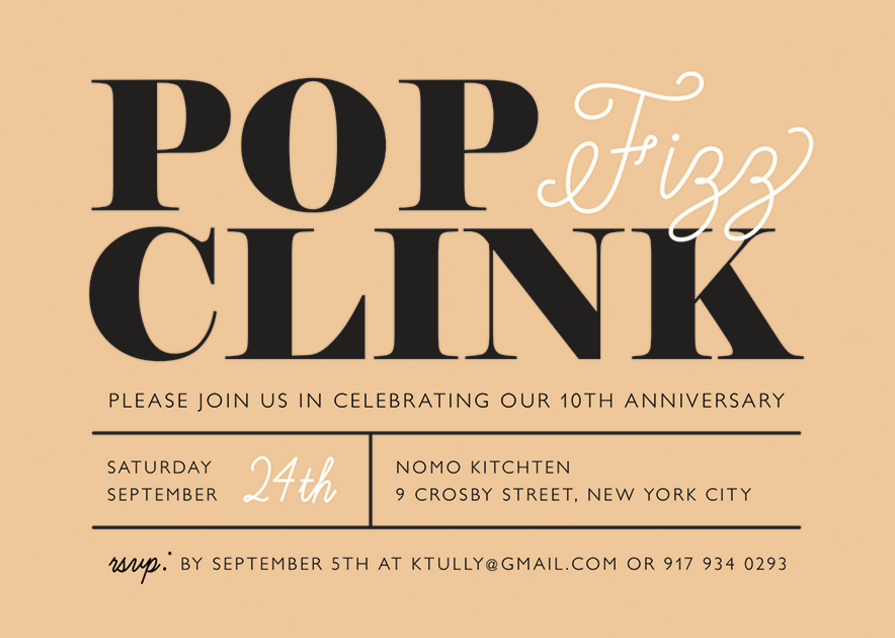 customize & mail now
This chic design goes hand-in-hand with this fun crafty gold balloon diy from diycraftopia.com.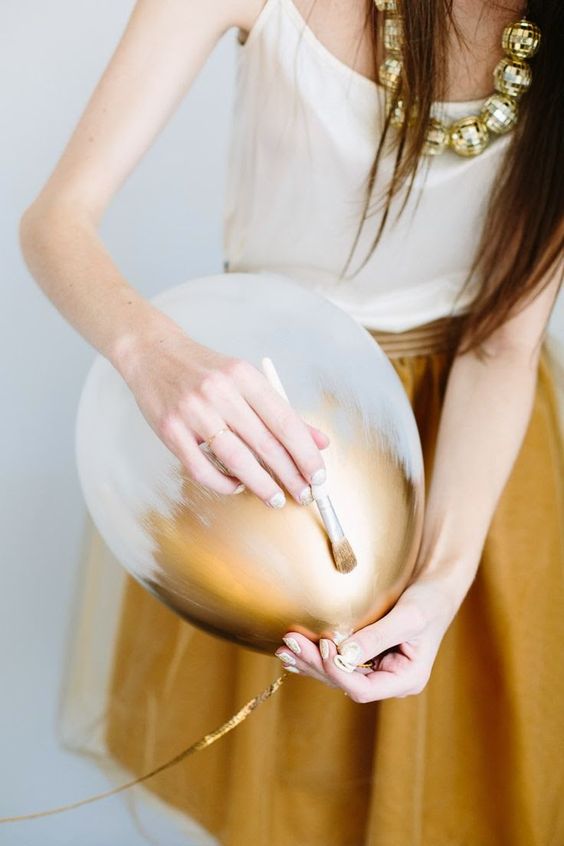 ---
A simple polka dot party invite more your style?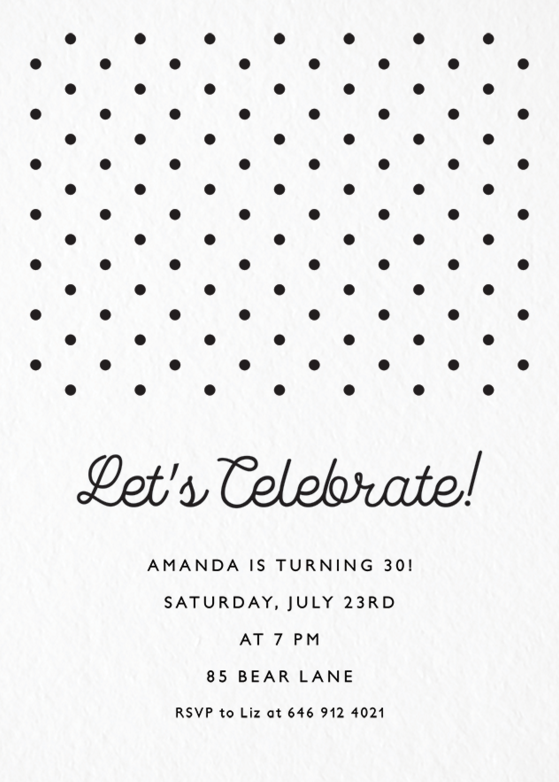 customize & mail now
Checkout these fun polka dot party hats (free printables) from polkadotchair.com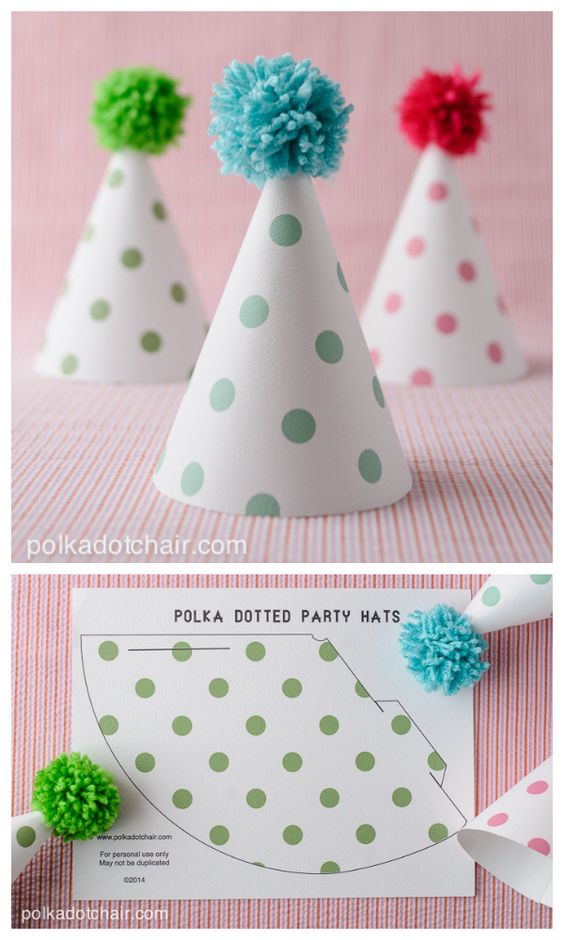 ---
Your idea of a fun party is for balloons, balloons, and more balloons. Cool. Checkout this red balloon party invite!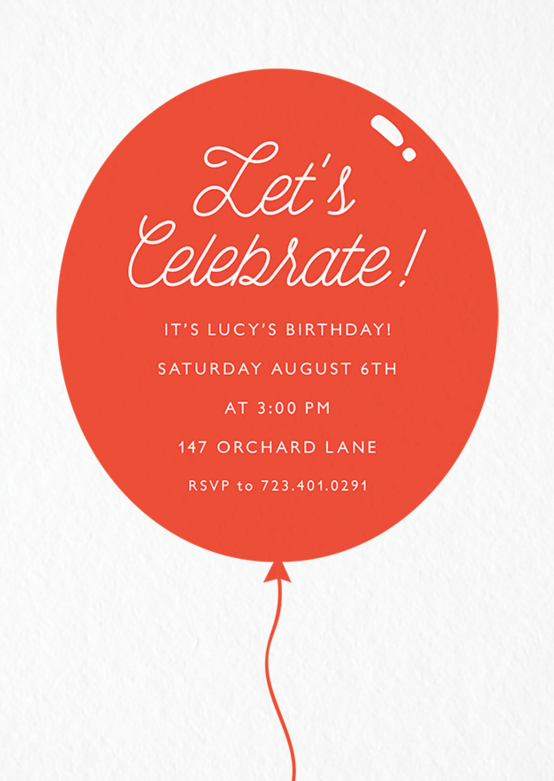 customize & mail now
A fun balloon party game idea from catchmyparty.com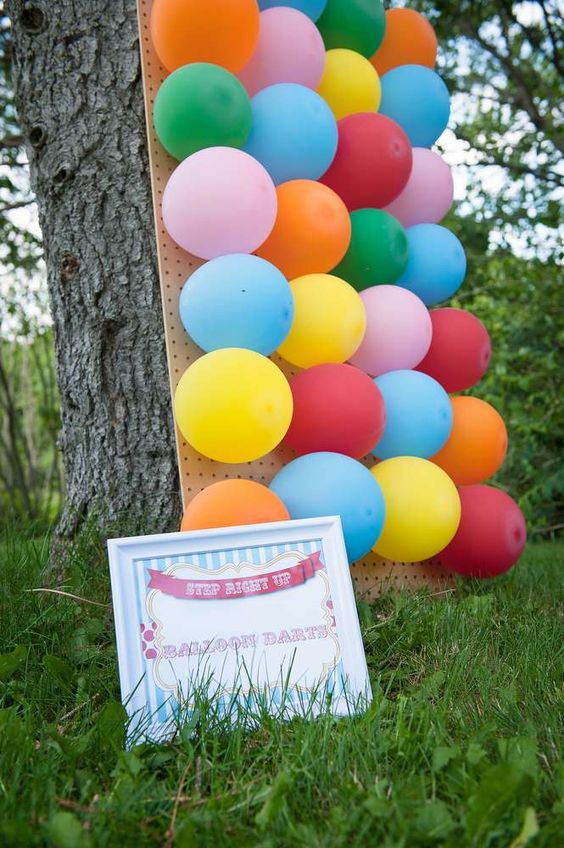 ---
Children's birthday party invites are here! Seriously though, how cute is this invite?!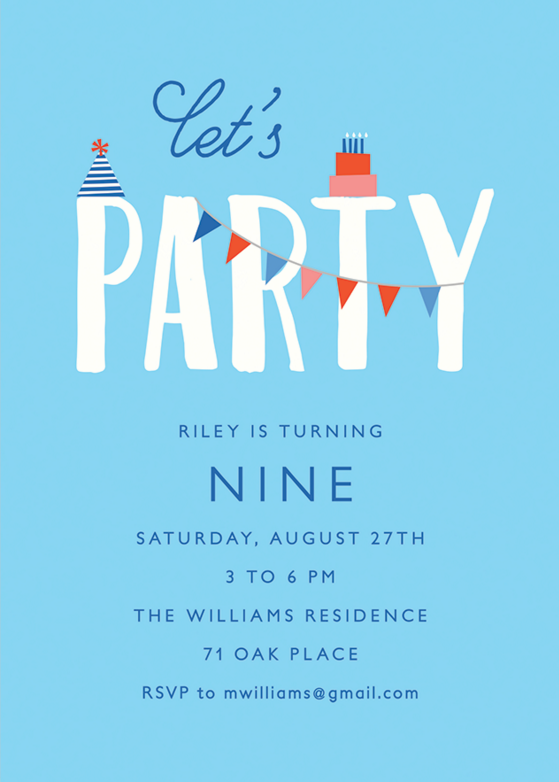 customize & mail now
Fun little candy party favor! Might come with a bit of a sugar high, but it'll be totally worth it. (from buzzfeed.com)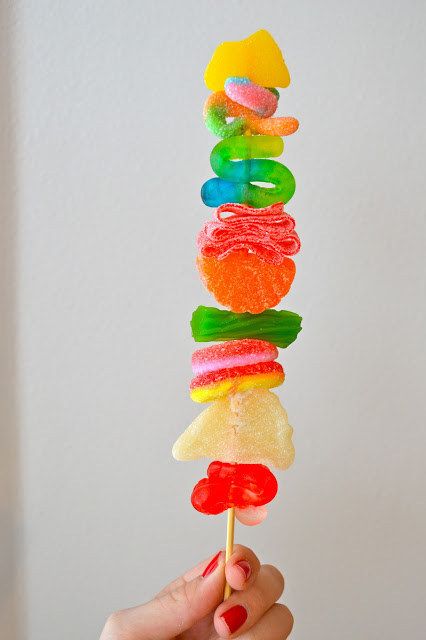 ---
What fun!? A Koala children's birthday party invite! Possibly the cutest party invite of all the party invites in the world (too much?).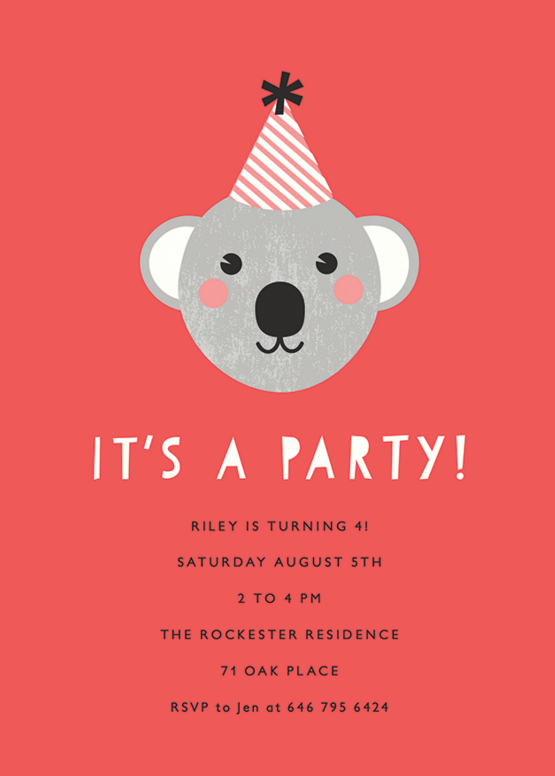 customize & mail now
No Koala themed birthday party would be complete without an adorable Koala bear cake (this one from parenting.com)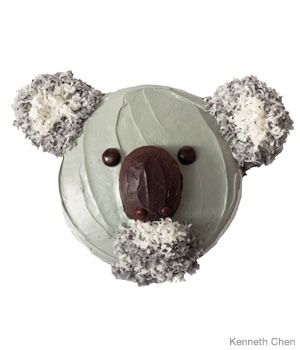 ---
Seriously, who doesn't love cupcakes? Especially at six. In fact, we're pretty sure at six you thought cupcakes could rule the world, one sprinkle at a time.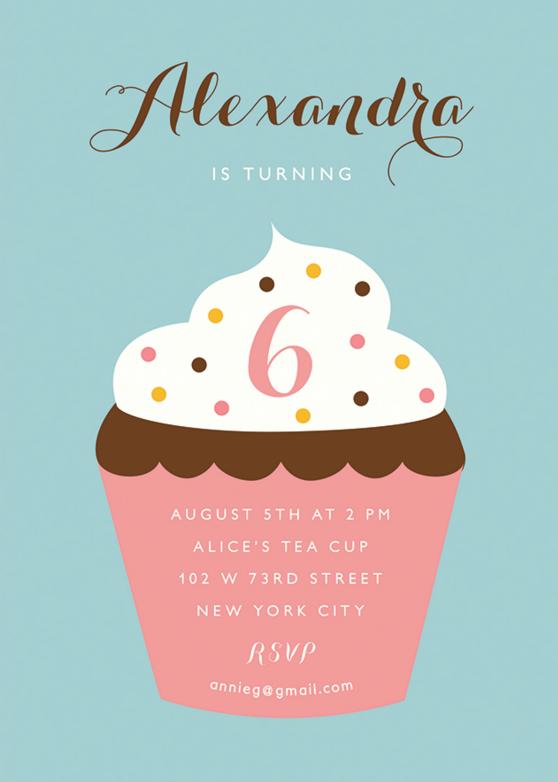 And while you're enjoying the sweet cupcake invites, why not prepare sweet bubble cupcake toppers (from jumblejoy.com).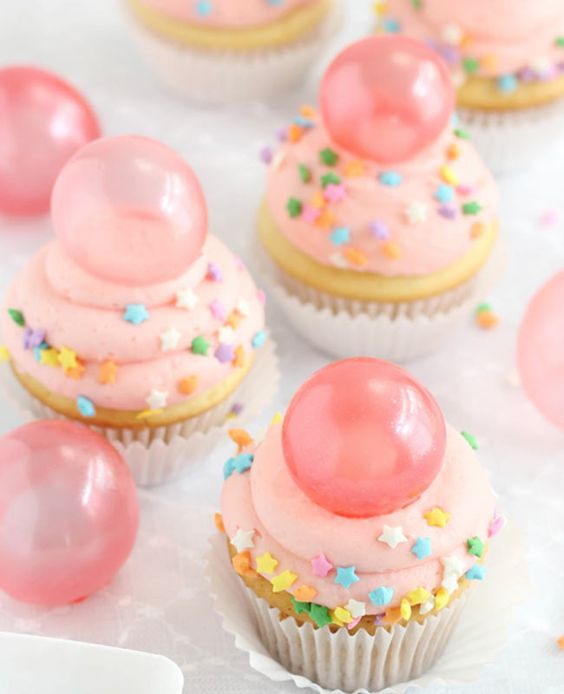 ---
Did ya choose to go with a brunch party in lieu of the all night bash? Totally awesome. You'll need a cool, calm, and totally lovely birthday party invite to go with it.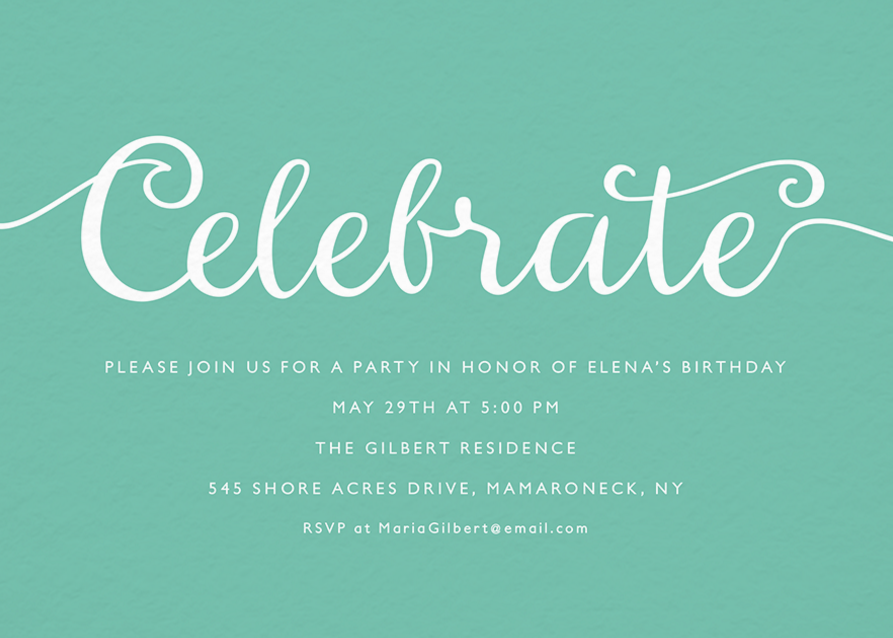 Not sure what to serve? These little pieces of heaven look amazing (probably taste even better) – from bakerbynature.com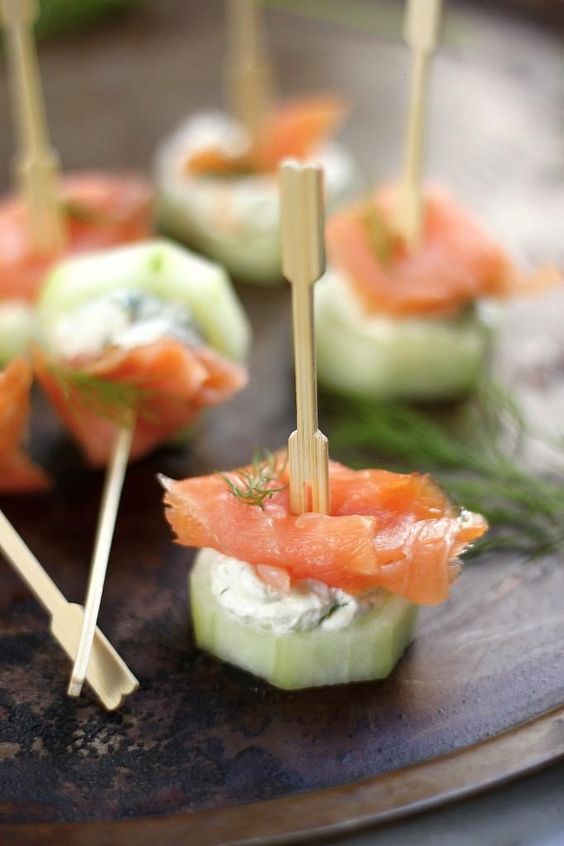 ---
Getting ready to throw a grown-ups only party with a fun theme!? Who says party hats are for kids? Not us.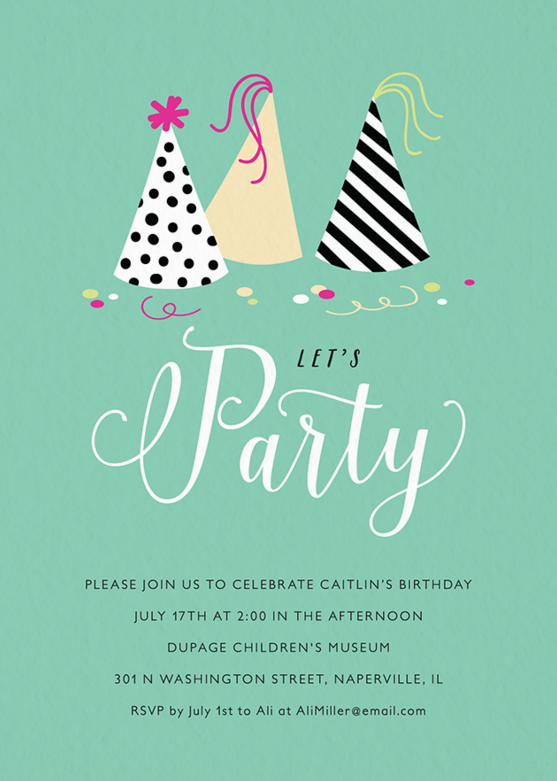 Who said your 30th birthday party has to be a drag? Check out these amazing 13 decorations for your 30th birthday party (perfect with a fun 30th birthday party invite!) – from brit.co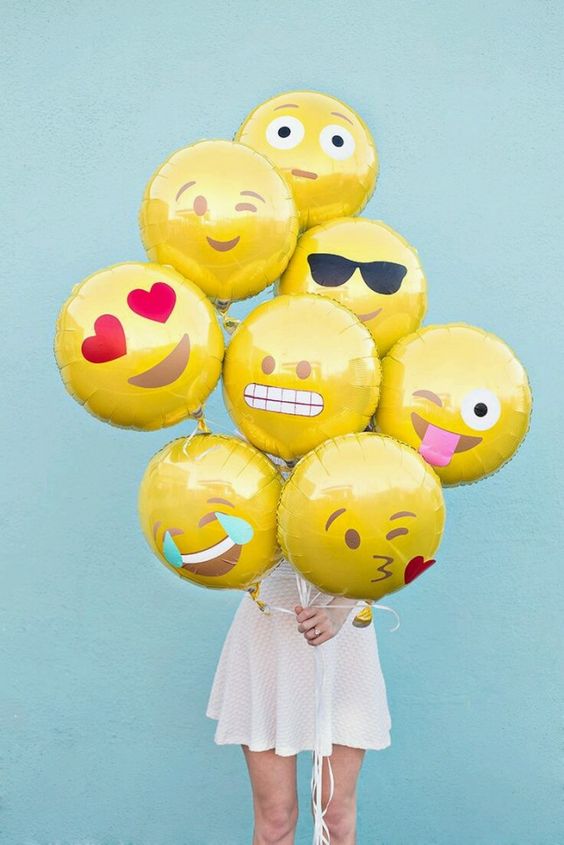 ---
Throwing a confetti-themed birthday party?! Who needs glitter, anyway?! You're going to need a confetti birthday party invite!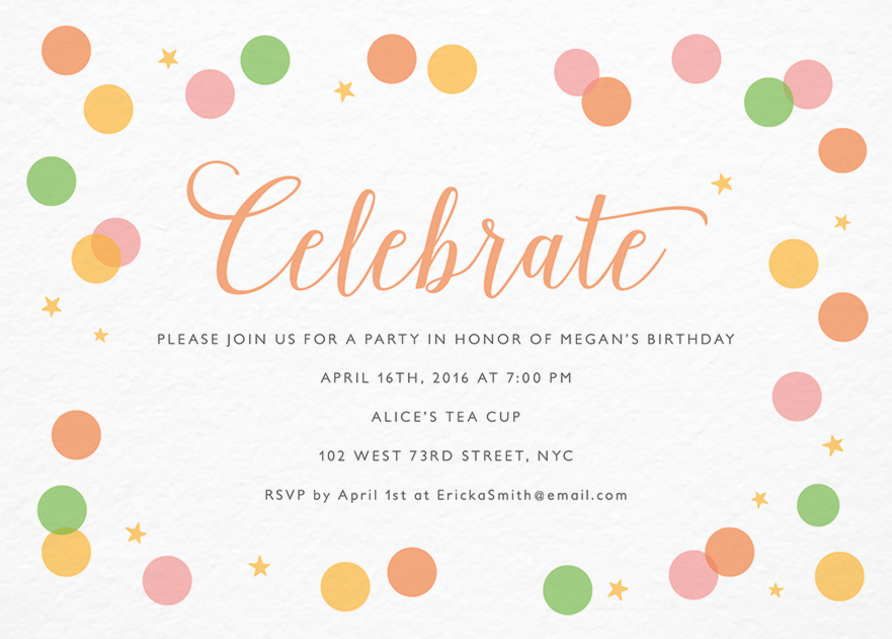 Confetti can be SO much fun, yet so elegant all at the same time. Checkout out this sprinkle & confetti birthday party from Stylemepretty.com.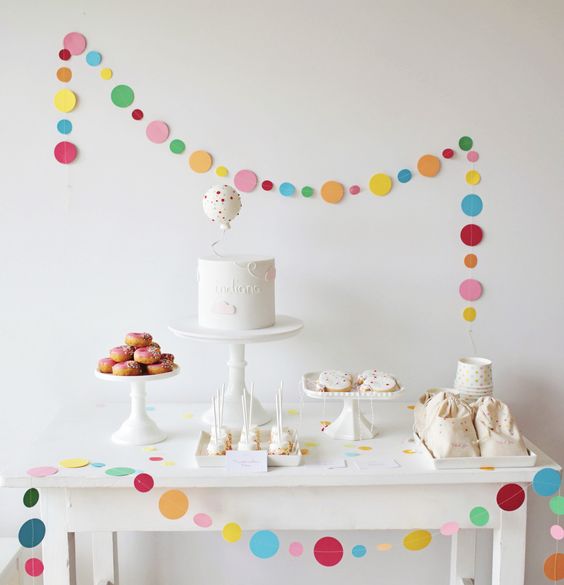 ---
If your little one is yearning for a princess party, go ahead and give them one they'll never forget (even if they don't remember… you certainly will).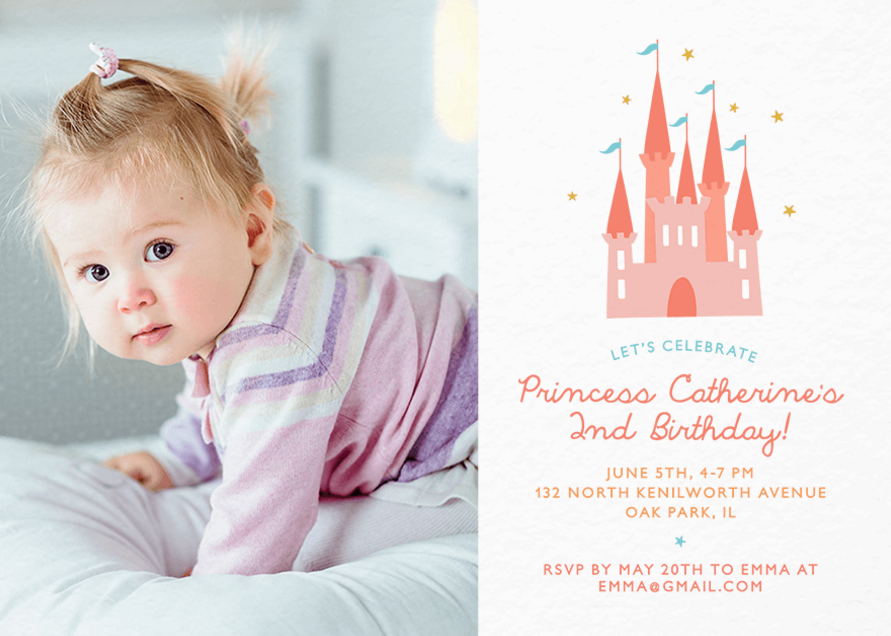 The little princess and special princess friends will definitely be needing some special glitter goblets to drink their fancy little princess drinks… don't you think? (from nestofposies-blog.com)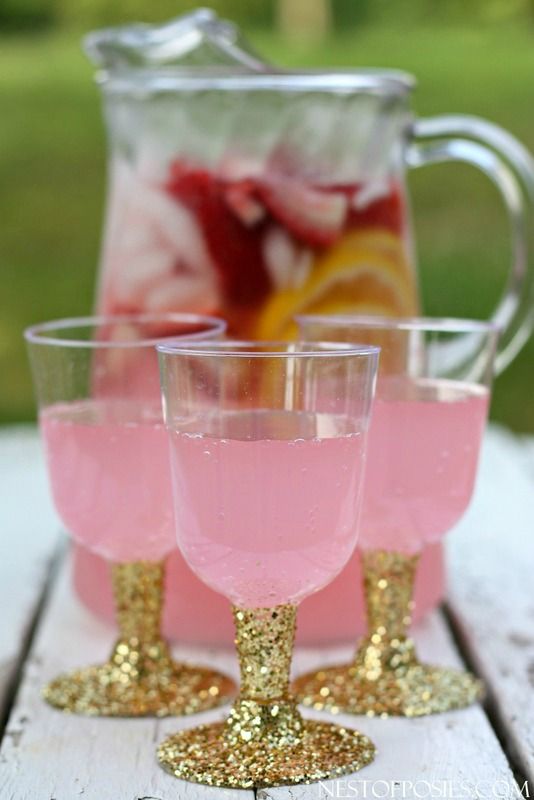 ---
A fun mermaid themed birthday party needs a fun mermaid birthday party invite to match 🙂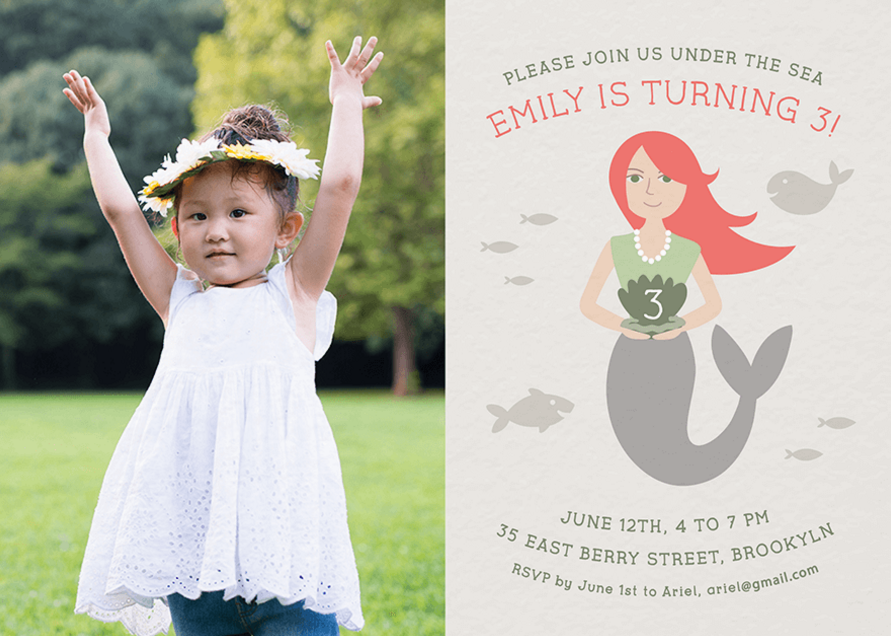 And little crab sandwiches to go with the mermaid theme… how cute?! (from allthatglittersisgold.net)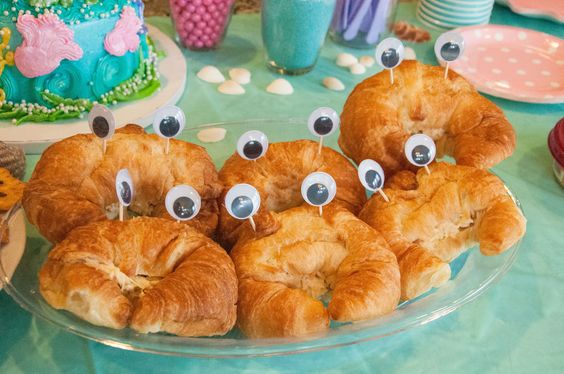 ---
A beautiful floral themed 30th birthday party invite mailed for you… what could be better?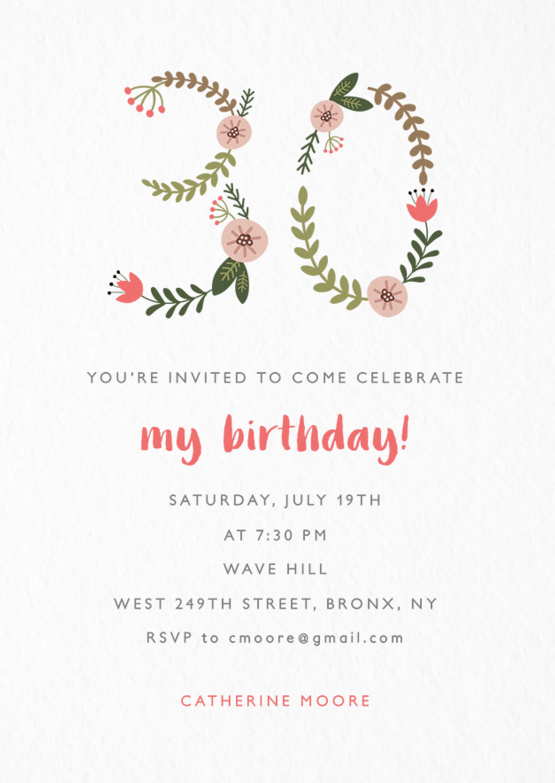 A beautiful floral crown… that's what! How Ah-mazing will you feel strutting your birthday self amongst your guests wearing this gorgeous birthday crown!? (find out how to make your own on monikahibbs.com)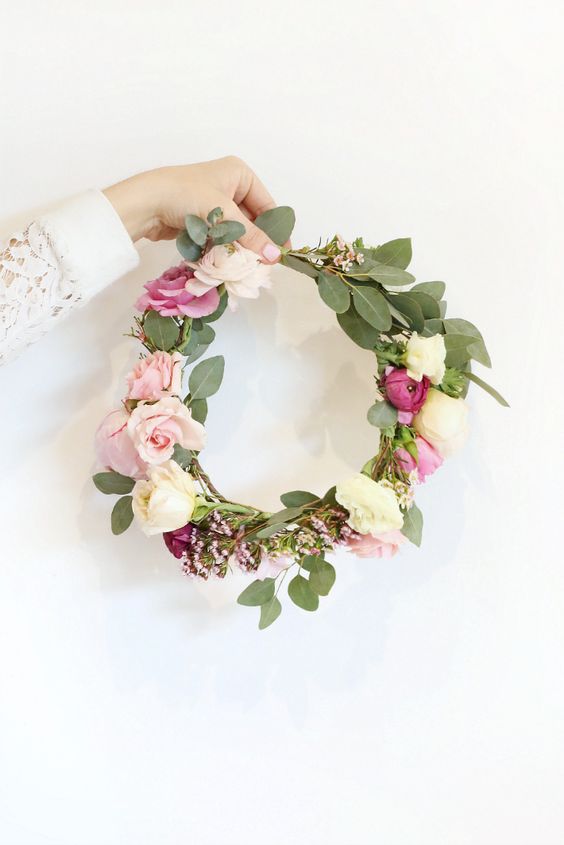 ---
Planning your first elegantly pink birthday party for your new-ly adult-self? Click and send out these lovely pink chevron party invites!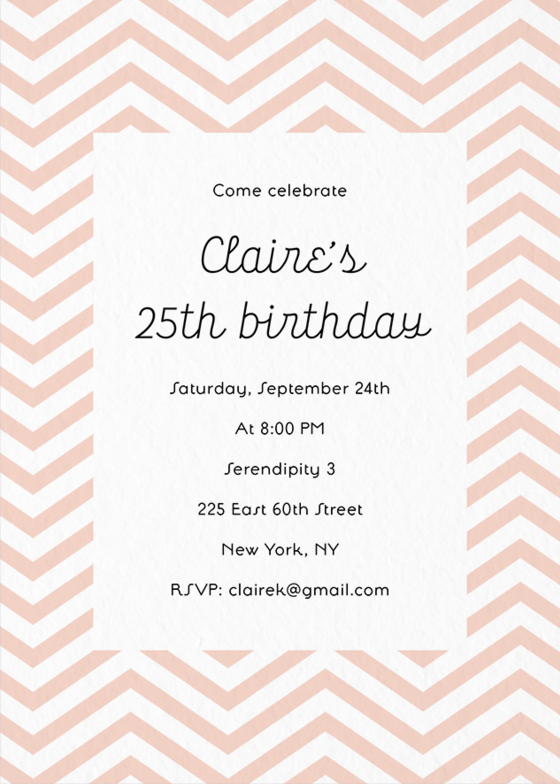 … And when you've spent all of 10 minutes sending out your birthday party invites, why not gather some perfectly pink cocktail concoctions for the big party? These rhubarb basil cocktails are screaming your name. (from thekitchn.com)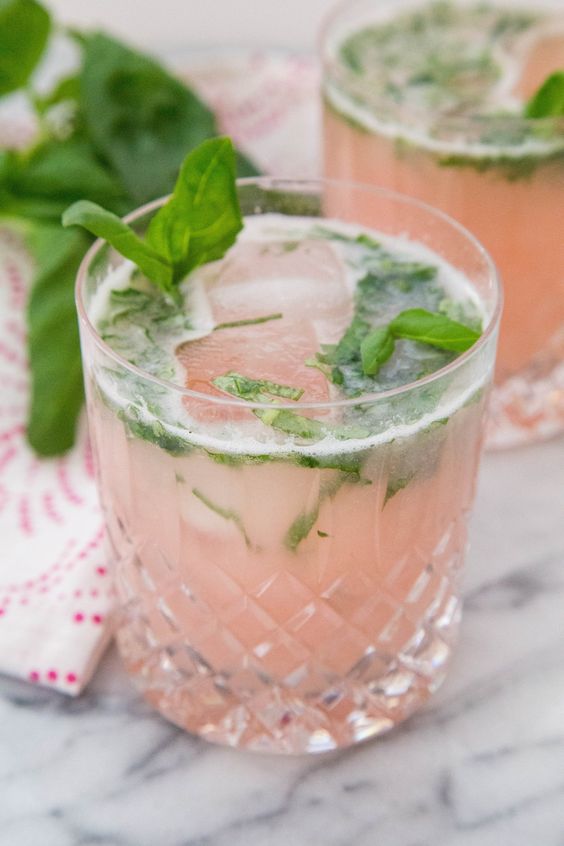 ---
Champagne and 30th birthday go hand-in-hand…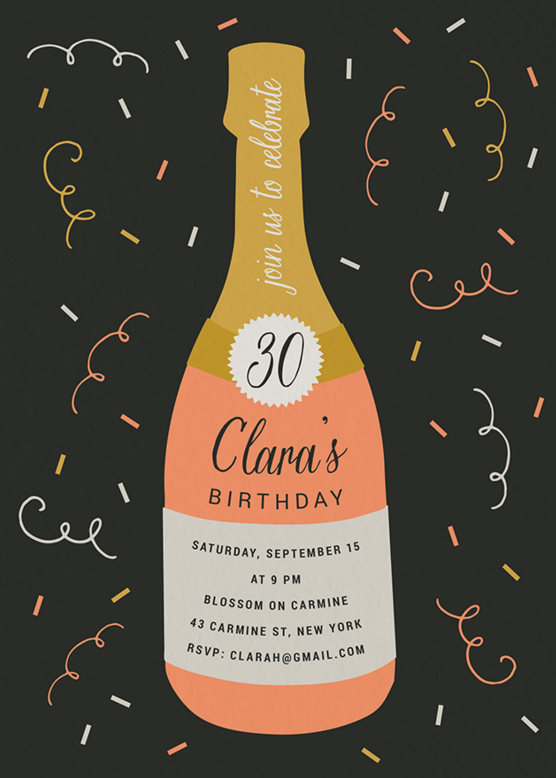 How fun are these champagne party favors?! Your guests will be floored walking away with these. (from blog.beau-coup.com)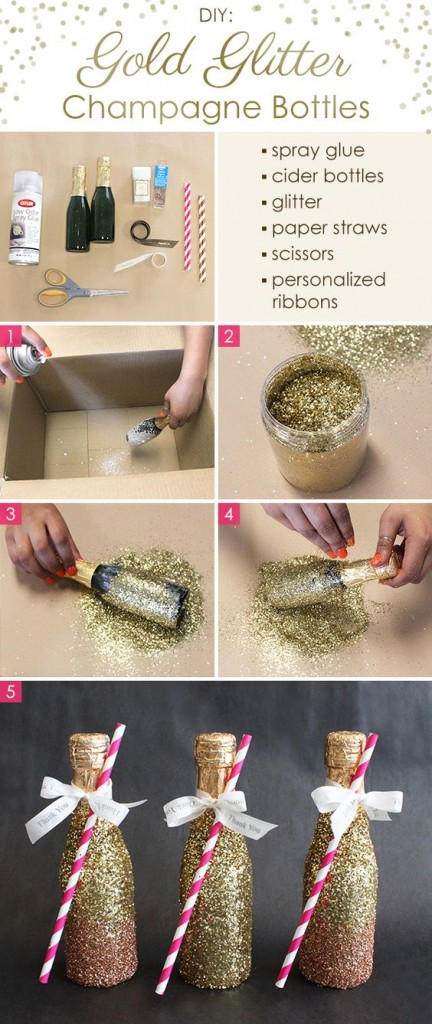 ---
Hosting your very own cocktail party? You're going to need some nice cocktail party invites!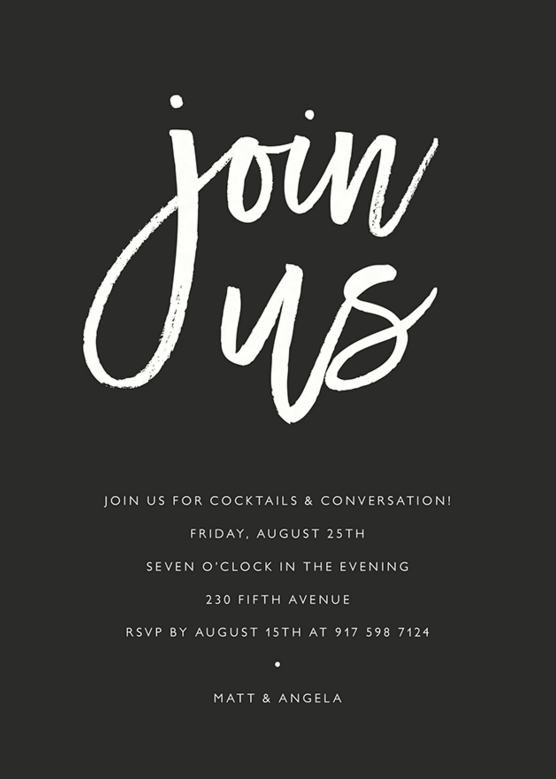 Want to make sure you throw the most epic (and chic) cocktail party ever? Check out these tips from www.bhg.com.

---
And finally, our newest wedding invite by Jessica Roux. If you're thinking of a woodland wedding theme, this invite is probably making you swoon <3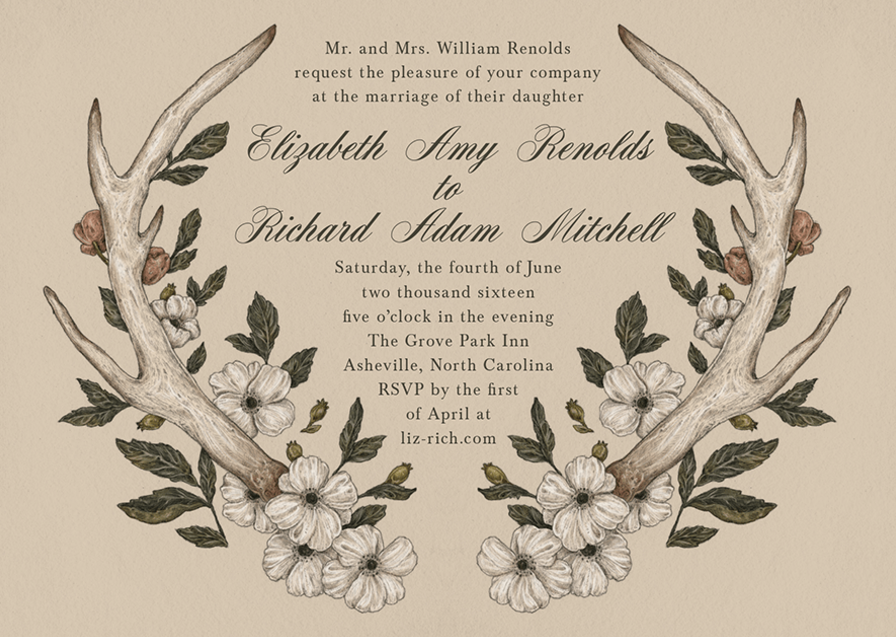 If you're looking for some woodland wedding inspiration, checkout this photo shoot and get ready to get your inspiration wheels rolling. (from chicvintagebrides.com)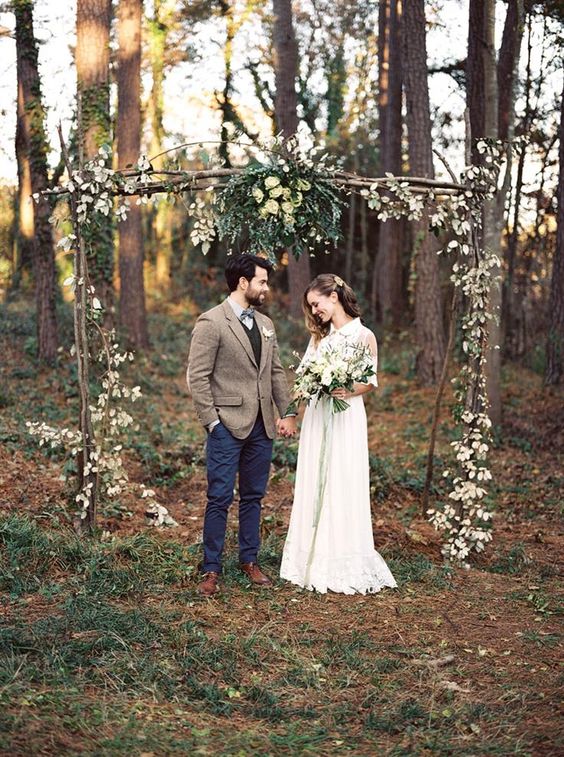 ---
Did we mention we'll mail them all out for you? Yup. Never… ever go to the post office again. We've got you covered on all the invite fronts… from wedding invites to birthday party invites and all the general party invite goodness you'll ever need.
For more party ideas checkout our Party Pinterest Board!