Wouldn't you love it if someone sent you a delightful little card just because? No specific occasion, no birthday or holiday… But just because they were thinking of you? How much would that brighten your day? A lot. That's how much. So why not be that someone?
One of the simplest random acts of kindness to mark off your daily list is to send someone you care about a just because card. No other reason than because you want to brighten someone's day. That's reason enough.
Tell them how much you love them or that you appreciate their existence. Express your gratitude towards their typical supportive behavior. Wish them good luck on their big presentation or simply tell them to keep killing it!
Whatever reason you choose — just make it something you can express with sincerity.
You don't have to make the message long — short and sweet always wins the day. All you need to do is make it sincere. Keep the cheese for your belly and write from the heart. Though cheesy puns can totally come from the heart too.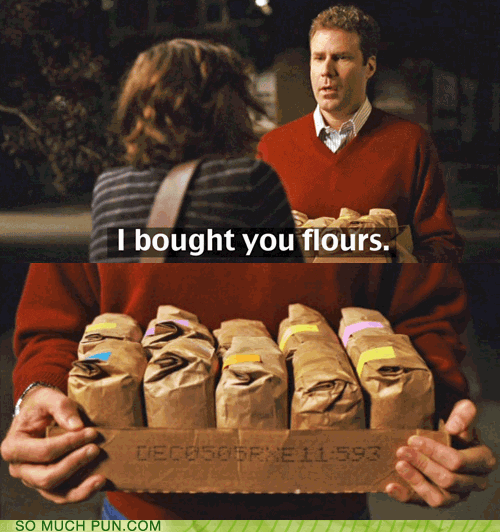 1. You are magical.
If you want to brighten someone's day — tell them how magical they are. In this case, about as magical as a mermaid… Which is REALLY magical. Go ahead, tell them all about it and send this card here.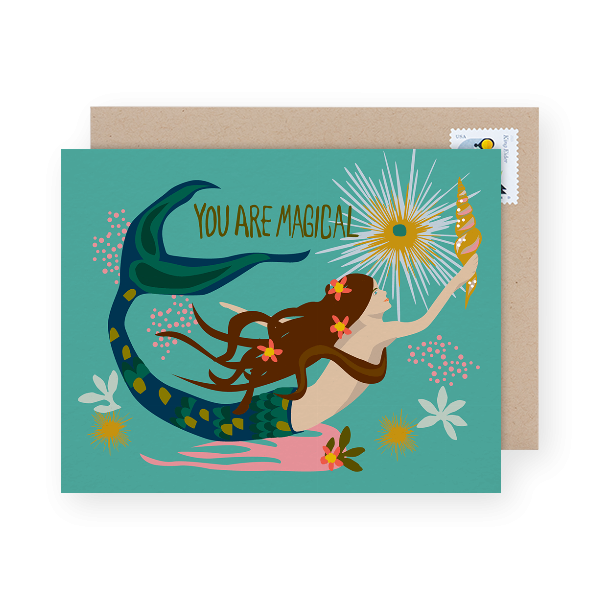 2. Cats on cats on cats.
Have a friend who likes cats? This card is kind of a no brainer. Send it here.
[Also, see this list of Cat Greeting Cards]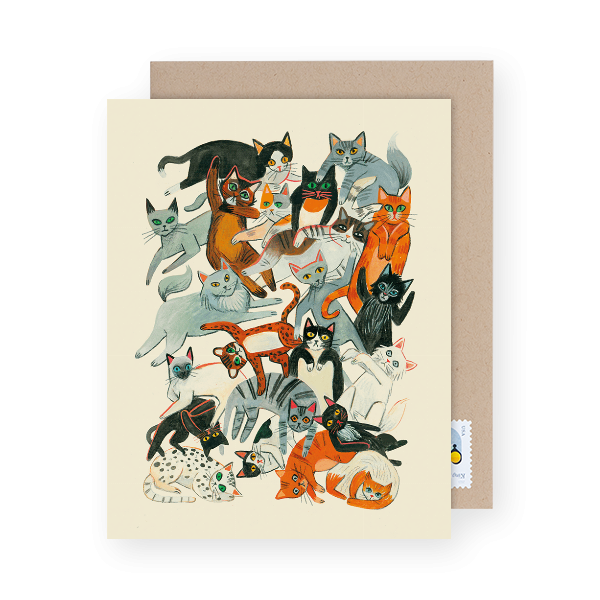 3. Doggie hello.
Perhaps your friends are more of the dog-loving kind. In that case — this hello doggie card will bring so much light they won't be able to see! Just look at how bright and colorful this design is! Send this card here.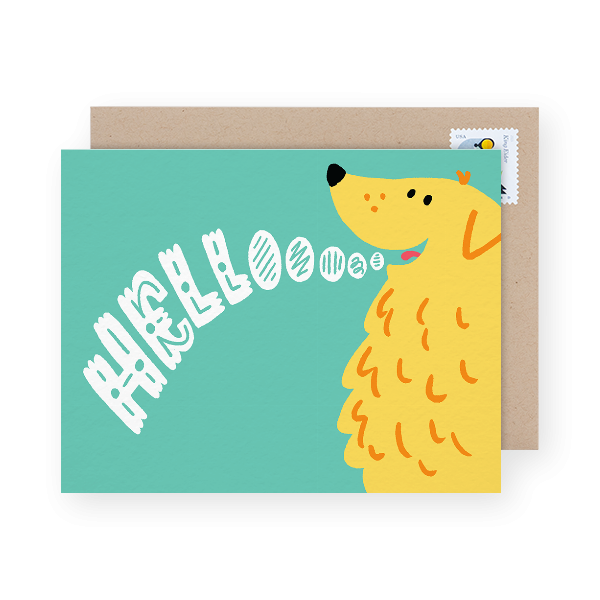 4. Hey hi hello.
How stinkin' cute?! Send this card to just about anyone you know and wait for them to sparkle with glee here.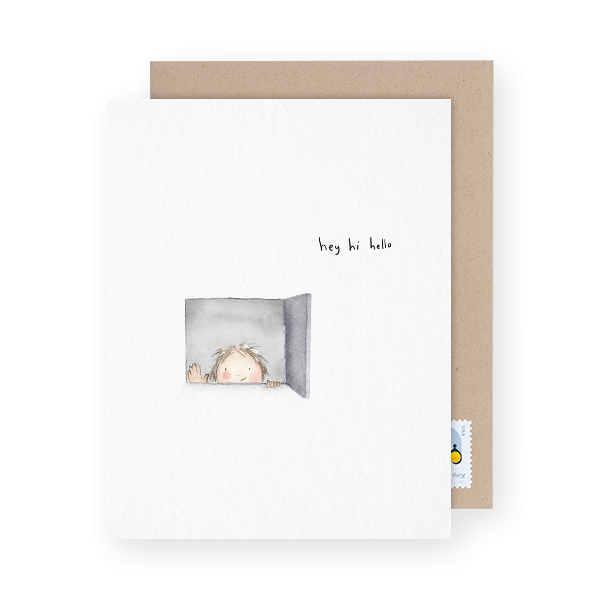 5. Best taste in everything award.
Want to cheer someone up? This card by Ashkahn will do the trick. Maybe include some details within the card about all the things your friend has good taste in and send it here.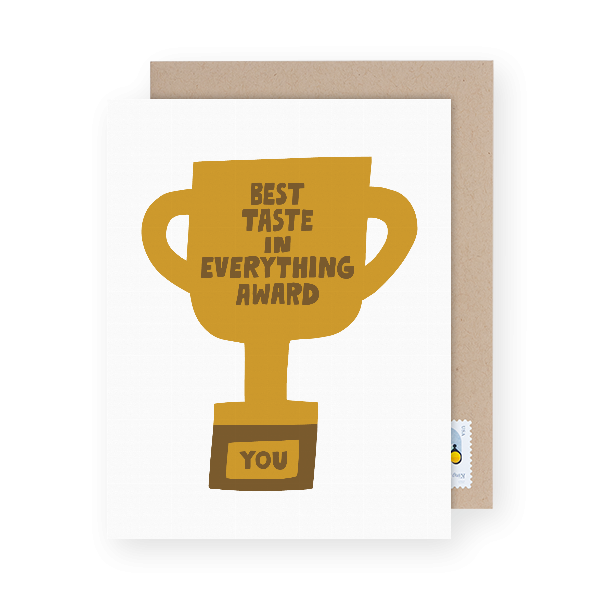 6. High fives all around!
Sometimes you just need a high five, you know?! Why not give your friend some encouragement… Who knows what hurdles they'll be overcoming the day they get this card. Write your personal message and send this card here.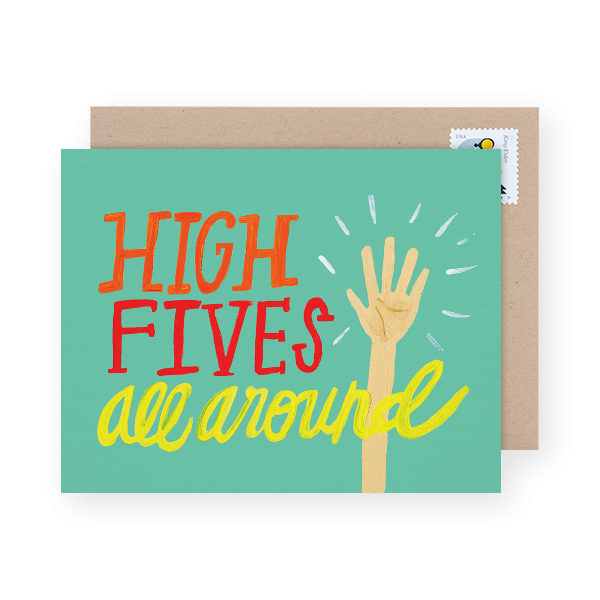 7. Let's hang.
Maybe you haven't seen your buddy in a while? Why not reach out with a delightful little card like this one by Hello Paper Co. and opt out of the boring text? Suggest some fun plans and send this card here.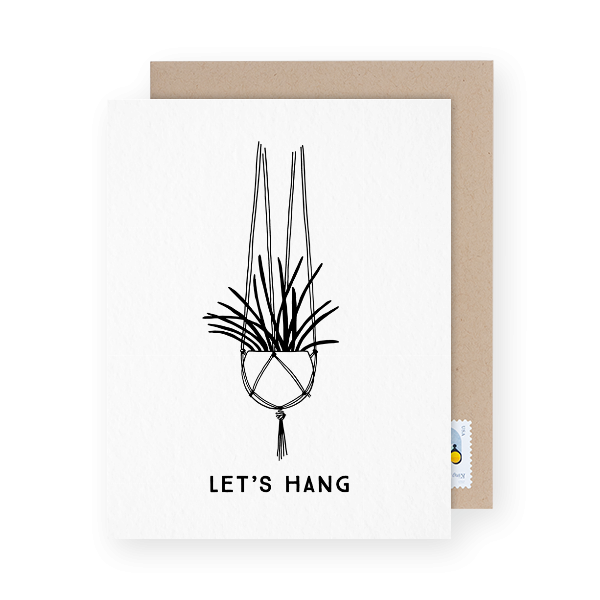 8. You're the shit.
Well if there ever was a card to bring a smile on someone's face… This one is it. Perhaps grandma isn't the ideal recipient. Unless grandma is totally cool and has your sense of humor. Then, totally go ahead and send it to grandma. Whoever you choose, tell em' why they're the shit and send this card here.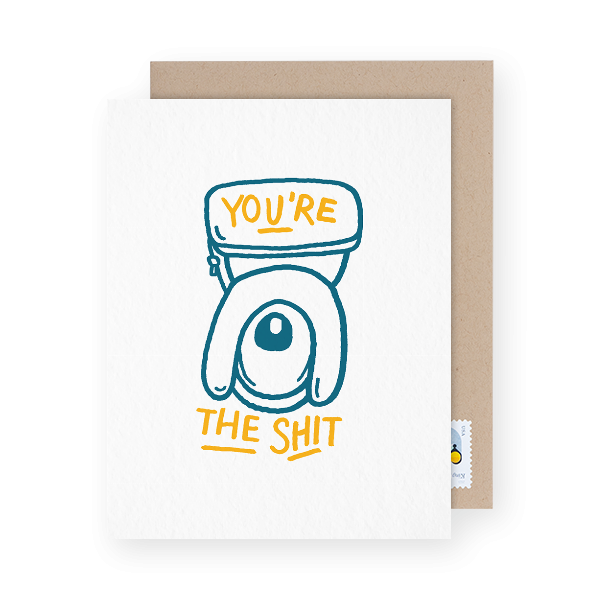 9. I miss your face.
Sweet. Simple. Straight to the point. Tell them why you miss them and send this card here.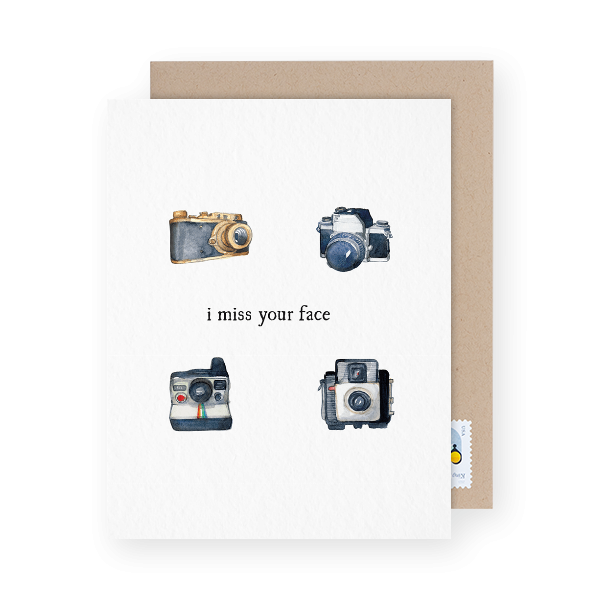 10. SO glad you exist.
We all have that one person (or two… or three if we're lucky) that we're so incredibly glad to have in our lives. Be sure you tell them and send this card here.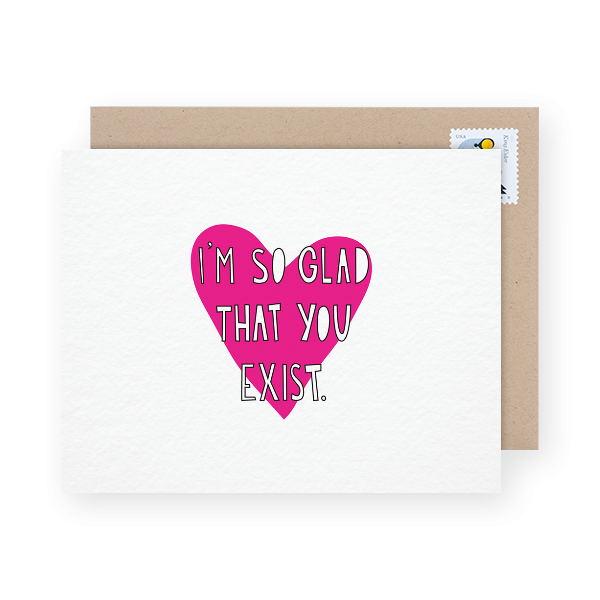 11. Super lost without you.
Even if you're lost most of the time anyway… Write your personal message and send this card here.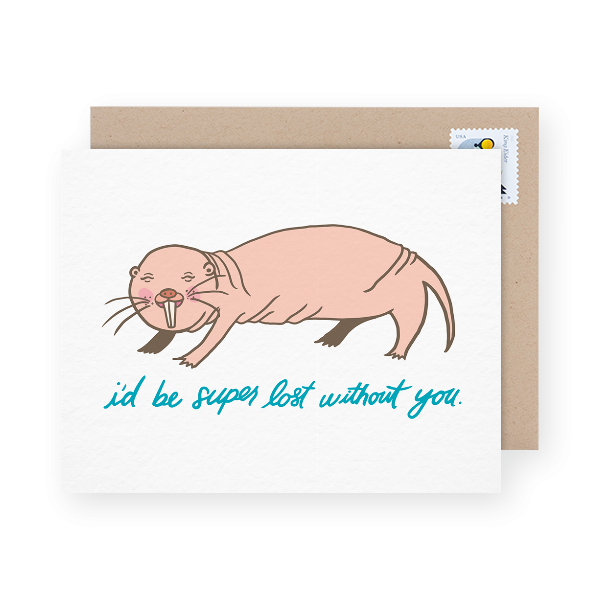 12. There's you… then there's everyone else.
Because the rest of the world sometimes (or always) sucks. Write your personal message and send this card here.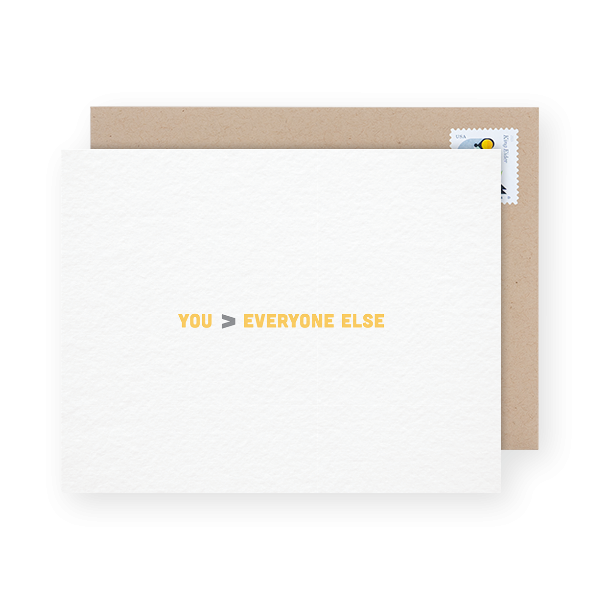 13. I appreciate you.
A super simple way to brighten someone's day? Let them know they're appreciated. Sometimes that's all we want to hear. Send this card here.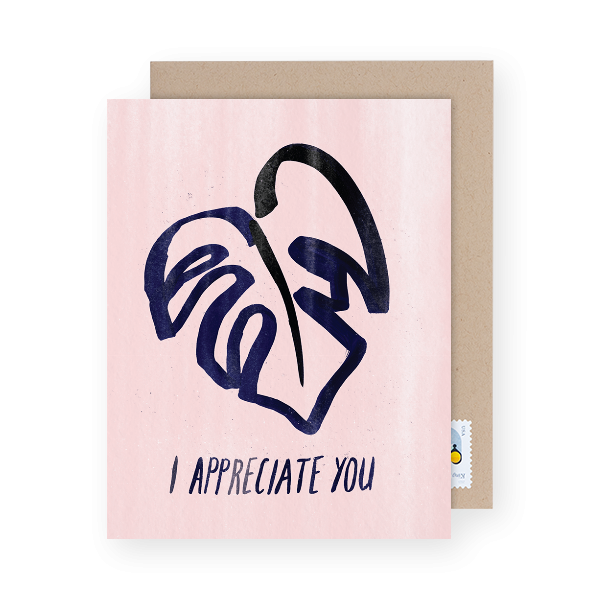 14. You make me a happy camper.
For when you want to make an analogy (or pun) that really hits home for the outdoorsy types. Send this card here.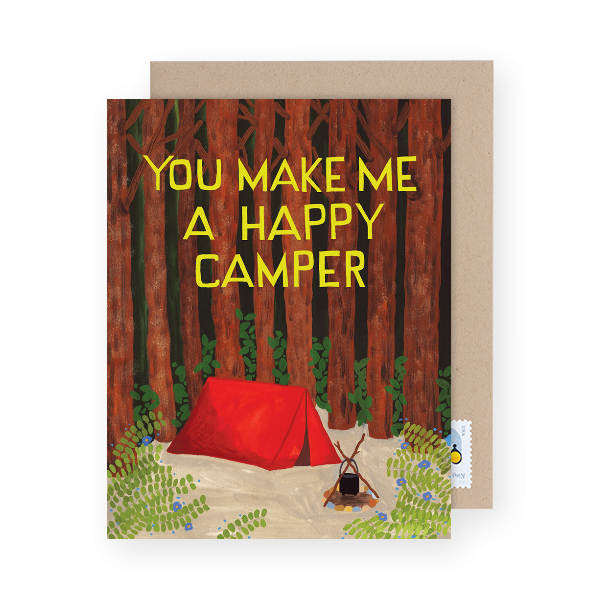 15. GIRLS NIGHT!!!
A little invite for a girls night might be just what your friend needs that day. Send this card here.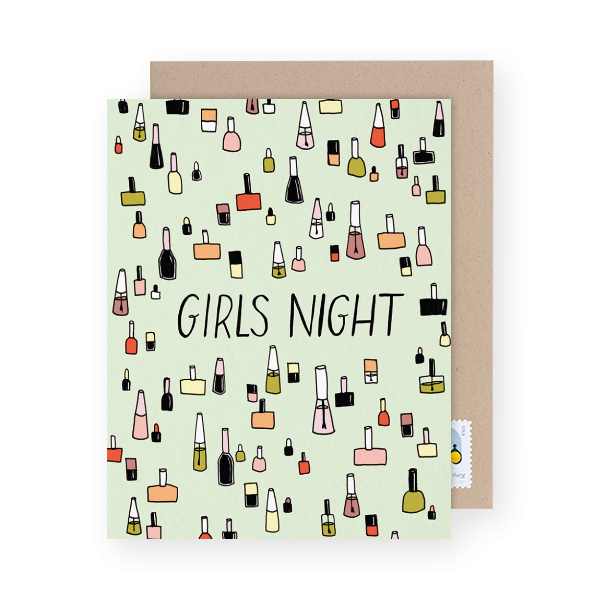 16. YAY!
For when there are just no words. YAY! Send this card here.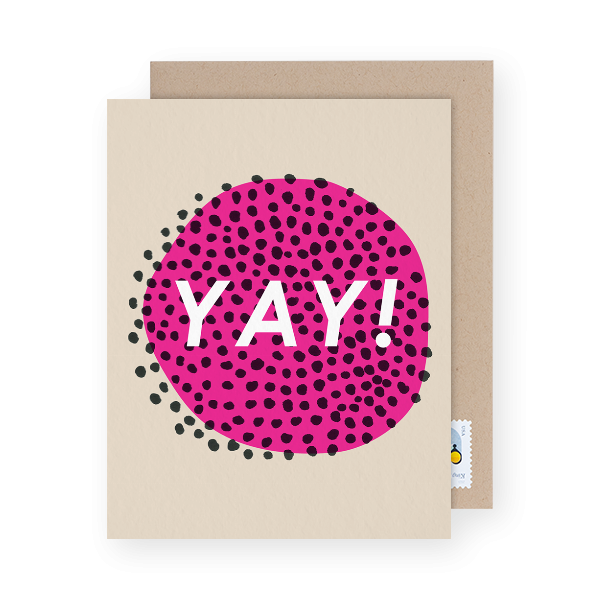 17. Our friendship is organic.
What exactly is an organic friendship? We're not entirely sure, but perhaps this delightful just because card would be perfect for your farmer's market buddy. Send this card here.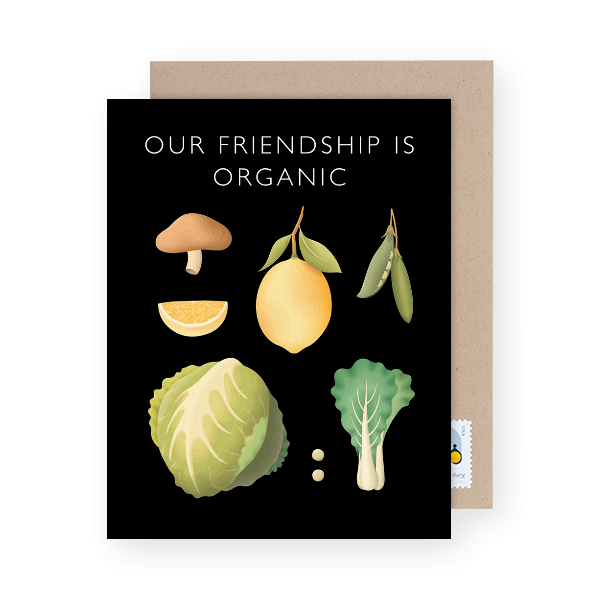 18. Still together.
For the best of drinking buddies. You've been through some things together so you understand them like no one else. Send this card here.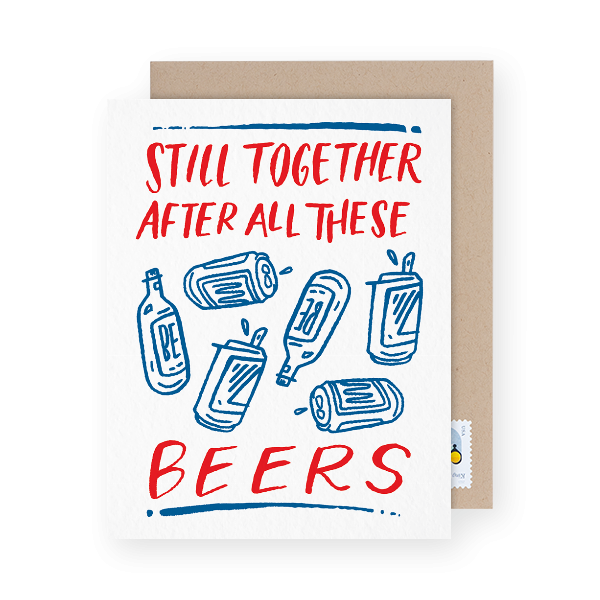 19. Alpaca crown.
Because who wouldn't smile after looking at this delightful illustration? Send it to that friend that needs a reminder of how much of a queen they are. Send this card here.