Getting excited about an amazing family photo is no small feat. Capturing the perfect moment for photo holiday cards is kind of a big deal and you're feeling extra proud this year because your family finally did it! You got the perfect family holiday photo and you're stoked to share it with the world on this year's photo holiday cards. We don't blame you. We'd be pretty stoked too if we managed the same feat. Congrats! The hard work is done — you've got yourself a stellar family photo that will make for the perfect card this season. Now the fun begins!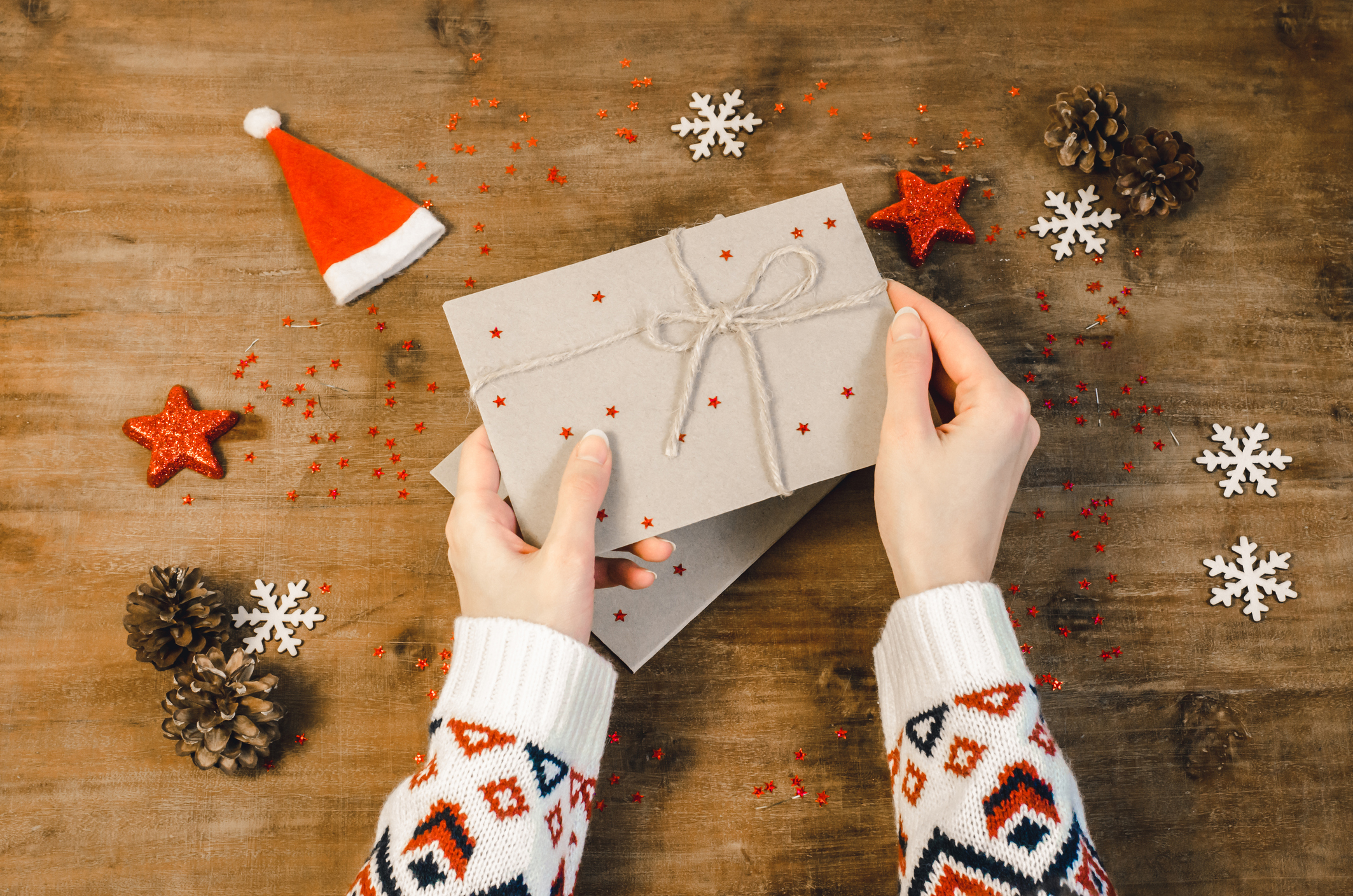 While you appreciate a festive photo holiday card, you prefer to send out something simple and classy this holiday season. And while the world of holiday cards has plenty to choose from, we thought we'd bring you the classiest most delightfully simple & elegant designs straight to you. Whether or not you've already chosen which photo you'd like to use for your card — click the links associated with each card to play around with the customization. Play around with various photos and choose the design that best showcases you and your family's smiling faces.
1. Delicate branch season's greetings
It doesn't get lovelier than this E. Frances Paper creation. Upload your custom photo front and center into the classic circle frame. We love the delicate watercolor branch accents that borders the custom photo perfectly. Customize and send this card here.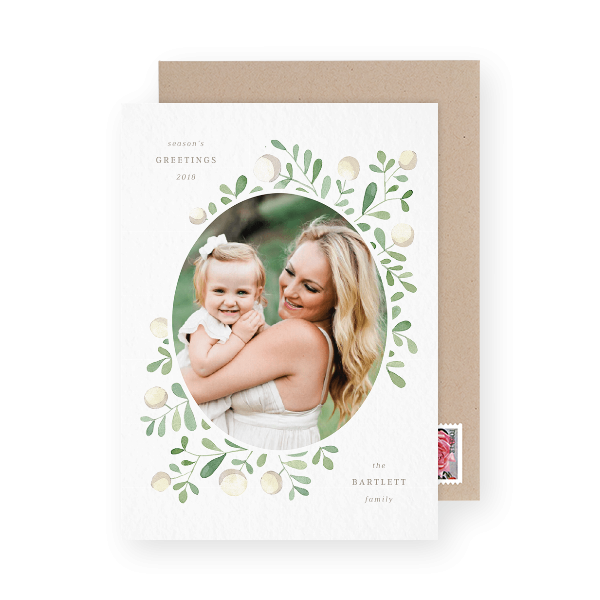 2. Red holiday script
This classic Holiday card has just the right amount of color. The beautiful red script font adds the perfect pop to an otherwise simple design. Customize and send this card here.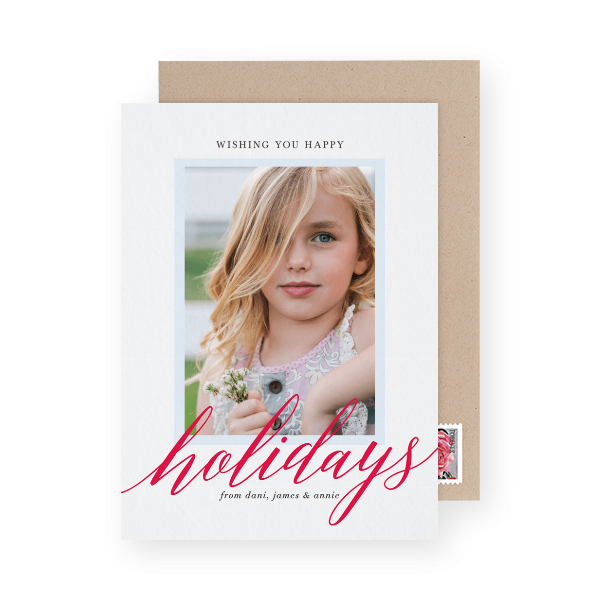 3. Simple outline holidays
This multi-photo template card keeps it simple with a black and white color scheme. Play around with the three different photo slots to see which photos work best with one another. Customize and send this card here.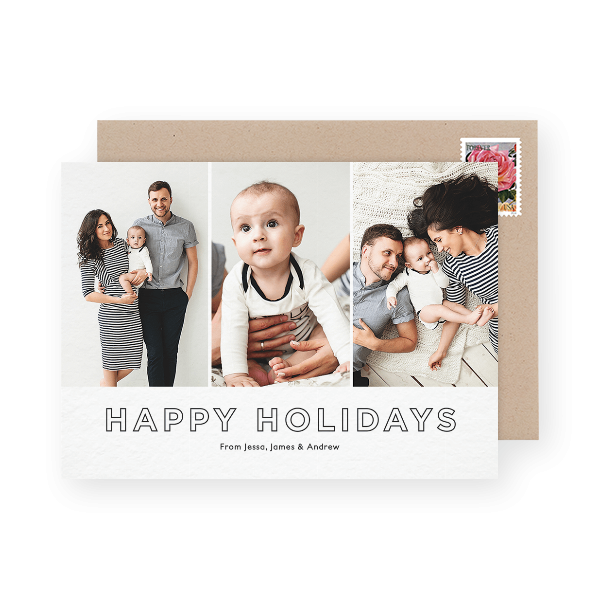 4. Red border happy holidays
A big pop of color, this red border Happy Holidays card will certainly stand out from a pile of cards this season. We love the snowy accents that pop against the bright red background and frame the custom photo. Customize and send this card here.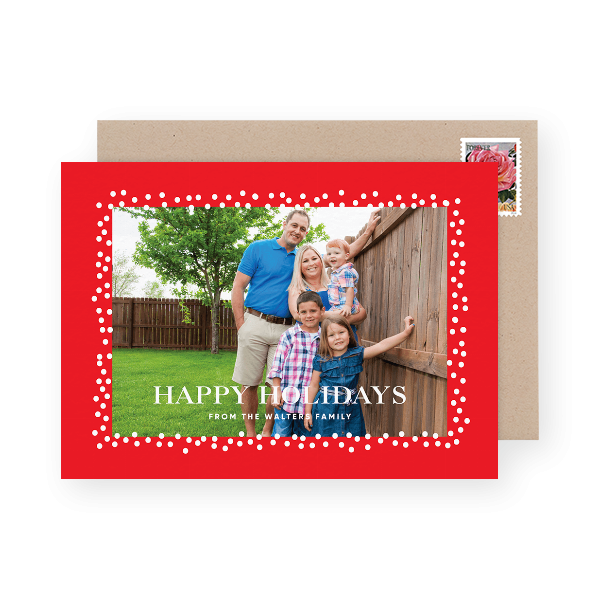 5. Thick brush stroke
Use this holiday card for a full width print of your custom photo. The 'Seasons Greetings' message keeps in with a classy feel, but adds a little pizzaz with a fun script font. The text overlays on the bottom so be sure to keep the important stuff above the text and keep the area on the bottom a bit darker to avoid having the text fade into the background. Customize and send this card here.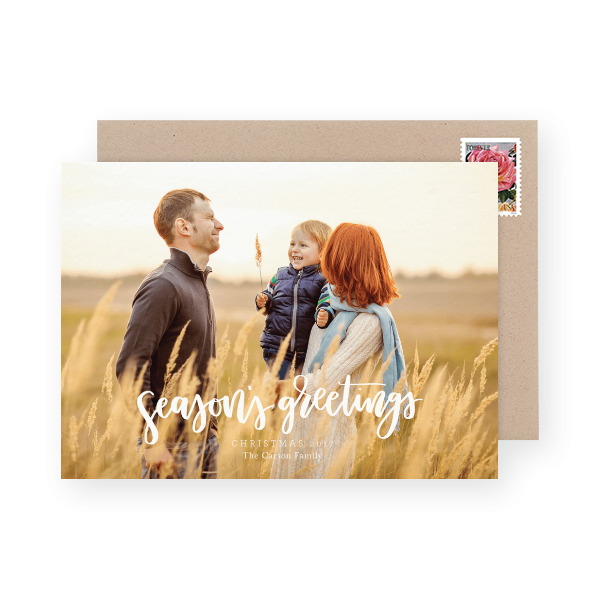 4. Vintage snowy holidays
This delightful holiday photo card combines classy with a bit of festiveness. It's all in the details — the snow flakes falling down on the snowman and snow on the bottom of the card only adds to the holiday feel of this card. We love the simple vintage border and fonts on this design. You'll want the important parts of your photo to be closer to the center for this card. Customize and send this card here.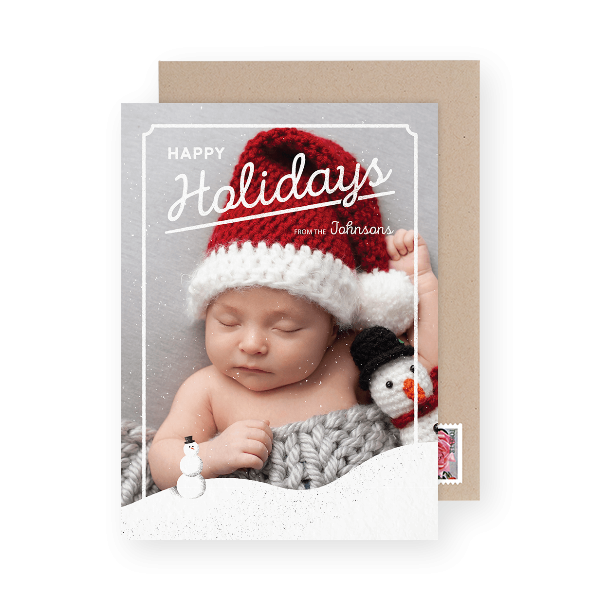 7. Green leaf Merry Christmas
This classy Hello Paper Co. creation is both simple and bold all at once. We love the simplicity in the deep forest green color scheme and the slight overlay of the leaf border. Customize and send this card here.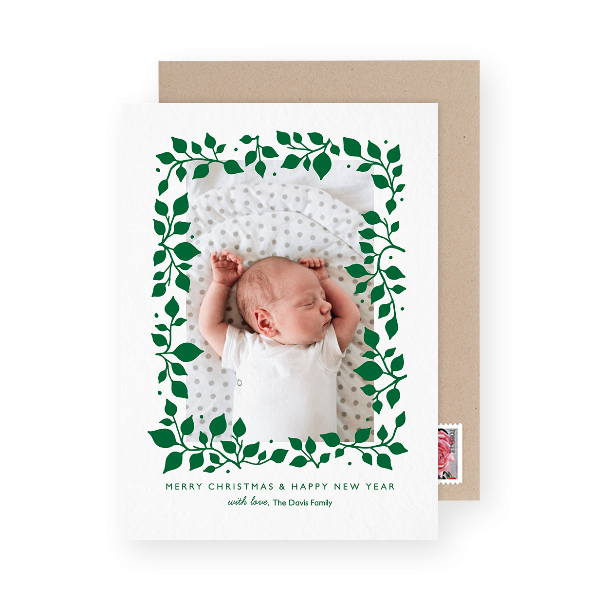 8. Red be merry
Another classy take on the holiday card with a bit of color pop. You can use just about any vertical photo for this card as there's very little chance of obstruction. The beautiful red script adds a pop of color without taking away from the main focus of the card — your custom photo. Customize and send this card here.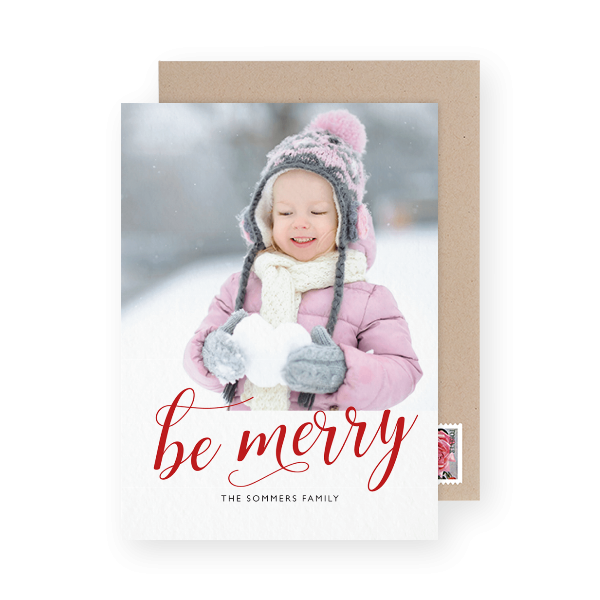 9. Green branches happy holiday season
This multi-photo template holiday card is a great option if you're looking for a card to showcase more than one photo while still keeping with the art of simplicity. Customize and send this card here.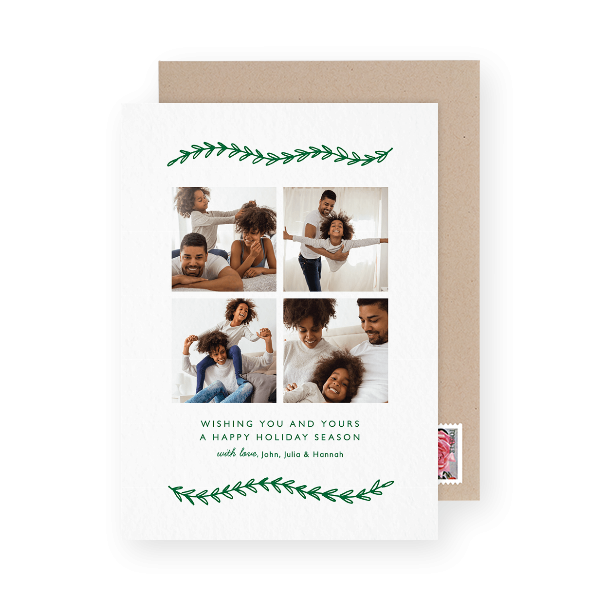 10. Gold cheers
The white border surrounding your custom image gives this look a clean and simple feel while the gold script font brings a little pizazz. This design works especially great with black and white photos, but will no doubt look great with any photo you choose to upload. Customize and send this card here.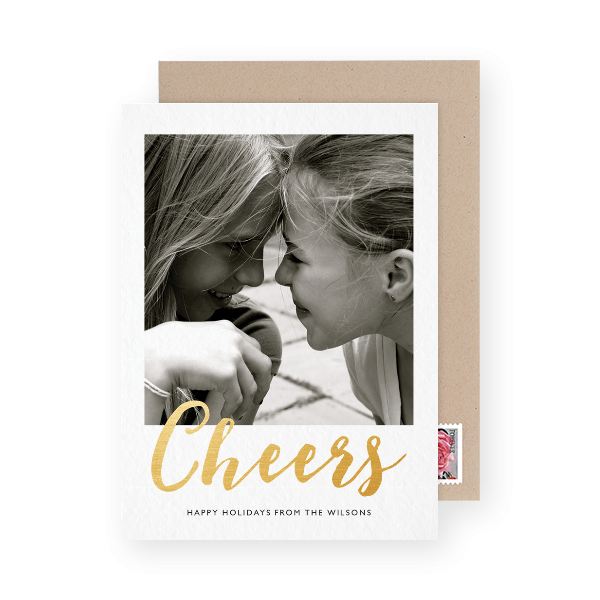 11. Red joy
Bring joy to your friends and family this holiday season with this classy holiday card. The simplicity of this design keeps the focus on your custom photo while simultaneously adding a little pop of color. Customize and send this card here.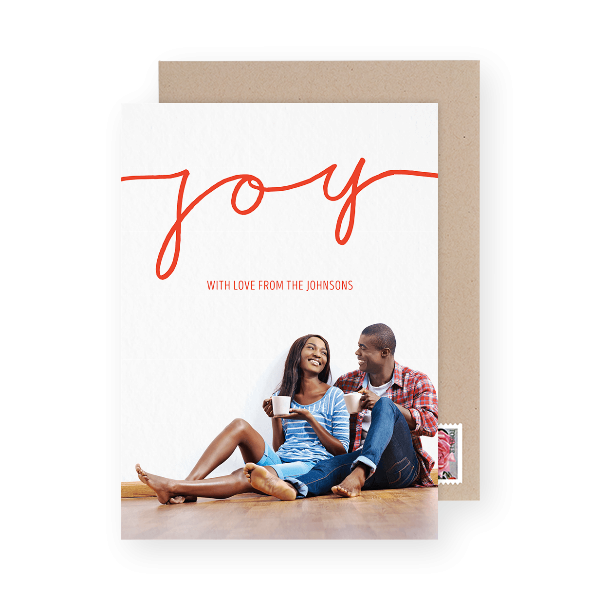 12. Happy holidays overlay
Sometimes less is more — as in the case of this holiday card. Upload a vertical photo to take up the entire front of the card. The simple script font at the bottom completes this design for a clean look. Customize the text to say whatever you'd like and make sure to avoid having anything important in your picture towards the bottom. Customize and send this card here.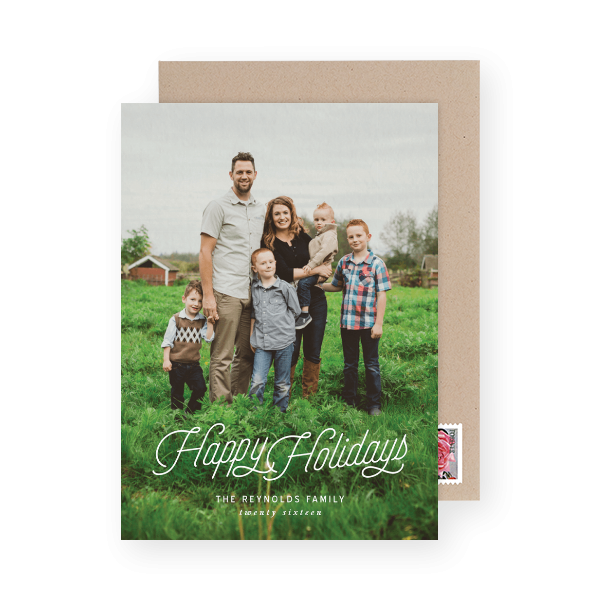 13. Thick brush holiday overlay
Similar to the previous card design, this card also has your custom photo take over the entire space on the front. The Happy Holidays font on this card, however has a more playful font with a brush stroke look. Use this card for a more fun approach to the classic Holiday card. Customize and send this card here.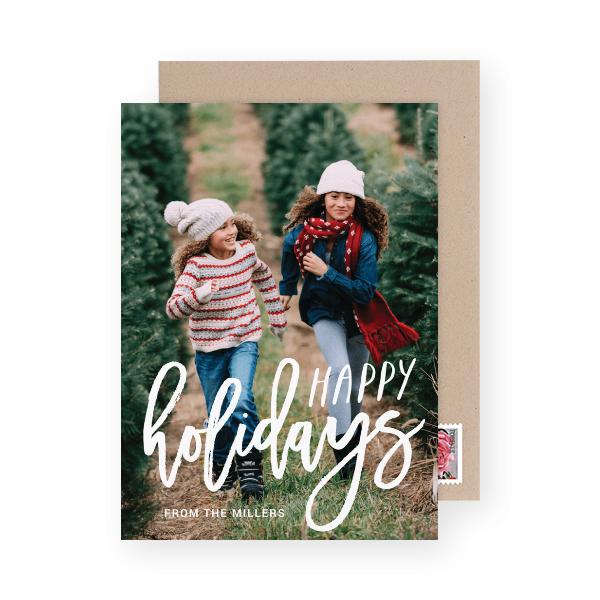 Which classy photo holiday card was your favorite?!
Not seeing quite what you're looking for? Not to worry — check out the entire Postable holiday card selection here.
The best part? Postable will mail all of your holiday cards for you. Yes, really. All you have to do is choose and customize your favorite design and let Postable do the leg work for you. With your holiday cards all mailed out for you you'll be left with more than just a renewed sense of holiday cheer. You'll have more time to sing Christmas tunes and drink all the egg nog and bake all the Christmas cookies. More time to do all that holiday stuff that you love instead of waiting in line at the post office. Win-win.