Remember the good ole' school days of having your friends over for dinner, running around the neighborhood and hosting friends over for slumber parties? Watching movies, eating snacks and chit chatting the night away with your besties? Ok, so maybe you're doing all of that now — awesome! Perhaps your kiddos have been wanting to host a slumber party of their own and while you're totally up to speed when it comes to adult snacking (hellllo red wine & cheese), the kids have a slightly different idea of what tasty looks like. Not to worry, we've got you covered with all things slumber party related — from the cutest slumber party invitations to decorations your kids will love (and ones you can actually do).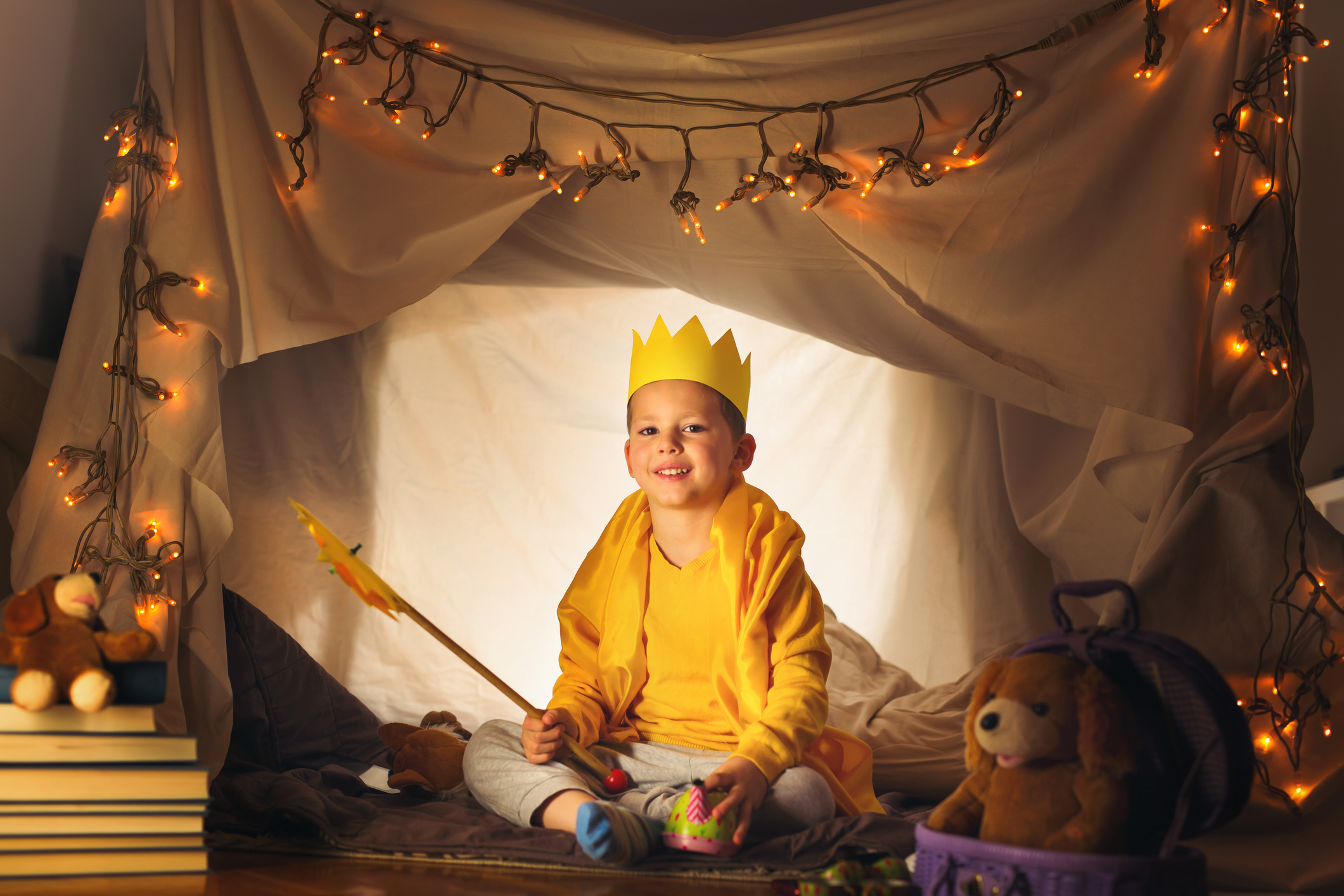 Whether you're a slumber party enthusiast and love to throw your little ones adorable little pajama and pancake parties or you feel totally lost when it comes to hosting a bunch of small humans — we got you covered. Hosting a slumber party is fun and we're here to show you some great slumber party invitations and ideas you can actually use — no prior experience necessary. The best part? These slumber party invitations can all be mailed out for you so that you can focus your efforts elsewhere — like making 8 tiny tee-pees. Postable will print, address and mail out the slumber invitations for you.
First up — this adorable pink slippered slumber invitation.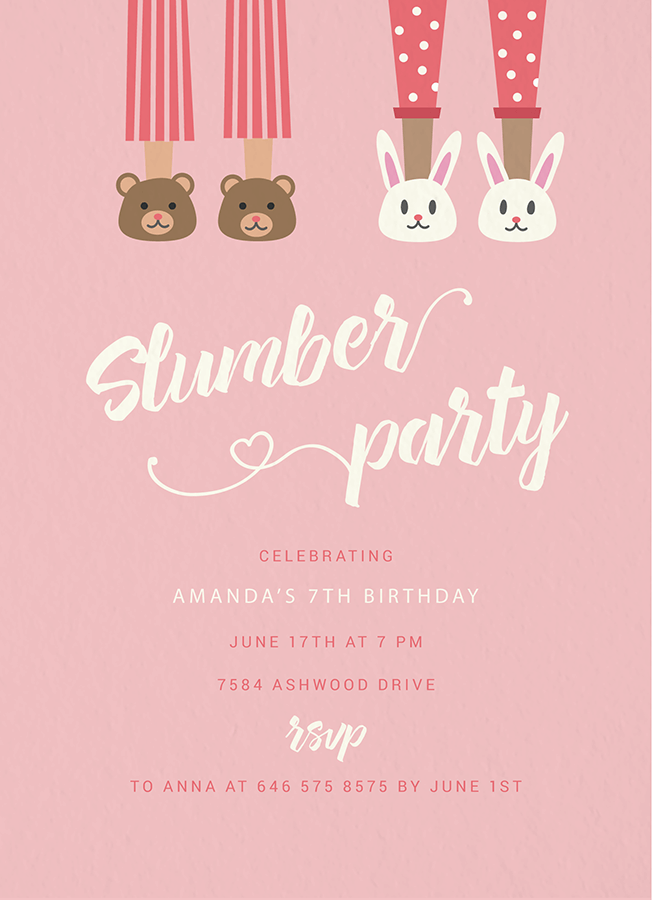 Send this card here
Pink is the new black. Or has it always been that way? Either way, use this adorable design and have Postable mail out these slumber party invitations for you. Match the decorations, the snacks and even the little goodie bags for the slumber party with this invite by keeping in with the pink theme.
Tiny goody bags to use at the party.
Here's a fun idea from Style Me Pretty — make tiny goody bags for kids to use during the party. Fill them up with things like eye masks (the ones pictured are pretty darn adorable — here's some that are similar or make your own), sweet lip balm, sparkly face masks and of course candy. Give the tiny bags a fun feel by adding some shredded crinkle paper and of course keep it pink.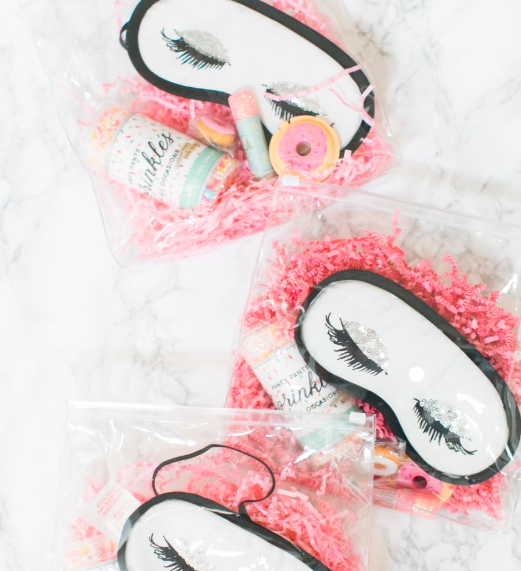 via Style Me Pretty
Pink slippers.
These kind of speak for themselves. No? In keeping with the pink theme, put a basket out filled with comfy pink slippers (like this one from Pinterest) for the kids to get into the whole slumber party mood. They'll use it during the party and can take them home as a sort of goody bag — you'll hit two targets with one arrow. Use a few slightly different designs so that the kids can get the experience of choosing the one that they like most.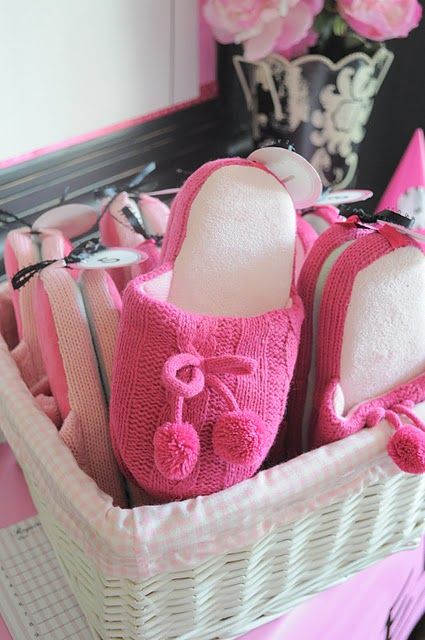 via Pinterest
Next up — this dark blue starry night sky slumber party invitation.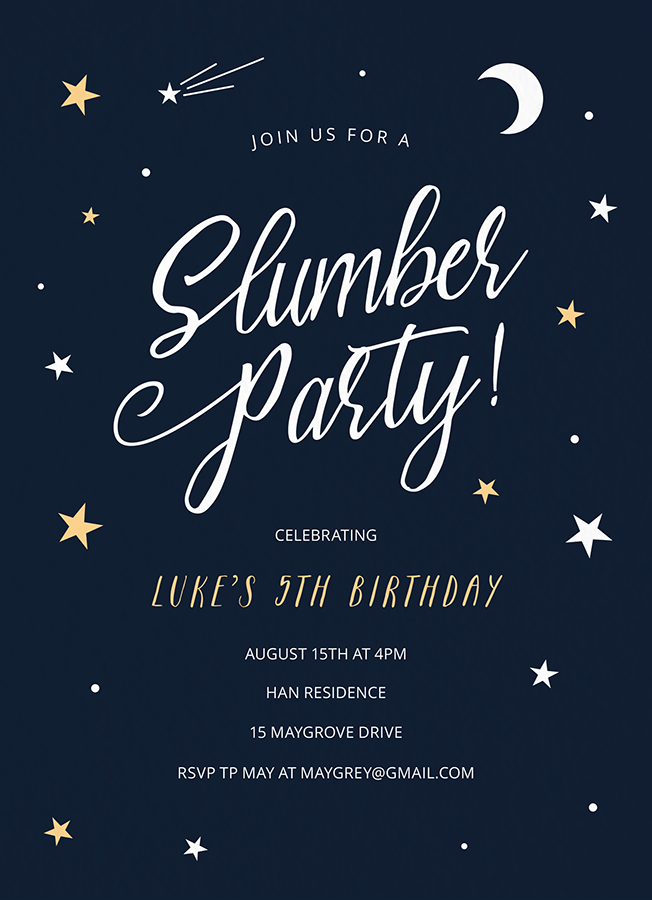 Send this card here
Perhaps pink isn't your thing. Or maybe your kid just isn't feeling it anymore. This starry night sky invite design will be perfect.
Glow in the dark night sky.
Going with the same starry night sky theme, you can use glow in the dark stickers, glow sticks and whatever else glow-in-the-dark thing you can find for decorations. Pin glow in the dark stars onto walls and the ceiling to really get into it like this picture from Pinterest.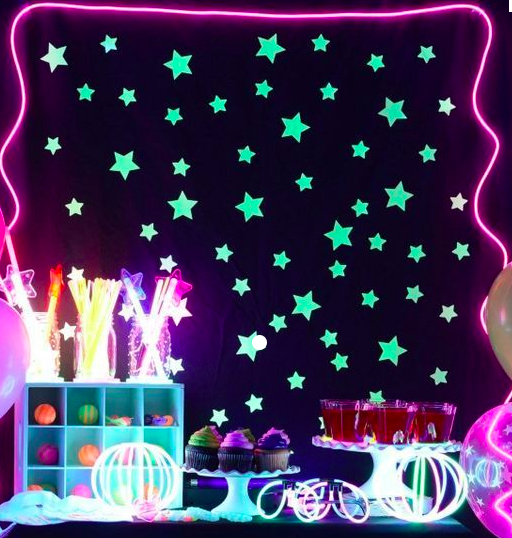 via Pinterest
The slumber party breakfast.
Arguably, the best part of any good slumber party is the breakfast (and the snacks the night before… pretty much the food. At least in our humble opinion). The trick is to make something in bulk (nothing too complicated) that the kids will love, but that will also be insta-worthy because if you don't share it on IG, did it even happen?
This waffle bar (from Pinterest) is the thing that dreams are made of. It looks all sorts of fancy, but in reality it's not that hard to do. All you have to actually cook are the waffles and if you've got yourself a waffle machine, the bulk of the work is already finished. Just make a simple (and yummy) waffle mix and let the machine do it's thing. Create a space for the waffle bar by filling it up with toppings that the kids will love and maybe add a few decorative pieces to seal the deal. If you're real crafty and have good hand writing, line the bar with brown paper and use a marker to denote what everything is. Cute, simple and yummy.


via Pinterest
The pillow slumber party invitations.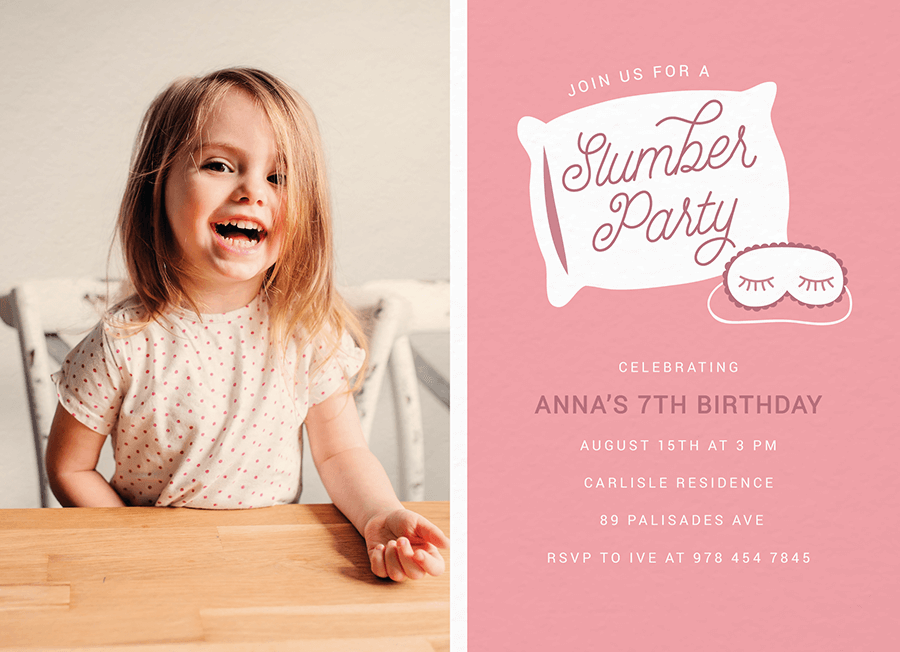 Send this card here
What's a slumber party without the pillows? Pillow-less sleepovers… Who's ever heard of such things? This invite allows you to add your very own photo to the front — perhaps a big smiling birthday girl would be appropriate. And yes, more pink.
The snacks.
Ok so we've gone over the all important breakfast, but what about the snacks. The food itself is just as important as the presentation — how Instaworthy is it? Cookies and milk is of course the old classic that everyone loves (assuming your cookies are delightfully fluffy and crunchy all at once). The presentation in this photo (from I Love Country Crafts) is a great idea of how you can serve the old classic snack in a new fun way! Consider using non-fragile glasses to avoid any broken glass disasters in the middle of your kid's slumber party.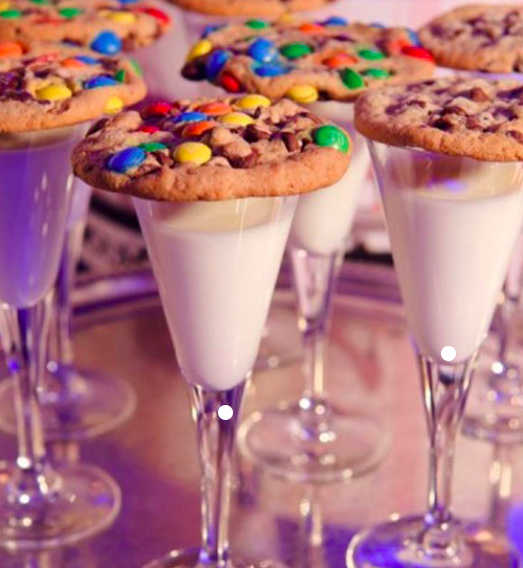 via I love Country Crafts
The teepee.
The teepee has taken over the world of slumber parties. Can you even throw a sleepover without these adorable little accents? Of course you can. Don't feel like this is a must BUT know that it's totally doable (tutorial here). If possible, clear out the furniture in a room and line the walls with these adorable little teepees (like the picture from Pinterest) and string some lights across the tops. The kids can line them with their own sleeping bags.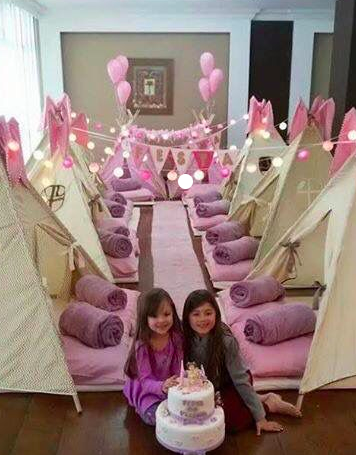 via Pinterest
One final idea before you go…
Chalk paint. Grab a big poster or even paint a small section of your wall with black chalk paint. Then you can use your epic art skills to draw fancy words as the back drop to an epic cake table… Or popcorn table… Or pretty much whatever table you want to set out. The pictured idea below (via Pinterest) has an array of sweet goodies like a cake, cup cakes and donuts. Don't mind if we do.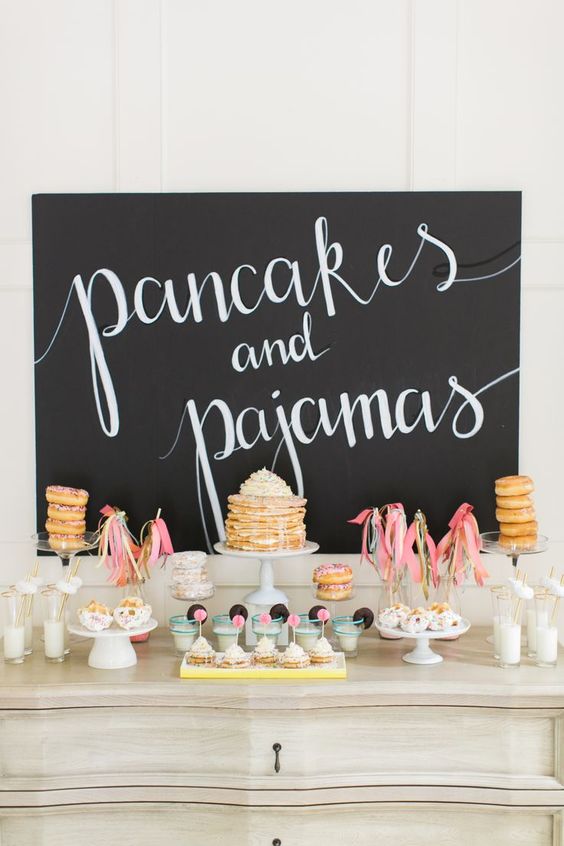 via Pinterest